By Carl Slaughter: A new character, a new universe, and hopefully a new series from Scott Seegert, author of Vordak the Incomprehensible, an illustrated series that was popular with kids and their parents and that received almost entirely 5-star reviews.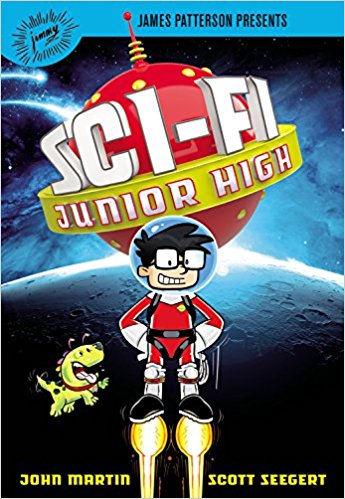 Kelvin Klosmo isn't just the new kid at school – he's the new kid in the galaxy! Welcome to Sci-Fi Junior High: an inter-galactic space station with students of all shapes, sizes, smells, and… slime content. As the son of Earth's two most famous geniuses, Kelvin isn't just the smartest kid in the world….he's the smartest kid in the UNIVERSE. At least, that's what everybody at Sci-Fi Junior High thinks.

So, maybe Kelvin lied a little about being a genius to fit in. And maybe a mad scientist is about to take over the universe unless Kelvin can stop him. Maybe everyone is doomed.

Well, at least Kelvin won't have to worry about math homework anymore.

Sci-Fi Junior High is an out-of-this-world story about friendship, accepting our differences, and the fight against evil… bunnies. Yes, evil bunnies – don't ask.
HOW TO GROW UP AND RULE THE WORLD
Slip on your acid-free gloves, make sure you have a duplicate copy of How to Grow Up and Rule the World (just in case something should happen to this one) and try to follow along as the incomparable, superior-in-all-ways Vordak the Incomprehensible teaches you a thing or two about villainy.  Now you, too, can try (and fail) to attain Vordak's level of infamy.

From selecting the most dastardly name, to choosing the ideal henchmen, to engaging in witty repartee with disgustingly chipper superheroes, experienced supervillain Vordak the Incomprehensible guides readers step-by-step toward the ultimate goal of world domination (from his parents' basement in Trenton, New Jersey).

With chapter titles like "Bringing Out the Evil" and "Building a Top-Notch Evil Organization," numerous bold illustrations, and detailed quizzes to assess your level of dastardliness, this book provides everything necessary to rise above the masses, and then rub your ascent in their faces.

In return for this wealth of knowledge, Vordak requests nothing more than an honored place in the evil regime of he who achieves control of the world. (And, of course, the opportunity to assume command, should things not work out.)
Greetings, goobers! After my latest experiment worked a little too well—transforming my rather fetching figure into something significantly smaller—I've been forced to return to those halls of horror better known as . . . school. But going back to junior high may be my greatest opportunity for mayhem in many a month! Try to keep up as I:

Dramatically defeat the daily dangers of schooldom—even though everyone is against me.
Strive to win the junior high presidential election by alerting my fellow students to the wonderfulness of Vordak the Incomprehensible, as well as the yuck-ness of my opponent, Marlena Lurchburger.
Mastermind a catastrophic career day, where that disgusting do-gooder Commander Virtue will finally, fiendishly be foiled.

Fortunately for you, I have recorded every mischievous moment within these carefully crafted covers so that you may bask in my brilliance as I plot to RULE THE SCHOOL . . . and, eventually, THE WORLD! MUAHAHAHAHA!!!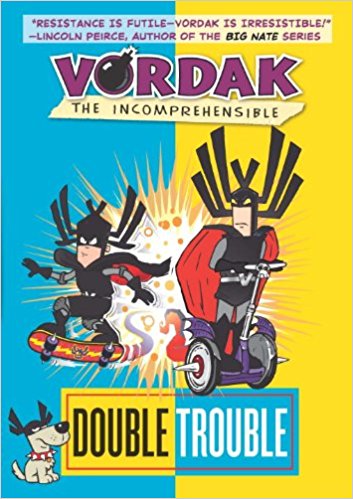 "I, the brilliant and handsome Evil Mastermind Vordak the Incomprehensible, clone a younger version of myself as part of my master plan to win first prize at the annual Supervillain and Son picnic. Unfortunately, my youthful self turns out to be . . . good. Will my extreme evilosity suppress all strains of sincerity or will I (shudder) learn to play . . . nice?

Chronicled between the luminous leafs of my latest magnificent masterpiece, I'll relate every moment as I face the greatest battle between good and evil ever known in the existence of this puny planet–the battle with myself."
Why must you always ask what my latest opus is about? Shouldn't the fact that I wrote it be enough to convince you to buy billions of copies of my blisteringly brilliant book? Do I need to release my canbot army on you . . . again?

"Well if you want us to sell your book effectively, we should probably know what happens in it.

Great gassy goblins! You really are insanely insufferable!

I've had a minion put together a quick line, though it hardly does my genius justice:

After having yet another evil plan to rule the world foiled by Commander Virtue, Vordak travels back in time in an attempt to defeat his archnemesis at the point of his greatest vulnerability — his childhood.
PRAISE FOR HOW TO GROW UP AND RULE THE WORLD
Writing as the ultra-evil Vordak the Incomprehensible, Seegert offers a comical step-by-step guide world domination.  With a hyperbolically inflated self-image and no shortage of bathroom humor, Vordak guides readers through such topics as how to choose a costume ("the more flamboyant the better"), build a lair, and acquire enough minions to build a top-notch evil organization ("At times they can be difficult to control, but at their best they can be a relentless plague upon civilization"), all of which are paired with Martin's appropriately cartoonish artwork.  Seegert gives Vordak a voice so magnetic and absurd that readers, especially young male ones, are going to soak up his warped wisdom like a sponge and circulate it at recess, even as Vordak insults them with admonishments like, "You are just a sniveling, whiny little goober, after all."  No one is going to rule the world after Vordak's farcical directives, but readers will have a grand time turning pages to see what outlandish thing he'll say or suggest next, while perfecting their own villainous laughs.  Muahahahaha!  Ages 8-up.  –  Publishers Weekly
Gr 4-8–Evil mastermind Vordak the Incomprehensible shares his "evilosity" with aspiring supervillains in this hilarious spoof on superheroes. His comical narration features over-the-top self-congratulation matched by supreme contempt for readers and everyone else. He applies that bravado with great comic effect, sharing evil insights on everything from "choosing the lair that's right for you" to the four basic options for costume color: "dark black, black, light black, and dark dark dark dark gray." Each section goes beyond obvious jokes to explore all possible angles of satire. The "Bringing Out the EVIL" chapter, for instance, includes evil laughter tips, evil manners, "three ways to make your little brother look like an idiot," and a description of Santa Claus as an evil genius. Comical black-and-white cartoons on nearly every page extend the humor. Many, like the "lemon-based-beverage" stand, work as stand-alone jokes. Vordak's distinctive voice, peppered with alliteration typical of the genre, remains fresh and funny throughout. Pop-culture references and varied elements of grossness are sprinkled in regularly, along with 15 "commandments of incomprehensibility" and repeated references to "diabolically clever yet slow-acting death traps," which get funnier each time. So does the ironic fact that despite his egotistical rants, Vordak is actually a completely unsuccessful supervillain. The humor, subject matter, and visual appeal should make this a top choice for fans of Jeff Kinney's Wimpy Kid (Abrams) and Dav Pilkey's Captain Underpants (Scholastic) as well as any readers who enjoy superheroes without taking them too seriously.  –  School Library Journal
Crude and irreverent, this fictionalized self-help manual calls on kids to embrace their inner evil and go after those stupid, morally upstanding jerks in power (adults). Amplifying the cheeky fun are instructions, advice, anecdotes, rhymes, charts, and cartoon illustrations for destroying the planet and putting together a deadly organization capable of wreaking havoc on humanity. This is really the same scenario over and over, but many middle-schoolers will enjoy that they can open up to any page and find lots of discussion about vomit, farts, boogers, and poop, as well as coverage of elaborate assassination apparatus, described with wordplay and alliteration: instructions for tying a victim to a conveyor belt include the phrase, gaze gleefully as he glides towards his grisly good-bye, for instance. Puns are frequent: Hal Itosis, Aunty Social. And some of them are sure to offend: Special Ed. But whether it is the ad for putting up a little brother for adoption or the fantasy of punishing those in authority, the over-the top parodies tap into kids' wild fantasies.  –  Booklist