(1) F&SF. Gordon Van Gelder shared F&SF's Nov/Dec 2018 issue cover: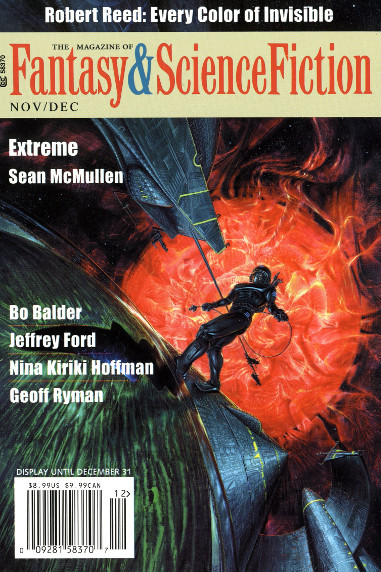 (2) ISS CREW OKAY AFTER FAILED TAKEOFF. Astronauts bound for the ISS safely returned when their rocket failed soon after launch — "Space crew survives plunge to Earth after Russian rocket fails".
A Russian cosmonaut and a U.S. astronaut were safe on Thursday after a Soyuz rocket bound for the International Space Station failed in mid-air two minutes after liftoff in Kazakhstan, leading to a dramatic emergency landing.

The two-man crew, Russian cosmonaut Alexei Ovchinin and American Nick Hague, landed unharmed on the Kazakh desert steppe as rescue crews raced to reach them, according to the U.S. space agency NASA and Russia's space agency Roscosmos.

The mishap occurred as the first and second stages of a Russian booster rocket separated shortly after the launch from Kazakhstan's Soviet-era cosmodrome of Baikonur.
(3) WHALE OF A TALE. L.A. Smith has a fascinating writeup about this 8th century artifact — "The Franks Casket" – carved from whalebone.
…So, the pictures and inscriptions on the casket are a great source of scholarly discussion. To top it all off, there seems to also be some numerological significance to the number of runes on the casket. There are 72 runes on the front and left panels, and a total of 288 runes in total. The 72 could correspond to the 72 disciples mentioned in the Latin Vulgate Bible familiar to the Anglo-Saxons. The number 288 is a multiple of 24, which is the number of runes in an early continental Anglo-Saxon runic alphabet, which had magical significance for the Anglo-Saxons.

Phew! No wonder many scholars have devoted so much time and effort on trying to decipher the runes and pictures on this little box. The more you look at it, the more you discover.

This beautiful box has so much to tell us about this fascinating period in England's history….
(4) ANIME TRIAGE. Petréa Mitchell reviews 15 anime series and approves many as the title of her Amazing Stories post hints — "Anime roundup 10/11/2018: Sturgeon Takes a Holiday". For example —
That Time I Got Reincarnated as a Slime premiere – Satoru Mikami is a single geek who suddenly gets stabbed to death on a Tokyo street, only to find himself in a fantasy world, granted fabulous powers, and hobnobbing with a mighty dragon. Typical light-novel power fantasy, right? Well, there are a couple of catches. One is that he's been reborn as the weakest creature possible. The other concerns the visual presentation of the show itself.

When adapting a popular property, a show is expected to make a predictable amount of money off selling Blu-Rays and merchandise to hardcore fans. Since those fans will buy it no matter what, most shows like this have a look about them that the only minimum necessary effort was made. In this case, a similar calculation seems to have been made, only the conclusion was that those fans will still mindlessly purchase it if it turns into an art film.

This premiere is one visual treat after another, from the careful attention to detail in the movement and posture of people in modern Tokyo, to the trippy mixed-media imagery as Satoru falls into another reality, to the wild expressiveness wrung from a ball of goo. This still has some of the usual problems of light-novel adaptations— the protagonist is already ridiculously overpowered, too much game terminology, and a lot of time spent sitting around and talking— but between the unique twist and the look of this episode, it's actually enjoyable.
(5) FIRST MAN REVIEW. NPR's Linda Holmes reports that "'First Man' Considers Glory, Grief And A Famous Walk On The Moon":
…We encounter Armstrong at three points: 1961, leading up to the start of his training as an astronaut; 1965, just before his first space flight; and 1968, as he prepares to be the first person to walk on the moon. His family life progresses alongside his much more famous professional one: the loss of his two-year-old daughter from brain cancer, the grief that nearly consumes him after, the sacrifices that his service demands from his wife, Janet (Claire Foy), and his relationship with his two boys, to whom he hesitates to explain the dangers of space travel….
(6) WHAT WE LEARNED FROM WAR GAMES. The answer is: absolutely nothing. BBC reports "US weapons systems can be 'easily hacked'".
…The committee's members expressed concerns about how protected weapon systems were against cyber-attacks.

The report's main findings were:

the Pentagon did not change the default passwords on multiple weapons systems – and one changed password was guessed in nine seconds…
So, does the United States use its birthday as a password? – July41776….
(7) RIVERDALE RECAP. A public service message from Martin Morse Wooster:
For people who are wondering how much Riverdale is like Archie Comics, I offer the folllowing recap of last night's show.

Archie Andrews was found guilty of murder, but he was framed by Veronica's father. The underground offers to sneak him into Quebec but he decides to stay in Riverdale and take his punishment.

Veronica finds out where the jury in Archie's trial is sequestered and sneaks into the hotel in a maid's outfit but is thrown out before she can engage in jury tampering.

Betty is an Adderall addict and is stopped before she can fill a forged prescription.

But the gang still relaxes at Pop's Malt Shop!

Also, I learned that fans who want Betty and Jughead to have a relationship are known as "Bugheads."
(8) GLASS. M. Night Shyamalan's next picture, about tortured people with superpowers, will be released in the U.S. on January 18, 2019.
M. Night Shyamalan brings together the narratives of two of his standout originals—2000's Unbreakable, from Touchstone, and 2016's Split, from Universal—in one explosive, all-new comic-book thriller: Glass. From Unbreakable, Bruce Willis returns as David Dunn as does Samuel L. Jackson as Elijah Price, known also by his pseudonym Mr. Glass. Joining from Split are James McAvoy, reprising his role as Kevin Wendell Crumb and the multiple identities who reside within, and Anya Taylor-Joy as Casey Cooke, the only captive to survive an encounter with The Beast. Following the conclusion of Split, Glass finds Dunn pursuing Crumb's superhuman figure of The Beast in a series of escalating encounters, while the shadowy presence of Price emerges as an orchestrator who holds secrets critical to both men.
(9) TODAY'S BIRTHDAYS.
[Compiled by Cat Eldridge and JJ.]
Born October 11, 1922 – G.C. Edmondson (José Mario Garry Ordoñez Edmondson y Cotton), Author from Mexico who mostly wrote Westerns under several pen names – and, being fluent in six languages, he also did translations – but produced a number of science fiction works, many involving time travel and Latin America, including the Nebula Award-nominated The Ship That Sailed the Time Stream and its sequel, the trilogy The Cunningham Equations (co-written with C. M. Kotlan), and numerous short works in his Mad Friend universe.
Born October 11, 1928 – Doris Piserchia, 90, Author of more than a dozen of what multiple sources call "darkly comic novels", including her penultimate novel, I, Zombie which she published under the pseudonym Curt Selby, and a somewhat larger number of short fiction works. Because she had a story in The Last Dangerous Visions, she has been labelled New Wave by some who didn't do their research properly. Like most genre writers of the 70s and 80s, she has greatly benefited from digital publishing, with all of her backlist now republished in that format.
Born October 11, 1944 – Patrick Parrinder, 74, Writer and Critic from England who is one of the foremost experts on H. G. Wells, having written works specializing on that author subtitled Shadows of the Future, Science Fiction and Prophecy, and The Critical Heritage. Not to be mistaken as a one-trick pony, he's also penned Science Fiction: Its Criticism and Teaching and Utopian Literature and Science.
Born October 11, 1944 – Julek Heller, 74, Artist and Illustrator from Jerusalem who emigrated to England, who did cover art for around 80 novels and more than 50 works of interior art, mostly in the 80s and 90s, including covers for works by Norton, Moorcock, Silverberg's Majipoor series, and several Mammoth Books. He also provided artwork for the 1978 TV series Pinocchio.
Born October 11, 1945 – Gay Haldeman, 73, Writer, Translator, and Member of First Fandom who has Masters degrees in Linguistics and Spanish. A fan and con-goer since 1963, she has contributed many letters, essays, and convention reports to genre and fannish publications, a fair number of them written in Spanish. She and her author husband Joe have been Guests of Honor at numerous conventions – including a relaxacon in Sydney, Australia named Haldecon – and she has been much in demand as a con Toastmaster. She and Joe were given the Edward E. Smith Memorial Award (NESFA's Skylark Award) in 1996.
Born October 11, 1950 – William R. Forstchen, 68, Writer and Historian, whose early novel series included Ice Prophet, Wars of Heaven, Gamestar Wars, and The Lost Regiment, and more recently the One Second After post-apocalyptic novels. Has also contributed novels to the Star Trek, Riftwar, and Wing Commander universes. He was Guest of Honor at InConJunction XIX.
Born October 11, 1953 – David Morse, 65, Actor, Writer, Singer, and Director, who has had main roles in the Hugo-nominated Twelve Monkeys, The Green Mile, The Boy, Double Vision, the Occurrence at Owl Creek Bridge-inspired Passengers, and the Hugo-winning film adaptation of Carl Sagan's Locus-winning Contact, as well as parts in World War Z, Joe Hill's Horns, TV series Friday the 13th: The Series, Tales from the Crypt, SeaQuest DSV, Medium, and Blindspot, and the Stephen King miniseries The Langoliers.
Born October 11, 1962 – Joan Cusack, 56, Actor and Writer especially known for comedic roles, who had main parts in the Hugo-nominated Addams Family Values (for which she received a Saturn nomination), the film adaptation of David Gerrold's Hugo- and Nebula-winning The Martian Child, It's a Very Merry Muppet Christmas Movie, Looney Tunes: Back in Action, and a plethora of voice roles in animated features including the Hugo-nominated Toy Story movies and TV specials, Chicken Little, and Mars Needs Moms.
Born October 11, 1965 – Lennie James, 53, Actor, Screenwriter, and Playwright from England who has had main roles in the genre TV series The Walking Dead, Fear the Walking Dead, and Jericho, and movie roles in Blade Runner 2049, Sahara, Lockout, and the (in JJ's opinion) vastly-underrated Lost in Space.
Born October 11, 1965 – Sean Patrick Flanery, 53, Actor who starred in the TV series The Young Indiana Jones Chronicles and also had lead roles in the genre films Powder, Demon Hunter, The Insatiable, Veritas, Prince of Truth, InSight, The Devil's Carnival, and The Evil Within, and guest roles on Stargate: SG-1, The Twilight Zone, The Dead Zone, The Outer Limits, Charmed, and Touched by an Angel.
Born October 11, 1972 – Claudia Black, 46, Actor from Australia best known for her roles as Aeryn Sun on Farscape (for which she won a Saturn Award) and Vala Mal Doran on Stargate SG-1 (for which she won a Constellation Award, Canada's counterpart to the Saturn Award), who also appeared in the films Pitch Black and Queen of the Damned. Her first genre role was as Cassandra on Hercules: The Legendary Journeys, followed by episodes of Xena: Warrior Princess, Beastmaster, The Dresden Files and Haven, a recurring role on The Originals, and a main role on Containment. She has also provided character voices to animated films and TV series, and a very large number of videogames, including Uncharted, Dragon Age, Mass Effect, and Final Fantasy.
Born October 11, 1972 – Nir Yaniv, 46, Writer, Editor, Musician, and Fan from Israel who in 2000 founded the webzine of the Israeli Society for Science Fiction and Fantasy and was its chief editor for seven years. He later edited several issues of Chalomot Be'aspamia, Israel's only professional printed science fiction and fantasy magazine. He co-authored with Lavie Tidhar the short novel The Tel Aviv Dossier, and has published a collection of his short fiction, The Love Machine and Other Contraptions; several of his stories have been translated into English by Tidhar. As a musician, he created the first Hebrew-language SF music-themed album, The Universe in a Pita, and more recently has begun writing and directing short films of strong genre interest.
Born October 11, 1974 – Ian Mond, 44, Writer, Critic, and Podcaster from Australia who has published a dozen of his own stories, plus a few Doctor Who stories. He was Tuckerized by fellow Australian and Doctor Who writer Kate Orman in the tie-in novel Blue Box. For eight years, he co-hosted with Kirstyn McDermott the Hugo-nominated and Ditmar-winning book podcast, The Writer and the Critic, and his reviews of genre fiction have garnered him two Atheling nominations. He started reviewing for Locus Online in June this year.
Born October 11, 1978 – Wes Chatham, 40, Actor best known for a main role in the Hugo-winning TV series The Expanse, as well as a role in the two-movie Hunger Games installment Mockinjay.
Born October 11, 1974 – Doona Bae, 34, Actor from South Korea whose most notable genre role has been as a lead in the TV series Sense8 but has also had roles in Cloud Atlas and Jupiter Ascending, as well as several South Korean science fiction and horror films including The Ring Virus and The Host and the manga adaptation Air Doll.
Born October 11, 1985 – Michelle Trachtenberg, 33, Actor and Producer who started early in genre roles with a guest role on Space Cases at the age of 11 and a main role on Meego at the age of 12. At 14, she took on a main role in Buffy the Vampire Slayer, for which she received 3 Saturn nominations. Her other appearances include the films Inspector Gadget, Can't Be Heaven, Richie Rich's Christmas Wish, Black Christmas, 17 Again, and The Scribbler, and guest spots on the live-action and animated TV series Sleepy Hollow, Dragonlance: Dragons of Autumn Twilight, Robot Chicken, The Super Hero Squad Show, SuperMansion, and Superman/Shazam. She currently has a starring voice role in the animated SF series Human Kind Of.
(10) COMICS SECTION.
(11) FRANKENSTEIN. Sean O'Hara talks about how Mary Shelley's preface to the book was an attempt to whitewash her life — "The History of Frankenstein Part I: Lies, Damned Lies, and Mary Shelley's Preface to Frankenstein" —
Most of us are familiar with the tale of how Mary Shelley came to write Frankenstein — how she and her husband Percy were on vacation in Switzerland and happened to be staying near Lord Byron, and on a dark and stormy night, after reading some German horror stories, they decided to have a contest to see who could write the scariest story. It all sounds so genteel. Something you'd see on Masterpiece Theater.

It's also pure BS.

Mary and her step-sister Claire were the Kardashians of the early 19th Century. And I don't mean they were wild by the standards of their day. They did things that would still make the front page of TMZ. If they were alive today, they'd be feuding with Beyonce and Taylor Swift, I guarantee it.

So where did the sanitized version of the story come from?

Why Mary Shelley herself….
— Then steps back to look at her mother, the feminist philosopher Mary Wollstonecraft: "The History of Frankenstein Part II: That Time the World's First Feminist Married the World's First Libertarian".
But their happiness was short lived. Wollstonecraft became pregnant at the end of 1796, and she and Godwin decided, despite their mutual misgivings about marriage, to wed so their child would be legitimate. But Wollstonecraft was by now thirty-eight, an age at which child birth became dangerous. Her daughter Mary was born safely, but Wollstonecraft contracted a postpartum infection and died a mere two weeks later, leaving her two daughters in the care of a forty year old man who had spent his entire life as a bachelor.
There are several more posts in this series at O'Hara's blog, Yes, We Have No Culottes.
(12) KIRBY YOUR ENTHUSIASM. Scott Bradfield recommends "Reading irresponsibly with Jack Kirby" at the LA Times.
Probably what I miss most in our perilous, terrifying and end-of-times-like historical era is the ability to read irresponsibly. There's just too much responsible reading around; it can drive you to drink. Everything we're supposed to read keeps looming up out of the darkness, bristling with portents, economic data, apocalyptic planetary crises and an endless urgent blizzard of news bulletins about tweets, personal liberties, gun violence and conflagrations both natural and metaphorical — all of which require more sober attention than most of us can muster. Increasingly (and understandably), reading has become a duty to be performed by conscientious citizens and students. And I'm sorry, but jeez, that just isn't right.

When I was young, reading irresponsibly was easy. I did it all the time. In fact, well into my late teens and early 20s I could easily lose myself in books and comics; it just came with the territory.
(13) WFA CONTENDER. Lela E. Buis sings the praises of a World Fantasy Award nominee: "Review of City of Brass by S.A. Chakraborty".
…So, counter to the depressive trend in the WFA finalists this year, this is a romance and an intrigue. All these people are lying to each other, and political groups are plotting right and left. Daevabad is exotic, the details of the city life, the temples and the palace very well assembled. I didn't have any problems visualizing the people, the creatures or the scenery–the author has done a lot of research. The characters are slightly flat, but the story is more focused on the action and intrigue than on revealing their deepest inner thoughts. The reader is left to deduce a lot of what's going on from their actions….
(14) MURDER MOST 'BOT. And Buis gives five stars to the conclusion of the Murderbot series, but says it is not flawless – "Review of Exit Strategy by Martha Wells".
On the not so great side, I've got some nits to pick with the whole story arc at this point. I suspect the series was written fairly quickly, as Wells has said it's a short story that got out of control, and after the huge success of the first novella, she quickly got in gear to produce the rest. Tor was also in a hurry to follow up on the initial success, and went light on the editing. That means there are some inconsistencies in the content.
(15) CHIBNALL ON WHO. Showrunner Chris Chibnall discusses his new vision for Doctor Who.
(16) WHO PANEL AT NYCC. Here's the full Doctor Who panel from New York Comic-Con 2018, with Jodie Whittaker, Chris Chibnall and Matt Strevens.
(17) THE NOSE KNOWS. io9's Germain Lussier is thrilled to hear that "The Most Disgusting Scenes in Star Wars Are Now Scented Candles".
Scents like "Trash Compactor," "Inside of a Tauntaun," "Rancor," and "Sarlacc Pit" are just some of the scents available in these new, officially licensed candles. There are some more pleasant sounding ones, too, like "Bantha Milk," "X-Wing Cockpit" and "Yoda's Cooking Pot"—as well as just plain weird ones like "Death Star Destroyed," "Millennium Falcon," "Han Solo Carbonite" and "Lightsaber Duel."
(18) AND SMALLER FLEAS TO BITE 'EM. Science Alert is sure "You'll Never Guess What Scientists Want to Call The Moon of a Moon".
Stars have planets, and planets have satellites we call moons; but can a moon have its own satellite? And if it did, what would we call it?

In a paper currently up on pre-print resource arXiv, astronomers Juna Kollmeier of the Carnegie Institution for Science and Sean Raymond of the Laboratoire d'Astrophysique de Bordeaux have called them submoons.

But other scientists are using the far more delightful term moonmoon, so that's what we're going to go for.
(19) VIDEO OF THE DAY. In La Futur Sera Chauve (The Bald Future) on Vimeo, Paul Cabon imagines how limited his life will be when he loses his hair.
[Thanks to John King Tarpinian, Brian Z., JJ, John King Tarpinian, Cat Eldridge, Carl Slaughter, Chip Hitchcock, Martin Morse Wooster, Mike Kennedy, and Andrew Porter for some of these stories. Title credit goes to File 770 contributing editor of the day Brian Z.]