(1) SERGEY LUKYANENKO WILL BE WORKING ON THE RAILROAD. Starting tomorrow, Chengdu Worldcon GoH Sergey Lukyanenko will join a whistlestop tour of Russia "Book beacons of Russia. Reading August 2023". The TASS publicity release says:
"Reading August" [is] a book expedition from Murmansk to Vladivostok, which will be held for the first time from August 1 to August 20. The book expedition will light up the "Book Beacons of Russia" in cities along its way.

… For the first time in history, a unique book expedition by train and other means of transportation will travel with a cultural program throughout Russia and cover more than 30 regions of the Russian Federation, including St. Petersburg, Moscow, Nizhny Novgorod, Kazan, Yekaterinburg, Tyumen, Omsk, Novosibirsk, Krasnoyarsk, Irkutsk, Ulan-Ude, Chita, Khabarovsk, Vladivostok….
In another news item, Sergey Lukyanenko, appointed by Putin to the Russian Federation's Civic Chamber in April, was on hand when the group convened on June 20. He appears for about two seconds in the video report on the session here.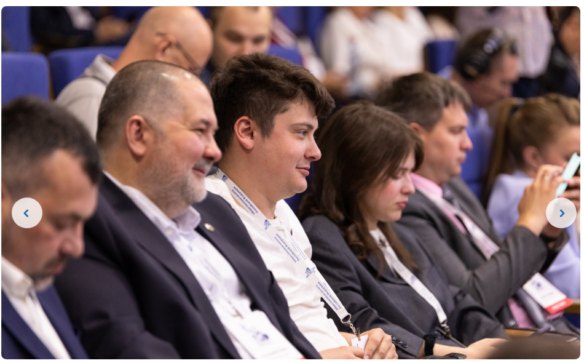 Finally, Lukyanenko is a judge in "The final of the literary competition 'Project of Special Importance' 2023". What makes it "special" is that one of the entries was produced with ChatGPT and has made the finals.
The neural network reached the final of the literary competition for authors and readers of audiobooks "Project of Special Importance". It is not yet known which text from among the finalists belongs to artificial intelligence, the [ChatGPT] neural network. The name of the laureate will be announced at the award ceremony in October in St. Petersburg.

The works of the participants are evaluated by science fiction writers Sergey Lukyanenko, Andrey Vasiliev, Vadim Panov, Max Glebov, professional audiobook readers and dubbing actors Kirill Golovin, Marina Lisovets, Dmitry Cherevatenko, Inga Brik and others. A total of 644 applications were received for the competition, 50 readers and 39 writers reached the final, stories in the genres of production novel, post-apocalypse, science fiction and cyberpunk were accepted for participation. The evaluation took into account the plot, intrigue, language style and emotional impact on the reader. The full list of finalists can be found on the website.

… The winner of the competition – the author of the text, who took 1st place, receives 250,000 rubles, 2nd place – 150,000 rubles, 3rd place – 100 thousand rubles. A prize fund of 400,000 rubles is distributed among the finalists. Among the readers, 10 winners are determined, who receive 50,000 rubles each.
(2) HELP SEATTLE IN 2025 WORLDCON BID RAISE FUNDS FOR CANCER RESEARCH. The Seattle in 2025 Worldcon Bid has formed a Base2Space team to climb the Space Needle on October 1 and raise funds for cancer research. The climb is 832 steps from street level to the observation deck, rising 0.1 miles high, or about 1/620 of the distance to space. They promise to take pictures from the top, showing the city which members of the science fiction community will have the chance to visit if Seattle wins the (so far uncontested) site selection vote to host the 2025 Worldcon. The black and white image shows what the Space Needle looked like in 1961, the last time Seattle hosted a Worldcon. 100% of donations go to the Fred Hutchinson Cancer Center. Please give generously: Seattle in 2025 Worldcon Bid – Base 2 Space.
(3) ON THE STREET WHERE YOU LIVED. "Octavia Butler Avenue Designated in Lake Forest Park, Wash." reports Publishers Weekly.
The city of Lake Forest Park, Wash., dedicated a section of 37th Avenue NE to science fiction and fantasy author Octavia E. Butler on Saturday, July 29. Admirers of the author, who died in 2006, can now walk a three-block stretch known as Octavia Butler Avenue, passing the midcentury modern home where the author lived from 1999–2006 and wrote her final novel, Fledgling.

Lake Forest Park city councilmembers Phillippa Kassover and Tracy Furutani led the initiative to establish the honorary landmark, which covers three residential blocks, from NE 162nd to NE 165th Street. In the shade of an oak tree at the dedication ceremony, Kassover explained that Butler had moved to the Seattle suburb because she "wanted a home with a garden from which she could walk to a grocery store and had access to a cultural center and a good bookstore via bus, as she did not drive." (Third Place Books Lake Forest Park is a short walk away.)

Kassover acknowledged Butler's visionary fiction, "her prescient warnings about authoritarian leaders, and her many accolades, including being the first science fiction author to receive a Macarthur Genius Award." Furutani called Butler's novels "more Orwellian than we might suppose," noting Butler's Afrofuturist and social justice vision. Butler wrote Kindred, Parable of the Sower, Parable of the Talents, and the Xenogenesis trilogy, and received Hugo, Locus, and Nebula awards.

Those honoring Butler at the ceremony included Kassover and Furutani, along with Lake Forest Park deputy mayor Tom French, councilmember Semra Riddle, Clarion West science fiction and fantasy workshop writer Caren Gussoff Sumption, scholar Sheila Liming, and musician Terry Morgan, who befriended Butler after she moved to the neighborhood.
(4) MEDICAL UPDATE. Sff author Michael Flynn, who was hospitalized with an infection early this month, was released from the hospital yesterday he announced on Facebook. Good news!
(5) CHENGDU AND UNCANNY MAGAZINE. Michael Damian Thomas and Lynne M Thomas, Editor-in-Chief/Publisher of Uncanny Magazine report that Uncanny Magazine was invited to send a representative to the Chengdu Worldcon "on the convention's dime, but none of our team will be attending the convention."
Of course, notes Michael, "In the case of Lynne and me, we are no longer able to attend any conventions that require flying or are too far away from a children's hospital due to our daughter Caitlin's palliative care."
(6) SLIP-SLIDING AWAY. AV Club explains why "Loki can't escape Jonathan Majors in season 2 trailer".
…. After fracturing the Sacred Timeline at the end of the first season, Loki has lots of issues, including the fact that he's "time slipping." Unfortunately, the Time Variance Authority's repairs guy (Ke Huy Quan) can't fix it, although he does make for a delightful addition to the cast.…
(7) POOL PARTY FOR MICHIGAN FALSE ELECTORS. Michigan's Grand New Party PAC announced a fundraising pool party in Oakland County this week for the false electors facing felony charges. There is no mention of Michele Lundgren by name in the publicity.
(8) ABOUT TODAY'S TITLE. [Item by Daniel Dern.] Heinlein's Kip Russell wanted interoperable oxygen tank fittings, among other things. Larry Niven's Belters [[IIRC, notes DPD]]] had designs painted on theirs. What would you add to yours?
(9) TROUBLE IN RIVER CITY. McSweeney's Internet Tendency warns about "Dangerous Children's Picture Books That Could Be Lurking in Your Home". Like this one —
The Giving Tree
A story of handouts. Flat-out socialism. Not to mention the climate-thumper extremism of giving the tree feelings. "Oh no, a tree is sad. It turns into a pathetic little stump. Whatever will we do?" Ridiculous.
(10) PAUL REUBENS (1952-2023). Paul Reubens, the actor and comedian who gained fame in character as Pee-wee Herman, died July 30 of cancer.
An Instagram released after his death quotes him: "Please accept my apology for not going public with what I've been facing the last six years. I have always felt a huge amount of love and respect from my friends, fans and supporters. I have loved you all so much and enjoyed making art for you."
The Los Angeles Times' obituary describes his iconic character:
…Accompanied by a talking chair and pterodactyl named Pterri, Reubens established his place in the pop-culture zeitgeist with a maniacal laugh, form-fitting gray suit and red bow tie while embodying the man-child who ran amok on Saturday mornings during the TV run of "Pee-wee's Playhouse." The CBS series aired from 1986 to 1990 and then yielded the big-screen adaptations "Pee-wee's Big Adventure," directed by Tim Burton, and "Big Top Pee-wee" in the 1980s. Stage shows followed in more recent years., as did Netflix's 2016 follow-up "Pee-wee's Big Holiday," produced by Judd Apatow….
However, Reuben's' career was derailed by criminal charges, first in 1991 — he ended up pleading no contest to a misdemeanor charge of indecent exposure — then in 2004, when he pleaded guilty to a misdemeanor obscenity charge in a plea bargain with prosecutors who agreed to drop charges concerning child pornography.
(11) TODAY'S BIRTHDAYS.
[Compiled by Cat Eldridge.]
Born July 31, 1932 — Ted Cassidy. He's best known for the role of Lurch on The Addams Family in the mid-1960s. If you've got a good ear, you'll recall that he narrated The Incredible Hulk series. And he played the part of the android Ruk in the episode "What Are Little Girls Made Of?" on Trek and provided the voices of the more strident version of Balok in the "The Corbomite Maneuver" episode and the Gorn in the "Arena" episode. In The Man from U.N.C.L.E. "The Napoleon's Tomb Affair" episode (SPOILERS), he was Edgar, who kidnapped, tortured, and repeatedly attempted to kill Napoleon and Illya. And failed magnificently. I watched a few months back. (Died 1979.)
Born July 31, 1950 — Steve Miller, 73. He is married to Sharon Lee, and they are the creators of the vast and throughly entertaining Liaden universe. (And where would one would start? And go from there? Do tell.) I was surprised though they've won both a Golden Duck and Skylark that they have never been nominated for a Hugo.
Born July 31, 1955 — Daniel M. Kimmel, 68. His essays on classic genre films were being published in The Internet Review of Science Fiction from 2005–2010 and are now in the Space and Time magazine. He is the 2018 recipient of the Skylark Award given by the New England Science Fiction Association. He was a finalist for the Compton Crook Award for Shh! It's a Secret. And he was nominated for a Hugo for Best Related Work at Chicon 7 for Jar Jar Binks Must Die… and Other Observations About Science Fiction Movies.
Born July 31, 1956 — Michael Biehn, 67. Best known in genre circles as Sgt. Kyle Reese in The Terminator and Terminator 2: Judgment Day, Cpl. Dwayne Hicks in Aliens and Lt. Coffey in The Abyss. He was also The Sandman in a single episode of Logan's Run. Though not even genre adjacent, he was Johnny Ringo in the magnificent Tombstone film. Likewise he was in The Magnificent Seven series as Chris Larabee.
Born July 31, 1959 — Kim Newman, 64. Though best known for his Anno Dracula series, I'd like to single him out for his early work, Nightmare Movies: A critical history of the horror film, 1968–88, a very serious history of horror films. It was followed up with the equally great Wild West Movies: Or How the West Was Found, Won, Lost, Lied About, Filmed and Forgotten.
Born July 31, 1962 — Wesley Snipes, 61. The first actor to be Blade in the Blade film franchise where I thought he made the perfect Blade. (There's a new Blade actor though their name escapes me right now.) I also like him as Simon Phoenix in Demolition Man. And he was Aman in Gallowwalkers, a Western horror film that is really, really bad. How bad? It gets an eleven percent rating by audience reviewers at Rotten Tomatoes.
Born July 31, 1976 — John Joseph Adams, 49. Anthologist of whom I'm very fond. He did The Improbable Adventures of Sherlock Holmes and Dead Man's Hand: An Anthology of the Weird West. He was the Assistant Editor at The Magazine of Fantasy & Science Fiction for nearly a decade, and he's been editing both Lightspeed Magazine since the early part of the previous decade. He is the series editor of The Best American Science Fiction and Fantasy. Nominated for the Hugo many times, he won for the Lightspeed prozine at Loncon 3 (2014) with Rich Horton and Stefan Rudnicki, and at Sasquan (2015) with Horton, Rudnicki, Wendy N. Wagner and Christie Yant.
(12) HORROR WRITING GENERATIONS. Brian Keene hosts a panel sponsored by the Horror Writers Association, "Back in the Day (part 1)".
Back In The Day (Part 1) hosted by Brian Keene, he speaks with panelists about what has changed in publishing and horror fiction over the years… and what hasn't
He's joined by David J. Schow, John Skipp, Chet Williamson, and Douglas E. Winter.
(13) OPPOSITE OF OPPENHEIMER. "Where are the 'violet hues' and 'bath of heat'? Australian scientists review what Oppenheimer gets wrong" in the Guardian.
Australian nuclear experts have reviewed Oppenheimer and say it is epic, intense and compelling – but not always accurate.

Its portrayal of the first atomic bomb detonation, for example, lacked the "violet hues" and heat wave of the real thing.

"Some characters even made comments like 'quantum mechanics is hard', which I disagree with – it's only hard if someone hasn't explained it properly," says Dr Kirrily Rule, an instrument scientist who works with the thermal triple-axis spectrometer Taipan at the Australian Nuclear Science and Technology Organisation (Ansto).
Rule gives Christopher Nolan's movie about the Manhattan project four stars, saying it's exciting and suspenseful but the science is "brushed over".

"As a physicist watching the movie, I think they could have been much clearer on the science involved … I believe Nolan used such high-level jargon as a confusing element to the film intentionally….
In an article where people complain about making science look too hard, it's comical to see this as the last line:
This article was amended on 28 July 2023. An earlier version incorrectly stated that the sound wave boom resulting from the 1945 Trinity detonation travelled at the speed of light.
(14) REVISED OPINION. Robert J. Sawyer, author of The Oppenheimer Alternative, immediately went to see the movie and gave it an overall positive review.
We saw Christopher Nolan's movie Oppenheimer last night as it was meant to be seen: in 70 mm IMAX.

It's a very good film; I recommend it. That said, is it the best cinematic treatment of the subject? No, that's still the 1989 movie Day One.

And is Cillian Murphy going to win the Academy Award for Best Actor? No, I don't think so; his is an awfully one-note version of Oppie, who was much more complex (and much more charming) than Murphy's portrayal would indicate….
However, a week later he told his newsletter subscribers that his enthusiasm has cooled:
…For all of Christopher Nolan's posturing that his Oppenheimer is an important film, and how, in his own words, it "poses the most unsettling questions," he completely cops out, showing us only the Trinity test explosion in New Mexico and not the dropping of the bombs on the living, breathing cities of Hiroshima and Nagasaki. Yes, Nolan portrays the famous moment in which Oppenheimer says he fears he has "blood on his hands" to Harry S. Truman in the Oval Office, but, in his film, we never get any real sense of Oppenheimer's regret or of the horrors of nuclear war. Sadly, despite the IMAX format, most scenes in Oppenheimer aren't very memorable either visually or emotionally.
(15) EARLY DISNEYLAND. Shorpy recently posted "Moonliner: 1960". Image at the link.
Circa 1960, the TWA "Moonliner" rocket at Disneyland's Tomorrowland in Anaheim, California. (With Richfield Oil's "Autopia" in the background.) At 76 feet, the Moonliner was the tallest attraction in the park. This medium format transparency is part of a recent donation to Shorpy from the family of California photographer Mary Baum (1925-2012). View full size.
I remember that rocket. And the ride — which was a circle of theater seats around a circular screen. The "launch" was b&w film taken by a camera on a V-2.
(16) SECOND SIGHT. "Queen legend Brian May helped NASA ace its asteroid-sampling mission" and Space.com tells how.
Queen guitarist Brian May and Dante Lauretta, the chief scientist of NASA's asteroid-sampling OSIRIS-REx mission, have collaborated on a book about the asteroid Bennu — and it's not a PR stunt.

OSIRIS-REx snagged a sample of Bennu in October 2020 and is currently speeding toward Earth with the precious space-rock material, which is scheduled to touch down here on Sept. 24.

Unbeknownst to the world, May, voted the greatest guitarist of all time by readers of Total Guitar magazine earlier this year, had actually been hard at work for years leading up to the sampling attempt, helping to process images captured by NASA's flagship space rock explorer to find a suitable landing spot on the treacherous surface of asteroid Bennu. The work proved harder than Lauretta and May had expected, as the 1,722-feet-wide (525 meters) Bennu turned scientists' understanding of asteroids upside down….

OSIRIS-REx wasn't fitted with a stereo camera. May, however, knew a way around this limitation, as he had previously produced 3D images of Comet 67P, the target of the Rosetta mission, and of Pluto as seen by New Horizons, by carefully selecting and aligning images taken by a single camera from different angles.

The OSIRIS-REx cooperation, however, put the musician's commitment to science through a test. As data from OSIRIS-REx started pouring in, the scientists realized that Bennu's surface was not at all what they had expected and designed their mission for. Instead of mostly smooth, beach-like plains of sand occasionally strewn with smatterings of bigger rocks, they found a body covered in boulders that sometimes rose against the asteroid's barely existent gravity in formations tens of feet tall. Understanding what the researchers were truly facing from the two-dimensional snapshots captured by OSIRIS-REx's cameras was nigh impossible. And so May quickly got to prove his scientific worth.
(17) STUCK TO THE FUTURE. "This Fusion Reactor Is Held Together With Tape" at IEEE Spectrum.
…What sets CFS's technology apart is its use of high-temperature superconducting tape, which is layered and stacked to create extremely strong electromagnets that will shape and confine the unruly plasma and keep the bulk of the charged particles away from the tokamak's walls. The company believes that this novel approach will allow it to build a high-performance tokamak that is much smaller and less expensive than would be possible with previous approaches….
Daniel Dern asks, "Yeah, but would it keep the Ringworld from breaking?"
[Thanks to Chris Barkley, Michael Toman, Daniel Dern, Kevin Black, Dann, Michael Damian Thomas, Cat Eldridge, SF Concatenation's Jonathan Cowie, Mike Kennedy, Andrew Porter, and John King Tarpinian for some of these stories. Title credit belongs to File 770 contributing editor of the day Daniel Dern.]