(1) SUPERSJW? The forthcoming issue of Action Comics is in the news — "Superman Protects Undocumented Workers From Armed White Supremacist in Latest Comic". The Hollywood Reporter has the story.
The moment in the book released Wednesday comes a week after President Trump ended DACA.

Perhaps it is just a coincidence, but perhaps not.

In the recent issue of Action Comics #987, "The Oz Effect," released Wednesday, Superman arrives in the nick of time to protect a group of undocumented immigrants from a white man sporting an American flag bandanna, wielding a machine gun, who is going to shoot them for taking his job.
Some of you asked me if Action Comics 987 really shows who Mr. Oz is. It does. No spoilers here, though!#LodixNCBD pic.twitter.com/FfDzLD8VDG

— Lodix (@lodix1) September 13, 2017
Breitbart, picking up the story from The Hollywood Reporter, gave it a predictable spin:
…In an act of Super socialism, once police arrive, our Social Justice Supes orders them to protect the illegal aliens to make sure they are "safe and cared for."

This latest episode should not surprise anyone.

DC Comics long ago declared that Superman is no longer American. Where once the hero touted the ideals of "truth, justice, and the American way," like a good leftist, Superman is now a "citizen of the world."
(2) DISCOVERY NOVEL SERIES BEGINS. I was interested to see the first Star Trek: Discovery tie-in novel is already out, though the timing couldn't be better — Star Trek: Discovery: Desperate Hours by David Mack.
An all-original novel based upon the explosive new series on CBS All Access Aboard the Starship Shenzhou, Lieutenant Michael Burnham, a human woman raised and educated among Vulcans, is promoted to acting first officer. But if she wants to keep the job, she must prove to Captain Philippa Georgiou that she deserves to have it. She gets her chance when the Shenzhou must protect a Federation colony that is under attack by an ancient alien vessel that has surfaced from the deepest fathoms of the planet's dark, uncharted sea. As the menace from this mysterious vessel grows stronger, Starfleet declares the colony expendable in the name of halting the threat. To save thousands of innocent lives, Burnham must infiltrate the alien ship. But to do so, she needs to face the truth of her troubled past, and seek the aid of a man she has tried to avoid her entire life—until now.
(3) OUT OF HIS SHELL. Scott Edelman invites fans to join John Kessel for a seafood feast in Episode 47 of the Eating the Fantastic podcast.
Kessel's latest novel, The Moon and The Other, was released in April from Saga Press, an imprint of Simon & Schuster. He's a two-time Nebula Award winner, first in 1982 for his novella "Another Orphan," then in 2008 for the novelette "Pride and Prometheus." He set a new record with that second award, in that the 26 years between the two was (at the time) the longest gap for a winner in Nebula history. His short story "Buffalo"—one of my all-time favorites in or out of genre, and one which I reread often—won the Theodore Sturgeon Memorial Award in 1992.

We discussed why he suddenly has two novels coming out within a year two decades after his last one, how attending the 1969 St. Louis Worldcon changed his life, the ways in which his objections to "The Cold Equations" and Ender's Game are at their heart the same, his early days attempting to emulate Thomas M. Disch, the time-travel short story he couldn't whip into shape for Damon Knight, which author broke his 26-year Nebula Awards record for the longest gap between wins, the secret behind the success of his many collaborations with James Patrick Kelly, and more.
(4) WE'LL ALWAYS HAVE PARIS. Hampus Eckerman is living the sci-fi life while visiting France.
Most hotels have got the bible to read, but my hotel in Paris has got The Island of Dr. Moreau! On the other hand, my TV-set scares me.
(5) MORE SHORT FICTION REVIEWS, In "A New SFF Review Site Looks Interesting", Camestros Felapton aims our attention at the inaugural work of SFF Reviews, Sara L. Uckelman's review of "The Salt Debt" by J. B. Rockwell. In Uckelman's explanatory post about the site she says:
Our aim is provide short reviews of short SFF stories that reflect a diversity of voices and opinions from both the authors and the reviewers. Other than a few formatting requirements to ensure the reviews are presented and tagged in a uniform fashion, and one content requirement — don't be mean! — reviewers are free to write their reviews as they please. Some people will focus on the story; some on the narration; some on the language. Some of the reviews will be more slanted to the factual and the objective; some will be the reviewer's own personal response to a piece. Some reviews will be longer than others, but don't be surprised if most come in around 200 words — after all, one doesn't want a review to be longer to read than the story itself!
(6) OKORAFOR VISION. On Twitter she winces at the "Afrocentric" and wishes they had at least said Afrofuturist – the A.V. Club's news item, "HBO orders new sci-fi series from author Nnedi Okorafor and producer George R.R. Martin".
HBO has officially closed a deal to grab a new TV show from George R.R. Martin, with Deadline reporting that the network has finalized plans to develop a Martin-produced adaptation of Nnedi Okorafor's 2010 novel Who Fears Death. Set in a post-apocalyptic Africa, the book tells the story of a young girl who seeks to discover the meaning behind her own magical powers, as well as the nature of the powerful forces trying to end her life.
"Afrocentric"….at least say Afrofuturist, yeesh. Get with it. And *I* wrote the novel being adapted.

Mscheeeeeeeeeeew. https://t.co/AuIg6TIuwy

— Nnedi Okorafor, PhD (@Nnedi) September 15, 2017
(7) POURNELLE OBIT IN NYT. It's rather remarkable that in "Jerry Pournelle, Science Fiction Novelist and Computer Guide, Dies at 84" the New York Times obituary writer makes only the most minimal reference to Pournelle's voluminous political writings, which have been deeply controversial within the sf community.
Dr. Pournelle was also known to many through lively columns for Byte magazine in which, beginning early in the home-computing age, he talked about personal computers and the software for them. Much of any given column was about his own experiences at "Chaos Manor" — his name for his home, and for the column — trying out new software products and wrestling with bugs, glitches and viruses.
(8) TODAY IN HISTORY
September 15, 1965 — Beach-horror hybrid The Beach Girls and the Monster opens in theaters.
September 15, 1965 — Mario Bava's Planet of the Vampires premieres in its native Italy.
September 15, 2015 – Rocket Stack Rank went live.
(9) TODAY'S BIRTHDAYS
Born September 15, 1940 – Norman Spinrad
Born September 15, 1942 – Chelsea Quinn Yarbro
(10) PLANS FOR X-MEN. Marvel will be producing a six-issue arc revisiting the complete history of the X-Men universe.
Marvel Comics and Eisner Award-winning indie cartoonist indie Ed Piskor are teaming up for an unexpected, unprecedented, and uncanny undertaking. Best known for documenting the history of hip hop with the award winning HIP HOP FAMILY TREE graphic novels, Ed Piskor will sample and distill more than 8,000 pages of superheroic storytelling to create a definitive remix of the first 280 original issues of X-Men comic books and 30 years of complicated continuity into one seamless masterpiece of superheroic storytelling. Piskor will write, draw, ink, color and letter all six 40 page issues of X-MEN: GRAND DESIGN, which Marvel will publish over three years as three separate but interconnected mini-series — X-MEN: GRAND DESIGN, X-MEN: GRAND DESIGN-SECOND GENESIS and  X-MEN: GRAND DESIGN-X-TINCTION.

"X-MEN: GRAND DESIGN is a tribute to everything comic book fans love about the X-Men from Stan Lee and Jack Kirby's original run and Chris Claremont's, epic 16-year stint as the series' writer," said Piskor. "It's a compelling and complete story with a beginning, middle and an end, featuring everything from Xavier's School for Gifted Youngsters, Cerebro and the Danger Room to the Mutant Massacre, the Reavers, Gambit, and Genosha."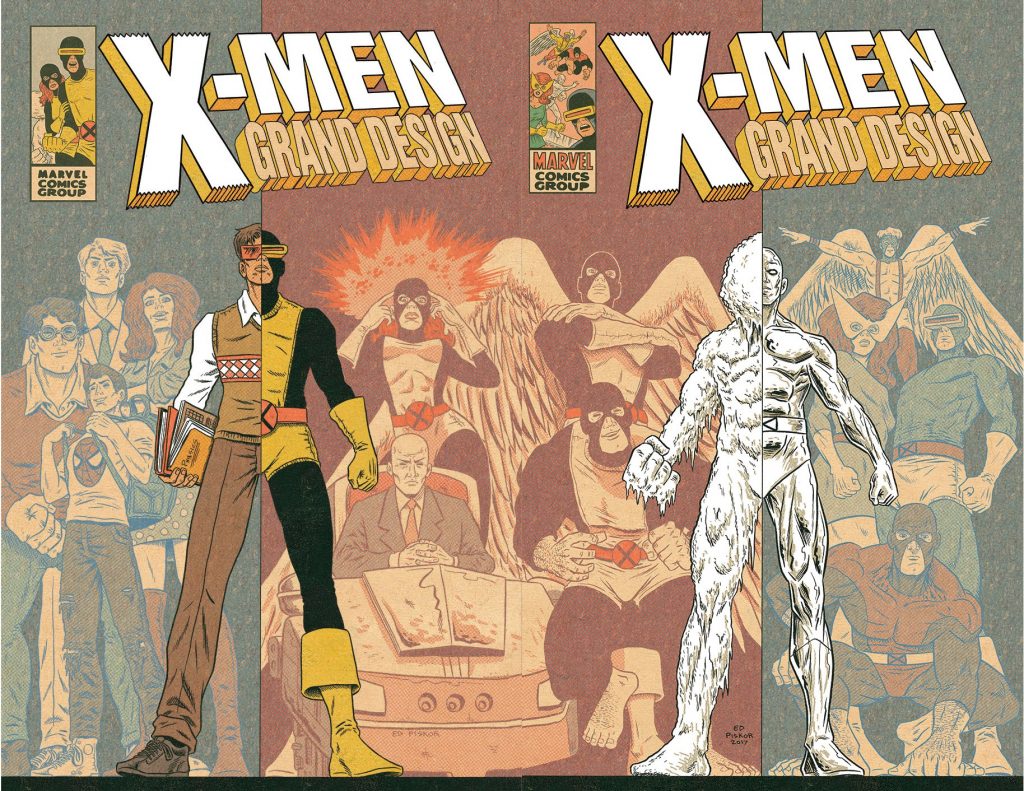 (11) ACTRESS TO REPRISE HALLOWEEN ROLE. Horror Freak news reports "Jamie Lee Curtis Returning as Laurie Strode in "HALLOWEEN" 2018!"
If fans of John Carpenter's seminal horror classic Halloween (released in 1978) weren't happy about the planned reboot in the works at Blumhouse, they will be now. The indie powerhouse just announced that iconic Scream Queen and original Final Girl Jamie Lee Curtis has joined the cast and will be reprising the role of Laurie Strode, Michael Myers' sister. The news came down via Twitter.
Jamie Lee Curtis returns to her iconic role as Laurie Strode in HALLOWEEN, released by Universal Pictures October 19, 2018. #HalloweenMovie pic.twitter.com/6tbbz2W1ZV

— Blumhouse (@blumhouse) September 15, 2017
(12) TARANTINO TREK. Dirk Lilley, in "What Kind of Star Trek Movie Quentin Tarantino Would Like to Make"  on CinemaBlend, summarizes some intelligent comments Tarantino made to the Nerdist Podcast. including why he would like to remake "City On the Edge of Forever."
The director specifically mentions "City on the Edge of Forever" as an episode that would make a great movie. It's one of the great Trek classics, but as Quentin Tarantino pointed out, the episode really only focuses on our main three of Kirk, Spock, and McCoy, and the rest of the crew would be virtually non-existent. That wouldn't really work for a modern film adaptation. You've got to find something for Zoe Saldana and John Cho to do.
(13) FORNAX 20. Charles Rector has just posted the 20th issue of his fanzine Fornax to eFanzines.
Included in its contents are Bill Burns's comments on the sad state of the Hugo Awards for Best Fanzines with blogs increasingly being counted as fanzines and winning the awards. Also, an essay about what in Rector's view is the increasing problem of such pro authors such Sarah A. Hoyt, Larry Correia, Vox Day, and others' trashing both fans and fandom. Fornax the 20th also has articles about road rage, how to do TV advertisements relating to hiring handicapped people as well as articles and stories by Robin Bright and Gerd Maximovic.
(14) SPLIT PERSONALITIES. The Verge's Angela Chen explains how "These robots mind meld when they need to work together".
Shapeshifting robots already exist; they either have a centralized "nervous system" that controls where each unit is, or each of the units works by itself and they sometimes link up. But centralized systems are weak and can't scale, while self-organizing robots are hard to control and clumsy. Researchers created a new robot that has the strengths of both: the individual units can control themselves — but they can also connect to each other and become a single, precise robot. The study was published today in the journal Nature Communications.

In the new system, the robot is made of different units controlled by one "brain," sort of like the nervous system in our bodies. This brain is the leader of the pack and, using Wi-Fi, gathers data from the other robots and controls them if they come into contact. "The robots in our multi-robot system are autonomous individual robots that, when they attach to each other, become a new single robot with a single control system," study co-author Marco Dorigo, wrote in an email to The Verge. Then, if they detach, they go back to being autonomous system with their own control systems. Dorigo calls this new method "mergeable nervous system," and says it is a more precise way to control all the units.
(15) VIDEO OF THE DAY. "Launching Flowers Into Outer Space" is a piece from Great Big Story about a Japanese artist who launches high-altitude balloons from Nevada with flower displays to see what happens to the flowers in space.
[Thanks to John King Tarpinian, JJ, Moshe Feder, Cat Eldridge, Martin Morse Wooster, Lis Carey, Gregory Hullender, and Alan Baumler for some of these stories. Title credit belongs to File 770 contributing editor of the day Andrew.]