As reported last weekend, the #SFFpledge is circulating.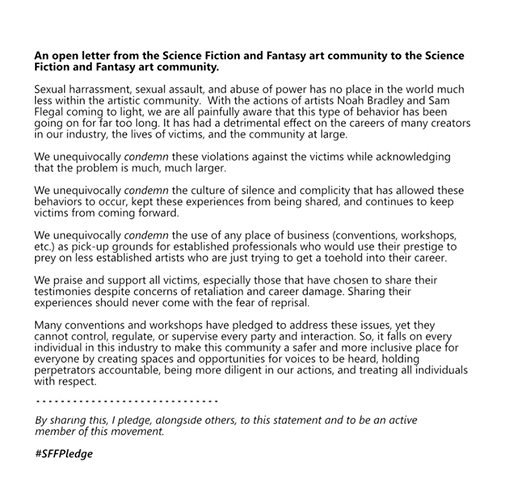 Noah Bradley's response was reported in the July 10 Scroll (item 6).
The other person named, Sam Flegal, artist and co-founder of the art camp One Fantastic Week, issued an apology on Facebook for unspecified acts against women he had contact with. That Facebook post is no longer publicly available, but a screencap of Flegal's statement has been posted by M M Schill on her Patreon, here, with a detailed response.
Another public post on the topic links to the tweeted statement of Eunjoo Han (in screencaps attached to the link) who does not name the harasser being discussed, but he is alleged to be Flegal.
Here are links to the three other accounts of Sam Flegal's activities posted so far:

Melissa Gay (former One Fantastic Week moderator) posted to Facebook on July 5 a set of screencaps with this introduction:
Because abuse thrives in darkness, I am going public with my experiences. The damage done to our fantasy art and illustration community is too great to be mended by silence. Silence about social issues never solves anything anyway– it's only the loud that provoke social change. And our community, our community and convention culture, BADLY need change.

Trigger warning.
Nen Chang (former faculty at the One Fantastic Workshop run by Sam Flegal and Peter Mohrbacher) also posted a statement in a series of screencaps on Twitter. Thread starts here.
Kelly McKernan made a statement about Flegal's apology. Thread starts here.
Here also are links to screencaps of two Facebook posts by different authors confirming that Eunjoo Han was describing an encounter with Flegal, the authors claiming to have spoken with Eunjoo about the encounter. Both of these posts have since been deleted and authorship of the screencaps is omitted to protect their privacy. [Statement 1] [Statement 2 first screen] [Statement 2 second screen] [Statement 2 third screen] [Statement 2 fourth screen]   Update 12/6/2020: Statement 2 has been claimed by the author and removed at their request.

One Fantastic Week, the mentoring group founded and led by Sam Flegal and Peter Mohrbacher has also been deactivated. An initial post indicated a hiatus, which was then disputed by former mod Melissa Gay on Facebook on June 30. This post came prior to her full account above. Shortly after all this, Mohrbacher posted an official closing of One Fantastic Week.

Lastly, a group of events and educational resources issued a joint statement indirectly referencing to the actions of Sam Flegal and Noah Bradley, posted on the IX Arts Facebook page:
We have been quiet but we see what is happening and we are actively listening and available. We do not condone any behavior in this community that makes it unsafe or unwelcoming. We love this community, as we all do. And we are working on solutions based on feedback from the whole community.

– IX, Spectrum, IMC, Drawn and Drafted
IX is a convention called Illuxcon. IMC is the Illustrators Masters Class. Spectrum is a printed art annual and sometimes live convention event. Drawn and Drafted is an educational/mentorship company run by Marc Scheff and Lauren Panepinto. Eunjoo's account specifically talks about Sam Flegal approaching her at Spectrum Live and Illuxcon. All these events had Sam Flegal as a participant and/or teacher and Lauren Panepinto (Drawn & Drafted) promoted the One Fantastic Workshop – the event run by Sam Flegal and Pete Mohrbacher, where Flegal is also accused of sexually harassing women.
Update 12/6/2020: Statement 2 above has been claimed by the author and removed at their request. Some other items linked in the post have also been deleted or made nonpublic since the post was originally published.