Erle Korshak, one of the last two surviving attendees of the first Worldcon in 1939, died August 25.
With Korshak's death, Bob Madle is the sole surviving attendee of the first Worldcon.
Korshak's first encounter with science fiction was in 1934 as an 11-year-old, following up his good friend Mark Reinsberg's interest in the stories Astounding was publishing. In 1939, he created Moonstruck Press with the ambition of compiling a bibliography of every fantasy book published to that time.
Korshak also was part of the leadership triumvirate that brought the second Worldcon to Chicago in 1940. Reinsberg was chair, Korshak secretary, and Bob Tucker treasurer. Korshak presided over the opening day of the con, when Reinsberg fell ill.
Korshak was going to be one of the guests of honor at the 2022 Worldcon, Chicon 8. Convention chair Helen Montgomery said, "We were so happy to be able to call and ask him to join us. Erle was so excited to be our Guest of Honor, and told us so in every conversation we had with him since then."
During World War II he served in the U.S. Army, enlisting in 1942 a month after he turned 19. He later graduated from law school, as did others in Chicago's influential Korshak family. He became a successful lawyer and businessman in California and Nevada. (A diagram of the family tree is here.)
In the Fifties, Korshak helped found Shasta: Publishers together with T.E. Dikty and Mark Reinsberg, one of the earliest sf specialty presses. They initially planned only to publish Everett F. Bleiler's The Checklist of Fantastic Literature (1948). However, the Library of Congress reviewed the copy they received, calling it "a lasting contribution to the American arts in the field of the humanities," Korshak told interviewers. "Every library in America bought the book, the checklist. We couldn't believe it. All of a sudden we're selling these things — and it was expensive, because six dollars was big money in those days." They sold out the first edition, and then did a second edition. "So now [Dikty]and I are looking at each other and saying hey, this is a great feeling, why don't we publish some more books?" They began reprinting famous pulp sf works in hardcover. Some of Shasta's best-known books were Who Goes There? (1948) by John W. Campbell, Jr.; The Man Who Sold the Moon (1950) by Robert A. Heinlein; Sidewise in Time (1950) by Murray Leinster; and The Demolished Man (1953) by Alfred Bester. Shasta operated from 1947-1957. And in 2009, Korshak and his son Stephen revived the imprint as "Shasta-Phoenix" to publish collections of classic sf art.
When Shasta originally went out of business, Erle dropped out of organized fandom for three decades. He resumed attending conventions in the Eighties, beginning with the 1986 Worldcon where his friend Ray Bradbury was guest of honor.
He was inducted into the First Fandom Hall of Fame in 1996.
At the Chicago 7 Worldcon of 2012, Erle Korshak was interviewed onstage by John Scalzi. Asked by Scalzi how many people came to the first Chicago Worldcon, Korshak said 129, and Scalzi gestured to the front of the Grand Ballroom, "About the first two rows here."
Chicon 8's announcement of Korshak's death says he will still be celebrated next year:
Our plans to honor Erle will not change. We will continue to plan to celebrate his amazing life and his contributions to fandom, from the early days of Worldcon to starting Shasta Publishing to his career as an attorney and his love of art which he passed on to his children.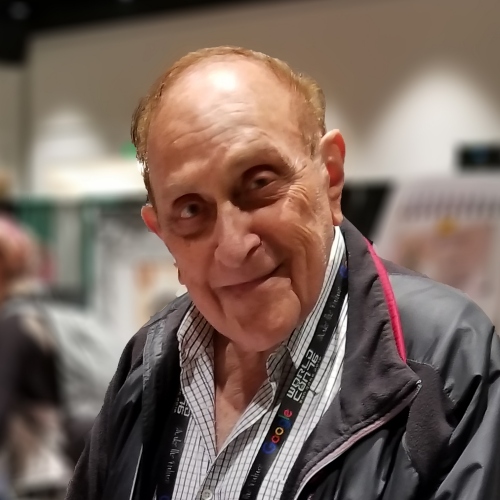 ---
A slideshow of additional photos of Erle Korshak taken by Andrew Porter.
Audrey and Michael Whelan with Erle at the opening of the Korshak Collection show, Society of Illustrators. Photo by and copyright © Andrew Porter

Another photo of Erle from Soc. of Illus. show. Photo by and copyright © Andrew Porter

Earle with Robert Silverberg at 2018 World SF Conv. Photo by and copyright © Andrew Porter

Detail of Erle, from photo with Whelans. Photo by and copyright © Andrew Porter

Erle in the 1980s. Photo by and copyright © Andrew Porter

Erle and his son Stephen at ConFrancisco, the 1993 World SF Convention. Photo by and copyright © Andrew Porter