(1) OKORAFOR'S WORK OF A LIFETIME. Announced today:
(2) AFRICAN/BLACK HUGO FINALISTS. Writing Africa's post "Hugo Awards 2023 finalists announced" names seven writers of African descent (African or Black) in the running for the awards. List at the link.
(3) HELP IS ON THE WAY. Twitter's API changes (including price hikes) radically affected certain kinds of services. Shaun Duke tells about how he replaced a resource he used in "When You Lose Your Social Media Manager (Or, Notes on SMMSs to Drown Your Tears In)". Duke screened over 100 services and has shared his scouting report on 11 finalists. (For him, whether they link to Mastodon is an important consideration.)
…Like a lot of folks, I don't really have the time to sit on social media apps posting. And like a lot of folks, I have things to "sell," which means I don't have much choice but to be on social media apps. In this case, I mostly "sell" a podcast, and in the corporate environment of podcasting, you can't exist without a social media presence. And one person really can't manage that much social media without a little help. For me, that help comes in the form of a social media manager.

As such, when my existing management tools either went belly up or fell apart due to Muskian shenanigans, I knew I needed to find something else that would help me manage my personal feeds AND the feeds for The Skiffy and Fanty Show without me needing to be constantly app-bound. To do that effectively, that "something else" needed to be more or less similar to SmarterQueue in terms of price and function….

The original post only featured SocialChamp, Buffer, SocialBu, Sociomonials, and Vista Social.

New entries include the following: SocialBee, Publr, SocialOomph, Zoho Social, Missinglettr and dlvr.it…
(4) OPPIE-SITES ATTRACT? From The Hollywood Reporter: "AMC Theatres Says More Than 20,000 Moviegoers Have Already Booked 'Barbie'-'Oppenheimer' Double Features".
In the battle of the bomb vs. the bombshell… why not both?

Plenty of moviegoers are making the decision to watch Christopher Nolan's atomic drama "Oppenheimer" and Greta Gerwig's colorful romp "Barbie" on the same day when the two tentpoles hit theaters on July 21….
(5) ON THE RADIO. [Item by SF Concatenation's Jonathan Cowie.] Lots on the B Beeb Ceeb Radio 4.
Yeti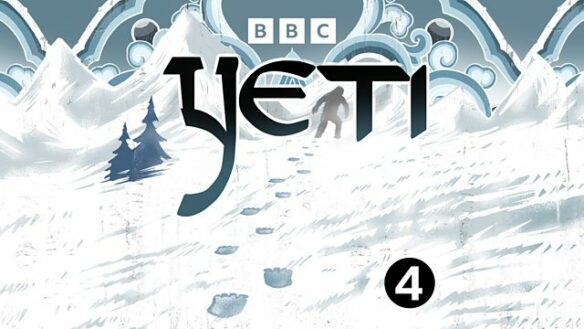 A 10-part series of half hour episodes. Yeti, 1. "Ready, Yeti, Go!"
Open access, so no need even for a BBC Sounds account.
Tales of a bipedal ape-like creature persist in the myth and legend of the Himalayas. But does the yeti really exist? Two enthusiasts are determined to find out.

Andrew Benfield and Richard Horsey begin their search in the north-east Indian state of Arunachal Pradesh.

Speaking to villagers and yak herders, they hear multiple accounts of yeti sightings. Will they find the evidence they need to prove the creature is real?
Last Man Standing
One off one hour production: Last Man Standing
Love the end of the world. One of the best SF tropes going.
This is a sort of drama documentary following the last man alive but also explores the quiet Earth trope in SF.
In the near future, Paul Farley finds that he is the last person on the planet – everyone else has disappeared without any explanation.

At first bewildered, in order to mark time and help him keep his wits sharp, he sets about creating an audio journal, centred on an exploration of the various novels, poems and films that feature a last man (and it is almost always a man) character.

These stem back to the Romantics, and include Byron's poem Darkness and Mary Shelley's overlooked gem The Last Man, which raises some of the key questions that arise not just in later narratives but also in Paul's own experience – what happens to time when you're the last person standing, should you live in the town or the countryside, is it possible to really be happy or simply enjoy a view, a meal or a song when there's nobody left to enjoy them with?
Bitter Pill
Five part SF drama of half hour episodes. Open access – no BBC Sounds account required. Bitter Pill – 1: "Fight or Flight"
An audio drama series about memory and trauma.

After a traumatic car crash, Mary joins a clinical drug trial that promises a cure for PTSD. The medication triggers intense flashbacks of the accident that left her fiancée comatose. But is Mary simply remembering the event, or reliving it? And if she is actually returning to the past, does that mean she can change her future?
(5) AI JIANG EVENT. Space Cowboy Books of Joshua Tree, CA (which incidentally just retired its Simultaneous Times newsletter) will host an Online Reading & Interview with Ai Jiang on Tuesday July 18 at 6:00 p.m. Pacific.
If you have the opportunity to give up humanity for efficiency, mechanical invincibility, and to surpass human limitations. . . would you? Ai is a cyborg, under the guise of an AI writing program, who struggles to keep up with the never-blinking city of Emit as it threatens to leave all those like her behind.
Get your copy of I Am AI here. Register for the reading free here.
(6) CELEBRITY BRUSH. Steve Vertlieb is visiting LA. Last night he and his brother Erwin met Paul Williams at The Catalina Jazz Club. Paul was there to support his friend, Jimmy Webb.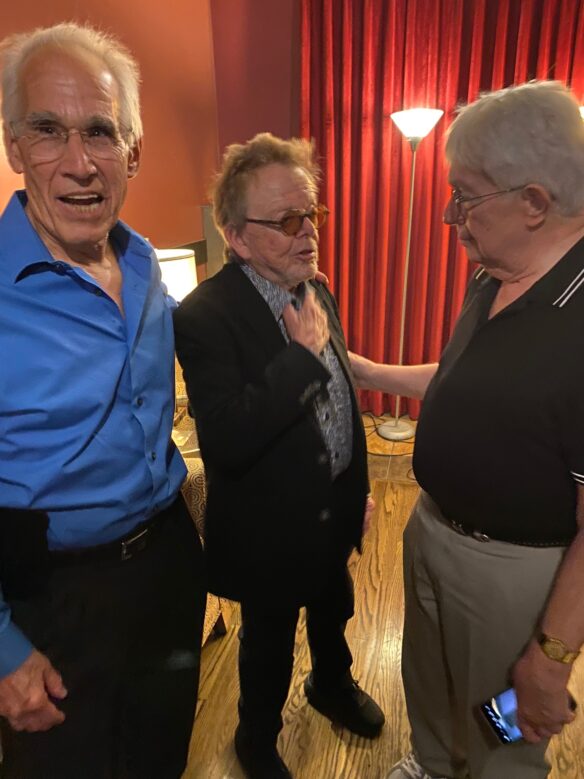 (7) MEMORY LANE.
2004 – [Written by Cat Eldridge from a choice by Mike Glyer.]
So Mike picked a work by Geoff Ryman, a writer that I like a lot. I think one of his best works is the revisionist fantasy of The Wizard of Oz, Was…, and 253, or Tube Theatre which a Philip K. Dick Award is stellar work. The Child Garden which I honestly can't decide if I like or loathe won both the Arthur C. Clarke Award and the John W. Campbell Memorial Award
He's written a fair amount of short fiction, half of which is collected is Paradise Tales, and some of his novellas are in Unconquered Countries: Four Novellas.
So what was that work? It was Air (or, Have Not Have) which was published nineteen years ago by St. Martin's Griffin. It won an Arthur C. Clarke Award, a British Science Fiction Award, an Otherwise Award and the Sunburst Award for Excellence in Canadian Literature of the Fantastic.
And now for our Beginning…
MAE LIVED IN THE LAST VILLAGE IN THE WORLD TO GO ONLINE. After that, everyone else went on Air.
Mae was the village's fashion expert. She advised on makeup, sold cosmetics, and provided good dresses. Every farmer's wife needed at least one good dress.
Mae would sketch what was being worn in the capital. She would always add a special touch: a lime-green scarf with sequins; or a lacy ruffle with colorful embroidery. A good dress was for display. "We are a happier people and we can wear these gay colors," Mae would advise. "Yes, that is true," her customer might reply, entranced that fashion expressed their happy culture. "In the photographs, the Japanese women all look so solemn."
"So full of themselves," said Mae, and lowered her head and scowled, and she and her customer would laugh, feeling as sophisticated as anyone in the world.
Mae got her ideas as well as her mascara and lipsticks from her trips to the town. It was a long way and she needed to be driven. When Sunni Haseem offered to drive her down in exchange for a fashion expedition, Mae had to agree. Apart from anything else, Mae had a wedding dress to collect.
Sunni herself was from an old village family, but her husband was a beefy brute from farther down the hill. He puffed on cigarettes and his tanned fingers were as thick and weathered as the necks of turtles. In the backseat with Mae, Sunni giggled and prodded and gleamed with the thought of visiting town with her friend and confidante who was going to unleash her beauty secrets.
(8) TODAY'S BIRTHDAYS.
[Compiled by Cat Eldridge.]
Born July 10, 1903 — John Wyndham. His best-known works include The Day of the Triffids and The Midwich Cuckoos, both written in the Fifties. The latter novel was filmed twice as Village of the Damned. The usual suspects have an impressive selection of his novels though little of his short fiction is available alas. (Died 1969.)
Born July 10, 1914 — Joe Shuster. Comic book artist best remembered for co-creating Superman with Jerry Siegel. It happened in Action Comics #1 which was cover-dated June 1938. Need I mention the long fight with DC over crediting them as the creators and paying them? I think not. He was inducted into the Will Eisner Comic Book Hall of Fame and the Jack Kirby Hall of Fame. (Died 1992.)
Born July 10, 1923 — Earl Hamner Jr. Though much better known for writing and producing The Waltons, he wrote eight scripts for the Twilight Zone including "Black Leather Jackets" in which an alien falls in love with a human girl and "The Hunt" where raccoon hunters enter the Twilight Zone. He also wrote the script of the Hanna-Barbera production of Charlotte's Web. (Died 2016.)
Born July 10, 1931 — Julian May. She's best known for her Saga of Pliocene Exile (known as the Saga of the Exiles in the UK) and Galactic Milieu series: Jack the Bodiless, Diamond Mask and Magnificat. At age 21 she chaired TASFiC, the 1952 Worldcon in Chicago. She was inducted into the First Fandom Hall of Fame at the Sasquan Worldcon. (Died 2017.)
Born July 10, 1941 — Susan Seddon Boulet. Another one who died way, way too young after a long struggle with cancer. If you've read the American edition of Terri Windling's The Wood Wife (which won the Mythopoeic Fantasy Award for Adult Literature Award), you've seen her amazing work. Or perhaps you've got a copy of Pomegranate's edition of Ursula Le Guin's Buffalo Gals Won't You Come Out Tonight which also features her art. If you're keen on knowing more about this amazing artist, see the Green Man review of Susan Seddon Boulet: A Retrospective. (Died 1997.)
Born July 10, 1941 — David Hartwell. Encyclopedia of Science Fiction describes him as "perhaps the single most influential book editor of the past forty years in the American science fiction publishing world". I certainly fondly remember the The Space Opera Renaissance he co-edited with Kathryn Cramer. Not to mention that his Year's Best Fantasy and Year's Best SF anthologies are still quite excellent reading, and they're available at the usual suspects for a very reasonable price. (Died 2016.)
Born July 10, 1945 — Ron Glass. Probably best-known genre wise as Shepherd Book in the Firefly series and its sequel Serenity. His first genre role was as Jerry Merris in Deep Space, a SF horror film and he'd later show up voicing Philo D. Grenman in Strange Frame: Love & Sax ("slated as the world's first animated lesbian-themed sci-fi film"; look it up as it as an impressive voice cast) and he showed up twice as J. Streiten, MD in Agents of S.H.I.E.L.D. Oh and he was on Voyager playing a character named Loken in the "Nightingale" episode. (Died 2016.)
(9) YOUTHFUL MEMORIES. From the desk of Dean Koontz:
I was born in July. I remember telling the physician who attended my birth that I was going to be a male model and therefore needed to be sure that my belly button was a neat innie and not an outie. The doctor obliged, but as it turned out I didn't have the right stuff to be a model. I was four weeks old, making the rounds of agents, getting one polite rejection after another, when I finally encountered a man who understood that what I needed to hear was not insincere encouragement but the blunt truth. "Kid," he said, though I was still a mere infant, "take a long look in a mirror. A moldering turnip has a better chance of being a model than you do."

Oh, I recall vividly the emotional turmoil that overcame me when he issued that judgment. He spoke the truth, but there was no need to phrase it so cruelly. I wanted to give him a thrashing he would never forget, but he was six feet four, and I was only twenty-six inches tall with inadequately developed musculature. I told him I'd be back to settle the score in twenty years, and I left his office red-faced with anger and shame…
(10) OVER THERE. [Item by Michael Toman.] Bibliophile Filers might be interested in browsing this list to see who (and what!) "made the cut" of 1,322 titles before June, 1947. "List of Armed Services Editions" in the Wikipedia. Have to wonder just how valuable titles like the Lovecraft and Stoker are now?
Armed Services Editions (ASEs) were small paperback books of fiction and nonfiction that were distributed in the American military during World War II. From 1943 to 1947, some 122 million copies of more than 1,300 ASE titles were published and printed by the Council on Books in Wartime (CBW) and distributed to service members, with whom they were enormously popular.
(11) HOW THE DIGITAL SAUSAGE IS MADE. "'Indiana Jones and the Dial of Destiny' Visual Effects Work Revealed" in the Hollywood Reporter. Beware spoilers.
Lucasfilm's Industrial Light & Magic, which won Oscars for the visual effects in Steven Spielberg's Indiana Jones films Raiders of the Lost Ark and Temple of Doom, returned to use every trick in the book on the whopping 2,350 VFX shots in the fifth installment of the franchise.

In the opening action sequence of Indiana Jones and the Dial of Destiny, a young Harrison Ford appears in a 1944-set flashback highlighted by an action scene atop of moving train. Then we meet the elder Indy in 1969 for his next adventure, which includes a tuk-tuk chase in Morocco and — using the titular dial to time travel — a climax set during the epic siege of Syracuse….

It goes without saying, a lot of attention has been placed on the young Harrison Ford, who appears during the movie's opening scene. How'd you do it?

ANDREW WHITEHURST It's called ILM Face Swap; it's using an enormous number of techniques.

ROBERT WEAVER Face swap essentially is replacing the face with another face, whether it's a younger version or somebody entirely different. In this case, it was the younger version. And as Andrew was saying, we utilized every trick in the book as far as what it would take to get each individual shot to the level that it needed to be. It employed using machine learning; it employed building a full CG asset to highly critical detail. This work doesn't lend itself well to having a very consistent recipe; it's completely dynamic to the individual shot. So there were times that we were leaning more on the CG asset, and there were times that we would be getting a bit more out of the machine learning passes.

WHITEHURST The one continuous element throughout all of this is having really great artists with really great eyes making those choices with Robert and me. And we had an enormous amount of reference material from earlier Indy films, which we got scanned, and we could use that and we could frame through that and understand what exactly the likeness was that we were trying to hit. And it's building it up. We would initially do a low-resolution pass that we could give to the edit. So they were always cutting with an age-appropriate Indiana Jones, even if it was not a final quality, so that they could judge the performance in the cut and understand how that was working. And that meant we then got better notes back….
(12) DEADLIER THAN THE MALE. "Unknown: Killer Robots review – the future of AI will fill you with unholy terror" says a Guardian critic about this Netflix program.
…Unknown: Killer Robots walks us through various inventions (including those headless robot dog-alikes you see far too much on social media), scenarios and ramifications with admirable surefootedness. You sense that its heart lies with the cool guys making all the cool stuff. And it is hard not to be mesmerised by the extraordinary stuff in the offing. To see MIT's latest dog quickly navigate new surfaces via the infinite raw power of machine learning, or a flight lieutenant with 20 years of combat under his immaculately polished belt be outclassed in a dogfight by a new piece of tech that has been filled with 30 years of experience in 10 months, is to watch a terrible beauty being born. But whenever the film slips into full cheerleading (and jingoistic) mode, it recalls itself and us to duty and turns to showcasing the less telegenic side of things.

By which I mean stories like Sean Ekins' and Fabio Urbina's. They "just flipped a 0 to a 1" in their work finding treatments and cures via AI molecules and modelling for underresearched diseases, "pushed go" and returned to their desks later to find their six-year-old Apple Mac had created 40,000 new molecules that would be absolutely lethal to humanity. Only if a bad actor got hold of them, but … anyway, Ekins has barely slept since. "We were totally naive … Anyone could do what we did. How do we control this technology before it is used to do something totally destructive?"…
[Thanks to Cat Eldridge, SF Concatenation's Jonathan Cowie, Mike Kennedy, Andrew Porter, John King Tarpinian, Chris Barkley, and Michael Toman for some of these stories. Title credit belongs to File 770 contributing editor of the day SocialInjusticeWorrier.]