(1) TAKING NOTES. I'd love to see more panel reports of this kind.
(2) FAN FUNDS AUCTION. Alison Scott announced that today's CoNZealand Fan Funds auction raised 2190$NZD for GUFF, TAFF, DUFF and FFANZ.
(3) YOU GOT YOUR POLITICS IN MY FICTION! This happened to a CoNZealand panel participant yesterday.
Schluessel also reports getting dinged for having a Black Lives Matter background. Which is pretty bizarre, because there's a Black Lives Matter banner in CoNZealand's virtual Exhibit Hall, as seen in the screencap below. However,  Schluessel says "CoNZealand has extended me a full apology, which I have accepted."
(4) ROTSLER AWARD EXHIBIT. CoNZealand's virtual exhibit hall includes many things, such as the Rotsler Award exhibit (membership required to access) with artwork from each year's award winner. Click the link, select "Boldy Go," select Exhibits, and once there, click on Displays. The Rotsler link is last on the bottom right.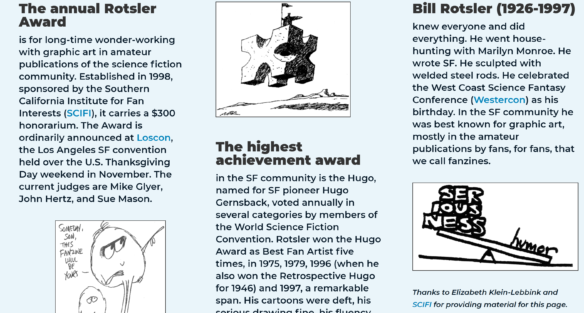 (5) PLEASE UNSIGN THEM. When she saw her sff group's name listed as a signer of the Open Letter to WSFS about the Saudi Arabia Worldcon bid, Fran Dowd, "Sofa" of the Sheffield Science Fiction and Fantasy society posted a denial on the group's Facebook page.
I'd like to put it on record that I have no idea how this group appeared as a signatory to the Jeddah letter. Whatever our personal feelings might be, I would not expect anyone to sign such a statement on our behalf without consultation at the least.

I have spent this morning, when I would actually rather be at the current Worldcon, trying to spread the word. Apologies have been given to the NZ Chairs and to Kevin Standlee. Given the spread of social media, getting a retraction would be meaningless.

I apologise to any members of the group who have been dragged into this. If it is of any help, please point people to this statement.

Signed by me in my capacity as Chair When We Need One.
(6) RETRO SPLASHDOWN. Cora Buhlert takes stock of yesterday's awards. Did they stick the landing? "Some Thoughts on the 1945 Retro Hugo Winners".
Best Novelette

The 1945 Retro Hugo for Best Novelette goes to "City" by Clifford D. Simak. This isn't a huge surprise, because the City cycle is well regarded, still in print and Clifford D. Simak was one of the best writers of the Golden Age. "City" is a pretty good story, too, though not the best City story of 1944 or even the best City novelette, because "Census", which didn't make the ballot, is better.

That said, this was not the category I wanted to see Simak win. In fact, I was hoping that C.L. Moore, either with or without Henry Kuttner, would win Best Novelette, because both "No Woman Born" (which finished second) and "The Children's Hour" (which finished unfairly in sixth place) are great stories.

Though I'm glad that "Arena" by Fredric Brown was its "Genocide is good" message didn't win, because I feared that it might.
(7) MORE OR LESS RETRO-HUGOS? Charles Stross thinks pausing the Retro-Hugos for about a quarter century might address some of the competing values now in conflict. Thread starts here.
Alasdair Stuart laments the Campbell and Lovecraft Retro wins. Thread starts here.
(8) PERSERVERANCE IS ON ITS WAY. "Nasa Mars rover: Perseverance robot launches to detect life on Red Plane" – BBC story includes video.
The US space agency's Perseverance robot has left Earth on a mission to try to detect life on Mars.

The one-tonne, six-wheeled rover was launched out of Florida by an Atlas rocket on a path to intercept the Red Planet in February next year.

When it lands, the Nasa robot will also gather rock and soil samples to be sent home later this decade.

Perseverance is the third mission despatched to Mars inside 11 days, after launches by the UAE and China.

Lift-off from Cape Canaveral Air Force Station occurred at 07:50 local time (12:50 BST; 11:50 GMT).

Nasa made this mission one of its absolute priorities when the coronavirus crisis struck, establishing special work practices to ensure Perseverance met its launch deadline.

"I'm not going to lie, it's a challenge, it's very stressful, but look – the teams made it happen and I'll tell you, we could not be more proud of what this integrated team was able to pull off here, so it's very, very exciting," Administrator Jim Bridenstine told reporters.
(9) SPEAK UP, MARS. NPR tells how "Microphone Aboard NASA's Rover Aims To Pick Up Sounds From Mars".
…BRENDAN BYRNE, BYLINE: When the Perseverance rover lands on Mars in February, it will unpack a suite of scientific experiments to help uncover ancient signs of life on the red planet – high-tech cameras, spectrometers, sensors and…

ROGER WIENS: This is the voice of Roger Wiens speaking to you through the Mars microphone on SuperCam.

BYRNE: Roger Wiens is the principal investigator of the rover SuperCam, a slew of instruments, including a camera, laser and spectrometer, that will examine the rocks and soil of Mars for organic compounds, a hint that there might be further evidence of past life. Tucked away inside the SuperCam is the Mars microphone.

WIENS: And so it is there to listen to anything interesting, first of all, on Mars. And so we should hear wind sounds. We should hear sounds of the rover. We might hear things that we never expected to hear. And so that's going to be interesting to find out.

BYRNE: The mic will also listen as Perseverance's onboard laser blasts nearby rocks.

ADDIE DOVE: You might think we're going to hear, like, pew pew, but we probably won't.

BYRNE: University of Central Florida planetary scientist Addie Dove says the sounds of Martian rock blasts will help scientists determine if they might contain organic material, evidence of life on Mars. But it will actually sound more like this.

(SOUNDBITE OF ROCK BLASTS)
(10) JOSE SARAMAGO NEWS. [Item by Martin Morse Wooster.] In the July 24 Financial Times, Sarah Hemming discusses a new adaptation of Nobel Laureate Jose Saramago's sf novel Blindness at the Donmar Warehouse in London (donmarwarehouse.com). Donmar's director, Michael Longhurst says the production will be a hybrid of theatre and "sound installation" that will let the theatre hold four shows a day. I can't tell from the review how much actual theatre there is in the production. The only Donmar production I've seen was an all-female Julius Caesar on PBS that had an impressive performance by Dame Harriet Walter as Brutus.
Lockdown has emphasised the importance of sound for many of us from that early experience of hearing birdsong in unusually quiet city centres, to a keener awareness, prompted by physical separation, of the way we listen. And several online drama offerings, such as Simon McBurney's The Encounter and Sound&Fury's wartime meditation Charlie Ward At Home, have used sophisticated recording to steep their homebound audiences in other worlds and prompt reflection.

Blindness, in a sense, builds on that (there will be a digital download for those unable to get to the theatre). So why attend in person? Longhurst suggests the very act of being in a space will change the quality of listening–and reflect the way we have all had individual journeys through the collective experience of lockdown. And while this is a one-off piece about a society in an epidemic, created for an industry in a pandemic, that physical presence marks a move towards full performance.
(11) MEDIA ANNIVERSARY.
July 1987 — Emma Bull's War for The Oaks was published by Ace Books. This urban fantasy would get its own trailer courtesy of Will Shetterly who financed it instead of running for Governor. You'll no doubt recognize many of the performers here. Decades later, it was scheduled to have a hardcover edition from Tor Books but it got canceled after the books were printed. And the music in War for The Oaks would later be done by Cats Laughing, a band that includes Emma Bull and other members of Minneapolis fandom.
(12) TODAY'S BIRTHDAYS.
[Compiled by Cat Eldridge and John Hertz.]
Born July 30, 1800 – Aleksandr Veltman. Order of St. Vladimir (bravery) while in the Russian army, eventually Director of the Museum of Armaments. Poetry praised by Pushkin, second wife's novel praised by Gorky. The Wanderer in an imaginary journey parodies travel notes. Koshchei the Deathless parodies historical adventures. The Year 3448 is supposedly by Martin Zadek (who also finds his way into Pushkin and Zamyatin). The Forebears of Kalimeros has time-travel (by riding a hippogriff; "Kalimeros", a nudge at Napoleon, is the Greek equivalent of Buonaparte) to meet Alexander and Aristotle. Tolstoy and Dostoevskyapplauded AV too. (Died 1870) [JH]
Born July 30, 1873 – Curtis Senf. Four dozen covers and hundreds of interiors for Weird Tales, after which what the Field Guide to Wild American Pulp Artists modestly calls "a more lucrative career as a commercial artist in the Chicago advertising industry". Here is the Oct 27 WT; here is the Jan 30; here is the Mar 32. (Died 1949) [JH]
Born July 30, 1911 — Reginald Bretnor. Author of many genre short stories involving Ferdinand Feghoot, a comical figure indeed. It looks like all of these are available in digital form on iBooks and Kindle. He was a consummate SJW. He translated Les Chats, the first known book about cats which was written by Augustin Paradis de Moncrif in 1727. He also wrote myriad articles about cats, was of course a companion to cats, and considered himself to have a psychic connection to cats. Of course most of us do. (Did 1992.) (CE)
Born July 30, 1927 — Victor Wong. I remember him best as the Chinese sorcerer Egg Shen in John Carpenter's Big Trouble in Little China. He was also The Old Man in The Golden Child, Walter Chang in Tremors, Dr. Wong in the "China Moon" episode of the Beauty and the Beast series and Lee Tzin-Soong in the "Fox Spirit" episode of Poltergeist: The Legacy. (Died 2001.) (CE)
Born July 30, 1947 – John Stith, 73. Eight novels, a dozen shorter stories, translated into French, German, Italian, Japanese, Portuguese, Russian. Wrote about John Kennedy (i.e. our JK; indeed John R.; 1945-2009) in 1992 (for the limited ed'n of "Nova in a Bottle" bound with "Encore"), interviewed by him in 1993 (SF Chronicle 164). Did his own cover for a reprinting of Death Tolls. [JH]
Born July 30, 1948 — Carel Struycken, 72. I remember him best as the gong ringing Mr. Holm on Next Gen, companion to Deanna Troi's mother. He was also Lurch in The Addams Family, Addams Family Values and the Addams Family Reunion. He's listed as being Fidel in The Witches of Eastwick but I'll be damned if I remembered his role in that film. And he's in Ewoks: The Battle for Endor which I've never seen… (CE)
Born July 30, 1961 — Laurence Fishburne, 59. In The Matrix films. His voice work as Thrax in Osmosis Jones on the other hand is outstanding as is his role as Bill Foster in Ant-Man. (CE)
Born July 30, 1966 — Jess Nevins, 54. Author of the superlative Encyclopedia of Fantastic Victorian and the equally great Heroes & Monsters: The Unofficial Companion to the League of Extraordinary Gentlemen which is far better than the film ever could be. I didn't know he was an author 'til now but he has two genre novels, The Road to Prester John and The Datong Incident. (CE)
Born July 30, 1967 – Ann Brashares, 53. Famous for The Sisterhood of the Traveling Pants (that's the U.S. meaning of "pants", in this case a magical pair of blue jeans), a NY Times Best-Seller, and its sequels, films, companions. Two more novels for us, one other. Indies Choice Book Award, Quill Award. Philosophy major (yay!) at Barnard, 1989. [JH]
Born July 30, 1971 – Kristie Cook, 49. Nine novels, a dozen shorter stories (some with co-authors; publishes Havenwood Falls shared-world stories, some wholly by others). Loves cheese, chocolate, coffee, husband, sons, motorcycle. "No, I'm not crazy. I'm just a writer." [JH]
Born July 30, 1974 – Jacek Dukaj, 46. Ten novels, half a dozen shorter stories, translated into Bulgarian, Czech, English (he's a Pole), German, Hungarian, Italian, Macedonian, Russian, Slovak. Six Zajdel Awards. EU Prize for Literature. Another writer with a Philosophy degree, from Jagiellonian University even. His Culture.pl page (in English) is here. [JH]
Born July 30, 1975 — Cherie Priest, 45. Her southern gothic Eden Moore series is kickass good and Clockwork Universe series isa refreshing take on steampunk which has been turned into full cast audiobooks by GraphicAudio. I've not read Cheshire Red Reports novels so have no idea how they are. Anyone read these? (CE)
(13) NOW WITH MORE MASK. Ray's playing it safe, I see. Incidentally, the Ray Bradbury Experience Museum is accepting RSVP's here for entry during RBEM's Ray Bradbury Centennial Celebration on August 22, 2020.
(14) OOPS. Marc Zicree has issued a video "Apology to the Science Fiction Writers of America," for using their membership list to publicize Space Command.
(15) A DISSATISFIED CUSTOMER. And not only that, we line up for the opportunity!
(16) BACURAU. The Criterior Channel's August lineup includes Bacurau on August 20, an exclusive streaming premiere, featuring an interview with directors Kleber Mendonça Filho and Juliano Dornelles.
(17) SHELFISHNESS. The Washington Post's Michael Dirda finds it's not that easy: "In turbulent times, culling my book collection gave me the illusion of control. Then the dilemmas began multiplying."
… After all, who doesn't periodically yearn to flee the nightmarish world we now live in? A persistent feeling of helplessness, frustration, anger and mild despair has emerged as the "New Normal" — which is one reason my recent reviews and essays tend to emphasize escapism, often into books from the past. A similar impulse lies behind the pruning of my basement hoard. Going through my many boxes, I am no longer the plaything of forces beyond my control. I have, to use a vogue term, agency. I alone decide which books to keep, which to let go.

However, making these decisions has turned out to be harder than I expected.

Here's an example of what I mean. I'm fond of a slightly overwritten travel book called "A Time of Gifts" by English writer Patrick Leigh Fermor. It recounts in striking detail a walk across half of Europe undertaken by the young Leigh Fermor in 1933. Somehow, I possess four copies of this minor classic: a Penguin paperback that I read and marked up, an elegant Folio Society edition bought at the Friends of the Montgomery County Library bookstore, a later issue of the original John Murray hardback, and a first American edition in a very good dust jacket acquired for a bargain price at the Second Story Books warehouse. Given the space-saving principle of eliminating duplicates, I should keep just one copy. Which one?
(18) WIZARDS OF THE COST. NPR finds that "In The Pandemic Era, This 'Gathering' Has Lost Some Of Its Magic".
You draw seven cards. You look at your hand. It would be perfect if you had that one card.

Too bad it costs $50. And your local game store is closed anyway.

Depending on where you lie on the nerd spectrum, you may or may not have heard of Magic: The Gathering. It's a trading card game that's been in production for almost three decades. Even if you haven't heard of it or played it, you probably know someone who has. It's one of the most popular trading card games of all time, and that isn't an exaggeration; there are millions of Magic: The Gathering players worldwide.

…Before COVID-19 hit the Magic community, players packed into local game stores to sling spells and blow off steam. Now, as players move toward the online versions, there are additional financial hurdles to clear.

There's a reason it's called Magic: The Gathering. Most of the fun comes from squaring off against other players, catching the clandestine tells of your opponent as they draw powerful spells. Game stores across the country offer opportunities to play; they host tournaments, stock up on new cards and teach new wizards how to play.

But even if veteran players and shop owners welcome new Planeswalkers with open arms, how accessible is Magic: The Gathering?

Players can craft a variety of decks, and if they're playing the more common formats of the game, a deck can cost anywhere from about $275 to $834 or more. Not only are full decks expensive, but so are individual cards. The card Thoughtseize, for instance, has a current value of around $25 per copy. If a deck contains four copies of a single card (the maximum), just that one card would bring the price of a deck up by $100. And there are much more expensive cards on the market.

…There is an online version of the game, but Magic Online isn't cheap either. And while it isn't as expensive as its cardboard counterpart, a player still has to buy new digital versions of physical cards they already own. On top of that, a Magic Online account costs $10 just to set up. And while a Magic veteran might jump at the opportunity to play online, a new player may feel less inclined to pay the fee when there are other online deck-building games, like Hearthstone, that are free to try.

In 2018, Magic's publisher Wizards of the Coast released a free, digital version of the game called Magic: The Gathering Arena. It's a more kid-friendly online option for new Planeswalkers, but it still has the same Magic charm for older players. Arena does include in-game purchases, but players can obtain better cards by grinding out a lot of games instead of spending extra money. And while Arena can be a great way to introduce a new player to the online format, if they don't want to empty their wallets, they'll have to get used to losing for a while.
[Thanks to John Hertz, N., Mike Kennedy, Martin Morse Wooster, JJ, Cat Eldridge, Michael Toman, Chip Hitchcock, John King Tarpinian, Jeffrey Smith, and Andrew Porter for some of these stories. Title credit goes to File 770 contributing editor of the day Jayn.]