(1) HOW THE WEB MAKES CRIMINALS OF US ALL. The Guardian tells about the revamped Tolkien Estate website in "Unseen JRR Tolkien paintings, photographs and video clips released". (Andrew Porter reminds us that the artwork in the article is not new.)
Unseen photographs and paintings of JRR Tolkien, the author of The Lord of the Rings fantasy books, have been released by the writer's estate, along with draft manuscripts and letters.

Its website has been relaunched with new material, including sections on Tolkien's calligraphy and a timeline of his life.

Audio recordings and video clips featuring both Tolkien, who died in 1973, and his son Christopher, who died in 2020, are among the new material.

The relaunch date of 26 February is significant in Tolkien lore because 26 February 3019 was the date in the Third Age when the Fellowship of the Ring was broken at Amon Hen and Frodo and Sam set out on their lonely and terrifying journey to Mordor.
Perusing the site's "Frequently Asked Questions and Links" I discovered this jarring information:
Can I publish a Tolkien Fanzine?

The name TOLKIEN is a registered trademark and may not be used without permission. Unfortunately permission cannot be given for publications which use the name TOLKIEN or the Tolkien Estate's Copyright Materials.
Are a lot of you faneds who don't spell it T*****n hearing from lawyers?
(2) THEY'VE GOT THE DROP ON US. "Russia's space chief responds to new sanctions by suggesting that the ISS would no longer be prevented from crashing into the US or Europe" – originally reported by Business Insider.
… According to CNN, Biden further stated that the sanctions "will degrade (Russia's) aerospace industry, including their space program."… 

In response, Rogozin said on Twitter: "If you block cooperation with us, who will save the ISS from an uncontrolled deorbit and fall into the United States or Europe?" 

He added: There is also the option of dropping a 500-ton structure to India and China. Do you want to threaten them with such a prospect? The ISS does not fly over Russia, so all the risks are yours. Are you ready for them?" 

Rogozin also mentioned that the ISS's location and orbit in space are controlled by "Russian Progress MS cargo ships." 

NASA did not immediately respond to Insider's request for comment made outside of normal working hours.

In a statement to Euronews, however, NASA said that it "continues working with Roscosmos and our other international partners in Canada, Europe, and Japan to maintain safe and continuous ISS operations."

It added: "The new export control measures will continue to allow US-Russia civil space cooperation."
(3) PURLOINED LETTER TECHNIQUE. Radio Times' Sab Astley says this is the place to look for clues to Doctor Who's next phase: "Doctor Who Russell T Davies teases from his book on writing".
…Now, with Davies' surprise return to Doctor Who looming, everyone is searching for potential clues as to RTD's approach to his second run – and unusually, the acclaimed screenwriter might have already given us a pretty good idea of what he's planning thanks to a little book called The Writer's Tale.

The Writer's Tale is a tome of correspondence between Davies and Doctor Who Magazine contributor Benjamin Cook, taking place over the pre-production of season 4 right up to the final shots of Tennant's last special between 2007 and 2009…

The Next Doctor

14th Doctor speculation is currently at an all-time high, with names like Michael Sheen, Michaela Coel, T'Nia Miller and Olly Alexander mentioned. However, one name that hasn't arisen, which might just be a strong contender to bet on: Russell Tovey.

Davies makes no secret of his love for Tovey, and in a discussion over potential 11th Doctor castings, RTD states that Tovey is "amazing – I think I'd make him the eleventh Doctor". Since then Tovey has starred in Davies' Years & Years, and currently all of his upcoming projects are in post-production – making it the perfect time for RTD to nab Tovey if he so wishes.

Alternatively, if we look at Davies' choice of actors in the years since The Writer's Tale, the choice becomes clear: Lydia West. She's clearly a favourite of RTD's, starring in both Years & Years and It's A Sin, and could follow in Jodie Whittaker's footsteps as a female Doctor (and the first 'lead' Doctor to be played by a Black actor, though Jo Martin's Fugitive Doctor technically got there first).

Altogether, based on RTD's creative patterns and the insight of The Writer's Tale it seems Russell Tovey or Lydia West are strong options for the 14th Doctor. However, there is a third possibility – the return of David Tennant…..
(4) FUTURE TENSE. "Good Job, Robin", JoeAnn Hart's short story about love, earth, and eating crickets, is this month's installment of Future Tense Fiction, a series from Future Tense and Arizona State University's Center for Science and the Imagination published on Slate.
Ahimsa waves an elbow at me, keeping her hands firmly cupped. "Isaura! Look!" She shouts to be heard over my earplugs, and I panic thinking she's woozy again. But no, she only wants to show me something. I lean across the sorting table to look, and with a smile she opens her tawny hands like a flower, just enough so I can peek inside. Two stamens wiggle in the darkness.

Not stamens. Antennae. Out come the earplugs. "It's just a cricket, Ahimsa. One of a billion crickets under this dome, every one of them chirping like an insect possessed."…
Christy Spackman, an expert on the future of food, responds to JoeAnn Hart's story in "Crickets could be the food solution that saves us all."
…The first time I seriously considered crickets as the food of the future was in late 2015 during a presentation by undergraduates. Their policy proposal outlining how the adoption of insect protein in the Los Angeles Area could help insulate the region from some of the impacts of climate-change included a tasting of a recent-to-market, paleo-friendly, cricket-based protein bar. As I sunk my teeth into the slightly gummy, peanut-buttery bite being passed around the classroom, my mind flashed between the grim food futures presented in science fiction novels and the much smaller collection of hopeful fiction portrayals of delicious future feasts. What is it about our contemporary anxieties that makes it so easy to imagine such dystopic food futures?…
(5) HEAPS OF FUN. The New York Times' A.O. Scott considers how successive American generations have different ways of arriving at the same destination — mortality: "Shelf Life: Our Collections and the Passage of Time".
…The things you loved when you were young will never be able to make you young again. The reluctant acceptance of this fact is the source of nostalgia, a disorder that afflicts every modern generation in its own special way. Members of Generation X grew up under the heavy, sanctimonious shadow of the baby boom's long adolescence, among crates of LPs and shelves of paperbacks to remind us of what we had missed. Just as baby boomers' rebellion against their Depression- and war-formed parents defined their styles and poses, so did our impatience with the boomers set ours in motion. But I'm not talking so much about a grand narrative of history as about what Aksel might call the useless stuff — the objects and gadgets that form the infrastructure of memory….

Every cohort has these. A CD in a plastic jewel box is not intrinsically more poetic than a vinyl LP in a cardboard sleeve. On the internet and in television shows like "PEN15," a robust millennial nostalgia fetishizes AOL chat rooms, Dance Dance Revolution, Tamagotchis and other things that I was already too old for the first time around. Gen Z will surely have its turn before long, even if its characteristic cultural pursuits don't seem to be manifested in physical objects….
(6) SLF GRANT NEWS. The Speculative Literature Foundation has announced the final two winners of the SLF Convention Support Grants.
Over the course of the year we gave out $10,000, in grants of $500 – $1000 each, to science fiction and fantasy conventions.

These grants are intended to support conventions both in developing their online presences (through the purchase of tech, training costs, hosting costs, etc.) and making in-person gathering safer once it's appropriate. Read on for more information about how each convention will use the funding.

WisCon is a feminist science fiction and fantasy convention held annually in Madison, Wisconsin. Founded in 1976 as the world's first feminist speculative fiction convention, it has since grown into a robust and dedicated community of fans, artists, and scholars. The convention is hosted by the Society for the Furtherance and Study of Fantasy and Science Fiction a 501(c)(3) not-for-profit organization in Madison, Wisconsin, which aims to create a safe and inclusive environment for everyone.

WisCon will use the grant funds to cover the costs of equipment and equipment rental to make their con more accessible.

The Outer Dark Symposium on the Greater Weird is a progressive speculative fiction conference that focuses on contemporary Weird fiction. The con actively seeks to create spaces that allow for the kinds of conversations and connections that chart the future of boundary-breaking speculative fiction, as well as being an inclusive, safe and welcoming place for women, LBGTQ+, and writers of color. To meet this mission, they consider each dimension of access (fiscal, disability, equity, etc) with care to inform every decision they make, from where programming is accessed to how it's structured.

A key focus for their 2022 convention is making sure they have easily accessible virtual spaces, as well as safe future events during the pandemic, which includes travel, catering, and technology costs that they anticipate will increase significantly this year.
(7) GAIMAN ADAPTED. [Item by Martin Morse Wooster.] Behind a paywall in the Financial Times, Nilanjana Roy reviews Chivalry, a graphic novel written by Neil Gaiman and drawn by Colleen Doran and based on a short story from Gaiman's collection Smoke And Mirrors.
[Colleen Doran's] stunning artwork turns Arthur's knight into the kind of dashing, courtly hero who is obliged to seduce a maiden.  Doran's illustrations, drawing from a soft palette of blues, pinks, and greens that flare unto sudden glorious bursts of crimson and gold at need, are what will make Chivalry a perennial Christmas gift.  Famous Authors are often at risk of having their old work briskly repackaged by clever marketing departments but Doran, a Gaiman fan since her youth has, for complicated rights reasons, waited over two decades to work on this short story…

,,,The question as to whether a single short story taken from a far more varied fantasy collection is satisfying as a standalone graphic novel remains.  Certainly,Gaiman and Doran's book feels too slight on its own to measure up to the best of Gaiman's output.  Still, Chivalry reminds you that, some days, all you need is to believe in impossible quests.
(8) UNDERSTANDING OCTAVIA BUTLER. "Black History Month: Octavia Butler's sci-fi dystopia still relevant" – USA Today profiles the author.
…Butler rose to prominence in the traditionally white bastion of science fiction. She was the first to write about prominent Black characters in science fiction settings, using dystopias, time travel and other tropes. 

Science-fiction author Nisi Shawl recalls meeting the "Kindred" author in 1999 during a convention in Seattle when she was tasked with writing a profile on Butler. The two became acquainted and a friendship later blossomed in 2002. 

"One thing that she really instilled in me was the idea that you should write about things that bring up strong emotions in you, things that you fear, things that you loathe, things that you cherish, but things that you are passionate about in one way or another," Shawl tells USA TODAY, adding that Butler inspired her to write the short story "Momi Watu." …
(9) MEMORY LANE.
2007 — [Item by Cat Eldridge] Barbara Hambly, one of my favorite writers of horror, has won two Lord Ruthven Awards (1996 and 2007) given by the Lord Ruthven Assembly, a group of scholars specializing in vampire literature who are affiliated with the International Association for the Fantastic in the Arts.
Those Who Hunt in The Night, the first in the excellent John Asher series, won the Locus Award for Best Horror Novel.
I'm also very impressed of her two novelizations done for one of my favorite tv series, Beauty and the Beast and and Beauty and the Beast: Song of Orpheus as it's hard to write material off those series that's actually worth reading. She wrote three Trek novels and several Star Wars too but I've not read them.
And yes, there's lots about her writing career I've not included here so feel free to tell me what you think I should have mentioned.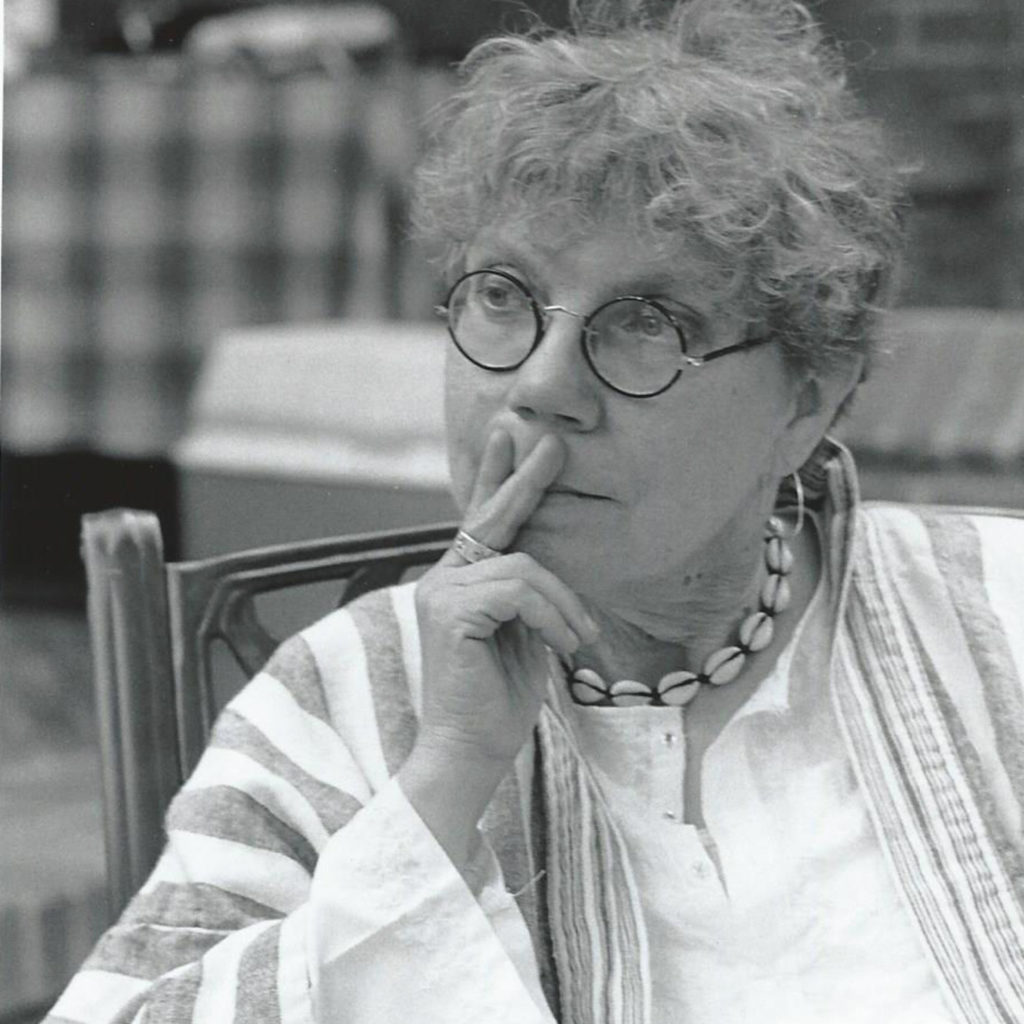 (10) TODAY'S BIRTHDAYS.
[Compiled by Cat Eldridge.]
Born February 26, 1908 — Tex Avery. An animator, cartoonist, director and voice actor beyond compare. Without him, Bugs Bunny, Daffy Duck, Elmer Fudd and Porky Pig would not have existed. Avery's influence can be seen in Animaniacs and Who Framed Roger Rabbit. (Died 1980.)
Born February 26, 1918 — Theodore Sturgeon. Damn, I hadn't realized that he'd only written six genre novels! More Than Human is brilliant and I assumed that he'd written a lot more long form fiction but it was short form where he excelled with more than two hundred such stories. I did read over the years a number of his reviews — they were quite good. (Died 1985.)
Born February 26, 1945 — Marta Kristen, 77. Kristen is best known for her role as Judy Robinson, one of Professor John and Maureen Robinson's daughters, in  the original Lost in Space. And yes, I watched the entire series. Good stuff it was. She has a cameo in the Lost in Space film as Reporter Number One. None of her other genre credits are really that interesting, just the standard stuff you'd expect such as an appearance on The Man from U.N.C.L.E. and Alfred Hitchcock Presents.
Born February 26, 1948 — Sharyn McCrumb, 74. ISFDB lists all of her Ballad novels as genre but that's a wee bit deceptive as how genre-strong they are depends upon the novel. Oh, Nora Bonesteel, she who sees Death, is in every novel but only some novels such as the Ghost Riders explicitly contain fantasy elements.  If you like mysteries, all of them are highly recommended.  Now the Jay Omega novels, Bimbos of the Death Sun and Zombies of the Gene Pool are genre, are great fun and well worth reading. They are in print and available from the usual suspects which is interesting as I know she took them out of print for awhile. 
Born February 26, 1957 — John Jude Palencar, 65. Illustrator whose artwork graces over a hundred genre covers. In my personal collection, he's on the covers of de lint's The Onion Girl and Forests of the Heart (one of my top ten novels of SFF), Priest's Four & Twenty Blackbirds and Le Guin's Tehanu: The Last Book of Earthsea. Origins: The Art of John Jude Palencar is a perfect look at his work and marvelous eye candy as well.
Born February 26, 1958 — Karen Berger, 64. She created the Vertigo imprint at DC,  and served as the line's Executive Editor for a decade. Some of my favorite works there are Fables, Hellblazer, Preacher, 100 Bullets and V for Vendetta. She currently runs Berger Books, an imprint of Dark Horse Comics.
Born February 26, 1965 — Liz Williams, 57. For my money, her best writing by far is her Detective Inspector Chen series about the futuristic city Singapore Three, its favorite paranormal police officer Chen and his squabbles with an actual Chinese-derived Heaven and Hell. I've read most of them and recommend them highly. I'm curious to see what else y'all have read of her and suggest that I read.
(11) COMICS SECTION.
(12) 45TH BIRTHDAY ISSUE OF 2000 AD. [Item by SF Concatenation's Jonathan Cowie.] This week the 45th birthday issue of 2000 AD is out. It includes a zarjaz strip of the Command Module droids travelling through the thrillverse collecting 2000 AD characters to help Tharg compose a birthday hit single. It also features the start of a new Judge Dredd story that teases that the Judges are trying to silence someone who claims to have a secret concerning the truth of Judge Dredd!
Splundig!
(13) I SEE BY YOUR OUTFIT THAT YOU ARE A COWBOY. Kevin Standlee says Westercon 74 sent out the following announcement to its members today regarding COVID-19. The short version:
Vaccination required

Masks required
For the long version, click here – "COVID-19 Health and Safety Policy".
As a reminder, the 2022 Westercon will be held in Tonopah, Nevada from July 1-4.
(14) PURINA BAT CHOW. "Doorbells, chicken and special edition biscuits: why are The Batman's tie-ins such a joker?" asks the Guardian. "Someone on the merchandising team is working overtime to turn the serious new Robert Pattinson movie into Sonic the Hedgehog."
…Then there is all the food. The Oreos we have covered; they have a picture of Batman's face on them, because we all know that nothing is more delicious than wolfing down an effigy of agonising mental torment. Papa John's is also in on the act. Its pizzas currently come in commemorative The Batman boxes (because who doesn't love using used food receptacles as keepsakes?) and there is also a new side – black ghost chilli chicken wings – that also apparently have something to do with Batman. Meanwhile, in the US, Little Caesars has made a "calzony" (a kind of folded pizza) that's shaped like the Batman logo, allowing customers to grab themselves a slice of gooey, unresolved trauma.

Caffè Nero has subverted the pattern a little by focusing on the Riddler. It has launched a new hot chocolate, with a mysterious new flavour. If you can guess the flavour – which is to say, if you can stomach spending your money on a product that for the purposes of suspension of disbelief was designed by a nightmarish BDSM goblin – you can win a trip to a theme park.

Again, I'm barely touching the sides here….
(15) VIDEO OF THE DAY. Dream Foundry has shared the Flights of Foundry 2021 panel "Making Your Reader Hungry: Food in SFF" with Nibedita Sen and Shweta Adhyam, moderated by Cora Buhlert. (Watch the video at the link.)
For a long time, speculative fiction rarely engaged with food. Over on the science fiction side of the fence, protagonists lived on food pills or ordered "Tea, Earl Grey, hot" from the replicator, while fantasy characters subsisted on the ubiquitous stew and quaffed tankards of ale. However, this has changed in recent times and now detailed food descriptions are a lot more common in SFF. Nor are we just seeing only stereotypical western and American food anymore, but also dishes from non-western cuisines and food traditions. This panel will discuss how food is portrayed in science fiction and fantasy and how this parallels real world developments, whether it's meal replacement products like the unfortunately named Soylent or trends like pandemic baking.
[Thanks to Mike Kennedy, Martin Morse Wooster, JJ, Chris Barkley, Irene Bruce, Rob Thornton, SF Concatenation's Jonathan Cowie, John King Tarpinian, Andrew Porter, Michael Toman, and Cat Eldridge for some of these stories. Title credit belongs to File 770 contributing editor of the day Joe H.]