(1) ASTRONAUTS SUCCESSFULLY LAUNCHED. The LA Times has details: "New era of spaceflight dawns as SpaceX sends NASA astronauts into orbit".
For the first time in nine years, NASA astronauts launched to orbit from U.S. soil. And for the first time ever, their ride to space was a craft designed and owned by a private company.

Astronauts Bob Behnken and Doug Hurley rocketed to space Saturday afternoon aboard a SpaceX Crew Dragon capsule, en route to the International Space Station. Despite some initial weather concerns, SpaceX's Falcon 9 rocket lifted off from Kennedy Space Center in Florida at 3:22 p.m. EDT. The capsule is set to dock at the station early Sunday morning at 10:29 a.m. EDT.

Saturday's launch was the start of a test flight evaluating Crew Dragon's systems and capabilities. As the first crew ever to ride in the capsule, Behnken and Hurley will ensure everything works as expected before NASA certifies the spacecraft to regularly transport its astronauts to the space station.
Here is video tweeted by SpaceX:
(2) MY DAUGHTER RIDES ALONG. Virtually. I found out today that Class of 2020 graduates were invited to submit their photos to be part of a mosaic that is accompanying the astronauts to the ISS. My daughter Sierra is part of the picture – see her photo here.
The below mosaic will be flown to the International Space Station with NASA astronauts Bob Behnken and Doug Hurley on Crew Dragon spacecraft for the Crew Demo-2 mission. To learn more about this historic mission, please visit spacex.com/launches
(3) MINNEAPOLIS BOOKSTORE UPDATE. We posted earlier today that Minneapolis sff landmarks Uncle Hugo's had been burned and DreamHaven vandalized.
This is a photo of the remains of Uncle Hugo's —
Someone immediately started a GoFundMe appeal in the name of Uncle Hugo's, which got a lot of traction in social media, however it is not authorized. Owner Don Blyly will organize his own.
There was also an update from DreamHaven:
Thank you everyone who came by to help and wish us well. It was a mess, with most of the glass cabinets at least partially broken. There were a few merchandise casualties and they took/destroyed the electronics they found, but mostly they ignored the books. All except the one they tried to burn, which they left to smolder and which put itself out.

Teams of folks came by during the day (they appeared out of nowhere! It was *brilliant*!) and boarded up the store and painted "With great power comes great responsibility" on the boards. Also brilliant.
(4) LABOR OF LÁADAN LOVE. "A Third Dictionary & Grammar of Láadan" by Suzette Haden Elgin, Edited by: Jeanne Gomoll, Diane Martin, and with an Introduction by Rebecca E. Haden, is now available. The 342-page trade paperback contains Láadan-English and English-Láadan dictionaries, grammar, lessons, essays by Suzette Haden Elgin, and an introduction by her daughter, Rebecca Haden. Go to Lulu.com, a print-on-demand company to order your copy: https://tinyurl.com/SHEdictionary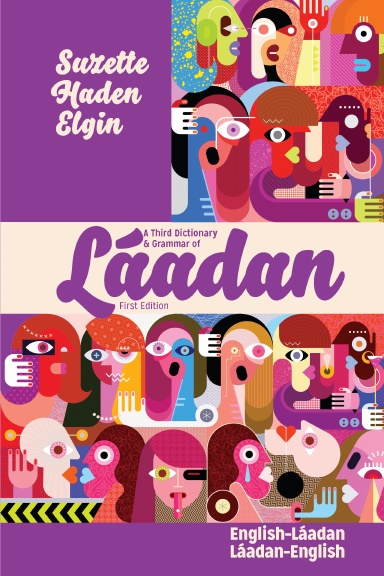 This book includes material from 1st Dictionary and Grammar (1988) and merges it with new vocabulary created for the Láadan website. Elgin died in 2015, but interest persists in the language she created in 1982, embodied in her SF "Native Tongue" series. Láadan is a feminist constructed language created by Elgin to test the Sapir-Whorf hypothesis that the language one speaks influences the way one thinks, i.e., can a language expressing the views of women shape a culture? Láadan includes morphemes that require speakers to own their own perceptions—words that indicate, for instance, whether a statement comes from personal observation, a trusted source, or an unreliable third party. Nowadays Elgin might argue that accusations of "fake news" would be impossible in Láadan. This language also encodes speakers' intentions into their sentences, eliminating another form of micro-aggression, the rude comment that is passed off as "just a joke."
All proceeds will go to the Science Fiction Poetry Association, which Elgin founded in 1978.
(5) STARSHIP TEST FAILS. Not everything has been running smoothly at SpaceX, unfortunately. The Verge reports: "SpaceX loses another Starship prototype in massive explosion".
A fourth prototype of SpaceX's next generation Starship rocket exploded right after a test at the company's south Texas test site on Friday. Shortly after SpaceX ignited the engine on the test rocket, a massive fireball engulfed the vehicle in flames, leaving very little hardware still standing and apparently causing damage to the test site.

The failed test comes just a day before SpaceX is set to perform an unrelated launch for NASA that will send two astronauts to the International Space Station. That historic mission will take place out of Cape Canaveral, Florida, on SpaceX's workhorse Falcon 9 rocket, which has flown more than 100 times before.

While the failure of the Starship prototype is not linked to the upcoming NASA mission, SpaceX CEO Elon Musk did tell Aviation Week that SpaceX planned to put a pause on Starship development while the company focused on its first crewed flight. "I have redirected SpaceX's priorities to be very focused on the crew launch," Musk told Aviation Week during a podcast interview published on May 26th. "So that's going to slow things down on the Starship front."

The failed test comes just a day before SpaceX is set to perform a critical launch for NASA

The prototype that just exploded is meant to test out the design for SpaceX's future Starship, a giant rocket the company wants to create to send people to deep space destinations like the Moon and Mars. SpaceX has been building various test versions of the Starship down at the company's work site in Boca Chica, Texas. Today, the company ignited the main Raptor engine on the latest Starship prototype while holding the vehicle down, a type of test known as a static fire. It was the fifth static fire test SpaceX had conducted over the last couple of weeks.
(6) TYMN OBIT. Marshall B. Tymn (1937-2020), who did much to advance the study of sf in academia, died May 24. He won a Pilgrim Award for lifetime contributions from the Science Fiction Research Association in 1990 Locus Online covers his career here.
(7) TODAY IN HISTORY.
May 30, 1952 — Tales of Tomorrow's "The Little Black Bag" first aired. An unsuccessful doctor finds some very interesting instruments in a black bag which he has bought from a pawnshop. He and his wife differ over the ethics of using them. The script was written by Mann Rubin from story by Cyril Kornbluth as first published in Astounding Science Fiction, July 1950. (It would win a Retro Hugo for Best Novelette at Millennium Philcon.) It starred Joseph Anthony, Vicki Cummings, Florence Anglin and John Shellie. You can watch it here.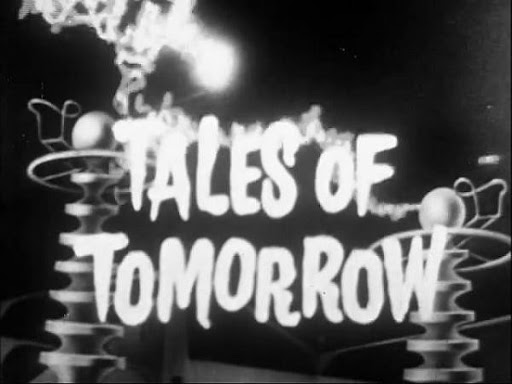 (8) TODAY'S BIRTHDAYS.
[Compiled by Cat Eldridge and John Hertz.]
Born May 30, 1914 — Bruce Elliott. His fifteen stories in The Shadow magazine in the late Forties are generally held in low esteem by Shadow fans because of his handling of the character, best noted by the three stories in which the Shadow does not appear at all in his costumed identity. Oh the horror! He also wrote three genre novels — The Planet of Shame, Asylum Earth  and, errr, The Rivet in Grandfather's Neck. And he had stories in The Magazine of Fantasy & Science Fiction including "Wolves Don't Cry":and "The Last Magician". (Died 1973.) (CE) 
Born May 30, 1920 — Franklin J. Schaffner. In genre circles, he's best remembered for as the director of two films, Planets of The Apes and Boys from Brazil. On the television side, he directed Alice in Wonderland and Treasure Island adaptations as five episodes of the Tales of Tomorrow series. (Died 1989.) (CE)
Born May 30, 1922 – Harry Stubbs.  Active Boston fan.  Began pro writing as Hal Clement in 1942, so I guess that's Clement's birth year; "Uncommon Sense" (1945) won a Retro-Hugo; HC maybe best known for Mission of Gravity.  Also living in the same body was the graphic artist George Richard.  See the NESFA Press collection The Essential Hal Clement.  (Died 2003) [JH]
Born May 30, 1927 – Bob Peak.  Illustrator for film, Time, TV Guide, Sports Illustrated, postage stamps.  NY Artists Guild Artist of the Year, 1961.  Society of Illustrators Hall of Fame, 8 Awards of Excellence, 4 gold medals.    Posters for West Side Story, My Fair Lady, Camelot; in our field, Rollerball, Superman, Star Trek.  See a Camelot-themed cover for The Once and Future King here.See a Camelot-themed cover for The Once and Future King here.   (Died 1992) [JH]
Born May 30, 1934 – Pete Turner.  Renowned photographer; examples here.  See a cover for Omni magazine here; a book cover for Exile here.  (Died 2017) [JH]
Born May 30, 1936 — Keir Dullea, 84. David Bowman in 2001: A Space Odyssey and its sequel, 2010: The Year We Make Contact. He's done a number of other genre films, Brave New World, Space Station 76, Valley of the Gods and Fahrenheit 451. And less we forget he was Devon in Starlost. (CE)
Born May 30, 1937 – Ross Chamberlain.  One of our finest fan artists.  Guest of Honor at Westercon LV.  Rotsler Award.  Here's his Website.  [JH]
Born May 30, 1952 — Andy Sawyer, 68. Member of fandom who managed the Science Fiction Foundation library in Liverpool for 25 years up to last year. For his work and commitment to the SF community, the Science Fiction Research Association awarded him their Thomas D. Clareson Award for Distinguished Service. And the  paper he wrote that I want to get and read is "The Shadows out of Time: H. P. Lovecraftian Echoes in Babylon 5" as I've always thought The Shadows were Lovecraftian!  And his APA list is impressive: &, Another Earth Matrix,  Paperback Inferno and  Acnestis. (CE)
Born May 30, 1952 — Mike W. Barr, 68. Writer of comics and sf novels. Created along with Jim Aparo the character Looker (Emily "Lia" Briggs), a hero in the DC  Universe. She first appeared first appeared in Batman & the Outsiders #25. He worked for both major houses though I'd say most of his work was at DC. He wrote the "Paging the Crime Doctor" episode of Batman: The Animated Series. (CE)
Born May 30, 1953 – Nancy Lebovitz.  Fan, conversationalist (is that redundant?), particularly known for calligraphy and thus slogan-buttons.  She says things like "I re-read sometimes because I'm enough of a different person that I notice different things in books than I used to."  Here she is on a panel at Laffcon IV (R.A. Lafferty convention) last year; L to R, Samuel Tomaino, Darrell Schweitzer, Robert Bee, NL. [JH]
Born May 30, 1963 – Helen Sharman, Ph.D.  Chemist.  First British cosmonaut.  Ten honorary doctorates.  Okay, it's not SF.  She was called the Girl from Mars (she was 24) but it was for research at Mars Confectionery.  Memoir, Seize the Moment – with Christopher Priest, is that better?  [JH]
Born May 30, 1964 — Mark Sheppard, 56. He's the son of actor W. Morgan Sheppard. A number of genre roles including lawyer Romo Lampkin on the Battlestar Galactica reboot, truly sleazy crime lord Badger on Firefly,  Tanaka on Dollhouse, Regent Benedict Valda on Warehouse 13, Canton Everett Delaware III on Doctor Who and Willoughby Kipling, member of the Knights Templar, on Doom Patrol. (CE)
(9) RUNNING HOT. This is not a National Enquirer headline: "'Scorching-hot hacked computer burned my hand'".
Bullets rained down from all angles but Abdelrhman Badr kept calm.

Suddenly an enemy burst through a window. Abdelrhman swung round to face the soldier and save his team. He lined up his sights for a fatal shot and squeezed the trigger but… his screen went black.

His computer had silently and suddenly shut itself down without warning.

Abdelrhman was confused. The game he was playing had never caused problems before.

He reached down and looked inside his computer, which he liked to leave open and on display in his bedroom.

Instinctively he touched one of the components, swore and pulled his hand back. The graphics card was so hot it had burned his fingers.

The 18-year-old from Sheffield hadn't realised it yet, but this minor injury was caused by crypto-jacking.
(10) MUNDANE MEETS GENRE. "The Machine Stops: Will Gompertz reviews EM Forster's work".
My wife was listening to a radio programme the other day and heard a man talking about artificial intelligence. He mentioned a science fiction novella by EM Forster called The Machine Stops, published in 1909. He said it was remarkably prescient. The missus hadn't heard of it, and nor had I. Frankly, we didn't have Forster down as a sci-fi guy, more Merchant Ivory films starring Helena Bonham Carter and elegant Edwardian dresses.

We ordered a copy (you can read it for free online).

OMG! as Forster would not have said.

The Machine Stops is not simply prescient; it is a jaw-droppingly, gob-smackingly, breath-takingly accurate literary description of lockdown life in 2020.

If it had been written today it would be excellent, that it was written over a century ago is astonishing.
[Thanks to John Hertz, JJ, Cat Eldridge, John King Tarpinian, Chip Hitchcock, Mike Kennedy, Michael Toman, Martin Morse Wooster, and Andrew Porter for some of these stories. Title credit goes to File 770 contributing editor of the day Andrew.]