(1) ON THE FRONT OF F&SF. The Magazine of Fantasy and Science Fiction's Nov/Dec 2020 cover art by David A. Hardy is for "Skipping Stones in the Dark" by Amman Sabet.
(2) SOME TRICKS, SOME TREATS. A new trailer — Season 2 of The Mandalorian streams October 30 on Disney+.
(3) WATCH THE CHESLEYS. Association of Science Fiction & Fantasy Artists President Sara Felix reminds everyone, "The Chesley award ceremony is this weekend on line in conjunction with IX Arts, Saturday October 24th at 7 pm EST."
It will be streaming on the ASFA website here.
(4) EARLY WARNER SYSTEM. SYFY Wire frames another new trailer: "The Animaniacs Catch Up On The 21st Century In Full, 'Insany' Trailer For Hulu Reboot".
The Warner siblings are back and better than ever in the official trailer for Hulu's Animaniacs reboot. True to form, Yakko (Rob Paulsen), Wackko (Jess Harnell), and Dot (Tress MacNeille) are very much aware of how much time has passed since the original series was canceled in the late 1990s.

They're right at home in a post-Deadpool world and have a lot to catch up on, like mobile tablets, quinoa wraps, and, most importantly, Queen Bae. Meanwhile, Pinky (also voiced by Paulsen) and the Brain (Maurice LaMarche) are still trying to take over the world, but must adapt to the modern woes of catfishing and Instagram likes.
(5) SCHOLARSHIP IN 2020. Livia Gershon's article "The Self-Styled Sci-Fi Supermen of the 1940s" at JSTOR Daily is filed with the tagline: "Way before there were stans, there were slans. Too bad about their fascist utopian daydreams!" The author is eager to slap the fascist label on fans – and seems ignorant of the fact that that some of the people who lived in the Michigan "Slan Shack" were gay, and that their idea of a utopia free of persecution might not really match up with the author's fascist stereotype. And treating Claude Degler as a representative of mainstream fandom is an idea as nutty as Degler was.
Science fiction is often a vehicle for social and political ideas, from celebrations of high-tech space colonialism to warnings about the misuse of technology. In the 1940s, English and technology scholar Andrew Pilsch writes, a utopian strain in science fiction fandom brought readers uncomfortably close to an alignment with fascism.

Pilsch writes that science fiction experienced a "superman boom" starting around 1939. This was driven largely by John W. Campbell Jr., editor of Astounding Stories. Campbell editorialized about the real-world possibilities of human enhancement. He also published many stories about super-human beings. Most notable among these was Slan, a novel by A.E. van Vogt. Amazing Stories serialized Slan in 1940—two years after Superman himself had debuted in Action Comics. In van Vogt's story, the regular people of Earth persecute "slans," genetically advanced humans.

The book gave the science fiction–reading community a new slogan: "fans are slans."

Pilsch writes that some fans took this concept very seriously, imagining themselves as a group distinct from the rest of humanity. Among them were Al and Abby Lu Ashley, who proposed creating a "Slan Center"—a settlement as big as a city block, with homes, a library, and a space for publishing fanzines. Describing the concept, the Ashleys wrote that "Intellectually, fans far exceed the ordinary person."

Dal Coger, a fan who was involved in the initial planning, explained later that "everyone had experienced the raised eyebrows of mundanes when you tried to discuss science fictional ideas with them. Slan Center would make it possible to be openly fannish any time we were away from work."

While the Slan Center never became reality, the Ashleys did found an eight-room fan house in 1943. Those who moved into the Ashleys' "Slan Shack" included fan artist Jack Wiedenbeck, fanzine publisher Walt Liebscher, and science fiction writer E.E. "Doc" Smith. Other fan houses popped up, including Tendril House in Los Angeles, the Ivory Birdbath in Massachusetts, and the Futurian Fortress in New York….
(6) MEDIA ANNIVERSARY.
2000 — Twenty years ago at Chicon 2000, Vernor Vinge's A Deepness in the Sky won the Hugo for Best Novel. The novel is a loose prequel (set twenty thousand years earlier) to A Fire Upon the Deep. Published by Tor Books in 1999, it decidedly beat out Lois McMaster Bujold's A Civil Campaign with the rest of the final ballot being Neal Stephenson's Cryptonomicon, Greg Bear's Darwin's Radio and J. K. Rowling's Harry Potter and the Prisoner of Azkaban. It would also win the John W. Campbell Memorial Award and Prometheus Award along with being nominated for the Arthur C. Clarke, Nebula, Locus, BFA and HOMer awards.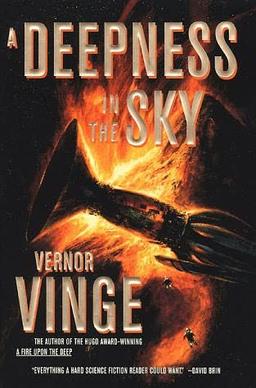 (7) TODAY'S BIRTHDAYS.
[Compiled by Cat Eldridge and John Hertz.]
Born October 21, 1772 – Samuel Coleridge. This complicated genius wrote, among much else, in 54 lines of poetry, "Kubla Khan", one of the finest fantasies. See also the Raymond F. Jones story "The Person From Porlock"; C's title may lie behind the Theodore Sturgeon story "The Skills of Xanadu". Poet, critic, philosopher. Coined the expression "suspension of disbelief". (Died 1834) [JH]
Born October 21, 1904 – Edmond Hamilton. Seven novels of the Interstellar Patrol; two of Star Kings; three of Starwolf; a score of Captain Future; a dozen more. Two hundred fifty shorter stories; see The Best of Edmond Hamilton edited posthumously by his widow Leigh Brackett. For DC Comics he particularly wrote Batman and Superman; co-created Batwoman (1956). He reached far. (Died 1977) [JH]
Born October 21, 1914 — Martin Gardner. He was one of leading authorities on Lewis Carroll. The Annotated Alice, which incorporated the text of Carroll's two Alice books is still a bestseller. He was considered the doyen (your word to learn today) of American puzzlers. And, to make him even more impressive, in 1999 Magic magazine named Gardner one of the "100 Most Influential Magicians of the Twentieth Century". Cool! (Died 2010.) (CE)
Born October 21, 1929 — Ursula Le Guin. She called herself a "Narrative American". And she most emphatically did not consider herself to be a genre writer instead preferring be known as an "American novelist". Oh, she wrote genre fiction with quite some brilliance, be it the Earthsea sequence, The Left Hand of Darkness, The Dispossessed, or Always Coming Home. Her upbringing as the daughter of two academics, one who was an anthropologist and the other who had a graduate degree in psychology, showed in her writing. And the home library of the family had a lot of SF in it. If you're interested in the awards she won in her career, she garnered the Hugo Award, Nebula Award, Locus Award, and World Fantasy Award, each at least once and she was also awarded the National Book Foundation Medal for Distinguished Contribution to American Letters It won't surprise you that she was made a Grandmaster of Science Fiction, one of a few women writers to take the top honor in the genre. (Died 2018.) (CE)
Born October 21, 1933 — Georgia Brown. She's the actress who portrayed Helena Rozhenko, foster mother of Worf, in the Next Gen's "Family" and "New Ground" episodes. She was Frau Freud in The Seven-Percent Solution, and was Rachel in "The Musgrave Ritual" episode of the Nigel Stock fronted Sherlock Holmes series. (Died 1992.) (CE)
Born October 21, 1936 – Ken Cheslin. Famously published Fables of Irish Fandom (with John Berry); The Bleary Eyes (about the Goon Defective Agency; JB was Goon Bleary); a second ed'n of Vincent Clarke's tributezine Atom, and one of his own, Atom 2000 – to this day we still quarrel over writing the fanartist Arthur Thomson's signature and nickname as "ATom" or "Atom". (Died 2000) [JH]
Born October 21, 1945 — Everett McGill, 75. Stilgar in the first Dune film. Earlier in his career, he was a Noah in Quest for Fire. Later on, he's Ed Killifer in License to Kill, and on Twin Peaks, he's Big Ed Hurley. He was also Rev. Lowe in Stephen King's Silver Bullet, a werewolf flick that actually has a decent rating of 55% at Rotten Tomatoes! (CE)
Born October 21, 1955 – Nancy Wirsig McClure, 65. Revived, ran, and was Master of Ceremonies for the Masquerade costume competition at ICON (Iowa City); Fan Guest of Honor (with husband Martin McClure), ICON 18. Originated, ran, and MC'd Masquerades at Demicon (Des Moines). Con committees at Minicon, edited the Bozo Bus Tribune at Minicon 30. Moved to Portland; OryCon committees. Runs a design & illustration business; designed e.g. this OryCon flier, this Bruce Schneier book; see here. [JH]
Born October 21, 1956 — Carrie Fisher. In addition to the original Star Wars trilogy, Star Wars Holiday Special, The Force Awakens, Star Wars: The Last Jedi and Star Wars: The Rise of Skywalker, she was in Amazon Women on the Moon, The Time Guardian, Hook, Scream 3, and A Midsummer Night's Rave. (Died 2016.) (CE)
Born October 21, 1958 – Julie Bell, 62. Graphic artist in her own right and with husband Boris Vallejo. Three Chesleys (one with him). Three artbooks and eight with BV. A hundred covers, four hundred interiors. Here is Stonehenge. Here is Falling Stars. Here is Beguilement. Here is Soft as Steel. Also horses and other wildlife. [JH]
Born October 21, 1973 — Sasha Roiz, 47. I know him only as Captain Sean Renard on the excellent Grimm series but he's also been Sam Adama on Caprica as well. And he's also been on Warehouse 13 in the recurring role of Marcus Diamond. He even showed up once on Lucifer as U.S. Marshal Luke Reynolds. (CE)
Born October 21, 1974 – Chris Garcia, 46. Fanziner and immeasurable being. Edited Tightbeam and The National Fantasy Fan, served as President of the N3F (Nat'l Fantasy Federation). Hugo for The Drink Tank. Nova for Journey Planet (with James Bacon). Also Claims Department; Exhibition Hall. TAFF (Trans-Atlantic Fan Fund) delegate, his report Rockets Across the Waters. Fan Guest of Honor at SFContario 3, ConQuest 44, Westercon 67, Baycon 2018. He and I were separated at birth; he got the hair. [JH]
(8) COMICS SECTION.
Close To Home shows how one witch is adapting to the latest technology.
(9) IN DYING COLOR. On Bruce Sterling's Tumblr today he has a number of crayon Lovecraftian illustrations "by a young Robert Bloch".
Lovecraftian illustrations by a young Robert Bloch, (original Cthulhu Mythos fanboy, later famous as the author of Psycho) doodled in crayon on various notebooks and pieces of cardboard between 1933 and 1937.
Here's one —
(10) CHOW CALL. Pirate Stew by Neil Gaiman and Illustrated by Chris Riddell goes on sale December 1.
Meet LONG JOHN McRON, SHIP'S COOK . . . and the most unusual babysitter you've ever seen.

Long John has a whole crew of wild pirates in tow, and—for one boy and his sister—he's about to transform a perfectly ordinary evening into a riotous adventure beneath a pirate moon. It's time to make some PIRATE STEW.

Marvelously silly and gloriously entertaining, this tale of pirates, flying ships, doughnut feasts and some rather magical stew is perfect for all pirates, both young and old.
(11) REVOKE THE VOTE? Camestros Felapton addresses the question: "Should John C Wright be allowed to vote?" It doesn't take long.
Today's politico-ethical question is easily answered. Yes, science fiction author John C Wright should be allowed to vote in whatever nation he chooses to live in, because people who are held accountable to laws should have a say in those laws AND also the legitimacy of government should derive from the broad consent of the governed….
But why is this a question? Because John C. Wright posed it himself in "It is Time to Reconsider", although it's not his own franchise but that of women, that he has doubts about:
Is it time to reconsider the 19th Amendment?

The argument for female suffrage is that women are not more prone to bouts of emotionalism than men, and hence is it equally worthwhile, as the whole, to consult with them over the conduct and control of public business.

Unfortunately, it is evident that there are but rare and few men in the current generation show any particular manly or masculine virtues which would entitle them to a say in the public business, if stoicism, reason, and virtue were preconditions for the franchise.

The argument against female suffrage is that voting is a peaceful substitute for revolution, wherein the less numerous party, seeing himself outnumbered, agreed without bloodshed to abide by the vote of the more numerous. Women, being largely less ready, willing, or able to take up arms than men, have no place in these military questions.….
Yes, if only the legislators who ratified the 19th Amendment – virtually all of whom were men, by the way – had been aided by the prophetic vision of that six-time Hugo nominee and Grand Inquisitor of the Evil Legion of Evil, John C. Wright.
(12) PKD'S POLITICAL ADVICE. Meanwhile, back in 1952, Philip K. Dick wrote to the editors of the Oakland Tribune naming his candidate to save the country:
Editor: Unless we elect Justice William O. Douglas President this country will surely continue to drift toward militarism and uniformity of thought. Only Justice Douglas seems to realize that our military outlook is fast destroying our liberty and economy. We must see that he is nominated and elected, or America may become another Spain. Governments all over the world are gaining in diabolical powers; with a great liberal President this trend might be reversed. . . .

— PHILIP K. DICK

Berkeley.

[Feb 21, 1952]
Thanks to Bill for the clipping.
(13) SAVING THROW. Whereas this author's advice was posted by Polygon just yesterday. "We asked Kim Stanley Robinson: Can science fiction save us?"
Can science fiction save us in our present political and cultural circumstances? Is it a useful teaching tool to help us think about how to solve our present problems, or model better ways of living?

Well, it's the latter, for sure. Whether it's the former depends on whether we pay attention. But let me answer a little more at length.

If you think of science fiction as just a kind of modeling exercise, everybody is a science fiction writer in their own lives. You make plans based on modeling in your mind. When you're feeling hopeful, you have a kind of utopian plan: if you do these things, you'll get to a good place. And then when you're afraid, you have these worries that if you do these things, you'll get to a bad place. So the fundamental exercise of science fiction is a very natural human thing. And then when it gets written down in long narrative forms, like science fiction novels, everybody recognizes the exercises involved there. Although when I say that, I realize that, actually, lots of people don't like to read science fiction, so they're not recognizing the way books are the same as what they do for their own lives. That's surprising to me, but it happens a lot….
(14) IMITATION IS THE SINCEREST FORM OF FLATTENING. The LA Times takes notes on "What scientists hope to learn from a beetle that can survive being run over by a car".
It's a beetle that can withstand bird pecks, animal stomps and even being rolled over by a Toyota Camry. Now scientists are studying what the bug's crush-resistant shell could teach them about designing stronger airplanes and buildings.

"This beetle is super tough," said Purdue University civil engineer Pablo Zavattieri, who was among a group of researchers that ran over the insect with a car in the name of science.

So, how does the seemingly indestructible insect do it?

The species — the aptly named diabolical ironclad beetle — owes its might to an unusual armor that is layered and pieced together like a jigsaw, according to the study by Zavattieri and his colleagues published in Nature on Wednesday. Its design, they say, could help inspire more durable structures and vehicles.
(15) THE LAND AND THE DRAGON ARE ONE. Restore peace. Find the last dragon. See the new trailer for Raya and the Last Dragon, in theaters March 2021.
Long ago, in the fantasy world of Kumandra, humans and dragons lived together in harmony. But when an evil force threatened the land, the dragons sacrificed themselves to save humanity. Now, 500 years later, that same evil has returned and it's up to a lone warrior, Raya, to track down the legendary last dragon to restore the fractured land and its divided people. However, along her journey, she'll learn that it'll take more than a dragon to save the world—it's going to take trust and teamwork as well.
(16) VIDEO OF THE DAY. In "Honest Game Trailers: Star Wars: Squadrons" on YouTube, Fandom Games says in this game "you can fly an X-Wing and it makes a "pu-pu' sound. What more do you want?"
[Thanks to JJ, Michael Toman, Bill, Andrew Porter, Gordon Van Gelder, John King Tarpinian, John Hertz, N., Cat Eldridge, Sara Felix, Martin Morse Wooster, Dennis Howard, and Mike Kennedy for some of these stories. Title credit goes to File 770 contributing editor of the day Daniel Dern.]