(1) The Register is running a poll for the worst Doctor Who of all.
Was Colin Baker, dressed in his multi-coloured dreamcoat, simply taking a wrong turn on his way to a rehearsal for an Andrew Lloyd Webber musical – falling instead into some weird space-time continuum from which no audience member could escape?

Or maybe, just maybe, it was William Hartnell who ruined it for everyone with his curmudgeonly adventures on the TARDIS.
Although Peter Capaldi is not leading, he should be worried about his job security.
(2) I don't think anyone is genuinely confused, however, Andrew Porter has worked out a scenario to show why people ought to be confused by the reappearance of a well-known pen name.
At Drop Dead Perfect we read,

"Idris Seabright is one demented dame. A 1950's Florida gargoyle with a penchant for painting still lifes, no matter how her subjects must be stilled, she's as handy with a hachet as a brush and as rich as she is ruthless. 'Drop Dead Perfect,' written by Erasmus Fenn and directed by Joe Brancato, finds Idris torn between her ingenuous ward who has artistic aspirations, a well-endowed Cuban ex-con who may be her nephew, and her pill-pushing lawyer. Idris and 'Drop Dead Perfect' are back after last year's sold-out run for a strictly limited eight week engagement."

Also, at Vanishing New York,

"Everett Quinton, former lead actor and artistic director of the Ridiculous Theatrical Company, is famous for his cross-dressing performances, and he's currently starring in one of the juiciest of his career with Drop Dead Perfect at the Theatre of St. Clements in Hell's Kitchen. As Idris Seabright, a 1950s Key West housewife with artistic aspirations…"

"Drop Dead Perfect"  is playing now through October 11 at Theater at St. Clements, 423 West 46th Street, NYC.  Porter continues —

Except we know that "Iris Seabright" was a pseudonym used by science fiction author Margaret St. Clair, who died in 1995. Is it coincidence that St. Clair was from Maine, and this character is from the opposite place on the East Coast? I called the theater, and they were totally unaware of the previous use of the name.

For more about Margaret St. Clair see her Wikipedia entry.
(3) George R.R. Martin will make an appearance on Zombie Nation reports Entertainment Weekly.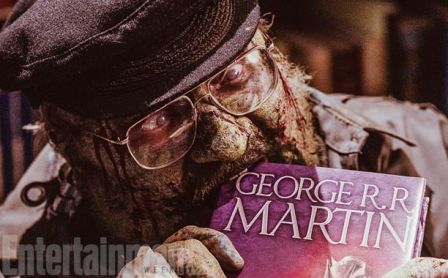 Nothing is going to stop George R.R. Martin from finishing his Game of Thrones novels!

The bestselling author will have a cameo during the second season of Syfy's post-apocalyptic thriller Z Nation playing himself as a zombie, EW has exclusively learned.

And as you can see from the photo above and the two others below, Martin is quite undead while signing his own books (and even tries to munch on one brainy copy). The title of Zombie Martin's book is a fun tease — "A Promise of Spring," which plays off A Dream of Spring — the expected title of his eventual seventh (and presumably conclusive) novel in his epic A Song of Ice and Fire saga. Currently Martin is working on Book 6, The Winds of Winter.

Declared Martin: "I just want to prove to my fans that even in the Zombie Apocalypse, the Song of Ice and Fire books will still come out!"

Martin will appear in the eighth epsiode of this year's Z Nation, which returns to Syfy on Friday at 10 p.m. In the show, Martin has been imprisoned by a character called the Collector, who captures celebrity zombies and keeps George chained to a desk for his own nefarious purposes.
(4) DB in a comment on "One Alfie, Two Hugos" at Not A Blog —
I have a theory, or maybe a hypothesis, as to why there was no Best Novel Hugo in 1957. The International Fantasy Award, which was a juried award that was also shaped like a rocketship, was being presented at a banquet elsewhere in London the day after the Worldcon. It was an invitational event, not officially part of the Worldcon, but many Worldcon members attended.

My theory is that the Worldcon committee, knowing this, didn't feel that a Best Novel Hugo was necessary. That would be an odd decision today, but remember that at that time the Hugos were not firmly established, they had much less prestige than the IFA, and awards were few and the overlap and duplication we're used to today were unknown.

The book that received the IFA that year? Tolkien's The Lord of the Rings.
(5) Pip R. Lagenta invites you to come see a snippet of LASFS history on his website while you still can. He says Comcast is getting rid of personal webpages (like his) in October.
De Profundis is the club newsletter of The Los Angeles Science Fantasy Society.   Around about May of 1988 the De Profundis newsletter contained its first, last and only Photo Supplement.   This four page supplement is now, here, being republished for the first time (in any form) since the May, 1988, newsletter distribution.
I'm in there a couple of times. Which is either an incentive or a warning.
(6) Cedar Sanderson in "A Dog's Breakfast" at Mad Genius Club.
(And to those complaining that it's in present tense ha ha ha I don't care and I can't fix it now, suckaz.)

— Chuck Wendig (@ChuckWendig) July 17, 2015
When you confront your reader with, in the first paragraphs, sentences that don't make sense, you are doing the worst thing to readers an author can do. Mislectorism. Betrayal. You're showing your readers you hate them, and they will respond to it. "This particular ship has seen action: plasma scarring across the wings and tail fins; a crumpled dent in the front end as if it was kicked by an Imperial walker." Look at that sentence. Consider that it is not alone. I don't think I have ever seen as many colons in one passage in all the thirty-some years I have been reading. Nor have I seen this many sentence fragments in once place. I shudder to think of how many dashes and hyphens met their ends here. If I had to name this style I'd call it post-Modern chop suey, because everything is minced and mixed together until it resembles a dog's breakfast.
Snowcrash in a comment on "A Dog's Breakfast" at Mad Genius Club.
I think the issue may be somewhat overstated – the Amazon reviews broadly break down into 4 areas – people unhappy that an ebook is priced at so high (USD 17?); people sad to have lost the Expanded Universe; people taking umbrage at the existence of a gay protagonist; and people who take issue with the writing. Down-rating the book for the first 3 seems a bit immature to me, but hey, whatever they want in the cut-throat world of Amazon…

Personally, given it's sales figures, it seems to be doing fine so far. Let's see if it has legs though.
Amanda S. Green in a comment on "A Dog's Breakfast" at Mad Genius Club.
Very broadly break down into that. I've taken the time to read the reviews not only on Amazon but on B&N as well. Let's look at the B&N reviews to start. There are 17 reviews there for a 3.5 star cumulative review. 6 of those 17 reviews are 5 stars. However, and this is a big however, of those 6 reviews 4 are one line back and forth comments between reviewers that have nothing to do with the book. Another has no comment at all. So let's toss them out. The final five star review is a true review by someone who liked the book. The rest of the reviews deal with the plot or writing style. One review, one of the more supportive ones, does say that the inclusion of a gay character felt forced. Over all, the complaint, even among those giving good reviews, was that the writing was not at the level it should be and that Wendig did not appear to love the universe he was writing in.

If you look closely at the Amazon reviews, you see much the same thing. Yes, there are those upset with the fact the EU was tossed out. But most of the reviews concern the writing style or the story structure. Sure, there are a few who object to having a gay lead character, there always will be someone who doesn't approve of something. But the overall message is that the book is poorly written.

The key thing here is to look at the author's behavior and how he is alienating a fan base. He has basically called all those who don't like his work homophobes simply because they don't like his work. That is not a way to win friends or influence people, at least not in a good way.

As for the sales figures, eh. We haven't seen the returns yet and we probably never will. As for his Amazon rankings, those don't always equate into huge sales. The best sellers lists such as the NYT one are based on pre-orders and then continued orders. As you said, we will have to see if it has legs and, judging from the reviews, I'm not sure it will.
(7) Teresa Nielsen Hayden now denies the episode happened. Brust says that's not what he was asking about, but that's irrelevant for purposes of this history.
@StevenBrust @pnh @jenphalian Here's a denial: Patrick didn't even raise his voice to Jagi Lamplighter. JCW fabricated the entire story.

— tnielsenhayden (@tnielsenhayden) September 12, 2015
@StevenBrust @pnh @jenphalian Lamplighter's the one who got warned that she was pushing the limits on the convention's code of conduct.

— tnielsenhayden (@tnielsenhayden) September 12, 2015
(8) He said it, not me…
OH THANK GOD, ANOTHER REASON TO KEEP TALKING ABOUT THE HUGOS.

— Jared (@straycarnivore) September 11, 2015
(9) Oops. Somebody poked a hibernating bear. Part of "Today's Twitter Rant, 9/12/15" which goes on at length on Whatever.
I don't need a fucking "Web of Trust" to be a science fiction and fantasy fan. I don't need a fucking gatekeeper. I'm a fan because I am.

— John Scalzi (@scalzi) September 12, 2015
[Thanks to Andrew Porter, Pip R. Lagenta, both Marks, and John King Tarpinian for some of these stories. Title credit goes to File 770 contributing editor of the day Will R.]