(1) CHENGDU WORLDCON ROUNDUP. [Item by Ersatz Culture.]
New articles on the Chengdu Worldcon website, but only in Chinese
There have been several news articles published on the official website since the convention ended on the 22nd, but only in Chinese. Below are extracts from a few of them, via Google Translate with minor manual edits.
What kind of "future" did people encounter in Chengdu? (posted Monday 23rd)
This conference is a new starting point for the take-off of the science fiction industry in Chengdu, but it is not only the starting point for the take-off of the science fiction industry in Chengdu. This conference is the starting point for China's science fiction industry to set sail from Chengdu.

The organizing committee of the 2023 Chengdu World Science Fiction Conference has made the science fiction industry a major topic of the conference for the first time. At the first industrial development summit held at the conference, the "Chengdu Consensus on Science Fiction Industry" was officially released, which will allow various industries to gather a consensus to build the cornerstone of the science fiction industry.
A thank you note! ICBC's patient and thoughtful service won praise from guests at the Science Fiction Conference (posted Monday 23rd)
On the first day of the World Science Fiction Convention in Chengdu on October 18, foreign customer Mr. Barkley hurried to the mobile banking car for help. He wanted to use his credit card to withdraw some cash to buy a domestic mobile phone to send emails online, but domestic credit card withdrawals required a password. Mr. Barkley had previously used his credit card abroad to make purchases or withdraw cash based on his signature, and he did not know the reserved password.

Behind the exciting exhibitions at the Chengdu World Science Fiction Convention, ICBC's thoughtful, patient and heart-warming financial services undoubtedly provide comprehensive protection…..

The exhibition hall is also equipped with a digital RMB coffee machine. Using digital RMB, you can enjoy a steaming cup of coffee for only 1 yuan. At the same time, the Chengdu Universiade co-branded digital RMB hard wallet set exhibited by ICBC supports payment without network and electricity. Payment can be completed with just a "touch" during transactions, which left a deep impression on many domestic and foreign guests.

In order to provide all-weather, omni-channel, international financial services and facilitate services, ICBC comprehensively promotes the financial services for the Science Fiction Conference at 11 outlets in Pidu District.
Note that ICBC was one of two top tier sponsors of the Chengdu Worldcon. Also note that although the article was posted two days after the Hugo ceremony, the article makes no mention of Chris being a Hugo winner.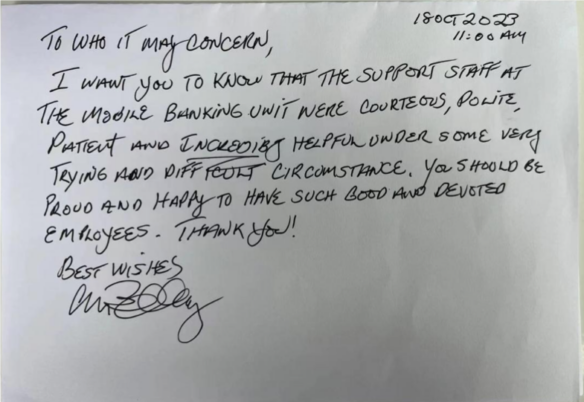 Ximalaya Operations Director Zhou Tiantian: Science fiction encourages people to find the meaning of life on a cosmic scale (posted Monday 23rd)
Zhou Tiantian, director of operations of Ximalaya, said that science fiction gives people the limits of their imagination and encourages people to find the meaning of life on a cosmic scale . As the leading audio app in China, Ximalaya is closely integrated with cutting-edge technology and has launched many science fiction, fantasy and technological contents. At present, Ximalaya has released a number of sci-fi Atmos audio dramas, including classic sci-fi IPs "The Wandering Earth Liu Cixin Collection", "Solaris" and "Dune Overture". Ximalaya has cooperated with Dolby Laboratories to launch a Dolby Atmos zone. Launched with [car manufacturer] NIO, it provides high-quality audiobooks in various genres such as science fiction, suspense, and children's books. Previously, Ximalaya cooperated with Li Auto and WANOS to launch panoramic audio dramas, providing a shocking auditory experience for the in-car space.

Ximalaya is committed to empowering culture with technology and actively promotes the widespread application of AI technology in the audio industry, which is consistent with its long-term development strategy. As a beneficiary and leader of AI technology, Ximalaya is unswervingly committed to the exploration of AI technology in the audio field. Through the development of AI technology, Ximalaya can appear in users' lives in a new way of experience, realizing rebirth in some scenarios. Ximalaya will continue to be committed to the application of AI technology in the audio field, and continue to promote innovation to meet the diverse needs of users and help Ximalaya continue to develop.
[Note: I'm not familiar with this audiobook company, but it seems that they use both the "Ximalaya" and "Himalaya" brand names; the former seems to be aimed at the domestic market, the latter internationally.]
The winning games of the 81st World Science Fiction Conference "Fantasy Galaxy – Annual Selection of World Science Fiction Games" have been announced! (Posted Monday 23rd)
On the morning of October 22nd, the 81st World Science Fiction Conference "Fantasy Galaxy – Annual Selection of World Science Fiction Games" award ceremony was held at the Chengdu Science Fiction Museum, where the winning works were announced. The selection event was released by the Organizing Committee of the 81st World Science Fiction Conference and sponsored by Sichuan Game Innovation and Development Center, Chengdu Science Fiction Association, and Sichuan Publishing Association Game Publishing Working Committee.

Sichuan New Media Group and other relevant leaders, as well as Canada's "Godfather of Science Fiction" Robert Sawyer, attended the event and presented awards, as well as specially invited representatives from Google, Amazon Cloud, NetEase, Tencent, Huawei, Bilibili, and Ubisoft.
The first two winners named are by remarkable coincidence associated with sponsors of the con.
As an aside, I see that Sergey Lukyanenko is still listed as a GoH on the front page, and the "Special Guests" and "Hosts" are still showing as "UPDATING".
Con reports: Jeremy Szal, Arthur Liu and Nicholas Whyte
Jeremy Szal was tweeting during the con and has now written his con report:
I'm led through a whirlwind of events, ceremonies, meetings, interviews and conversations. I'm thrust in front of cameras, wired up with microphones, offered seats and stools. I greet friends, both new and familiar to me. My editors and handlers keep close correspondence with me, telling me where I need to be, and at what time, and how I should be dressed. I've done WorldCons before. I know this gig. But something here feels different. There's a buzz, a feverishness, in the air…

And it's nice. Never before have I felt so welcome. Never before have I truly felt at home, as a member of the science-fiction community. Diversity here isn't spoken off. It's acted upon. Where other conventions may attempt to gesture at diversity, as an abstract, here it is exacted. It's presented, on an international scale. And it's wonderful. We don't all speak the same language. Because we share something else, something grander: a love of science-fiction and fandom.
Arthur Liu is currently suffering from severe con crud, but nevertheless has put out the first part (of four) of his Chinese-language con report, covering the run-up to the event. (Disclosure: I am mentioned in this article.) Via Google Translate, with minor edits:
Yao Xue from the business meeting group also invited me to propose "constitutional amendment" proposals. The F.8 proposal also caused controversy in the American science fiction circle. A group of science fiction fans attacked it on File 770. These somewhat brought back a bit of the "Worldcon" flavor of this conference, and made us decide to at least enjoy it as much as possible. I think that the science fiction fans who finally decided to attend this conference all have more or less ambivalent feelings about it…

The theme salon is divided into three application channels: (1) Questionnaire star entrance provided on the WeChat official account; (2) Organizing committee email address provided on the official website; (3) Planorama website. This caused a lot of confusion in the early days, because the contents filled out in the three channels were different and incomplete. Later, the information was completed only through the collection of volunteers. The application for a fan booth is relatively straightforward, just send an email. However, because the venue had not yet been completed, the relevant person in charge did not respond for a long time after the application was submitted, and did not start notifying people until just before the con. From August to before the conference, I had to go through this "catch up on winter and summer vacation homework" mode at almost every stage and every milestone. The intermediary organizer also repeatedly asked us to fill in forms and provide additional event materials because they needed to review the content to ensure on-site safety. For example, the panellists needed to provide speech notes, the host needed to provide speech notes, etc. In addition, they also had to provide true identity information in order to enable the organizers to be able to perform facial recognition on the guests… From these preliminary preparations, we could actually roughly guess what the scene would be like, which shows that the local government attached great importance to this matter.
Nicholas Whyte's first post about the con covers the Doctor Who panel:
Many aspects of Chengdu Worldcon were great fun. I will write about the things I especially enjoyed: the pandas, the set-piece events, and the friends I made along the way. (I enjoyed the WSFS Business Meeting even less than usual, so I won't write about that.)

The thing that gave me the most unexpected joy was the love for Doctor Who shown by the Chinese fans. I have to give huge credit here to Yan Ru, 晏如, an English Chinese teacher from Wuhan, who may well be the leading Doctor Who fan in China. We had made contact before the convention, and had a lot of conversations about our shared passion.
(2) TRIANGULAR TRADE.  "The Flatiron Building Will Be Converted Into Condos" in the New York Times. Not so long ago New York fans knew it as the headquarters of Tor Books but I suspect they will resist the temptation to buy condos and live there around the clock.
The Flatiron, the storied office building in the heart of Manhattan that has recently fallen on hard times, will be converted into luxury housing, its owners announced on Thursday.

The proposed redevelopment by the new owners is aimed at starting a second life for the Flatiron — its sole office tenant, Macmillan Publishers, departed before the pandemic — and moving past a dramatic period in which its fate seemed uncertain. In March, a little-known buyer won an auction for the building, only to disappear without paying.

The building's future as housing began to take shape this week when the Brodsky Organization, a residential developer, bought a stake in the 22-story, triangular-shaped tower on Fifth Avenue. Brodsky will lead the conversion, carving out units — either for sale as condominiums or as rentals — from the notoriously awkward space….
(3) THE GOALS OF BLACK HORROR. The Atlantic's Hanna Rosen found out "What Scares Jordan Peele?" And N.K. Jemisin, too.
…Since then I've learned a lot more about how race worked in that movie. But for a Black kid interested in horror, the subtext might have been a little more obvious. Jordan Peele grew up writing horror stories in his journals, and occasionally scaring his classmates with them on school trips. In 2017, after a successful sketch-comedy career, he wrote, produced, and directed Get Out, the critically acclaimed horror film. He says the movie "felt very taboo" and "un-produceable" at the time. "I don't know if you noticed, but Get Out doesn't have any good white people in it," he told me. I did notice.

After Peele made that movie, and several others, he says, Black creators started telling him that they too had a horror story to tell, but they had never thought to tell it publicly. Classic horror always seemed to be speaking to white people's fears about the menace of "the other," made manifest as dark and sinister forces. But Black people of course saw different monsters….
(4) UPHILL CLIMB. "Fantasy, sci-fi books by Latinx authors need more support, authors and agents say" at The 19th News.
Romina Garber had always been an avid reader of fantasy stories, especially Harry Potter, but something ate at her: She could never find another Latina in the stories.

"I couldn't find someone that reflected me or represented me, and that always really bothered me," she said.

So Garber wrote the story of a young girl who discovers she's a lobizona, a werewolf of Argentine folklore. But when Garber began looking for literary representation for the book that would eventually be "Lobizona," 15 years ago, no one wanted it.

Garber remembers one agent telling her that "no one cared about Argentine immigrants." There was no American market for the title, and it's not what people wanted to read. Garber felt her identity, not just her book, being rejected.

"He was talking about me, he wasn't talking about my characters," Garber said. "It really crushed me. And after that, I just realized I can't write about myself."

So she began writing allegorical science fiction instead, creating a world where everyone is divided up by their zodiac sign. Garber found an agent with this new concept and finished publishing the four-book series in 2017. But Garber's mind drifted back to the first book she tried to sell about an undocumented immigrant lobizona. It felt more urgent than ever: The news was filled with stories of immigrant children being detained in cages during the Trump administration's border crackdowns.

Now armed with an agent from her science fiction series, her book was sold to a publisher. "Lobizona," the first in the Wolves Of No World Duology, was released in 2020. Garber regrets that she ever shelved the story in the first place. "I should never have stopped fighting."

There have been a few standout successes for Latinx authors in the realm of speculative fiction — which includes fantasy, science fiction and dystopian stories — and many are written by women and LGBTQ+ authors. Books such as Silvia Moreno-Garcia's "Mexican Gothic" and Aiden Thomas' "Cemetery Boys" have been New York Times bestsellers. Moreno-Garcia's "The Daughter of Doctor Moreau" is up for the genre's prestigious Hugo Award.

Publishers have backed a few bright stars, but that doesn't translate into broader support. Publishing, both the industry and the authors, are overwhelmingly White. For Latinx authors, that can mean an industry that flattens cultural nuances, tokenizing and misrepresenting the speculative worlds they are dreaming into existence….
(5) THE WEB NOT SPUN. [Item by Steven French.] David Fincher's take on Spider-Man: "'Who doesn't think they're an outsider?' David Fincher on hitmen, 'incels' and Spider-Man's 'dumb' origin story" in the Guardian.
…He pitched his idea for a Spider‑Man movie in 1999. Fincher's version skipped the whole "bitten by a radioactive spider" part and focused on Peter Parker as a grownup. "They weren't fucking interested," he says with a laugh. "And I get it. They were like: 'Why would you want to eviscerate the origin story?' And I was like: ''Cos it's dumb?' That origin story means a lot of things to a lot of people, but I looked at it and I was like: 'A red and blue spider?' There's a lot of things I can do in my life and that's just not one of them." The gig went to Sam Raimi….
(6) SECOND FIFTH. "Fantastic Beasts: JK Rowling franchise has been 'parked', director says" – the Guardian took notes.
… The Secrets of Dumbledore netted just $407m at the international box office, compared with the first film in the franchise, 2016's Fantastic Beasts and Where to Find Them, which grossed $814m, and the second movie, 2018's The Crimes of Grindelwald, which took $654m.

The franchise has also been dogged by controversy arising from its stars and writer. JK Rowling, the Harry Potter creator who received the sole screenwriting credit for the first two Fantastic Beasts films and was co-writer on the third, has been widely criticised for her outspoken views on transgender issues.

Johnny Depp, who played Grindelwald in the first two Fantastic Beasts films, was in 2020 asked to resign from the franchise days after he lost his libel case against the Sun, which had referred to the actor as a "wife-beater" following accusations of domestic violence made against him by his ex-wife Amber Heard.

And Ezra Miller, another of the franchise's stars, made headlines in 2022 after they were arrested multiple times; Miller eventually pleaded guilty to unlawful trespassing and revealed they were seeking treatment for "complex mental health issues".

Yates revealed to the podcast that the franchise's five-film plan had not initially been on the cards.

"The idea that there were going to be five [Fantastic Beasts] films was a total surprise to most of us," he said.

"Jo just mentioned it spontaneously, at a press screening once. We were presenting some clips of FB1 [Fantastic Beasts and Where to Find Them]. We'd all signed up for FB1, very enthusiastically. And Jo, bless her, came on … and Jo said, 'Oh, by the way, there's five of them.' And we all looked at each other because no one had told us there were going to be five. We'd sort of committed to this one. So that was the first we'd heard of it."…
(7) A "MONSTER KID" REMEMBERS. [Item by Steve Vertlieb.] Cosmic dreams (and provocative nightmares) of tantalizing journeys through time and space … infinite, conceptual exploration of the stars … alien creatures … Hammer Films … Universal Pictures … "King Kong" … Ray Harryhausen … Ray Bradbury … George Pal … Robert Bloch … Peter Cushing … Veronica Carlson … Buster Crabbe … John Agar … Frank Capra … John Williams … Miklos Rozsa … Forrest J Ackerman … and Famous "Monsters" of all shapes, sizes, and creeds, both conceived and lovingly chronicled in books, magazines, journals, tabloids, and on line for over half a century, inspired this affectionate, deeply personal, if slightly "Monstrous," remembrance of a life in "horror" by a gray haired, unabashedly child like, Monster "Kid." "Vertlieb's Views: A Monster Kid Remembers" at The Thunder Child.
(8) TODAY'S BIRTHDAYS.
[Compiled by Cat Eldridge.]
Born October 27, 1926 — Takumi Shibano. Teacher, Writer, Editor, and Fan from Japan. He co-founded and edited Uchujin, Japan's first SF magazine, in 1957. He was a major figure in the establishment of Japanese SFF fandom, and he founded and chaired four of the first six conventions in that country. In 1968 the Trans-Oceanic Fan Fund (TOFF) brought him to a Worldcon for the first time, in the U.S., where he was a Special Guest. He wrote several science fiction novels starting in 1969, but his work translating more than 60 science fiction novels into Japanese was his major contribution to speculative fiction. From 1979 on, he attended most Worldcons and served as the presenter of the Seiun Awards. He was Fan Guest of Honor at two Worldcons, in 1996 and at Nippon 2007, he was given the Big Heart Award by English-speaking fandom, and he was presented with a Special Hugo Award and a Special Seiun Award. (Died 2010.) (JJ)
Born October 27, 1940 — Patrick Woodroffe. Artist and Illustrator from England, who produced more than 90 covers for SFF books, including works by Zelazny, Heinlein, and GRRM, along with numerous interior illustrations, in the 1970s. He was also commissioned to provide speculative art for record album cover sleeves; his masterwork was The Pentateuch of the Cosmogony: The Birth and Death of a World, a joint project with the symphonic rock musician Dave Greenslade, which purported to be the first five chapters of an alien Book of Genesis, consisting of two music discs by the musician and a 47-page book of Woodroffe's illustrations. It sold over 50,000 copies in a five-year period, and the illustrations were exhibited at the Brighton UK Worldcon in 1979. Hallelujah Anyway, a collection of his work, was published in 1984, and he was nominated for Chesley and BSFA Awards. (Died 2014.) (JJ)
Born October 27, 1943 — Les Daniels. Writer of a series concerning the vampire Don Sebastian de Villanueva. During the Seventies, he was the author of Comix: A History of Comic Books in America with illustrations by the Mad Peck — and Living in Fear: A History of Horror in the Mass Media. Later on, he'd write myriad histories of DC and Marvel Comics, both the Houses and individual characters. (Died 2011.)
Born October 27, 1948 — Bernie Wrightson. Artist and Illustrator, whose credits include dozens of comic books and fiction book covers, and more than hundred interior illustrations, as well as a number of accompanying works of short fiction. His first comic book story, "The Man Who Murdered Himself" appeared in the House of Mystery No. 179 in 1969. With writer Len Wein, he later co-created the muck creature Swamp Thing in House of Secrets No. 92. In the 70s, he spent seven years drawing approximately fifty detailed pen-and-ink illustrations to accompany an edition of Frankenstein. And in the 80s, he did a number of collaborations with Stephen King, including the comic book adaptation of that author's horror film Creepshow. In 2012, he collaborated with Steve Niles on Frankenstein Alive, Alive! for which he won a National Cartoonists Society's award. He was Guest of Honor at numerous conventions, was honored with an Inkwell Special Recognition Award for his 45-year comics art career, and received nominations for Chesley Awards for Superior and Lifetime Artistic Achievement and for a Stoker Award for Superior Achievement in an Illustrated Narrative. (Died 2017.)
Born October 27, 1970 — Jonathan Stroud, 53. Writer from England who produces speculative genre literature for children and young adults. The Bartimaeus Trilogy, winner of Mythopoeic Award for Children's Literature, is set in an alternate London, and involves a thousand-year-old djinn; Lockwood & Co. is a series involving ghost hunters in another alternative London. I've read a few of the latter – they're fun, fast reads. Netflix made the latter into a series and promptly cancelled it after one season.
Born October 27, 1973 — Anthony Doerr, 50. Author four novels, two of which are genre — About Grace and Cloud Cuckoo Land. The first is straightforward, the latter is really complex storytelling. He's won four Ohioana Awards (Literature by writers from Ohio and about Ohio), not an Award I'd heard of before now. He's written one piece of genre fiction, "The Hunter's Wife" which is only in The Year's Best Fantasy & Horror: Fifteenth Annual Collection which means it was commissioned for there.
(9) HOOPLA COMICS KINGDOM 1-WEEK BINGE PASSES. [Item by Daniel Dern.] As I wrote in "Reading Daily Comic Strips Online" (File770.com, March 23, 2022) a lot of current and classic comic strips are available online, primarily through ComicsKingdom and GoComics, for modest annual subscription prices — and
both offer free try-it access.
If you're curious about Comics Kingdom's offerings but don't want to pony up a payment method just to try, Hoopla (hoopladigital.com) (access available through participating libraries) Binge Passes include a week's access to a selection of the full site: Comics Kingdom Binge Pass.
(10) THIRD HELPING OF OMENS ON THE MENU. "Good Omens to Reportedly Be Renewed for Season 3, But With A Catch" — and Comicbook.com knows what it is.
Good Omens is reportedly looking at a Season 3 renewal by Amazon Prime Video and the BBC – but reportedly there is a catch. It's now looking like Good Omens showrunner, director and executive producer Douglas Mackinnon will not be returning for Season 3 (likely the final season) – although lead actors Michael Sheen and David Tennant and the main cast of the show have reportedly all been locked-in to return.
(11) THE BLOB. "Spacewalking cosmonauts encounter toxic coolant 'blob' while inspecting leaky radiator" reports Space.com.
Two cosmonauts conducting a spacewalk outside the International Space Station (ISS) on Wednesday (Oct. 25) got an up-close view of a coolant leak that was first observed flowing from an external radiator earlier this month.

Oleg Kononenko came so close to the growing "blob" or "droplet" — as the pooling ammonia was described — that one of his tethers became contaminated, necessitating it being bagged and left outside of the space station when the spacewalk ended.

Kononenko and his fellow Expedition 70 spacewalker, Nikolai Chub, also of the Russian federal space corporation Roscosmos, began the extravehicular activity (EVA) at 1:49 p.m. EDT (1749 GMT) on Wednesday, knowing that one of their first tasks was to isolate and photo document the radiator, which was first observed leaking coolant on Oct. 9. Used as a backup to a main body radiator that regulates the temperature inside Russia's Nauka multipurpose laboratory module, Kononenko and Chub configured a number of valves to cut off the external radiator from its ammonia supply….
(12) VIDEO OF THE DAY. Ryan George introduces us to "The First Guy To Ever Trick or Treat".
[Thanks to Chris Barkley, Cat Eldridge, SF Concatenation's Jonathan Cowie, Daniel Dern, Gary Farber, Steven French, Steve Vertlieb, Mike Kennedy, Andrew Porter, Ersatz Culture, and John King Tarpinian for some of these stories. Title credit belongs to File 770 contributing editor of the day Daniel Dern.]