(1) THE CLOCK IS DRIPPING. Mary Anne Mohanraj reminds everyone today's the last day for becoming a founding sponsor of the Speculative Literature Foundation on Drip. Minimum is a buck a month.
The Speculative Literature Foundation encourages promising new writers, assists established writers, supports magazines and presses, and develops a greater public appreciation of speculative fiction.
(2) ANNUAL ASIMOV DEBATE. You have until December 15 at 5 p.m. Eastern to enter the lottery for the right to purchase tickets to the 2018 Isaac Asimov Memorial Debate. It takes place at the Hayden Planetarium in New York on Tuesday, February 13, beginning at 7 p.m.
Each year, the Isaac Asimov Memorial Debate brings the finest minds in the world to the Museum to debate pressing questions on the frontier of scientific discovery. Join host and moderator Neil deGrasse Tyson, the Frederick P. Rose Director of the Hayden Planetarium, for the 2018 Isaac Asimov Memorial Debate on Tuesday, February 13, 2018.

…There is no purchase necessary, and no cost to enter the lottery. The lottery is randomized, and the order of entry has no effect on your chances of winning. …A full description of terms and conditions can be found here.
(3) NICOTINE OVERDOSE ON MARS. James Davis Nicoll turned the crew loose on Piper's classic "Omnilingual" at Young People Read Old SFF. They took no prisoners!
H. Beam Piper's career was cut short when, believing himself a failure and his career effectively over, he shot himself1. One of John W. Campbell's stable of writers, he stands out as one of the few in that crowd willing to give women agency, even if he did not often feature one as a protagonist. Omnilingual is one of the few Piper stories with a woman lead, something I hope will distract from Piper's stylistic quirks—the cocktail parties, the endless smoking—that tie the story's creation to the early sixties. Presumably the people who suggested it had similar hopes. But what did my Young People think?
(4) CANADA'S ILLEGAL ALIENS. Echo Ishii's series about old genre TV shows continues with "SF Obscure: First Wave".
First Wave was a Canadian action/Adventure SF series that ran from 1998-2001. It ran for three seasons on the Space Channel in Canada. Yay Canada!

The plot centers around Cade Foster who's framed for his wife's murder and is on the run to uncover a vast alien conspiracy. From what I gathered-it took a bit to put the pieces together-the aliens kidnapped him and made him part of an experiment to test emotions or responses or something. Anyway, Foster doesn't become their pawn and goes on the run. He is helped along by Eddie, a guy who ran a paranormal magazine and does all the computer nerd stuff. They are later joined in their quest to stop the aliens by an alien assassin turned ally named Joshua.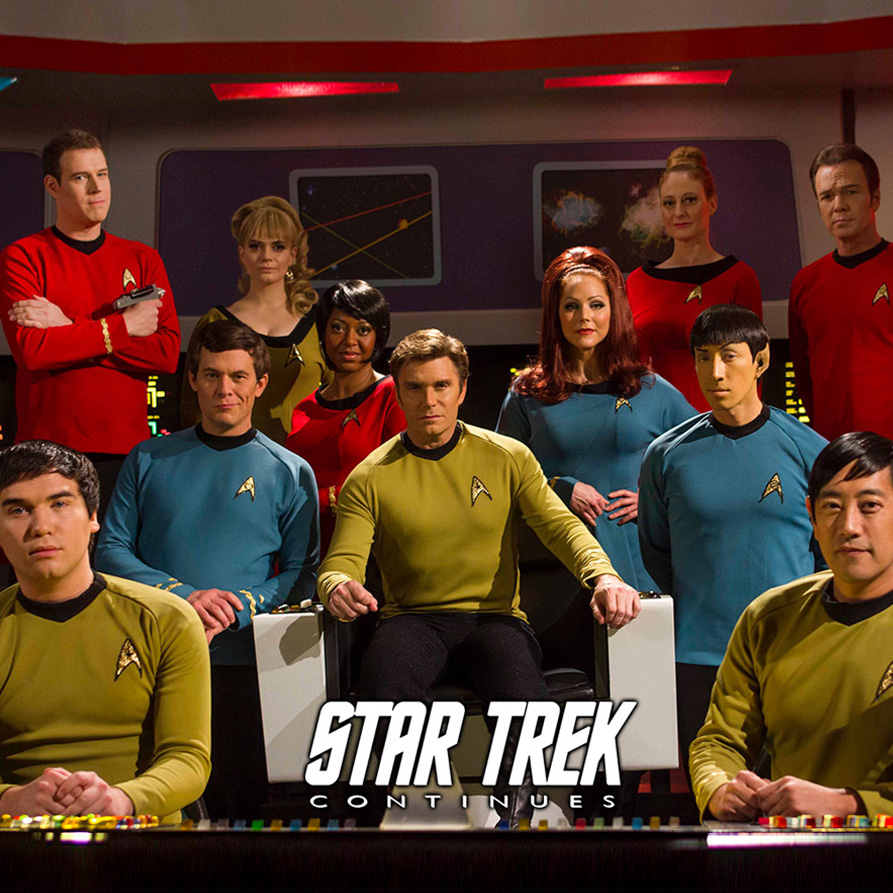 (5) HISTORIC ROCKET. Lookie what appears in "To Boldly Go," the 11th and final episode of webseries Star Trek Continues (screenshot from around 44:00m) —
JJ explains:
It's the Hugo for Best Dramatic Presentation won by "The Menagerie" (it's the lucite rocket used in 1967, see screenshot). Rod Roddenberry was a big supporter of this webseries and was an extra in one of the episodes; I'm guessing that he lent it to the show as an Easter egg for fans.

As far as a prop, it's a rocket and that's the desk of an Admiral in a space force. I'm sure that lots of people at NASA have / had rocket and spaceship-related trinkets on their desks, too. And if you start at 44:00 and play forward, Robert Sawyer's model display of all the starships Enterprise also appears in the Admiral's office. (Sawyer co-wrote some of the ST:C episodes, including this one, and also appears as an extra.)
(6) THE TYPO FROM HELL. Adweek makes sure you don't miss out when "Anomaly Goes to Hell This Holiday With Diabolical 'Dear Satan' Film Narrated by Patrick Stewart". Video at the link.
Satan—the original Heat Miser!—reduces Santa Claus to a pile of ash, but ultimately saves Christmas, sort of, in this fiendishly farcical animated holiday film from Anomaly London.

The heavenly voiced Patrick Stewart narrates "Dear Satan," portraying various characters with impressive wit and charm. Dude's on fire throughout, basically.

… The new six-minute film begins with a little girl named Hope mistakenly asking Satan, rather than Santa, for a puppy at Christmastime. (She makes an unfortunate typo in her letter, and on the envelope, you see.) Naturally, her note goes straight to hell. And if you're thinking the plot takes an infernal turn at that point, you're getting warmer. Much warmer.
(7) OSCAR-WORTHY SHORTS. The Hollywood Reporter offers "Oscars: Breaking Down the 10 Animated Short Contenders". Very little explicit sff content, however, there is a fannish tendency to think all animation is fantasy so that may not be a problem.
Revolting Rhymes

In celebration of what would be the 100th birthday of author Roald Dahl, Jakob Schuh and Jan Lachauer adapted his poetry collection based on classic fairy tales. Dominic West, Rose Leslie and Gemma Chan lend their voices to the likes of the Big Bad Wolf and Snow White.
(8) FEELING BETTER. Mike Kennedy recommends a video at Gizmodo, "An Undead Outbreak Summons a Stealth, Ruthless Response in Chilling Short The Plague".
It's an otherwise quiet night when a woman hears a noise—and discovers her elderly father has wandered from his nursing home for an unannounced visit. Things then take a turn for the decidedly insane in Guillermo Carbonell's short The Plague. Zombies are involved… but not how you'd expect.
(9) DON'T SAY HE CAN'TERBURY. The artist known as Chaucer hath some lofty ambitions:
Nowe Ich am nat goinge to suggest that thys twytter feede sholde be a 'relatid werke' for @HugoAwards by cause that ys the kynde of ranke self promocioun that John Gower doth do…

— Chaucer Doth Tweet (@LeVostreGC) December 14, 2017
(10) WEHRLE OBIT. Fan, artist, writer Joe Wehrle, Jr. died December 10. The Larque Press Blog has numerous examples of his work:
Joe Wehrle, Jr. is a writer and artist. His stories and artwork have appeared in the Cauliflower Catnip Pearls of Peril, Menomonee Falls Gazette, 1971 Clarion Anthology, Vampirella, Two-Gun Raconteur, Worlds of If, Galaxy and many other publications.
Joseph J. Wehrle, Jr., 76, Punxsutawney, died Sunday, Dec. 10, 2017, at Allegheny General Hospital, Pittsburgh. Joseph was a self-employed artist working for The Digest Enthusiast. He was an illustrator, cartoonist and writer.  He enjoyed collecting comic books, original comic art and science fiction and fantasy genre books. Joseph loved jazz and blues music and loved playing the guitar and saxophone. He also loved his cat, Khufu. He is survived by a daughter, Jillian Rouse and husband Jim of Punxsutawney. Services will be private for family and are under the direction of the Deeley Funeral Home, Punxsutawney.
(11) TODAY IN HISTORY
December 14, 1984 – Dune premiered.
December 14, 1984 – Starman opened in theaters.
December 14, 1990 – Marvel's Captain America (but not the movie you're thinking of) was released in the UK. This iteration didn't make it to the U.S. for two years, then went direct-to-video.
December 14, 2007 — Another film adaptation of version of Richard Matheson's I Am Legend was released. Matheson famously wondered why studios kept optioning his novel because they never once made a movie that followed the book.
(12) TIME CAPSULE. It's not easy for humorists to keep ahead of reality.
Disney announces it has reached a deal to acquire 21st Century Fox, as predicted by a Simpsons episode that first aired on November 8, 1998. pic.twitter.com/kzloJQHeM8

— Darren Rovell (@darrenrovell) December 14, 2017
(13) MOUSE EATS FOX. The Verge tries to figure out "What does Disney's acquisition of Fox mean for the MCU?"
Disney has acquired 21st Century Fox's film and TV studios in a landmark $52 billion deal. This means that the door is open for Disney to incorporate the Marvel properties previously controlled by Fox — including X-Men, Fantastic Four, and Deadpool — into its Marvel Cinematic Universe.

In its statement, Disney says the agreement will allow it to reunite these characters "with the Marvel family under one roof and create richer, more complex worlds of inter-related characters and stories that audiences have shown they love." Marvel is already planning to overhaul the MCU after the studio's "Phase Three" arc. That will finish with a fourth and supposed final Avengers film in 2019, which will end the Infinity War story. "There will be two distinct periods. Everything before Avengers 4 and everything after," Kevin Feige, the president of Marvel Studios, has previously said.
(14) CHEAPER BY THE HUNDRED. Here's a diagram showing who owns what Marvel characters after the Disney/Fox merger.
(15) BLUNDER DOWN UNDER. Michael J. Walsh gifted Filers with this link to the recipe for Vegemite Icy Poles, a sweet treat that violates the Geneva Convention. The instructions begin –
COMBINE in a saucepan the sugar, cocoa, honey, VEGEMITE, corn flour and milk.
(16) SURVIVOR. The BBC profiles the plesiosaur: "Sea reptile fossil gives clues to life in ancient oceans".
A new fossil is shedding light on the murky past of the sea reptiles that swam at the time of the dinosaurs.

With tiny heads on long necks and four pointed flippers, plesiosaurs have been likened to Scotland's mythical Loch Ness monster.

The German discovery proves that these sea creatures were alive more than 200 million years ago during the Triassic.

The fossilised bones give clues to how the animal survived a mass extinction that wiped out most living things….

By being warm-blooded, plesiosaurs were able to roam the open seas in late Triassic times.

"Warm-bloodedness probably was the key to both their long reign and their survival of a major crisis in the history of life, the extinction events at the end of the Triassic," said Prof Sander.

Plesiosaurs were not as hard hit by the extinction as shallow water and coastal animals. Their fossils have been found all over the world in Cretaceous and Jurassic rocks.
(17) ACCIDENTAL FANFIC. People are loving it — "Harry Potter gets a weird new chapter from a computer".
Harry Potter and the Portrait of What Looked Like a Large Pile of Ash is a new story created by a predictive keyboard.

"He saw Harry and immediately began to eat Hermione's family," runs one line from the ridiculous – and funny – tale.

It was created by the team at Botnik, who fed all seven books through their computer programme.
We used predictive keyboards trained on all seven books to ghostwrite this spellbinding new Harry Potter chapter https://t.co/UaC6rMlqTy pic.twitter.com/VyxZwMYVVy

— Botnik Studios (@botnikstudios) December 12, 2017
(18) ROBOCRIMINAL. Jackie Chan fights somebody who looks vaguely like the lovechild of Voldemort and the Terminator in this Bleeding Steel trailer.
[Thanks to Dave Doering, Daniel Dern, JJ, John King Tarpinian, Cat Eldridge, Chip Hitchcock, Carl Slaughter, Martin Morse Wooster, Mike Kennedy, Michael J. Walsh, and Andrew Porter for some of these stories. Title credit goes to File 770 contributing editor of the day Xtifr.]