(1) HEARING BUTLER'S VOICE. "'Keep Your Own Counsel': Talking Octavia E. Butler with Lynell George" at Public Books.
In 2020, journalist and essayist Lynell George published A Handful of Earth, A Handful of Sky: The World of Octavia Butler (Angel City Press). This magnificent book—which George explains is not a biography of Butler nor a work of literary theory—beautifully weaves together selected pieces from Butler's archives, including library slips, receipts, journal entries, lists, and more, alongside George's own meditations on writing to offer up not the celebrated author we recognize today, but rather how she came to be…

…SAP: In 2015, you were commissioned by Julia Meltzer to create a "posthumous interview" for the L.A.-based art nonprofit Clockshop for a retrospective of Butler's work and legacy. You write in the introduction to A Handful of Earth, A Handful of Sky: The World of Octavia E. Butler that you "needed to hear Butler at her most conversational," and that the Butler who appeared in her fiction, essays, and speeches did not represent the voice you were after.

What was that experience working in the archives like? How did the work that you began with in the posthumous interview inform or transform into the offering you later presented in A Handful of Earth, A Handful of Sky?

LG: I was looking for Butler in her quietest, unguarded moments. In fiction, Butler was attempting to inhabit the mind of various protagonists and antagonists. So I was looking for her, who she was on the page when she wasn't building a character from the ground up.

Once I settled into the archives, I began getting a sense for where I might find that voice. That was in the diaries, journals, and letters. I later found more of it in her marginalia, where she encouraged herself or expressed her worries out loud….
(2) BUTLER'S IMPACT. Sasha Ann Paranam introduces Public Books' series commemorating Octavia Butler's 75th birthday, of which the preceding interview is a part, in "The World Continues to Need Octavia E. Butler".
Everywhere we turn in the midst of unrelenting crises—the coronavirus pandemic, the ongoing twin pandemics of anti-Black and anti-Asian violence, ecological devastation, and the collapse of democracy—new projects and returns inspired by the writer and visionary Octavia E. Butler abound. On September 3, 2020, Butler's Parable of the Sower (1993) made the New York Times bestseller list 14 years after her death, at last fulfilling her own prophecy that she would become a best-selling writer. In June 2020, Library of America revealed plans to release a volume on Butler edited by Nisi Shawl and Gerry Canavan. That same month, adrienne maree brown and Toshi Reagon launched Octavia's Parables, a podcast that takes listeners through both Parable of the Sower and Parable of the Talents (1998). Much more recently, almost 15 years to the day since Butler died, on February 18, 2021, NASA landed its Perseverance rover on the surface of Mars and named the location where the rover touched down the Octavia E. Butler Landing.

It's Butler's world, and we're just living in it….
(3) HAS HISTORY OVERTAKEN FICTION? C.C. Finlay told Facebook readers, "I studied Constitutional history in grad school in the mid-90s, and it seemed obvious to me where the right intended to go on this issue and how they intended to get there. So I specifically had the idea for this short story around 1999 and wrote it in 2000. But it took me a decade to get it published in a magazine because editors kept telling me it was too unrealistic. It's still my most rejected story, and I wish I had kept copies of all the rejection letters I received for it. I also wish I had been wrong." Read "Your Life Sentence" by C C Finlay at Futurismic. The introduction says:
There are many different types of science fiction, from the classic Competent Men in their gleaming spaceships to the noir-tinged dystopic cities of cyberpunk. C C Finlay's "Your Life Sentence" is another type again, and maybe one of the most important and powerful – the sort that asks "what will happen if this carries on?", but which asks it about something that's – all too sadly – well within the boundaries of the possible.

Though I believe he started writing it before then, we received Charlie's story not long after the announcement that the House and Senate of the State of Utah had passed a bill that would criminalise miscarriage. A dark serendipity, perhaps, but it makes "Your Life Sentence" one of the most timely stories we've ever published here. I hope you enjoy it.
(4) SFWA HEADCOUNT. SFWA's latest message says, "Since our new membership guidelines went into effect in March, we've added over 200 new members to our ranks!"
(5) THEY LOVE IT. Critics Angelica Jade Bastién and Kathryn VanArendonk discuss their mutual admiration of the newest Star Trek television series, Strange New Worlds at Vulture: "'Strange New Worlds' Is 'Star Trek' As It's Meant to Be".
KVA: I am 100 percent onboard with your assessment that Strange New Worlds is the best the franchise has been for a long time. The thrill of Discovery and Picard was always wrapped up in the potential of streaming TV more broadly: What could TV be if it weren't so stuck inside the commercial constraints of network television? What if it didn't have to bend to episodic limitations or act breaks that could squeeze in ads for new cars? That frontier seemed so exciting and so wide open, and given the approach to other genre franchises (and to shiny, expensive TV more generally), it was not hard to feel excited about what a modern-era Star Trek could be. It could be heavily serialized; it could be grimdark and finally take stuff seriously; it could jettison all the goofy side plots where everyone just sits around playing poker and Data talks about his relationship to cat ownership. And sure, all of that is very exciting in the way that anything you've never seen before sounds like a fun new experience….
(6) VINTAGE ELLISON. Been awhile since you heard a Harlan Ellison rant? Weren't in the market to hear one now? Then skip to the next item. Or maybe you're ready to appreciate this classic from a 1964 fanzine recently scanned and uploaded to Fanac.org, Enclave 6. Ellison tells edited Joe Pilati:
…I have been writing since 1956 I have sold somewhere over five hundred short stories and articles, thirteen books, a dozen or so tv and movie scripts, and have contributed a staggering number of long-since forgotten items to fanzines. I have had novels I've titled "Web of the City" and "The Sound of a Scythe" emerge as Rumble and The Man With Nine Lives. I have had collections that left my desk labeled "Children of the Gutters" and "No Doors, No Windows" show up on newsstands as The Juvies and Gentleman Junkie. I have seen twenty thousand words ripped bodily, bloodily, and insensate from the very center of a novel carefully written over a year's time. I have had to suffer the letter column castigations of readers who were annoyed by a butchered story, changed- by an editor on caprice, whim, or personal blind spot. I have shrank back and shriveled in nameless terror at the casual typos in the largest magazines, which rendered my excruciatingly-painstakingly selected semantics into gibberish. (For examples I had a story in a recent issue of Knight magazine. It is, I think, a superior story, not only for me, but for anyone. Modesty enters into this not at all. The story speaks for itself. It is called ''Blind Bird, Blind Bird, Go Away From Me!" I sold it to Knight rather than to a better market, because the deal involved three facets? (1) There be no editing of any sort. (2) The Dillons, Leo and Diane, who are my dearest friends and the cover artists of several of my books and a number of stories, do the layout, typography, and artwork. (3) They pay me two hundred dollars more than the toppest price they ever paid any other writer. They agreed to all this, and I wrote the story. At one point in the narrative, there is a flashback in which a man recalls how he stole money from his mother's pocketbook while she was sleeping in the bedroom of their home. How he got down on his stomach and inched across the rug to the purse so she would not hear him and Wake up. For this motion I devised the word "pullcrawled," a special sort of crablike movement employing knees and elbows you may have used, if you have ever run an infantry infiltration course. The typo, as it appears in the magazine, is ''bullcrawled." It means nothing. I was not given the opportunity to read the galleys from that story before it went into print.)…
(7) TOTORO GETTING THE SHAKESPEAREAN TREATMENT. Open Culture reports on how "Hayao Miyazaki's My Neighbor Totoro Is Getting Adapted for the Stage by The Royal Shakespeare Company & Jim Henson's Creature Shop".
… Now, almost three and a half decades after Totoro's original release, the production of a stage version is well underway. Playbill's Raven Brunner reports that the show "will open in London's West End at The Barbican theatre for a 15-week engagement October 8-January 21, 2023.

The production will be presented by the Royal Shakespeare Company and executive producer Joe Hisaishi." Japan's most famous film composer, Hisaishi scored Totoro as well as all of Miyazaki's other Ghibli films so far, including Porco Rosso, Princess Mononoke, and Spirited Away (itself adapted for the stage in Japan earlier this year).

… the RSC production of Totoro also involves Jim Henson's Creature Shop. "The puppets being built at Creature Shop are based on designs created by Basil Twist, one of the UK's most innovative puppeteers," writes Deadline's Baz Bamigboye, and they'll be supplemented by the work of another master, "Mervyn Millar, of Britain's cutting-edge Significant Object puppet studio." …
(8) MEMORY LANE.
2000 – [By Cat Eldridge.] So on the surface, this novel is merely about fox hunting set in a Virginia rural community. If it was just that, it would be mildly interesting and not really something that that I'd essay here. Oh, but Rita Mae Browne who wrote the very long running Mrs. Murphy series with SWJ cred Sneaky Pie in them has a very interesting twist here.
The twist here is that is she gives voice to all of the creatures with the novels — the foxes who are hunted (and rest assured that these are no kill hunts), the hunt dogs, the felines in the houses, the horses and even the owls. Each have their own unique personalities, their charming voices.
Now I'll admit that I listened to Outfoxed and the novels that follow so each character in this novel was narrated by the author. She very, very obviously relished telling her story. Since the late Seventies, she has lived in Charlottesville and the accent that we hear here is definitely that of Virginia.
If you like anthropomorphic tales, you'll certainly find much to like here. The animal characters are quite likeable, particularly the foxes and owls. The humans are, oh, mostly interesting. Sister Jane is the only one that really get developed as a character.
It's the first of fourteen novels in this series. I've listened to the first nine so far.
Trigger warnings: the characters here, well the humans of course, are conservative Virginians and express cultural and political beliefs of that bent. I found them somewhat annoying but understood why she had them as part of the narrative.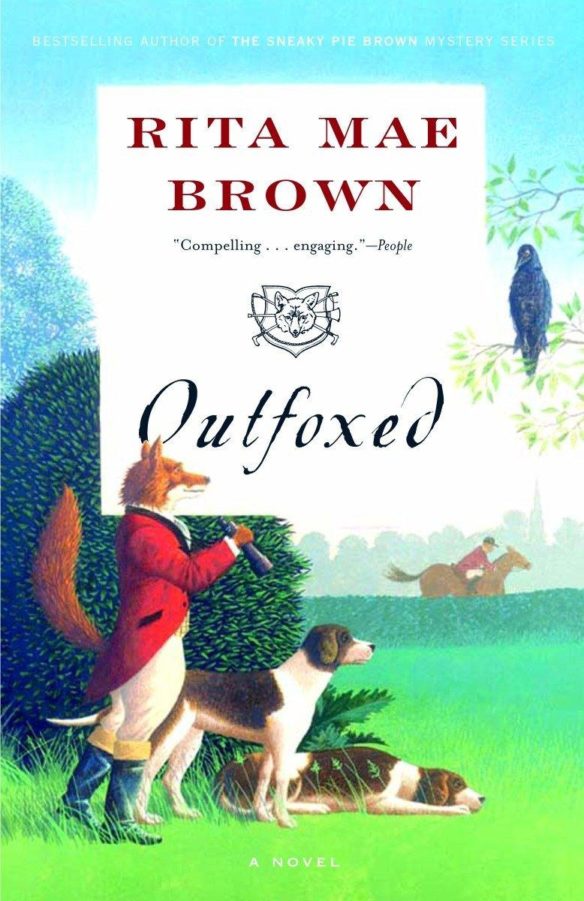 (9) TODAY'S BIRTHDAYS.
[Compiled by Cat Eldridge.]
Born July 2, 1908 — Rip Van Ronkel. Screenwriter who won a Retro Hugo for Best Dramatic Presentation at Millennium Philcon for Destination Moon. He also produced the earlier Destination Space movie for television, andwrote the screenplay for The Bamboo Saucer. I've not seen the latter but I'll admit it sounds, errr, odd. Audience reviewers at Rotten really don't like it giving an eighteen percent rating. (Died 1965.)
Born July 2, 1914 — Hannes Bok. He's a writer, artist and illustrator created nearly one hundred and fifty covers for various detective, fantasy and sf fiction magazines. He shared one of the inaugural 1953 Hugo Awards for science fiction achievement for Best Cover Artist with Ed Emshwiller. He also wrote a handful of novels, the best known being The Sorcerer's Ship, The Blue Flamingo and Beyond the Golden Stair. (Died 1964.)
Born July 2, 1933 — Gloria Castillo. She first shows up in a genre role in Invasion of the Saucer Men (which also bore the title of Invasion of the Hell Creatures). Later she would be in Teenage Monster, and had an appearance on Alfred Hitchcock Presents. (Died 1978.)
Born July 2, 1948 — Saul Rubinek, 74. Primarily of interest for being on Warehouse 13, a fantastic series, as Artie Nielsen, though he does show up rather often on genre series and films including Eureka, Masters of Horror, Person of Interest, Beauty & the Beast, Stargate SG-1, The Outer Limits and Star Trek: The Next Generation. Memory Run and Death Ship seem to be his only genre films. His latest genre role is in For all Mankind as Rep. Charles Sandman in their "He Built the Saturn V" episode.
Born July 2, 1950 — Stephen R. Lawhead, 72. I personally think that The Pendragon Cycle is by far his best work though the King Raven Trilogy with its revisionist take on Robin Hood is intriguing. And I read the first two of the Bright Empires series which are also very much worth reading.
Born July 2, 1951 — Elisabeth Brooks. She is no doubt best remembered for her role as the evil, leather-clad siren Marsha Quist in The Howling. Her other genre appearances included Deep Space, The Six Million Dollar Man, Kolchak: The Night Stalker and The Forgotten One. (Died 1997.)
Born July 2, 1956 — Kay Kenyon, 66. Writer of the truly awesome The Entire and the Rose series which I enjoyed immensely as a listening experience a few years back. I've not read his Dark Talents series, so opinions please. He was nominated for three Endeavour Awards which is very impressive. The Braided World was a finalist for the Campbell Memorial Award.
Born July 2, 1970 — Yancy Butler, 52. Detective Sara Pezzini on the Witchblade series which would've been awesome with current CGI. She was later Avedon Hammond in Ravager, Captain Kate Roebuck in Doomsday Man, Angie D'Amico in Kick-Ass and Kick-Ass 2, Reba in Lake Placid 3 and Lake Placid: The Final Chapter, Officer Hart in Hansel & Gretel Get Baked (also known as Black Forest: Hansel and Gretel and the 420 Witch) (given the latter, a career low for her) and Alexis Hamilton in Death Race 2050. Series work other than Witchblade was a recurring role as Sgt. Eve Edison in Mann & Machine inher first genre role.
(10) COMICS SECTION.
Tom Gaults depicts "Death's day out" at the Guardian.
Six Chix shows a lot of Earth people didn't get the memo that this is UFO Day.
(11) IS THAT WHAT'S BOTHERING YOU, DEBUNKIE? The Skeptical Inquirer presents "Kermit Pattison – Fossil Men: The Quest for the Oldest Skeleton and the Origins of Humankind" in a webinar on July 7. Free registration at the link.
It seems like every time we feel like we know how it all started for Homo sapiens another new discovery rewrites our understanding of who we are and where we come from. Why do major paradigm shifts so regularly disrupt our understanding of human origins?

On Thursday, July 7 at 7:00pm ET, on the next Skeptical Inquirer Presents live online event, acclaimed science writer Kermit Pattison will show how the scientific history of human evolution can be viewed as a long series of debunkings. A century and a half after Darwin, our knowledge of the evolution of our species has advanced far beyond the most optimistic aspirations of the founders of evolutionary biology.

Pattison will discuss what our history of studying ourselves reveals about scientific progress in general—and the pursuit of human origins in particular. Based on the ideas behind Pattison's book Fossil Men: The Quest for the Oldest Skeleton and the Origins of Humankind, this talk will examine some of the major chapters in the study of human evolution, the rise and fall of popular theories, and how skeptics can become more informed, intelligent consumers of scientific information.

Free registration is required to take part in this live Zoom event, so sign up right now.
(12) NOT EVEN FIFTEEN MINUTES. "Twenty-six seconds of fame: how Doctor Strange got upstaged by an overacting extra" in the Guardian. See the video clips at the link.
…Quantum of Solace, for instance, had a troubled production. And perhaps this is why one scene that made the final cut included a shot of the world's least employable road sweep. You can see him in the background while James Bond broods on a motorbike, sweeping up with grit-jawed concentration, while steadfastly refusing to let his broom go anywhere near the ground.

The Back to the Future sequels, meanwhile, were shot back-to-back in a giant production that took the better part of a year. And if you were in charge of overseeing a gargantuan task like that, there's a good chance that you would accidentally let mistakes slip through the net. And this is why, in a clip you will never be able to unsee, at one point in the film Doc Brown's young son beckons the camera towards him so that he can point directly at his crotch. The official story is that he was discreetly attempting to tell the crew that he needed the toilet, but now it is part of cinema history.

There are dozens of other examples, but I'll leave you with my favourite two. Hulk Hogan's 1993 Kindergarten Cop rip-off Mr Nanny is not a film that ever needs to be rewatched, except for a long scene where Hogan rides his Harley-Davidson around aimlessly. Because this is where, perhaps entirely by accident, he passes a man who is right in the middle of flinging his dog into the sea. The dog-flinging has an authentic flourish to it, like the man is truly done with being a pet owner. A scene this disturbing has no place in a film like Mr Nanny. However, Mr Nanny is all the better for it.

And, finally, there is the crowd scene in Tom Cruise's The Last Samurai where a horse loses its temper and kicks an extra in the testicles. A simple gesture, but an important one….
(13) SUPER SEASON THREE. "Stargirl Is Back In First Look Teaser For 'DC's Stargirl' Season 3 – Watch Now!" urges Just Jared Jr.
DC's Stargirl follows high school sophomore Courtney Whitmore as she inspires an unlikely group of young heroes to stop the villains of the past. This new drama reimagines DC's Stargirl and the very first superhero team, the Justice Society of America, in an unpredictable series.
(14) VIDEO OF THE DAY. [Item by Martin Morse Wooster.] In this video, which dropped in late May, the Royal Ocean Film Society looks at the pulpy movies of American International Pictures's James Nicholson and Samuel Z. Arkoff, who realized in the late 1950s that the way to get people into theatres was to test the titles with focus groups and then make the picture. This is why these films have great titles (one distributor referred To I Was A Teenage Werewolf as a million-dollar title for a $100,000 picture, but the films were often so poor that one exhibitor suggested they "put sprocket holes on the poster and show that." Still, the video explains why these monster, teen, and teenage monster movies rotted Baby Boomer brains in the late 1950s. "Why This 1950s Studio Made Movies Backwards".
[Thanks to Michael Toman, Cat Eldridge, Mike Kennedy, Martin Morse Wooster, JJ, John King Tarpinian, Andrew Porter, and Chris Barkley for some of these stories. Title credit belongs to File 770 contributing editor of the day Rob Thornton.]