(1) GOT THAT RIGHT. The imminent Hugo voting deadline – November 19 – caused Camestros Felapton to call forth a special GIF: "Deep from within the sarcophagi of time, a preternatural force awakens!" Remember what the Robot on the original Lost In Space said: "When in trouble, when in doubt, run in circles, scream and shout!"
(2) I SEE BY YOUR OUTFIT THAT YOU ARE A COWBOY. Christina Tucker tells Slate readers there's a lot wrong with the new version: "Netflix Cowboy Bebop review: Another underwhelming live-action anime adaptation".
Cowboy Bebop, directed by Shinichiro Watanabe, remains one of the most iconic anime of all time. Lauded by mainstream critics and anime fans alike for its visual style, Yoko Kanno's soundtrack, and its explorations of mortality, nihilism, and identity, Cowboy Bebop has enjoyed an excellent reputation since its 1998 premiere. And stateside, it is especially renowned for being many Americans' first experience with anime, first airing in English on Cartoon Network in 2001 as part of the nascent Adult Swim programming block. All told, it remains one of the most beloved anime by new and old fans, who still praise it as a must-watch and a modern classic.

This legacy, however, is something of an albatross around the neck of Netflix's 2021 live-action adaptation of Cowboy Bebop. Netflix's take on the show has a love-hate relationship with its source material, retaining the premise and almost every single character from the original and re-creating and referencing memorable shots and scenes, but adding original elements like comically trite dialogue, embarrassing dramatic turns, and an original and unengaging plotline that only pull focus from the core story it's trying to adapt. The result only creates unfavorable comparisons with the original and is likely to turn off both fans of the original and newcomers. If this Cowboy Bebop accomplishes anything, it's to highlight the quality of the original series, justifying many anime fans' belief that trying to translate anime series from one medium to another never works out….
(3) VISIT WITH THE EATON COLLECTION. Space Cowboy Books of Joshua Tree, CA will have an online "Spotlight on the Eaton Science Fiction Library" on Tuesday, November 30 at 4:00 p.m. Pacific.
Join us for an in depth interview about the behind the scenes at one of the world's largest public collections of science fiction. Sandy Enriquez and Andrew Lippert of the Eaton library will share how you can utilize the collection and some of the many treasures contained within. Learn about SF from an academic perspective.
Register for free here at Eventbrite
(4) SIMULTANEOUS TIMES. Also available is Space Cowboy Books' podcast "Simultaneous Times" featuring readings of "Tips for Living Out-of-Synch for the Frequent Time Traveler" by A.C. Wise (read by Jean-Paul Garnier) and "Premium Resurrection Pack $99" by by Renan Bernardo (read by Jean-Paul Garnier & Zara Kand).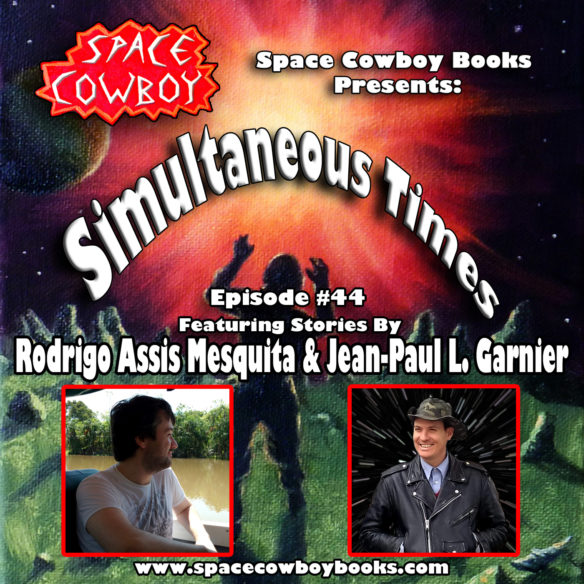 (5) NEW STOKERCON GOH. StokerCon2022 has added Jennifer McMahon as its sixth GOH. The convention takes place in Denver from May 12-15 next year.
Jennifer McMahon is the author of The Children on the Hill and ten other novels, including the New York Times bestsellers Promise Not to Tell and The Winter People. She lives in Vermont with her partner, Drea, and their daughter, Zella. Visit her at Jennifer-McMahon.com or connect with her on Instagram @JenniferMcMahonWrites and Facebook @JenniferMcMahonBooks.com.
She joins a GoH lineup that includes John Edward Lawson, Sheree Renée Thomas, Ernest Roscoe Dickerson A.S.C., Gemma Files, and Brian Keene.
(6) FOR YOUR STOCKING. Is this the first time that the Library of America has offered this kind of a deal on a book edited by an SFWA Grandmaster? American Christmas Stories:
Library of America and Connie Willis present 150 years of diverse, ingenious, and uniquely American Christmas stories

Ghost stories and crime stories, science fiction, fantasy, westerns, humor, and horror; tales of Christmas morning, trees, gifts, wise men, and family dinners everywhere from New York to Texas to outer space: this anthology is an epiphany, revealing the ways Christmas has evolved over time—and how the spirit of the holiday has remained the same. Ranging from the advent of the American tradition of holiday storytelling in the wake of the Civil War to today, this is the best and widest-ranging anthology of American Christmas stories ever assembled.
…Available now. Clothbound 467 pages. List price: $29.95. Web Store price: $22.50 | With coupon code LIB2021: $19.12 .
(7) CELEBRITY CRUSH. Adam Driver told Graham Norton Show viewers why he will never go to Comic-Con again.
… The Oscar nominee then elaborated, describing his experience at SDCC as more than a little constricting. "I didn't know the rules of Comic-Con," he said. "I got in at the hotel at 2 in the morning… and I'm like, 'Maybe tomorrow I'll go get a coffee.' And they're like, 'Oh no, you can't get a coffee.' I'm like, 'Well, maybe I'll get a coffee in the hotel.' They're like, 'No, you can't get a coffee in the hotel.'"

Driver went on to explain that he was given the option of wearing either an Iron Man mask or a Darth Vader mask in order to leave. "'If you want to go outside,' they're like, 'Put a mask on so nobody knows who you are.'"
This doesn't happen only to Star Wars actors. John King Tarpinian remembers being one of Ray Bradbury's five escorts at Comic-Con and "that was a pain traversing the hall." And if they wanted to give a Darth Vader mask to Adam Driver, what mask would they have had Ray put on? 
(8) ROLL ON IN. Billy Todd touts Wheel of Time fandom in "Welcome to the Family: An Open Letter to Old and New Fans of The Wheel of Time" at Tor.com.
…Worrying about new fans—and any talk of gatekeeping around the series—is historically out of character for the Wheel of Time fandom. I've participated in many sci-fi and fantasy franchise fandoms in the past 40 years, and I remain amazed at how open, inclusive, and downright familial the Wheel of Time fanbase is. I have been an active fan since cramming pages between junior high classes in 1992. After I finished my friend's copy of The Shadow Rising, our friend group fell into a hole of geeking out over these books. I never made it out of that hole. Shortly thereafter, in the days before the World Wide Web, I discovered the Robert Jordan USENET newsgroup and its population of Darkfriends who modeled rational, good-natured, respectful debate online.

It took many years before I realized this was not how the rest of the Internet was going to turn out….
(9) PRE-PREDATOR ON THE WAY. "Predator Prequel Starring Indigenous Actress Amber Midthunder Reveals Title Prey , Summer 2022 Release Date" reports Yahoo!
Amber Midthunder is making her mark on the Predator franchise with its next installment.

Entitled Prey, the upcoming prequel will premiere on Hulu in summer 2022, it was announced Friday during Disney+ Day.

"Set in the world of the Comanche Nation 300 years ago, the action-thriller follows Naru, the skilled warrior who fiercely protects her tribe against a highly evolved alien predator," a plot summary from Disney reads.

Midthunder, 24, celebrated the news on Instagram, sharing an image of herself in the film with the franchise's extraterrestrial villain lurking behind her in the shadows.
(10) DREAM TIME. By the way, Melanie Stormm is very inventive but she didn't have to make up the two tweets she included in today's "Emails From Lake Woe-Is-Me — Fit the Fourteenth":
(11) NEW BUCKELL COLLECTION ANNOUNCED. Apex Publications has acquired a new short story collection from Tobias S. Buckell titled Zen and the Art of Starship Maintenance and Other Stories. It's scheduled to come out next year. Apex has also acquired the trade paperback rights to his four-book Xenowealth series (Crystal Rain, Ragamuffin, Sly Mongoose, and The Apocalypse Ocean).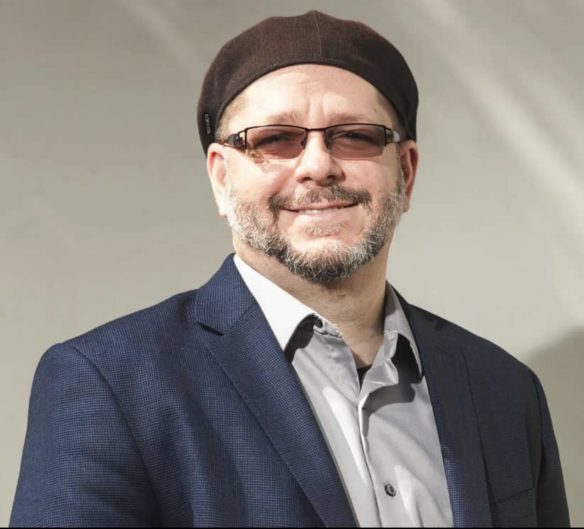 Tobias S. Buckell is a New York Times Bestselling and World Fantasy Award-winning author born in the Caribbean. He grew up in Grenada and spent time in the British and US Virgin Islands, which influence much of his work.

Zen and the Art of Starship Maintenance and Other Stories is Tobias S. Buckell's seventh short fiction collection and is comprised of 15 stories, several of which are original to the collection or were previously only available through his Patreon.
(12) MEDIA BIRTHDAY.
1968 — Fifty-three years ago on NBC, Star Trek's "The Tholian Web" first aired on this date. It was written by Judy Burns, her first professional script, and Chet Richards, his only such script. She would later write scripts for myriad genre series including Mission: Impossible, The Six Million Dollar Man and Fantasy Island.
Primary guest cast was Sean Morgan as Lt. O'Neil, Barbara Babcock as the voice of Loskene who was the Tholian commander and Paul Baxley as Captain of the Defiant. It is considered by critics and fans alike to be one of the best Trek episodes done though it did not get a Hugo nomination unlike a lot of other Trek episodes.
In a two-part episode of Enterprise, "In a Mirror, Darkly", it is told that the Defiant has reappeared in the Mirror Universe of Archer's time, where it is salvaged by the Tholians and later stolen from them by the Terran Empire.
(13) TODAY'S BIRTHDAYS.
[Compiled by Cat Eldridge.]
Born November 15, 1877 — William Hope Hodgson. By far, his best known character is Thomas Carnacki, featured in several of his most famous stories and at least partly based upon Algernon Blackwood's occult detective John Silence. (Simon R. Green will make use of him in his Ghost Finders series.)  Two of his later novels, The House on the Borderland and The Night Land would be lavishly praised by H.P. Lovecraft.  It is said that his horror writing influenced many later writers such as China Miéville, Tim Lebbon and Greg Bear but I cannot find a definitive source for that claim. (Died 1918.)
Born November 15, 1929 — Ed Asner. Genre work includes roles on Alfred Hitchcock Presents, The Outer Limits,  Voyage to the Bottom of the Sea, The Girl from U.N.C.L.E., The Invaders, The Wild Wild West, Mission: Impossible, Shelley Duvall's Tall Tales & Legends, Batman: The Animated Series and I'll stop there as the list goes on for quite some while. What's your favorite genre role by him? (Died 2021.)
Born November 15, 1933 — Theodore Roszak. Winner of the Tiptree Award for The Memoirs of Elizabeth Frankenstein, and the rather excellent Flicker which is well worth reading. Flicker is available at the usual suspects,  though no other fiction by him other than his Japanese folktales is. Odd. (Died 2011.)
Born November 15, 1939 — Yaphet Kotto. If we count the Bond films as genre, and I do, his first genre performance was as Dr. Kananga / Mr. Big in Live and Let Die. Later performances included Parker in Alien, William Laughlin in The Running Man, Doc in Freddy's Dead: The Final Nightmare, Ressler in The Puppet Masters adapted from Heinlein's 1951 novel of the same name and a horrid film that it is, and he played a character named Captain Jack Clayton on SeaQuest DSV. (Died 2021.)
Born November 15, 1942 — Ruth Berman, 79. She's a writer of mostly speculative poetry. In 2003, she won the Rhysling Award for Best Short Poem for "Potherb Gardening ", and in 2016 for "Time Travel Vocabulary Problems".  She was the winner of the 2006 Dwarf Stars Award for her poem "Knowledge Of".  She's also written one YA fantasy novel, Bradamant's quest. In 1973, she was a finalist for the first Astounding Award for Best New Writer. She edited the Dunkiton Press genre zine for a decade or so.  She was nominated for Best Fan Writer Hugo at Baycon (1968). Impressive indeed. 
Born November 15, 1972 — Jonny Lee Miller, 49. British actor and director who played Sherlock Holmes on the exemplary Elementary series, but his first genre role was as a  nine year-old with the Fifth Doctor story, "Kinda". While he's had a fairly steady stage, film, and TV career across the pond since then, it's only in the last decade that he's become well-known in the States – unless, like JJ, you remember that twenty-three years ago he appeared in a shoddy technothriller called Hackers, with another unknown young actor named Angelina Jolie (to whom he ended up married, until they separated eighteen months months later). Other genre appearances include a trio of vampire films, Dracula 2000, Dark Shadows, and Byzantium, the live-action Æon Flux movie, and the lead in the pseudo-fantasy TV series Eli Stone. 
(14) COMICS SECTION.
Bizarro has a hilarious Zoom panel.
(15) A SHOW RECAP. [Item by Martin Morse Wooster.] Last night on Bob's Burgers, a group of teenagers came in to the burger joint and asked to play a game which was clearly Dungeons and Dragons but which was called something else. The dungeon master got Bob's attention because she ordered the Burger of the Day when everyone else was getting plain old cheeseburgers. The dungeon master made a move where she turned everyone into goblins and they played goblin characters instead of their regular characters. Bob saw that she was being creative and explained to her his creative outlet was creating the Burger of the Day every day. The gamers played very late but ordered big breakfasts before they left so Bob was tired but happy after meeting gamers.
(16) FERAL STATES. "Neal Stephenson Predicted the Metaverse. His New Book Imagines Something Even Stranger." Laura Miller reviews Termination Shock at Slate.
A maestro of the dramatic opener, Neal Stephenson began his 2015 novel, Seveneves, with the line "The moon blew up without warning and for no apparent reason." That's a hard act to follow, but he gives it the old college try in his latest, Termination Shock, heralded, when first announced, as the celebrated science-fiction author "finally" taking on the subject of global warning. Termination Shock begins with the queen of the Netherlands piloting a business jet in an emergency landing at the Waco airport, a maneuver that goes terribly wrong when her plane's landing gear collides with a herd of feral hogs that, chased by an oversize alligator, swarm the airstrip.

Like a lot of plot twists in Termination Shock, this scenario is not as outlandish as it seems. Frederika Mathilde Louisa Saskia, a fictional character, is apparently the daughter of the real-life King Willem-Alexander, who in 2017 revealed that he had been moonlighting as a commercial airline pilot for more than 20 years. (He said that he found it a "relaxing" hobby.) Saskia, as the queen—who is one of the novel's central characters—calls herself, has inherited a taste for this pastime from her father. As for the feral swine, they are partly an allusion to a viral tweet defending private ownership of assault rifles in the event that "30-50 feral hogs" run into a yard in which small children are playing. The internet found this argument hilarious, but feral hogs are in fact a dangerous and destructive invasive species in many parts of the U.S. The novel's second central character, Rufus, a former farmer turned professional hog exterminator, knows this all too well….
(17) GAS SITUATION. CNBC also has an interview with the author: "Neal Stephenson on 'Termination Shock,' geoengineering, metaverse".
How did you get interested in this subject and become fascinated with it enough to base a novel on it?

I've been hearing about the idea for a number of years. I'm interested in history. I'm interested in science and the physics of the planet. And so, the idea that a volcano could erupt somewhere and affect temperatures all over the planet is a natural, fascinating topic for me. Over the last decade or two, it's become increasingly clear that the CO2 content in the atmosphere is a huge problem, and that it's getting worse fast, and we're not really being very effective. Despite efforts by a number of people to draw attention to the problem and and push for emissions reductions, that number is still climbing rather rapidly and probably will keep climbing for a while. So rolling that together in the brain of the science fiction novelist, that looks like the basis for a story that that's got that technical angle to it, but that's also got a strong geopolitical and personal storytelling basis.
(18) OUT OF THE WILDERNESS AT LAST. The Guardian's David Smith profiles the new Vonnegut documentary: "Unstuck in Time: the Kurt Vonnegut documentary 40 years in the making".
… In 1994 Weide took the author back to his childhood home in Indianapolis. Vonnegut is seen touching imprints of his child-size hand, and the hands of of other family members, that remain in concrete poured in the 1920s. The project received a boost when Vonnegut's brother, Bernie, handed over some 16mm home movies that had been gathering dust in a closet.

But the memories also carried pain. In 1958 his beloved sister, Alice, died of breast cancer days after her husband drowned in a train accident. Weide reflects: "He would say how much he missed his her and how 'she taught me what was funny; she imbued my sense of humour; we thought the same things were funny'.

"A lot of what they thought was funny had to do with a lot of good comedy, which is a tragedy befalling other people. If they saw somebody fall down on the street in Indianapolis, they'd laugh about it for years sometimes. He talked a lot about his sister in very fond terms. He never was that vocal specifically about how her death affected him but his daughter says in the film all these years later, 'I don't think he can even now get his arms around it'."…
(19) FAMILIAR PLAYBOOK. Yes, John Scalzi has seen these plays run before on social media.
(20) DOO DOO OVER. James Davis Nicoll tells Tor.com readers about "Five Time Travel Stories Where Things Get Rather Messy".
Who among us has not dreamed over getting a do-over? Perhaps this time around, one could defer the two-hour discourse on the history of stirrups until the second date, leave the nearly-red hot frying pan to cool a little longer, or at the very least, take steps to ensure that some major historical debacle never happens, changing the course of human events for the good of all. Armed with knowledge of how things played out in the original timeline, surely one could shape a more perfect history!

That's in reality. In fiction, of course, there's no plot if everything goes as expected. Thus, these five works about altering timelines that did not, alas, work out entirely to plan….
(21) GENRE ADJACENT NEWS. "'It's like hunting aliens': inside the town besieged by armadillos" – the Guardian says North Carolina is not welcoming their new overlords.
…."It's like hunting aliens," said Bullard, who is more used to hunting feral pigs. "We know nothing about them. We can't seem to kill them easily. They show up unexpectedly. And their numbers have just exploded."

…An emerging theory for this advance of armadillos is the climate crisis. The animals dislike freezing conditions and global heating is making winters milder, turning northern parts of the US more armadillo-friendly. Around Sapphire [NC], the armadillos happily root around in the dirt with their snouts and claws, feasting on insects at elevations above 4,000ft. "We just don't have those really cold winters any more and I'm sure that's helped them," said Olfenbuttel.

The armadillos have made it into Missouri, Iowa and even the southern reaches of Nebraska. Barriers such as rivers aren't a problem – the animals can hold their breath for up to six minutes and walk on the riverbed, or even inflate their intestines to float across to the other side….
(22) ROBOTS UNDERGROUND. In the Washington Post Magazine, David Montgomery reports on the DARPA Subterranean Challenge, held in a giant cavern in Louisville, in which robots competed to see how many "humans" (mannequins with sensors) they could rescue in a simulated underground disaster.
…In this scenario, meticulously constructed for the finale of the DARPA Subterranean Challenge — an elaborate three-year, $82 million Pentagon robotics competition — something bad has happened to humans underground, and the robots are coming to the rescue. Spot and its robo-teammates and competitors — dozens of walking, driving and flying robots — were on a scavenger hunt for "survivors" (mannequins giving off body heat and vocal sounds) and objects such as cellphones, backpacks and helmets. The robots scored points by sending the objects' locations back to their human teammates. Finding all the objects meant exploring a trap-filled labyrinth with a half-mile of passages, featuring three made-from-scratch environments: urban, with a subway, storeroom and offices; a tunnel (a mock mine shaft); and a cave, a claustrophobic mash-up of spelunking's greatest hits….
(23) WEIRD WEST. [Item by Ben Bird Person.] Here's an art collage piece by Lauren Fox (@LaurenFoxWrites):
(24) VIDEO OF THE DAY. [Item by Jennifer Hawthorne.] This video isn't short but it's good. It does a thorough breakdown of both the Starship Troopers book and the film, plots and themes both, and toward the end compares them to Haldeman's Forever War. "If Veterans Ruled the World".
[Thanks to Michael Toman, Cat Eldridge, Mike Kennedy, Alan Baumler, Steven French, Jennifer Hawthorne, Ben Bird Person, Martin Morse Wooster, JJ, John King Tarpinian, and Andrew Porter for some of these stories. Title credit belongs to File 770 contributing editor of the day Jayn.]