(1) BE THE FIRST ON THE MOON. Apollo 11 in Real Time is a very impressive site that collates all kinds of archival mission material to simulate a real-time journey through the first landing on the Moon. You can watch the launch, you can follow what I'll describe as a media reenactment of the entire mission.
Included real-time elements:
All mission control film footage
All TV transmissions and onboard film footage
2,000 photographs
11,000 hours of Mission Control audio
240 hours of space-to-ground audio
All onboard recorder audio
15,000 searchable utterances
Post-mission commentary
Astromaterials sample data
(2) TOP ART. Mark Lawrence has started a page for the 2019 Self-Published Fantasy Blog-Off cover contest – only three covers as of today, more to be added when the participating blogs make their picks.
Each year I run a cover contest for the SPFBO entrants. Each blog choses its 3 favourite covers from their pool of 30 entrants. The 30 favourites collected from the 10 blogs are then voted on in separate ballots by the bloggers and by the public.

The public vote is of course a bit of fun and subject to all the issues of brigading and cheating that online polls often are – though our anti-cheat software is more effective than the raw poll results might lead you to believe.
(3) CHASTE CHUCK. Here's a position you won't find in the Kama Sutra:
(4) IT COULD HAPPEN. Also, there's reason to believe that Chuck will be at CONvergence 2019 in Minneapolis over July 4th weekend.
(5) AVOID CALENDRICAL HERESEY. Steve Davidson proclaims, "Well, we FINALLY did it, and by 'we', I mean Kermit Woodall, Amazing Stories' Art Director and Electronic Media Maestro and by 'it' I mean Amazing Stories Events Calendar!"
It's gorgeous.
It's clean.
It's easy to navigate.
It has well over 500 events listed (and more regularly added).
It covers events World Wide.
It covers events from Bronycons to Middle Eastern Gaming Cons and, if there were such things as cons located off the Earth, we'd have them in there too!
You can export it to other calendar programs.
You can display it on your screens in a variety of different ways.
You can search it by date and by keyword, including type of event, name of event, location of event.
You can not only read about an event on our website, but you can click through to the event's website right from the calendar.
There's pop-outs and roll-overs and clicking for more info!
AND – you can add your own events.
In short, we're now providing fans with an indispensible tool for planning their cons, one with comprehensive information and an easy to use interface.

No longer will you have to say "These aren't the events I was looking for."

Mini-editorial: We've been working towards this pretty much from the launch of the website. We've long believed that a comprehensive, one-stop-shopping events calendar is a must for the Fan community. Many more conventions than most realize are held every month, most of them small, intimate affairs with little to no marketing or advertising outside of a very small local footprint.

Yes, there are a few websites out there, and Erwin 'Filthy Pierre' Straus continues to do yeoman's work for a couple of the print magazines (and continues to put his events rack out at conventions), but these efforts are limited in scope for a variety of legitimate reasons.

We wanted to go beyond that and we think that we've succeeded.

***

Want your convention to be seen by over 45,000 convention-going fans? Go click that button that says "Submit Your Event", right there on the events calendar. There's an easy to use interface that will let you add an image, set your dates and locations, contact information, website, select multiple 'types' of con (there's 23 different categories and we'll add more as needed!); you can add your own description of the event, enter costs, venue and more.
Check out the sample page below or visit The Events Calendar here – here.
And if you visit those pages and come away saying "But my event isn't in there" – ADD IT!
(6) WHERE THE BODIES ARE BURIED. Andrew Liptak told readers of The Verge that although the movie adaptation has never been released, there may be a Three-Body Problem TV series in the works:
China's biggest science fiction novel, The Three-Body Problem, is being developed for a potential television series, according to CX Live. If it happens, it'll come after the massive success of another big sci-fi adaptation from the country, The Wandering Earth.

Chinese entertainment company YooZoo Entertainment holds the rights to the series, and it's apparently working on an adaptation of the book. CX Live discovered a publicity form submitted to the Chinese government that lists the production details of the proposed series, which will apparently run for 24 episodes and could begin shooting this September.
(7) LUCASARTS. The Digital Antiquarian remembers the game "Sam and Max Hit the Road":
Day of the Tentacle wasn't the only splendid adventure game which LucasArts released in 1993. Some five months after that classic, just in time for Christmas, they unveiled Sam & Max Hit the Road.

At first glance, the two games may seem disarmingly, even dismayingly similar; Sam and Max is yet another cartoon comedy in an oeuvre fairly bursting with the things. Look a little harder, though, and some pronounced differences in the two games' personalities quickly start to emerge. Day of the Tentacle is clever and funny in a mildly subversive but family-friendly way, very much of a piece with the old Warner Bros. cartoons its aesthetic presentation so consciously emulates. Sam & Max, however, is something else entirely, more in tune with an early 1990s wave of boundary-pushing prime-time cartoons for an older audience — think The Simpsons and Beavis & Butt-Head — than the Saturday morning reels of yore. Certainly there are no life lessons to be derived herein; steeped in postmodern cynicism, this game has a moral foundation that is, as its principal creator once put, "built on quicksand." Yet it has a saving grace: it's really, really funny. If anything, it's even funnier than Day of the Tentacle, which is quite a high bar to clear. This is a game with some real bite to it — and I'm not just talking about the prominent incisors on Max, the violently unhinged rabbit who so often steals the show.
(8) TODAY'S BIRTHDAYS.
[Compiled by Cat Eldridge.]
Born June 21, 1938 — Ron Ely, 81. Doc Savage in Doc Savage: The Man of Bronze, a film I saw a long time ago and remember little about. He was also, fittingly enough, Tarzan in that NBC late Sixties series. Somewhere Philip Jose Farmer is linking the two characters…  other notable genre roles included being a retired Superman from an alternate reality in a two-part episode "The Road to Hell" of the Superboy series, and playing five different characters on the original Fantasy Island which may or may not be a record. 
Born June 21, 1932 — Lalo Schifrin, 87. Argentina-American pianist and composer of the music for the original Mission: Impossible series along with The Four Musketeers (1974 version), The Amityville Horror, The Mask of Sheba, The Hellstrom Chronicle, THX 1138, The Cat from Outer Space and The Man from U.N.C.L.E. to select some of his work.
Born June 21, 1947 — Michael Gross, 72. Ok, I'll admit that I've a fondness for the Tremors franchise in which he plays the extremely well-armed graboid hunter Burt Gummer. Other than the Tremors franchise, he hasn't done a lot of genre work as I see just an episode of The Outer Limits              where he was Professor Stan Hurst in "Inconstant Moon" (wasn't that a Niven story?) and voicing a  few Batman Beyond and Batman: The Animated Series characters. 
Born June 21, 1952 — David J. Skal, 67. Vampires! He's an academic expert on them and horror in general, so he's got a number of with his first being Hollywood Gothic: The Tangled Web of Dracula from Novel to Stage to Screen. He followed that up with a more general work, The Monster Show: A Cultural History of Horror. And then he produced The Monster Show: A Cultural History of Horror which links horror films to what is going on in culture at that time, ie AIDS. His latest book was a biography of Bram Stoker, Something in the Blood.
Born June 21, 1957 — Berkeley Breathed, 62. ISFDB on the basis of a chapbook called Mars Needs Moms is willing to include him as genre but I'd argue that Bloom County which includes a talking penguin is genre as they are fantastic creatures. 
Born June 21, 1964 — David Morrissey, 55. His most well-known role is playing The Governor on The Walking Dead (which is a series that I've not seen and have no interest in seeing) but I saw his brilliant performance as Jackson Lake, the man who who believed he was The Doctor in "The Next Doctor", a Tenth Doctor adventure which was an amazing story. He was also Theseus in The Storyteller: Greek Myths, and played Tyador Borlú in the BBC adaption of China Mieville's The City & The City. I'll admit that I'm very ambivalent about seeing it as I've heard the novel at least a half dozen times and have my own mental image of what it should be. He has also shows up in Good Omens as Captain Vincent. 
Born June 21, 1965 — Steve Niles, 54. Writer best- known for works such as 30 Days of Night, Criminal Macabre, Simon Dark and Batman: Gotham County Line. I've read his Criminal Macabre: The Complete Cal McDonald Stories and the the graphic novel — great bit of horror! Sam Raimi adapted 30 Days of Night into a film.
Born June 21, 1969 — Christa Faust, 50. It does not appear that she's written any original fiction save one nove with Poppy Z. Brite called Triads but she's certainly had a lot of media tie-in work including novels set in the Final Destination, Friday the Thirteenth, Fringe, Gabriel Hunt, Nightmare on Elm Street, Supernatural and Twilight Zone universes. Did you know there's an entire ecology of novels, fan fiction, a game, comics, even an encyclopedia guide, September's Notebook — The Bishop Paradox made around Fringe? I hadn't until I was researching her. One of the perks of doing this. 
Born June 21, 1979 — Chris Pratt, 40. Starlord in the MCU film franchise. His first genre role was voicing Jake in the "Attack of the Terrible Trio" episode of The Batman series. After that, he's largely confined himself to the MCU with the exception of being Owen Grady in Jurassic World: Fallen Kingdom. 
(9) COMICS SECTION.
Speed Bump shows a UFO abductee's priorities.
And Bizarro shows that if it's not easy being green, consider the alternatives.
(10) GUNN BEARING. Dark Matter Zine has posted another Ian Gunn illo: Hollywood Cliché No. 15. See it there!
Last week we began a series of movie cliche illustrations by Ian Gunn. This week we look at villains' habits of climbing to the highest room in the tallest tower — then falling off. And here are some of New York's finest, puffing and panting their way in pursuit of said villain… who is climbing to the highest room in the tallest tower.
(11) STOOGE SURPLUS. Nate D. Sanders Auctions is putting "The Personal Collection of Moe Howard" up for bid from June 24-28. Featured items include "Scarce Three Stooges Agreement With Columbia From 1946 Signed by FOUR Stooges, Moe, Curly, Larry & Shemp".
(12) ON THE MENU. Scott Edelman urges listeners to hash it out with Kathe Koja in Episode 98 of his Eating the Fantastic podcast.
Kathe's debut novel The Cipher, for which she won a Bram Stoker Award, had a tremendous impact on the horror field — as much of an impact on horror, in fact, as William Gibson's first novel Neuromancer did on science fiction — a tremendously rare thing for a debut. She's also written historical fiction, such as her Under the Poppy trilogy, as well as a number of young adult novels, starting with Straydog in 2002, and most recently Headlong. Her short stories have been published in Asimov's, Weird Tales, Realms of Fantasy, F&SF, and many other magazines, plus anthologies such as Queen Victoria's Book of Spells and Redshift: Extreme Visions of Speculative Fiction. She is the founder of nerve, a Detroit-based immersive theatre company.

We snuck away during StokerCon to San Chez Bistro. Not only is this tapas restaurant well-reviewed and highly rated, but they're also amazingly sensitive to the needs of their guests, so much so they have multiple full specialized menus — not just a Vegan menu, but ones for soy allergies, tree nut allergies, citrus allergies, shellfish allergies and more. It's one of the most accommodating restaurants I've ever visited when it comes to food preferences. My one regret from my trip to Grand Rapids is that time didn't permit me to experience the full dinner menu.

We discussed her love of immersive theater (and dissected her previous night's performance at StokerCon), why her groundbreaking debut novel The Cipher will always be The Funhole in her heart, what caused her to move into the YA world after her dark adult novels and why it's harder to write for a younger audience, how she accidentally wrote her Under the Poppy trilogy, the allure of writing historical novels, how being in the presence of Kate Wilhelm at Clarion changed her life, what she got out of her many collaborations with Barry Malzberg and others, plus much, much more.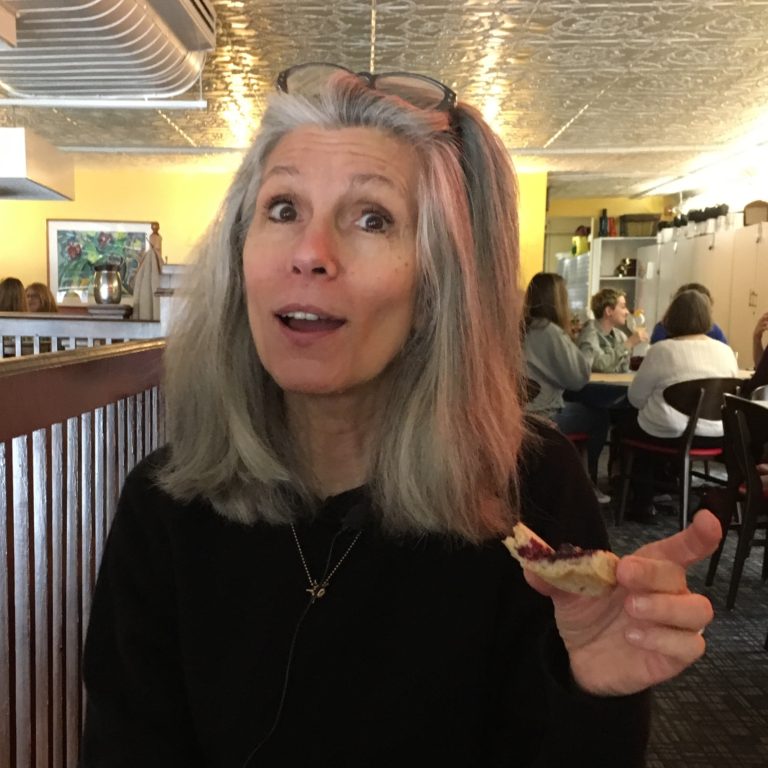 (13) PLOT AND PLAN. Nina Shepardson gives a quick review to "Odd Adventures with Your Other Father by Norman Prentiss" at Outside of a Dog.
I did have a couple of stylistic issues with the novel. The primary one is that some of the dialogue doesn't feel realistic. Elmore Leonard once said, "If it sounds like writing, I rewrite it," and some of the dialogue here definitely sounds like writing.
(14) PEACES OF EIGHT. Paul Weimer applauds the result in "Microreview [book]: Children of Ruin, by Adrian Tchaikovsky" at Nerds of a Feather.
Adrian Tchaikovsky's Children of Ruin continues the Children of Time universe in a mostly standalone braid of stories of terraforming, Uplift and first contact.

…The novel follows two strands in the web of plot. In the "past" timeline, a human exploration ship before their fall into a dark age (and subsequent revival) has come into a likely solar system looking for a planet to terraform. What they find are two candidate planets, a marginal glaciated one, Damascus, that might be melted into terraformability, and a second inner one, Nod, that, much to their disappointment is already full of indigenous life. That strange alien life is worth study, but it means the planet is not really suited for future colonization. But within that life on Nod is a surprise. On Damascus, in the meantime, a crew member's idea to use octpodes to help in the colonization will have unexpected consequences.

In the present day, a Human/Portiids (Spider) exploration ship with a clone of the AI from Children of Time, has arrived in that same solar system thousands of years later, to find, to their shock and surprise, what has happened in the interim to the two planets. The humans are gone, but on both planets, their legacy and inheritors are most definitely in evidence, and much more than the explorers anticipated…
(15) THE REASONS. Ian Sales tells what he thought about "The Hugos 2019, novellas" and why at It Doesn't Have To Be Right. This is an excerpt from his take on Binti: the Night Masquerade.
…I'm no fan of exposition, and I disagree entirely with Kim Stanley Robinson's statement "it's just another form of narrative", and "streamlining exposition into the narrative" is another piece of writing advice that gets my back up… Which is not to say there's zero info-dumping in Binti: the Night Masquerade. There's plenty. But it's all about Binti and her culture, or that of her male companion. The rest of the world is so sketchy it might as well have been made-up on the spot by Binti herself. I really do not rate these novellas, and I'm mystified by the love shown to them.
(16) CANCEL CULTURE. Remember that petition signed by 20,000 calling on Netflix to cancel Good Omens? Well, they did. And Amazon Prime returned the favor.
(17) BY THE YARD. The New York Times points to another Amazon Prime offering, reruns of a Fifties show with Boris Karloff.
'Colonel March of Scotland Yard'
When to watch: Now, on Amazon.

This is more specimen than gem, but there aren't that many shows from the 1950s available to stream — and this one, starring Boris Karloff in an eye patch, has a fun spookiness. Karloff plays Colonel March, who works in the "department of queer complaints," and thus solves mysteries of all sorts. How can he do it all? one character marvels. "Because I'm a student of the major obsessions of our time: food, finance, fashion and frenzied love," he replies. Sounds fun.
(18) TALES OF SUPER SCIENCE. You can thank a black rocket scientist from Alabama for both the Super Soaker and the Nerf Blaster. Assuming, of course, that you weren't traumatized as a child by being blasted by either one of those at an embarrassing time (or place). Smithsonian Magazine: "The Accidental Invention of the Super Soaker". Tagline: "A leak in a heat pump gave rocket scientist Lonnie Johnson the idea for his powerful squirt gun"
You might think it doesn't take a rocket scientist to invent a squirt gun like the Super Soaker. But Lonnie Johnson, the inventor who devised this hugely popular toy that can drench half the neighborhood with a single pull of the trigger, actually worked on the Galileo and Cassini satellite programs and at NASA's Jet Propulsion Laboratory, where he helped develop the B2 stealth bomber.

Johnson is a prodigious creator, holding more than 120 patents on a variety of products and processes, including designs for film lithium batteries, electrochemical conversion systems, heat pumps, therminonic generators and various items to enhance battery production, including a thin-film ceramic proton-conducting electrolyte. In addition to serious-science inventions, Johnson has also patented such versatile and amusing concepts as a hair drying curler apparatus, wet diaper detector, toy rocket launcher and Nerf Blasters. Yes, that rapid-fire system with foam darts that tempts the child in all of us to mount ambushes on unsuspecting relatives and pets.

"I'm a tinkerer," Johnson says. "I love playing around with ideas and turning them into something useful or fun."
(19) HERE COMES THE SUN. A day like any other day, only — "Stonehenge summer solstice: Thousands gather to cheer sunrise" (lots of pictures).
Thousands of people cheered sunrise at Stonehenge on summer solstice.

About 10,000 people gathered at the Neolithic monument to greet the start of the longest day of the year, according to Wiltshire Police.

Kate Logan, from English Heritage, said: "There was a lovely, friendly atmosphere, the sun shone and the dawn was greeted with loud cheers."

The celebrations at Stonehenge came as people descended on sites across the UK to celebrate the first day of summer.

Glastonbury Tor in Somerset and the Avebury stone circle in Wiltshire also attracted crowds.
(20) LET THERE BE LIGHT AT NIGHT, TOO. BBC hails "The invention that saved a million ships".
In the 1820s, Augustin Fresnel invented a new kind of lens and installed it in France's Cordouan lighthouse. Suddenly, one lamp could light the way for sailors many miles out to sea.

Since antiquity, lighted beacons have guided ships to port. The earliest lighthouses were controlled fires on hilltops that warned vessels that they were approaching land. Over time, these signals were powered by burning coal or oil lamps backed by mirrors, which could reach navigators further out to sea. But lamp power was no match for a dark and stormy night; over centuries, broken hulls and wind-whipped sails ran aground as ships' captains and crew perished within, unable to spot the coastline before it was too late.

All that changed in the early 1820s, when a French physicist invented a new kind of lens: a ring of crystalline prisms arranged in a faceted dome that could reflect refracted light. Augustin Fresnel installed his creation in the Phare de Cordouan, a towering lighthouse situated in France's Gironde estuary, about 100km north of Bordeaux. Suddenly, one lamp could illuminate the way for sailors many nautical miles out to sea.
(21) BDPLF MEANS FINE TOBACCO. Steve J. Wright has completed his Hugo Best Dramatic Presentation (Long Form) finalist reviews.
Anyway. Time for me to don my World's Worst Film Critic hat and look at the films this year. They're all good, you see. They get shown on a screen that's bigger than my bedroom! Nobody would do that if the films weren't any good, right?
(22) PLAN F***. Rachel Bloom featured in a video that illustrated the host's topical comments on state abortion laws on Jimmy Kimmel Live!
[Thanks to JJ, John King Tarpinian, Mike Kennedy, Martin Morse Wooster, ULTRAGOTHA, Chip Hitchcock, Cat Eldridge, Carl Slaughter, Andrew Liptak, and Andrew Porter for some of these stories. Title credit belongs to File 770 contributing editor of the day Daniel Dern.]