(1) HOW DRAGON CON IS HANDLING COVID. Atlanta's Dragon Con, being held September 2-6, devotes an entire webpage to the COVID-related attendance rules at "Updates – Dragon Con".
Today they also sent members an informational email which says they're considering offering onside testing (for a fee, see below) to facilitate compliance with their entry requirements.
All 2021 attendees will need to provide proof of full vaccination – OR – a negative Covid-19 test that has been administered within 72 hours of badge pickup. 

Please see our updates page at https://www.dragoncon.org/updates/ for additional details on all health and safety guidelines including the indoor mask mandate.

We are currently working with an outside vendor to potentially offer onsite testing to attendees for a fee of $25 – $40 collected directly by the provider…. 
(2) SHATNER Q&A. In the Washington Post, Michael Cavna has a chat with Shat, because William Shatner is going to be a guest at Awesome Con (the Washington, D.C. media con) this weekend. Shatner shares news on his latest projects, including his new album Bill and spending five days with StoryFile "for interactive conversational-video technology" so fans can ask questions of the William Shatner hologram! "William Shatner, at 90, keeps seeking that next personal frontier".
…Shatner, a veteran performer of spoken-word tunes, has an album due out next month simply called "Bill." Some of the songs are inspired by events in his life, and his collaborators included They Might Be Giants songwriter-musician Dan Miller.

He also enjoyed teaming with the L.A.-based company StoryFile to spend five days recording answers for interactive conversational-video technology. He was filmed with 3-D cameras so his words can be delivered via hologram.

The idea, he says, is that people will be able to push a button and ask questions of a virtual celebrity — like "asking Grandpa questions at his gravestone," but with technologically advanced replies.
(3) JOB APPLICANT. "Babylon 5 boss has 'contacted' BBC over Doctor Who showrunner job" reports Radio Times.
Last month, Babylon 5 creator J. Michael Straczynski threw his hat into the ring to become the new Doctor Who showrunner, tweeting his interest in replacing Chris Chibnall when the latter steps down in 2022.

And now Straczynski has issued an update on the situation, revealing that contact has been made with the BBC about the soon-to-be vacancy for Doctor Who showrunner.

Replying to a fan who asked what the situation was on Twitter, he wrote, "Contact with the BBC has been made. They're going through their own process, which began before my tweet, and that has to run its course, but if those don't pan out and there's a discussion to be had, they will reach out."…
(4) OUT OF JEOPARDY! Meanwhile, Jeopardy! jettisoned Mike Richards as the replacement host after some troubling quotes from his old podcast were publicized. The Hollywood Reporter has the story: "Mike Richards Out as 'Jeopardy!' Host After Podcast Comments". Whether this reopens LeVar Burton's candidacy remains to be seen.
…Sony released the following statement which confirmed that Richards will continue on as the show's executive producer, if not as Alex Trebek's successor: "We support Mike's decision to step down as host. We were surprised this week to learn of Mike's 2013/2014 podcast and the offensive language he used in the past. We have spoken with him about our concerns and our expectations moving forward. Mike has been with us for the last two years and has led the Jeopardy! team through the most challenging time the show has ever experienced. It is our hope that as EP he will continue to do so with professionalism and respect."

Sony also confirmed the episodes Richards shot on Thursday will still air during the upcoming season as scheduled, followed by a rotation of guest hosts until a new permanent host is selected….
(5) MAGAZINE DEBUTS. The first issue of Witch House, a new magazine of cosmic and gothic horror, is now available.
Witch House Issue 1 is now available. You can download it here. This issue includes several great stories and poems. Thanks to Chase Folmar (Associate Editor), Luke E. Dodd (Associate Editor), and all our great contributors for helping us release this issue. We hope you enjoy it!
(6) SCHASCARYZADE. Netflix dropped a trailer for Nightbooks, with Krysten Ritter.
Scary story fan Alex must tell a spine-tingling tale every night — or stay trapped with his new friend in a wicked witch's magical apartment forever.
(7) BUTLER BIO. "Octavia E. Butler Biography Reveal: Star Child by Ibi Zoboi" – Gizmodo previews the cover at the link. The book will be released January 25; it's available for preorder now.
An author as distinctive as Science Fiction Hall of Fame member Octavia E. Butler (Kindred, The Parable of the Sower) deserves an equally distinctive biography—which is exactly why Ibi Zoboi's Star Child: A Biographical Constellation of Octavia Estelle Butler is so exciting. Described as "a poignant biography in verse and prose," the book, which is aimed at middle-grade readers but is truly universal, explores Butler's childhood and how it informed her award-winning, influential literary career.

Zoboi—a National Book Award finalist for her YA novel American Street—actually studied with Butler at the Clarion Science Fiction and Fantasy Writers' Workshop before Butler passed away in 2006. Star Child showcases Butler's "own words and photos of documents from her childhood," bolstered by Zoboi's research on Butler's papers at Los Angeles' Huntington Library. 
(8) LISTEN IN. Stephen Graham Jones, who's already won several awards this year, will do an author talk about his book My Heart is a Chainsaw on August 31 at 7:00 p.m. Mountain time. Free livestream, register here.
(9) MURPHY OBIT. Jill Murphy, author of the Worst Witch series of children's books, died August 18. The Guardian has a profile: "Jill Murphy, children's author and illustrator, dies aged 72".
… Murphy started writing The Worst Witch while still at school, completing her first manuscript at the age of 18. Her mother once commented that Murphy and her two friends looked like witches in their dark school uniforms, which gave the author the idea for her first book.

Murphy initially struggled to publish her first novel, as many publishers at the time worried that children would find the book about witches too frightening. But the tale of clumsy young witch Mildred Hubble and her adventures at Miss Cackle's Academy stole the hearts of generations of children, selling more than 3m copies and becoming one of the most successful Young Puffin titles.

Murphy's books went on to win many major awards, including the Smarties prize for The Last Noo-Noo. Peace at Last and All in One Piece were both commended for the Kate Greenaway Medal. She was also an honorary fellow of Falmouth University….
(10) MEMORY LANE.
1974 – Forty seven years ago at Discon II where andrew j. offutt was Toastmaster, Arthur C. Clarke won the Hugo for Best Novel for Rendezvous with Rama. Other nominated works that year were Robert A. Heinlein's Time Enough for Love, Larry Niven's Protector, Poul Anderson's The People of the Wind and David Gerrold's The Man Who Folded Himself. It was a popular choice as it would also win a BSFA, John W. Campbell Memorial Award, a Locus Best Novel Award and a Nebula Award.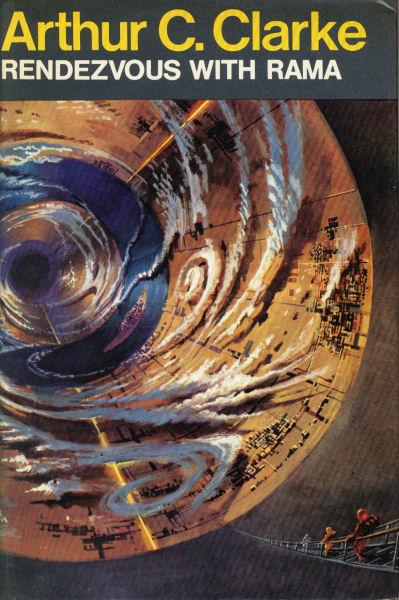 (11) TODAY'S BIRTHDAYS.
[Compiled by Cat Eldridge.]
Born August 20, 1883 — Austin Tappan Wright. Did you know that Islandia wasn't published when he was alive? His widow edited his fifteen hundred page manuscript for publication, and following her own death in 1937 their daughter Sylvia further edited and cut the text yet more; the resulting novel, shorn of Wright's appendices, was published in 1942, along with a pamphlet by Basil Davenport, An introduction to Islandia; its history, customs, laws, language, and geography, based on the original supplementary material. Is there a full, unedited version? (Died 1931.)
Born August 20, 1932 — Anthony Ainley. He was the fourth actor to play the role of the Master, and the first actor to portray the Master as a recurring role since the death of Roger Delgado in 1973. He appeared in eleven stories with the Fourth through Seventh Doctors.  It is noted that enjoyed the role so much that sources note he even stayed in character when not portraying The Master by using both the voice and laugh in social situations. (Died 2004.)
Born August 20, 1943 — Sylvester McCoy, 78. The Seventh Doctor and the last canon Doctor until the modern era of the official BBC Doctors when they revised canon. He also played Radagast in Peter Jackson's Hobbit films, he's The Old Man of Hoy in Sense8 and he voices Aezethril the Wizard in the "Endgame" episode of Thunderbirds Are Go. 
Born August 20, 1951 — Greg Bear, 70. Blood Music which won a Nebula Award, and a Hugo Award at L.A. Con II in its original novelette form is a amazing read. His novels Moving Mars and Darwin's Radio are also Nebula winners, and he has other short fiction award winners. I'm also very fond of the Songs of Earth and Power duology, The Infinity Concerto and The Serpent Mage, and found his Queen of Angels a fascinating mystery. He's deeply stocked at the usual suspects. 
Born August 20, 1961 — Greg Egan, 60. Australian writer who does exist though he does his damnedest to avoid a digital footprint. His excellent  Permutation City won the John W. Campbell Memorial Award  and "Oceanic" garnered a Best Novella Hugo at Ausiecon Three. And he's won a lot of Ditmar Awards.
Born August 20, 1962 — Sophie Aldred, 59. She's Ace, the Seventh Doctor's Companion. (By the way Doctor Who Magazine: Costume Design: Dressing the Doctor from William Hartnell to Jodie Whittaker is a brilliant read and has a nice look at her costuming.) She's reprised the role in the Big Finish audio adventures, and she's recently written Doctor Who: At Childhood's End where Ace meets the Thirteenth Doctor. 
Born August 20, 1963 — Justina Vail Evans, 58. Olga Vukavitch in Seven Days, a series I thought was extremely well-crafted. She shows up in other genre undertakings such as Super Force, Conan, Journey to The Center of The Earth, The Adventures of Superboy, The X-Files, Carnosaur 3: Primal Species, Conan and Highlander: The Series. 
(12) COMICS SECTION.
The Onion is dead on about the intersection between climate change and space travel! But didn't someone already write Garbage Planet?
The Oatmeal did this comic to commemorate Gene Roddenberry's 100th birthday yesterday.
(13) TURNING THE CAMERA AROUND. After reading The Oatmeal linked above, you realize there's a lot more material to work with than just his career in TV: "Gene Roddenberry Biopic In Works With 'You Don't Know Jack' Scribe Adam Mazer" – details at Deadline.
Roddenberry Entertainment has been working quietly on a feature biopic of the sci-fi TV icon, and there is a script by Adam Mazer, whose credits include the Emmy-winning script for the 2010 HBO movie You Don't Know Jack which starred Al Pacino as Dr. Jack Kevorkian.

Producers include Star Trek caretakers Rod Roddenberry and Trevor Roth, who executive produce all current franchise series including Star Trek: Discovery and Star Trek: Picard. Next up the development will be finding a director and actors.

… There's no shortage of subject matter surrounding Roddenberry, the fighter pilot-turned-LAPD cop-turned-TV writer who survived two plane crashes and the rough waters of Hollywood to create Star Trek, one of the world's most enduring sci-fi franchises, with the original 1966-69 TV series eventually spawning spinoffs, movies, books and a legion of hard-core fans.
(14) THE THREE BLAHS OF ROBOTICS. [Item by Michael Kennedy.] Not satisfied with developing cars that can drive themselves (HINT: not there yet), Elon Musk is now saying he intends to develop humanoid robots to do dangerous and boring tasks. So far he seems to have this mission statement, a slide deck, plus someone dressed in a skintight suit and wearing a helmet. "Tesla Bot: Elon Musk Unveils Humanoid Robot to do 'Boring' work" at Bloomberg.
… The Tesla Bot, a prototype of which should be available next year, is designed to eliminate "dangerous, repetitive and boring tasks," like bending over to pick something up, or go to the store for groceries, Musk said. "Essentially, in the future, physical work will be a choice."…
(15) THE CLOCK IS RUNNING. Filers might find today's New Yorker "Name Drop" puzzle of interest.
(16) INSIDE A PERRIN GAME. James Davis Nicoll tells how "Steve Perrin's Worlds of Wonder Changed the Game for RPGs" at Tor.com.
Emmet Asher-Perrin's worthy obit for Steve Perrin mentions such Perrin-related projects as Stormbringer, Call of Cthulhu, Thieves' World, Elfquest, Robot Warriors, and (of course!) Superworld. One fascinating Perrin work that often goes unmentioned, probably due to the fact that it has become a comparatively obscure work, is 1982's groundbreaking Worlds of Wonder. You may not have encountered it, but odds are that you've seen and played later games that it inspired or influenced.

The 9½ x 12 x 1 inch box for this game contained four 16-page booklets: Basic Role-Playing, Magic World, Superworld, and Future World.  Assisting Steve Perrin were Steve Henderson, Gordon Monson, Greg Stafford, Lynn Willis and others. Roleplaying game design tends to be a team effort….
(17) IT IS THE END, MY FRIEND. This week's PBS Space Time looks at the end of everything, including beyond File 770… The universe is going to end. But of all the possible ends of the universe vacuum decay would have to be the most thorough – because it could totally rewrite the laws of physics. How terrified should you be….?
(18) MOONING PEOPLE. The Old Farmer's Almanac encourages us to look: "Full Moon August Appears to Shine All Weekend".
On all three nights, the Moon will be tangled together with the planets Jupiter and Saturn. Very close to Saturn on Friday night, right amidst both brilliant Jupiter and less-bright Saturn on Saturday, and forming a line with them when it's full on Sunday. Read about super-bright Jupiter which is at its best right now….
And there are more reasons at the link.
(19) A PERTINENT PEW POLL. Pew on belief in space aliens. Graphs at the link. "Religious Americans less likely to believe intelligent life exists beyond Earth" at Pew Research Center.
….This is evidenced by a variety of measures of religious engagement. For example, U.S. Christians are far less likely than religiously unaffiliated Americans to say that their "best guess" is that intelligent life exists on other planets (57% vs. 80%). And U.S. adults who attend religious services on at least a weekly basis are considerably less likely than those who seldom or never attend services to say that intelligent life exists elsewhere (44% vs. 75%).

Similarly, around half of Americans who say religion is very important to them (49%) say their best guess is that intelligent life exists on other planets. By comparison, roughly three-quarters of those who say that religion is less important in their lives (76%) say that intelligent life exists elsewhere. …
(20) HOW DOGS THINK. So far, it appears that no dog has learned how to cheat at their version of the Kobayashi Maru test. "How dogs think, learn, communicate and problem-solve" in the Washington Post.
…By way of example, he talked about dogs he has worked with for the U.S. Marine Corps, compared with dogs he has worked with for Canine Companions for Independence in California. The Marines needed dogs in places like Afghanistan to help sniff out incendiary devices, while the companions agency needed dogs that were good at helping people with disabilities.

Just looking at both types of purpose-bred dogs, most people would think they're the same — to the naked eye, they all look like Labrador retrievers, and on paper, they would all be considered Labrador retrievers. But behaviorally and cognitively, because of their breeding for specific program purposes, Hare said, they were different in many ways.

Hare devised a test that could tell them apart in two or three minutes. It's a test that's intentionally impossible for the dog to solve — what Star Trek fans would recognize as the Kobayashi Maru. In Hare's version, the dog was at first able to get a reward from inside a container whose lid was loosely secured and easy to dislodge; then, the reward was placed inside the same container with the lid locked and unable to be opened. Just as Starfleet was trying to figure out what a captain's character would lead him to do in a no-win situation, Hare's team was watching whether the dog kept trying to solve the test indefinitely, or looked to a human for help.

"What we found is that the dogs that ask for help are fantastic at the assistance-dog training, and the dogs that persevere and try to solve the problem no matter what are ideal for the detector training," Hare said. "It's not testing to see which dog is smart or dumb. What we've been able to show is that some of these measures tell you what jobs these dogs would be good at."…
(21) SMASHING DISCOVERY. Nature reports "Exotic Four-Quark Particle Spotted At Large Hadron Collider".
Rare tetraquark could help physicists to test theories about strong nuclear force.

The Large Hadron Collider (LHC) is also a big hadron discoverer. The atom smasher near Geneva, Switzerland, is famous for demonstrating the existence of the Higgs boson in 2012, a discovery that slotted into place the final keystone of the current classification of elementary particles. But the LHC has also netted dozens of the non-elementary particles called hadrons — those that, like protons and neutrons, are made of quarks.

The latest hadron made its debut at the virtual meeting of the European Physical Society on 29 July, when particle physicist Ivan Polyakov at Syracuse University in New York unveiled a previously unknown exotic hadron made of four quarks. This brought the LHC's hadron bounty up to 62, according to a tally kept by Patrick Koppenburg, a particle physicist. Tetraquarks are extremely unusual: most known hadrons are made up of either two or three quarks. The first tetraquark was spotted at the High Energy Accelerator Research Organization (KEK) in Tsukuba, Japan, in 2003, and LHCb has seen several more. But the new one is an oddity. Previous tetraquarks were likely to be pairs of ordinary quark doublets attached to each other like atoms in a molecule, but theoretical physicist Marek Karliner thinks that the latest one could be a genuine, tightly bound quadruplet. "It's the first of its kind," says Karliner, who is at Tel Aviv University in Israel and helped to predict the existence of a particle with the same properties as Tcc in 2017.
(22) REFERENCE DIRECTOR. Today's Scroll title was inspired by this Firefly clip. Which doesn't mean we're going to start explaining the titles, it is just a good excuse to include a moment from the series.
(23) VIDEO OF THE DAY. [Item by Martin Morse Wooster.] In the spoiler-filled "Honest Trailers: The Suicide Squad" on YouTube, the Screen Junkies say the one thing that every character in the film has "traumatic parent issues," that director James Gunn replaced the overlong character introductions in Suicide Squad with no introductions at all, and Viola Davis has "way too much talent and elegance to be in a film with Pete Davidson in it."
[Thanks to Mike Kennedy, Andrew Porter, Martin Morse Wooster, Cora Buhlert, John A Arkansawyer, James Davis Nicoll, David K.M. Klaus, SF Concatenation's Jonathan Cowie, JJ, Michael Toman, John King Tarpinian, and Cat Eldridge for some of these stories. Title credit belongs to contributing editor of the day JJ.]