(1) GOFUNDME FOR MIXON AND GOULD. Stephanie Maez is asking people to signal boost the GoFundMe she has set up on behalf of Aunt Laura and Uncle Steve: "Help Aunt Laura Heal". Laura J. Mixon, who has Myalgic Encephalomyelitis, a/k/a ME or ME/CFS or chronic fatigue syndrome, is a well-known sff author who also won the Best Fan Writer Hugo (2015). Steven Gould has created multiple sf series and is past president of SFWA. Maez explains:
Due to Aunt Laura's worsening chronic illness, they've been struggling financially for the past several years. They want to sell their home, use the equity to pay off debts, and find a place where they can live affordably. I've created a GoFundMe that seeks $20,000:
$3,400 to help pay off existing medical bills;
$2,600 to cover impending medical expenses; and,
$14,000 for home repairs and moving costs.
They will donate all additional funds above the needed amount to The Open Medicine Foundation, a non-profit that serves as an open-source clearinghouse and a source of funding for top researchers worldwide, who are working collaboratively toward a cure for ME/CFS.
Here's more from Aunt Laura:
Until 2013, my engineering work provided us a steady source of income while Steve built up his writing career and was our two kids' primary caregiver. Unfortunately, by then a chronic illness that I'd had for decades but had never been properly diagnosed for until recently, ME/CFS, had worsened to the point that I was no longer well enough to work.

As a result of my gradually worsening condition, our family has been solely dependent on Steve's income. We also have a daughter with multiple disabilities living with us, who still needs our support as she works toward independence. We managed to muddle along until about 2017 or 2018, thanks to Steve's book sales and a couple of well-paying Hollywood deals. But my illness, the associated medical expenses, and two kids in college for much of that time meant the bills kept piling up. The coup de grâce came in 2020, when my health took a sudden nosedive due to pandemic-induced exertion and stress, and Quibi, the new media company developing Steve's latest creative project, went out of business.

We have decided to sell our house and use the cash to pay off as much of our debt as possible. Because ours is an older home, it needs a lot of work in order to sell at a better-than-fixer-upper price, and we need to get a good price to make enough of a dent in our debt to live sustainably on our current income.

A final note. The past year and a half has brought hard times for many, and there are many important unmet needs out there. We'd be deeply grateful for any signal boost or help you can give, but we'll totally understand if your own circumstances—financial, mental, or otherwise—don't permit. We know all too well what it's like to be tapped out and spent, no matter how much you care. As ever, we're thinking of you love, and hopes that all is well in your world.
The appeal has raised $17,081 of its $20,000 goal.
(2) THE HOST WITH THE MOST. The Library of Congress announced today: "LeVar Burton to Host 2021 National Book Festival Broadcast on PBS".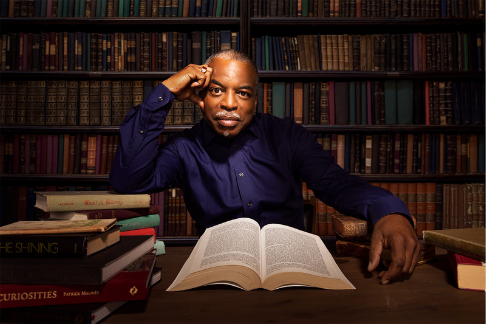 LeVar Burton, fresh from a hosting gig on "Jeopardy," turns his attention to hosting a special edition of the Library's 2021 National Book Festival, a one-hour special on PBS that is studded with some of the world's brightest literary stars.

The show, "Open a Book, Open the World: The Library of Congress National Book Festival," premieres Sunday, Sept. 12, at 6 p.m. ET (check local listings) on PBS, PBS.org and the PBS Video app. The show will feature 20 of the world's most captivating authors and celebrities, ranging from actors Michael J. Fox and Lupita Nyong'o, to Nobel Prize-winning novelist Kazuo Ishiguro and Pulitzer Prize-winning historian Annette Gordon Reed….

Burton, a longtime champion of reading, will host from his public library in Los Angeles with Hayden appearing at the Library of Congress on Capitol Hill.
There are many authors featured in the special — these have genre connections:
Roxane Gay, essayist and novelist, on her co-authored book "The Sacrifice of Darkness."
Kazuo Ishiguro, Nobel Prize-winning novelist, on his book "Klara and the Sun."
Silvia Moreno-Garcia, novelist in several genres, including horror and noir, on her books "Mexican Gothic" and "Velvet Was the Night."
Christopher Paolini, fantasy and science fiction writer, on his book "To Sleep in a Sea of Stars."
Martha Wells, Hugo and Nebula award-winning writer, on her book "Fugitive Telemetry."
(3) JEFF SMITH'S GIVEAWAY REPORT. Jeff Smith reports that a solid 2/3 of Filers who claimed lots from his Free Book Giveaway list followed up by sending their shipping addresses to him. Which means that a less solid 1/3…
He started shipping the boxes out today. Jeff says he foolishly set up this giveaway to happen just before his scheduled cataract surgery, so not all shipments will go out as swiftly as this first batch. But any delays should not be extensive, and he begs your indulgence.
(4) THIS IS NOT MY PRECIOUS. Mitchell Clark can think of lots of reasons why "The JRR Token cryptocurrency is almost certainly headed for Mt. Doom", and lists them in his article for The Verge.
I hate to be the one to tell you this, but there's a cryptocurrency themed after The Lord of the Rings. It's dubbed the JRR Token, and its creators have called it "The One Token That Rules Them All." Upon learning about it, my snap judgment was that it'll be like The Hobbit's trilogy of films (pointless and doomed to fail), but that may be unfair. Let's take a look at the video its creators made to explain what makes it special…

Okay, wait. Before we even go into the crypto stuff, I'm wondering what the legal situation is with this video — the video includes images of rolling green countryside overlaid by very Lord of the Rings-esque text, while what sounds like a piano rendition of Howard Shore's The Shire plays. Even if those don't turn out to be infringement, they're definitely banking on confusion with JRR Tolkien's name. That doesn't seem like the kind of thing the Tolkien Estate would let slide without a fight….
(5) EXTENDED NOIR. At CrimeReads, Silvia Moreno-Garcia discusses the classic noir novels that inspired her new novel, Velvet Was The Night: "Seven of the Best Noir Novels of the 1960s and 1970s".
My latest novel, Velvet Was the Night, is a noir set in the Mexico City of the 1970s. This is a changing world, beset by political and social turmoil, and a space where different forces are violently clashing. To me, it seemed like the perfect decade for a noir, but when I told people what I was working on, they tended to be surprised I was writing a book set in 1971. Most of them associated the word 'noir' with the 1950s.

Noir has always had a close relationship with film and it is no wonder that when we think of noir, we tend to harken back to iconic images inspired by Golden Age Hollywood rather than more modern proposals. But noir did not vanish once people traded zoot suits for bell bottoms. Therefore, here is a list of cool, decadent noirs from the 60s and 70s….
(6) RODDENBERRY CENTENARY ZOOM. [Based on a press release.] NASA is helping the legacy of inspiration, hope, and diversity fostered by the creator of Star Trek to live long and prosper. The agency will observe the late Gene Roddenberry's 100th birthday with a special program called, "Celebrating Gene Roddenberry: Star Trek's Bridge and NASA" – a panel discussion airing on NASA Television, the agency's website, the NASA App, and NASA social media on August 19 at 2:00 p.m. Eastern.
The program includes introductory remarks by NASA Administrator Bill Nelson followed by a panel discussion moderated by Rod Roddenberry, son of Gene Roddenberry. Special guest George Takei, Star Trek actor and activist, will participate in the question-and-answer session.

The NASA panelists includes:
Tracy Drain, Europa Clipper flight systems engineer
Hortense Diggs, director of the Office of Communications and Public Engagement at NASA's Kennedy Space Center in Florida
Swati Mohan, lead for Mars 2020 Guidance, Navigation, and Controls Operations at Jet Propulsion Laboratory in California
Jonny Kim, NASA astronaut
Coinciding with the program, NASA will broadcast into space a 1976 recording of Gene Roddenberry's remarks on diversity and inclusion through the agency's Deep Space Network of radio antennas. NASA also is inviting people on social media to join celebrating Roddenberry's 100th birthday on Thursday by posting a Vulcan salute selfie with the hashtag #Roddenberry100.
(7) HAMMER, SICKLE, AND RADIO TUBE. Natalija Majsova analyzes "Soviet Sci-fi Film and Different Modalities of Future Ecosystems" at Strelka Mag.
Soviet science fiction cinema has a very particular genealogy. Due to the temporal proximity of the emergence of the Soviet state project and of the cinematic medium—a means of surveillance and observation, of propaganda and education, of experiment and reiteration, in short, of monstration and narration of a new world-to-be—science fiction film cannot be considered as mere fantasy, symptom, or flight of fancy. Rather, film is simultaneously a dimension, a perspective, and a voice. The genre of science fiction, on the other hand, played a palette of different functions in Soviet history, from the normatively prognostic and mnemonic, to the revelatory and introspective….

…In literature, science fiction under Stalin is chiefly associated with the so-called "near-reach" formula, i.e. narratives that celebrate the graspable, realistic feats of contemporary science. An important undercurrent of such science fiction, or rather "scientific fantasy" (nauchnaia fantastika), that was characteristic of Soviet science fiction films until the late 1960s remains its clear political statement: Soviet authority is associated with scientific progress and righteous goals, whereas scientific progress outside of the Soviet state is linked to heartless imperialism and colonialism….
(8) OUT OF MANY, ONE. "Hachette to Buy Workman for $240 Million as Publishing Continues Consolidation" reports the New York Times. Workman published Tomorrow and Beyond: Masterpieces of Science Fiction Art edited by Ian Summers, The Grand Tour: A Traveler's Guide to the Solar System by Ron Miller and William K. Hartmann, Barlowe's Guide to Extraterrestrials, by Wayne Barlowe and Beth Meacham, DiFate's Science Fiction Hardware, by Vincent DiFate, and other genre titles over the years, notes Andrew Porter.
Hachette Book Group said on Monday that it had agreed to buy Workman Publishing, an independent company known for titles like "What to Expect When You're Expecting" and the "Brain Quest" workbooks, the latest expected acquisition in an industry whose power is increasingly concentrated in a handful of major companies. The cost of the deal was $240 million.

Workman is one of the largest independent publishers in the United States and is appealing to its new parent for, among other reasons, its lucrative backlist. Backlists include books published years ago that continue to sell — as opposed to the front list of new titles — and at Workman, they are a major focus and a steady stream of reliable income. Michael Pietsch, the chief executive of the Hachette Book Group, said that three-quarters of Workman's revenue comes from those older titles.
(9) MEMORY LANE.
1960 – On this day in 1960, The Time Machine premiered. The work of legendary director George Pal, it was based on the H.G. Wells novella of the same name. Pal also handled the production. The screenplay was by David Duncan. It would lose out at Seacon to the Twilight Zone series for Best Dramatic Presentation. Cast was Rod Taylor, Alan Young, Yvette Mimieux, Sebastian Cabot and Whit Bissell. Some critics liked it, some didn't, and most thought the love interest angle sucked. It did very, very well at the box office making two point six million dollars and costing only a little over eight hundred thousand to make. Despite this, the Studio claimed it barely broke clearing only three hundred thousand. Never trust Studio accountants!  Audience reviewers at Rotten Tomatoes currently give it an excellent seventy-nine percent rating. 
(10) TODAY'S BIRTHDAYS.
[Compiled by Cat Eldridge.]
Born August 17, 1917 — Oliver Crawford. Screenwriter who overcame the Hollywood blacklist during the McCarthy Era of the 1950s. He wrote three scripts for Trek, "The Cloud Minders," "Let That Be Your Last Battlefield," and "The Galileo Seven". He also wrote for The Outer Limits ("The Special One"), Voyage to the Bottom of the Sea ("The Lost Bomb") and The Wild Wild West ("The Night of the Cossacks" and "The Night of Sudden Death"). No, that's not everything hescripted. (Died 2008.)
Born August 17, 1923 — Julius Harris. He's Tee Hee Johnson, the metal armed henchman courtesy of a crocodile in Live and Let Die, the eighth Bond film. Other genre appearances are scant — he's a gravedigger in Darkman, boat crew in King Kong and he shows up in the horror film Shrunken Heads. He had one-offs in The Incredible Hulk and the Friday the 13th series.(Died 2004.)
Born August 17, 1930 — Harve Bennett. The individual who gave us Star Trek II: The Wrath of Khan. Really he did. He would then serve as Producer on the next three Trek films, The Search for Spock, The Voyage Home and The Final Frontier. Bennett also wrote Star Trek III, co-wrote the story and screenplay for Star Trek IV, and co-wrote the story for Star Trek V. His only on scene appearance is in the latter as the Starfleet Chief of Staff. He's the voice of the Battle simulator computer in Wrath of Khan, and the Flight Recorder in the Search for Spock. (Died 2015.)
Born August 17, 1945 — Rachael Pollack, 76. She's getting a Birthday note for her scripting duties on her run of issues 64–87 (1993-1995) of Doom Patrol. She's also assisted in the creation of the Vertigo Tarot Deck with McKean and Gaiman, and she wrote a book to go with it. She won a World Fantasy Award for Godmother Night, and an Arthur C. Clarke Award winner for Unquenchable Fire. She also wrote Salvador Dali's Tarot, a book-length exposition of Salvador Dalí's Tarot deck, comprising a full-page color plate for each card, with her commentary on the facing page.
Born August 17, 1956 — John Romita Jr., 65. If you've read Spider-Man since the Sixties, it's very likely that you've seen his artwork as he had six stints on it between 1980 and 2009. He was also on a number of other titles at Marvel and DC including Superman, Ghost Rider, Hulk, All-Star Batman, Eternals, Captain America and Daredevil to name but a few he illustrated. He also worked with Mark Miller at Image Comics on Kick-Ass, and did the one shot Punisher/Batman: Deadly Knights.
Born August 17, 1960 — Chris Baker, 61. He's the cover artist for British and German versions of the Redwall books, as well as a storyboard and conceptual artist having worked with Steven Spielberg, Stanley Kubrick and Tim Burton. Among his films are Big Fish, Skyfall, Charlie and the Chocolate Factory, A.I. Artificial Intelligence and Corpse Bride.
Born August 17, 1962 — Laura Resnick, 59. Daughter of Mike Resnick. She is a winner of the John W. Campbell Award for Best New Writer in Science Fiction for early work including "No Room for the Unicorn." I've not read her Manhattan Magic series so I'm interested to know what y'all think of it. She's readily available at the usual suspects.
Born August 17, 1966 — Neil Clarke, 55. Editor in Chief of Clarkesworld Magazine which has won an impressive three Best Semiprozine Hugos. SFWA also gave him a Kate Wilhelm Solstice Award. He also edits The Best Science Fiction of the Year series for Night Shade Books. He's a nominee at Discon III for Best Editor, Short Form.
(11) COMICS SECTION.
The Argyle Sweater definitely knows how to keep the arg in comics and shown with this horrible pun.
(12) STAR PLONKER. Laughing Squid makes sure we're listening when "The Ukulele Orchestra of Great Britain Performs the Original 'Star Trek' Theme Including the Full Lyrics".
The very talented Ukulele Orchestra of Great Britain (previously) shared the album version of their truly celestial cover of the theme from the original Star Trek series. Not only did they vocally cover the theremin-like intro, but also the full lyrics to the song.
(13) A TOUCH OF LARCENY. Two Vulture writers trail "The Mysterious Figure Stealing Books Before Their Release".
…This was a setup Stieg Larsson would have admired: a clever thief adopting multiple aliases, targeting victims around the world, and acting with no clear motive. The manuscripts weren't being pirated, as far as anyone could tell. Fake Francesca wasn't demanding a ransom. "We assumed it was the Russians," Mörk said. "But we are the book industry. It's not like we're digging gold or researching vaccines." Perhaps someone in publishing, or a Hollywood producer, was desperate for early access to books they might buy. Was the thief simply an impatient reader? A strung-out writer in need of ideas? "In the hacker culture that Stieg Larsson depicted, they do a lot of things not for financial benefit," Mörk pointed out this spring, "but just to show that they can do it."

When I first heard about the scheme in February, four years after the attempted "Millennium" heist, the thief was still on the loose, exhibiting behavior that was even bolder and more bizarre as they chased after everything from Sally Rooney's latest to novels by obscure writers never published in English before. This sounded like a fun challenge, a digital mystery to obsess over at a time when the real world was shut down…
(14) PLURAL. "Aliens: 10 Things That Still Hold Up Today" — ScreenRant counts them off.
Ridley Scott's Alien is the kind of untouchable masterpiece that should never be ruined by sequels. But James Cameron proved that there are exceptions to this rule with 1986's Aliens, which both satisfies as a follow-up to the first movie and stands as a classic of action cinema in its own right….

10/10 Replacing One Xenomorph With A Hive Of Dozens

Like all the best sequels (including Cameron's own Terminator 2), Aliens significantly raises the stakes from the first movie by expanding the scope of the premise. The first Alien movie was essentially a haunted house movie in space, with the crew of the cargo freighter Nostromo getting picked off one by one by a ravenous xenomorph wandering around their ship.

In Aliens, there are dozens of these xenomorphs on the loose as opposed to the single alien that threatened the heroes of the original movie. The single xenomorph from the first movie was scary enough, but Cameron upped the ante with a festering swarm of otherworldly monsters.
(15) PULL UP TWO CHAIRS. In the episode 59 of the Two Chairs Talking podcast, David Grigg and Perry Middlemiss discuss the nominees in the Novelette category for this year's Hugo Awards, and go on to talk about their other recent reading, including a novel by Claire North about the travails of the Harbinger of Death, and some well-worn favorites of the crime and SF genres. Episode 59: "Thoroughly informed".
(16) LAW NORTH OF THE OZONE. The issue of who is and isn't an astronaut is legally very complicated! The Space Review asks "Is it time to create the designation of non-governmental astronaut?"
… Of the three, it is the test offered by Professor Yasuaki Hashimoto that is the test that best harmonizes with international law through the Outer Space Treaty.[5]

For the legal status of "astronaut" to apply under Professor Hashimoto's test the person must be:
in an object located in space
conducting their activities for the benefit and in the interests of all countries
regarded as an envoy of mankind in outer space.
Applying this test to non-governmentals like the personnel who were carried on SpaceShipTwo and New Shepard, the first prong is easily met as arguably both launch and reentry vehicles were "in space." However, both fail the second and third prong of the test as they are both commercial ventures that are not conducting their activities for the benefit and interest and all countries nor are they or would be regarded as envoys of all mankind in outer space. This means absent legislative action, non-governmental personnel would not have any legal status in the eyes of domestic and international law….
(17) PEOPLE RUIN EVERYTHING. Mind Matters introduces another short film distributed by DUST: "Merv Is the Last Man in a Ruined World".
This New Zealand-based film company provides a haunting evocation of a totally ruined urban landscape — just an enormous pile of rubble peopled by a surviving hermit. When he catches sight of another human, he pelts like mad for his underground den. Then, arming himself, sets out to confront the stranger….
(18) VIDEO OF THE DAY. [Item by Martin Morse Wooster.] In "Honest Game Trailers: Pokemon Unite" on YouTube, Fandom Games says that this game is a "sub-par experience" that will disappoint even the most enthusiastic Pokemon fans.
[Thanks to Michael Toman, John King Tarpinian, Cat Eldridge, Jeffrey Smith, Cat Rambo, Michael J. Walsh, Rob Thornton, Chris Barkley, Steven H Silver, David Grigg, Mike Kennedy, Andrew Porter, Martin Morse Wooster, and JJ for some of these stories. Title credit belongs to contributing editor of the day Daniel Dern.]