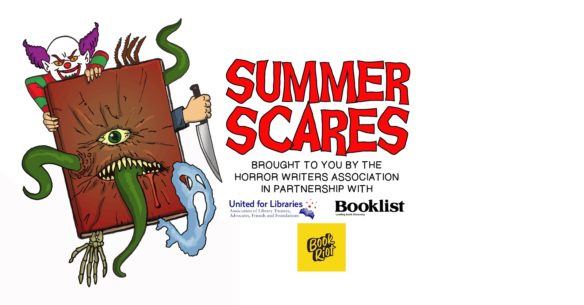 The Horror Writers Association's fifth annual Summer Scares Reading Program will provide libraries and schools with an annual list of recommended horror titles for adult, young adult (teen), and middle grade readers. The 2023 reading list will be released on February 14, Library Lover's Day.
Summer Scares' 2023 spokesperson is Daniel Kraus, author of more than a dozen novels and graphic novels. He co-authored The Living Dead with filmmaker George A. Romero. With Guillermo del Toro, he co-authored The Shape of Water, based on the same idea the two created for the Oscar-winning film. Also with del Toro, Kraus co-authored Trollhunters, which was adapted into the Emmy-winning Netflix series. Kraus says, "Libraries were the space in which I nurtured my early interest in horror. I was able to make autonomous decisions about my own limits and how to push them, and that benefitted my confidence, intellect, courage, and empathy. I couldn't be more honored to work with Summer Scares to help other kids have their own life-changing experiences."
He will be joined by a committee of five library workers who, together, will select three recommended fiction titles in each reading level, totaling nine Summer Scares selections. The goal of the program is to encourage a national conversation about the horror genre, across all age levels, at libraries nationwide and ultimately attract more adults, teens, and children interested in reading. Official Summer Scares designated authors will also make themselves available at public and school libraries.

Kraus, along with some of the selected authors, will kick off Summer Scares at the 7th Annual HWA Librarians' Day, Friday, June 16, during StokerCon 2023 at the Sheraton Pittsburgh Hotel at Station Square in Pittsburgh, PA.
Of special note is the forthcoming annual Summer Scares Programming Guide, courtesy of HWA Library Committee Co-Chair Konrad Stump and the Springfield-Greene County Library, which provides creative ideas to engage horror readers. Centered around the official Summer Scares titles, the guide offers tips and examples for readers' advisory, book discussion guides, and sample programs, enabling librarians, even those who don't read or especially enjoy the horror genre themselves, to connect their communities with Summer Scares.
See past years' Summer Scares titles, spokespeople, and programming guides at the program archive here.
[Based on a press release.]