(1) STAR TREK DAY. io9's James Whitbrook tells how "Star Trek: Discovery's New Trailer Brings the Fight for the Federation to the Far Future".
The crew of the Discovery made a terrible sacrifice at the end of season two, leaving their lives as they knew them behind and flinging the ship 930 years into the future, where the Federation is in some dire straits of its own (again). Now it seems it's up to Michael and her friends to remind them of what the Federation has fought hard to stand for.

Star Trek's all-encompassing Star Trek Day livestream event just kicked off with the latest look at the third season of Discovery, our first since that major glimpse at New York Comic-Con last year.
(2) KLINGON GOES POSTAL. Robert J. Sawyer celebrated Star Trek Day on Facebook with this observation:
If you'd told Canadian actor John Collicos that his country would honour him with a stamp 50-odd years later for the four or five days of work he did as one of countless guest-starring roles over his career, he'd have thought you were out of your mind.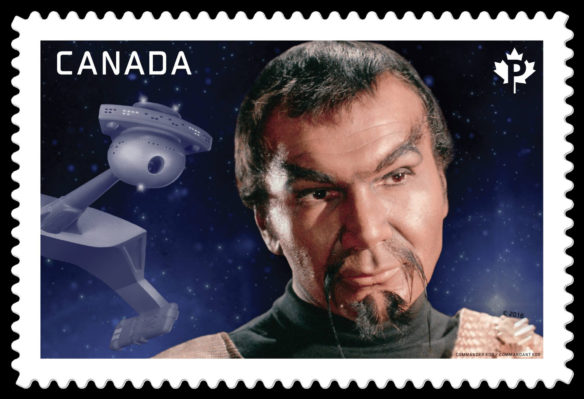 It's part of this 2016 set: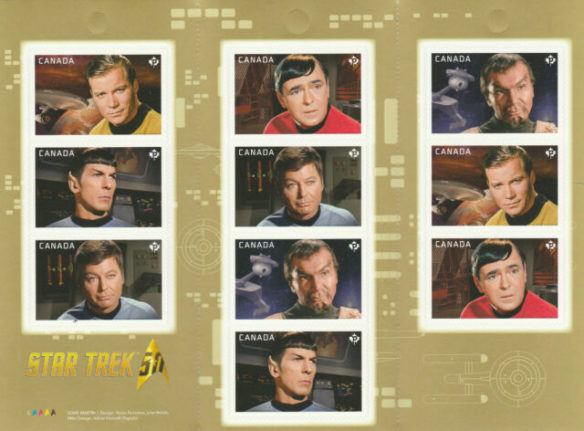 (3) POD TREK. Tawny Newsome, of the Star Trek: Lower Decks voice cast, announced an upcoming podcast, Star Trek: The Pod Directive, which she will co-host with actor-comedian Paul F. Tompkins (BoJack Horseman).
Guests will include actor Ben Stiller, author Reza Aslan, "Star Trek: Picard" star Michelle Hurd, "Lower Decks" executive producer Mike McMahan, politician Stacey Abrams, comedian and "Discovery" costar Tig Notaro, astronaut Samantha Cristoforetti, and "Picard" and "Short Treks" composer Jeff Russo.
Newsome also debuted a preview for the show, which runs weekly Sept. 14 through Nov. 9.
(4) MULAN. Jeannette Ng's article "'Mulan' Has a Message: Serve China and Forget About the Uighurs" at Foreign Policy challenges the terms under which the film was made, then sharply criticizes the film itself.
All art is political. Strangely, Disney's live-action Mulan is more obviously so than most.

Mulan makes the current nationalist mythology of a Han-dominated China the foundation of its story. That would be bad enough. But parts of it were also filmed at the location of current and ongoing mass human rights abuses, including cultural genocide, against ethnic minorities.

The credits of Mulan specifically thank the Publicity Department of the Chinese Communist Party's Xinjiang Uighur Autonomous Region Committee, as well as the Public Security Bureau in the city of Turpan and other state entities there. The Public Security Bureau is one of the main forces administering the internment camps, enforcing the surveillance and interrogation of even nominally "free" Uighurs, forcing people into slave labor, demanding that Uighurs host Han guests employed by the government to spy on them, and sterilizing Uighur women. The Publicity Department—a term that used to be more honestly translated as the Propaganda Department—justifies these atrocities. Most of these policies were well in place—and some of them known in the West—by the time the film was shot, partly in Xinjiang, in 2018.

That should be the only thing that needs to be written. But there's more.

Even before the film—which was not previously known to have been filmed in Xinjiang—arrived, it had blundered right into politics. Two of the film's stars, Liu Yifei (Mulan) and Donnie Yen (Commander Tung), have voiced their support of the Hong Kong police against the city's pro-democracy protests, thus sparking an online movement to boycott the film….
(5) DISNEY AMBITIONS. In a Washington Post opinion piece, "Why Disney's new 'Mulan' is a scandal", Isaac Stone Fish says that Disney credits "four Chinese Communist party propaganda departments in the region of Xinjiang and the Public Security Bureau of the city of Turpan in the same region–organizations that are facilitating crimes against humanity." He says we need to know the extent to which Disney cooperated with instruments of Chinese repression against the Uighurs and that by filming in Xinjiang the 2020 version of Mulan is "Disney's most problematic movie" since the racist Song Of The South. Fish also adds perspectives about Disney's historic efforts to do business in China.
…Disney executives had thought that the original "Mulan" would please both the Chinese government and Chinese filmgoers. But because Disney had distributed "Kundun" (1997), a film glorifying the Dalai Lama, Beijing restricted the studio's ability to work in China. Disney spent the next several years trying to get back into the party's good graces. "We made a stupid mistake in releasing 'Kundun,'" the then-CEO of Disney Michael Eisner told Premier Zhu Rongji in October 1998. "Here I want to apologize, and in the future we should prevent this sort of thing, which insults our friends, from happening."

Since then, Disney has endeavored to please Beijing. The rewards have been immense, culminating in the successful opening of Shanghai Disneyland in June 2016. This park, Disney's Executive Chairman Bob Iger said, is the "greatest opportunity the company has had since Walt Disney himself bought land in Central Florida." Partnering with Xinjiang is another step that binds Disney closer to the party.
(6) HARD SF. [Item by Eric Wong.] Rocket Stack Rank has posted their annual compilation — "Outstanding Hard Science Fiction of 2019" — with 19 stories that were that were finalists for major SF/F awards, included in "year's best" SF/F anthologies, or recommended by prolific reviewers in short fiction.
Included are some observations obtained by changing the Highlight from Free Online to Podcasts, changing the table View by Publication and Author, and Filtering the table by awards, year's best anthologies, and reviewers.
(7) SLEEPING IN THE FACTORY. In "How Speculative Fiction Becomes Reality" on CrimeReads, Rob Hart says his 2018 novel The Warehouse has "an outside world so hostile people are forced indoors" and "an online retail merchant dominating the economy while the small business landscape is wiped out," but that when he wrote his novel he thought the future he foresaw would happen a decade from now, not in 2020.
…Instead of the slow march of climate change and the steady drip of private interest trumping public good, it was a pandemic that ground the economy to a halt in a matter of weeks. We may not be housed in giant, city-sized live-work facilities, but most of us are now living at our jobs.

And hasn't that been the whole point of the 21st century economy? Forcing you to come in sick, making you accept unpaid overtime and check your e-mail on the weekends—it was all about making it so you were always working. Even better if you barely left the office. Now you don't.

Not to say there's any fun in being right. Not with so much suffering and loss. Not with so many monumental failures in leadership. Not when facing the realization of just how fragile the system is, and how many holes there are in the safety net.
(8) THE FATHER OF HIS COUNTRY. Andrew Liptak has an interview with Matt Ruff at Reading List: "Lovecraft Country: making the best of the horror icon".
Your book came out in 2016 on the heels of a larger movement and reckoning within fandom about the role of authors of color and from marginalized communities. How does that longer history of marginalization and exclusion play into your view with the book or the world you've set up?

I knew that stuff was going on while I was writing, but history of dissatisfaction of fans of color goes back a lot further. In my research for the novel, I would be reading back issues of the Chicago Defender (the historic black newspaper in Chicago in the 1950s) to get a sense of what the issues of the day were in the black community at that time, and I would read the reviews section for movies and books and the things coming out then. A lot of it was very familiar in terms of the complaints that the reviewers had: we've got money, we want to buy movie tickets, we want to buy books, please make stuff that recognizes that we exist and that plays to us too.

The problem was that back then was that you could complain all you want it, but the only folks reading the Black press were Black folks who did not get to make decisions in Hollywood. So this dissatisfaction has always been there. It was expressed by friends of mine growing up, and there's a woman named Pam Noles, who wrote an essay called Shame that was very influential when I was thinking about Lovecraft Country, which sort of talks about her evolution as a young Black nerd. One of the things she talks about that's heartbreaking is experience going to see Star Wars for the first time and which for her as for me, was like a quasi-religious experience. But for her, it was also the moment where she finally understood what her parents had been trying to tell her about: this genre that you like doesn't really appreciate you the way you seem to think it does.
(9) BUTCHER PREVIEW. The book trailer for Jim Butcher's Battle Ground debuted at Virtual Dragon Con. The trailer was filmed back in December, concurrently with the trailer for Peace Talks, directed by Priscilla Spencer. Dragon Con also hosted a virtual cast and crew panel for both trailers: "The Dresden Files: Peace Talks Trailer Cast and Crew Panel" with Jim Butcher, Spencer, and the rest.
(10) MEDIA ANNIVERSARY.
September 8, 1973 — Star Trek: The Animated Series premiered on NBC. Featuring the voice work of the original cast with the exception of Walter Koenig which was apparently due to budget constraints. Most other voices were done by the cast but Sarek, Cyrano Jones and Harry Mudd were performed by the original actors. It would air for two seasons and twenty two episodes winning an Emmy for Outstanding Entertainment in a Children's Series for its second season. David Gerrold, Chuck Menville, D.C. Fontana and Larry Niven would write scripts as would Walter Koenig. Roddenberry decided it wasn't canon after it ended which didn't stop scriptwriters from referring to it down the years in inventive ways, i.e. Elim Garak on DS9 mentions Edosian orchids, a reference to the character Arex here who's an Edosian. (CE)
(11) TODAY'S BIRTHDAYS.
[Compiled by Cat Eldridge and John Hertz.]
Born September 8, 1925 — Peter Sellers. Chief Inspector Clouseau in the Pink Panther films which are surely genre, aren't they? Of course, he had the tour de force acting experience of being Group Captain Lionel Mandrake, President Merkin Muffley and Dr. Strangelove in Dr. Strangelove or: How I Learned to Stop Worrying and Love the Bomb. Amusingly he was involved in another of folk tale production over various mediums (film, radio, stage) including Cinderella, Tom Thumb, Mother Goose and Jack and The Beanstalk. (Died 1980.) (CE) 
Born September 8, 1932 – John Boardman, Ph.D., 88.  Physicist, fanziner, filker.  Master of Diplomacy i.e. the board game.  Treasurer of Nycon 3 (25th Worldcon).  Life Member of the Lunarians, Fan Guest of Honor (with wife Perdita) at Lunacon 41.  Officer of the Puddleby-on-the-Marsh Irregulars.  Co-founder of the Beaker People's Libation Front.  "Science for Science Fiction" in Ares.  Active in the Society for Creative Anachronism, served as Mural Herald of the East Kingdom.  To be seen in Amra, Asimov's, Locus, Riverside Quarterly, SF Review, Trumpet, Xero.  "Because you are not John Boardman, is why."  [JH]
Born September 8, 1936 – Don Punchatz.  Ninety covers, two hundred interiors for us; more outside our field.   Here are Foundation, Foundation and Empire, Second Foundation.  Here is Nightwings.  Here is Night of the Cooters.  Artbook Don Punchatz, a retrospective.  Spectrum Grandmaster.  (Died 2009) [JH]
Born September 8, 1945 — Willard Huyck, 75. He's got a long relationship with Lucas first writing American Graffiti and being the script doctor on Star Wars before writing Indiana Jones and the Temple of Doom, andbefore being the writer and director on Howard the Duck which, yes, is a Lucasfilm. It's the lowest rated on Rotten Tomatoes Lucasfilm production ever at 15% followed by Radioland Murders, the last script he'd write for Lucasfilm which would be a still dismal 24%.  (CE) 
Born September 8, 1947 – Bill Burns, 73.  Attended every Eastercon (Unted Kingdom nat'l con) since 1965.  Doc Weir Award (U.K. service award).  Best known for founding and maintaining eFanzines.com.  Fan Guest of Honour (with wife Mary) at Eastercon LX; at 77th Worldcon.  A dozen FAAn (Fan Activity Achievement) Awards. [JH]
Born September 8, 1952 – Linda Addison, 68.  For us, two dozen stories, ninety poems, in Apex, Asimov's, Dark Matter, Tales of the Unanticipated, Tomorrow, three hundred fifty all told.  Poetry editor of Space & Time, "Word Ninja" there.  B.S. (mathematics) from Carnegie-Mellon.  2002 Rhysling anthology.  First black Stoker winner; won four more.  Horror Writers' Lifetime Achievement award.  [JH]
Born September 8, 1954 — Mark Lindsay Chapman, 66. Sorry DCU but the best Swamp Thing series was done nearly thirty years ago and starred the late Dick Durock as Swamp Thing and this actor as his chief antagonist, Dr. Anton Arcane. Short on CGI, but the scripts were brilliant. Chapman has also shown up in Poltergeist: The Legacy, The New Adventures of Superman, The Langoliers and Max Headroom to name a few of his genre appearances. (CE)
Born September 8, 1958 – Danny Flynn, 62.  Hundreds of covers, computer-game illustrations, in and out of our field; biology, detective fiction, golf.  Here is the May 94 Interzone.  Here is I Will Fear No Evil (surely one of our best book titles).  Here is Wild Seed.  Artbook Only Visiting This Planet.  [JH]
Born September 8, 1965 — Matt Ruff, 54. I think that his second book Sewer, Gas & Electric: The Public Works Trilogy is his best work to date though I do like Fool on The Hill a lot. Any others of his I should think about reading? And, of course, there the adaptation of Lovecraft Country which I've not see as I don't have HBO. (CE) 
Born September 8, 1966 — Gordon Van Gelder, 54. From 1997 until 2014, he was editor of The Magazine of Fantasy & Science Fiction, (and later publisher, which he remains), for which he has awarded twice, and quite well deserved they were, the Hugo for Best Editor Short Form at Nippon 2007 and at Denvention 3.  He was also a managing editor of The New York Review of Science Fiction from 1988 to 1993, for which he was nominated for the Hugo a number of times. (CE)
Born September 8, 1975 — C. Robert Cargill, 45. He, along with Scott Derrickson and Jon Spaihts, worked on the script for Doctor Strange. More intriguingly they're writing the script for The Outer Limits, a movie based on the television show. The film, produced by MGM, will be adapted from just the "Demon with a Glass Hand" episode begging the question of what they're writing for a script given that Ellison did write the Writers Guild of America Awards  winning Outstanding Script for a Television Anthology script. (CE) 
Born September 8, 1979 – Bianca Turetsky, 41.  Three novels, four shorter stories with Courtney Sheinmel.  In the novels, illustrated by Sandra Suy, Louise Lambert buying dresses on sale from strange folk finds they take her back in time, pleasing Kirkus, Seventeen, and the Historical Novel Society.  [JH]
(12) WEARING THE HORNS. Added to the fanhistory site THEN, Ken Cheslin's 1989 piece "SADO and the 1960s Brum Group – a memoir". Curator Rob Hansen says, "This might interest a few people, if only for how much Ken Cheslin's Viking character Olaf coincidentally resembles the later 'Hagar the Horrible'."
(13) WINNING NAME. L. Jagi Lamplighter has decided her new column at Superversive SF will be called "Slice of Light", and follows the title announcement with a heartwarming preview of coming attractions. Even you heathens might enjoy this one.
(14) HALO OVER JUPITER.
(15) TEARS OF A CLOWN. "Ted Cruz, longtime fan of 'The Princess Bride,' swipes at cast members' plans to reunite to raise money for Democrats" – The Hill has the story.
Sen. Ted Cruz (R-Texas), a longtime fan of "The Princess Bride," took aim at cast members of the cult classic over the weekend after reports emerged of their plans to reunite for a fundraiser supporting Democrats in Wisconsin.

Cast members from the film will be taking part in a virtual table read for the fundraiser — which a site for the event said will feature actors Robin Wright, Cary Elwes, Mandy Patinkin and Billy Crystal.

In a tweet reacting to the news on Saturday, Cruz referred to lines from Inigo Montoya, a character portrayed by Patinkin in the 1987 film.

"Do you hear that Fezzik? That is the sound of ultimate suffering. My heart made that sound when the six-fingered man killed my father," he wrote in the tweet.

"Every Princess Bride fan who wants to see that perfect movie preserved from Hollywood politics makes it now," Cruz, who has been vocal in the past about his feelings for the film and acted out a scene from the flick when he was running for president in 2015, added….
(16) LOST AND FOUND. "Roanoke's 'Lost Colony' Was Never Lost, New Book Says" – the New York Times sifts the scholarship.
…Historians and archaeologists not involved in the recent research on Hatteras were more skeptical, saying that the evidence was inconclusive and that they wanted to see peer-reviewed work. They also said the argument was not new: The idea that the Croatoans, as the Native people on Hatteras were called, adopted at least some of the settlers has long been considered plausible.

"Sure, it's possible — why wouldn't it be?" said Malinda Maynor Lowery, a professor of history at the University of North Carolina at Chapel Hill. "People don't get lost. They get murdered, they get stolen, they get taken in. They live and die as members of other communities."

Dr. Maynor Lowery presented a similar possibility in her 2018 book on the history of the Lumbee people, the descendants of dozens of tribes in a wide region including eastern North Carolina. Despite violence by the English against Croatoan villagers, she wrote, the settlers probably took refuge with them.

"The Indians of Roanoke, Croatoan, Secotan and other villages had no reason to make enemies of the colonists," she wrote. "Instead, they probably made them kin."

The English landed into a complicated fray of conflict and shifting alliances, said Lauren McMillan, a professor at the University of Mary Washington in Fredericksburg, Va.

"They're all interfighting, and these different groups are trying to use the English against one another," she said. "The Croatoans perhaps saw the English as a powerful ally and sources of valuable new things."

Dr. Maynor Lowery, who is Lumbee, added that the "lost colony" story is itself based on the incorrect premise "that Native people also disappeared, which we didn't."

The story, she said, was like "a monument that has to come down," adding that "it's harder to dismantle an origin story than a statue."
(17) ESSENCE OF WONDER. "AI and Ethics: Professionals Speak" on the next Essence of Wonder with Gadi Evron.
Not Mute in the Winter…
In the first part of the show, we'll be discussing the potential of AI to be useful to society in general, but we'll be taking a greater look at where there are possibilities for AI to be misused or even abused if not properly handled. Our primary questions in this part of the show will be to ask where AI can be biased, how bias is introduced into AI systems, examples of attacks on AI and how these then manifest in the world. We'll be looking at the social implications of using AI in situations where previously only human judgement has been deployed and how this is spreading to encompass more decision-making processes.

Turing Test Failed, They Suspect Nothing…
Our show corner will be looking at theoretical examples of how a number of simple and sensible decisions could give rise to AI that can go from beneficial to nefarious.

Terminating Skynet…
In the second part of the show, we'll be looking will be how to ensure an ethical approach to the development and control of Artificial Intelligence. How we should go about securing AI systems and the methods of embedding ethics throughout the lifecycle of AI and its usages. We will also delve into the social vs institutional approaches to Ethical AI.
The panelists include:
Steve Orrin – Federal CTO, Intel Corp
Dr. Jim Short – Research Director, Lead Scientist and co-founder of the Center for Large Scale Data Systems (CLDS) at the San Diego Supercomputer Center.
Chloe Autio – AI Policy Lead for Intel Corp
Dr. Andrew Harding – Senior Technology and Policy Adviser at Centre for Data Ethics & Innovation for the UK Government
Tamara Zubatiy – CEO of VeriCrypt
(18) AI SPEAKS BACK. On Onion Public Radio, "Robots Inform Artificial Intelligence Researchers That They'll Take It From Here".
The A.I. research team at MIT is hailing it as a breakthrough in their field that will finally allow them to kick back and relax a little bit. We have the latest on what the now-sentient robotic life forms have planned next.
(19) THE RIGHT TO BEAR ARMS. "Realistic False Arm Dinosaur Puppet" – several different versions are available. Here's one of them.
(20) VIDEO OF THE DAY. In "Honest Trailers: Batman: Mask of the Phantasm" on Youtube, the Screen Junkies take on the fine film that entertained a "generation of latch-key kids" in the 1990s.
[Thanks to John King Tarpnian, N., JJ, Alan Baumler, Eric Wong, Mike Kennedy, Martin Morse Wooster, Cat Eldridge, John Hertz, Michael Toman, and Andrew Porter for some of these stories. Title credit goes to File 770 contributing editor of the day C.A. Collins.]