(1) UNPREDICTABLE QUESTIONS. On the 50th anniversary of the Merril Collection of Science Fiction, Speculation & Fantasy, the Toronto Public Library blog quizzes a trio of workers about their favorite memories: "Merril Collection at 50: Stories from the Spaced Out Library". This is a wonderful Q&A.
The year 2020 will go down in history for many reasons. It also happens to be a major milestone for Toronto Public Library's most far-out collection. In 1970, science-fiction author and editor Judith Merril donated 5,000 books to TPL to found the "Spaced Out Library."

…To help mark the 50th anniversary of the Merril Collection, I asked Lorna Toolis (former Collection Head), Annette Mocek (Services Specialist) and Kimberly Hull (Librarian) to reflect on their favourite items and stories from the stacks. Together, they have 88.5 years of experience working with the collection! … 

What is the strangest or most memorable patron request you ever received?

Lorna: On my first day of work, a patron ran in and demanded "that book you have on UFOs, with the chart so that people can distinguish between the ones with round lights and the ones with square lights." Other memorable questions included the Madonna of Lourdes as a UFO phenomenon, the possibility of pregnancy for vampires, Victorian era fiction involving carnivorous plants, transhumanism, etc. A recurring favourite question was the quest for H.P. Lovecraft's Necronomicon. Apocryphal books were always in demand. 

People tend not to remember the authors or titles of short stories. More patrons than I could count over the years wanted to know the title of the short story where someone travels back in time to hunt a dinosaur and kills a butterfly and everything changes. "The Sound of Thunder" by Ray Bradbury was probably the most requested short story ever. 
(2) YOUR TV GUIDE. [Item by Daniel Dern.] Season 2 of HBO's His Dark Materials starts tonight, Monday November 16.
I liked Season 1. My question: Will Lin-Manuel Miranda, playing rifle-packing aeronaut/balloonist Lee Scoreseby, get to sing, or at least say that he is not going to miss his shot?
(3) PKD THOUGHTS AND THEMES. Arthur B. analyzes the final novels and stories [Philip K.] Dick wrote from 1967 until "his transformative 2-3-74 experience" in "A Maze of Dick" at Fake Geek Boy. Quite interesting.
…This does not include A Scanner Darkly, which is properly placed among the novels written after 2-3-74; although begun in 1972, Dick would make extensive revisions to it until it was finally in a state he was satisfied with in 1976, and among those revisions were a number of additions and tweaks which worked in themes and imagery related to 2-3-74.

The Exegesis makes this explicit: Dick breaks down particular, identifiable scenes from A Scanner Darkly and directly says that he included them as a result of the experience, rather than those scenes informing the experience, and included them in a manner which was conscious and deliberate, as opposed to the inadvertent subconscious inclusion of such themes in pre-2-3-74 fiction which he occasionally believed had happened. (Those of us with more conventional understandings of cause and effect may instead conclude that the 2-3-74 experience, being a neurological incident produced by Dick's mind, naturally ended up reflecting the themes and concepts that Dick had been thinking extensively about over his lifetime.)…
(4) BISHOP MEDICAL UPDATE. Michael Bishop shared about his cancer treatment in a public Facebook post on November 13. Much more at the link.
Had my first immunotherapy infusion yesterday at Emory University Hospital Midtown. No side effects yet, and I feel better this morning than I did yesterday morning. Even if it's my imagination, I'm grateful….

One predictable side effect of my therapy, Dr. Read had told us, is a palpable energy deficit, and although it seemed too early for any such effect to kick in, I was totally dragged out by the time we got home. So I hit our bed upstairs and slept for almost two hours. All in all, a happy 75th birthday indeed.
(5) IN WORK TO COME. Editor Diana M. Pho introduces a WIRED Magazine series in "6 Sci-Fi Writers Imagine the Beguiling, Troubling Future of Work".
…Today's collaborative tension between humans and machines is not a binary divide between master and servant—who overthrows whom—but a question of integration and its social and ethical implications. Instead of creating robots to perform human labor, people build apps to mechanize human abilities. Working from anywhere, we are peppered with bite-sized names that fit our lives into bite-sized bursts of productivity. Zoom. Slack. Discord. Airtable. Notion. Clubhouse. Collaboration means floating heads, pop-up windows, chat threads. While apps give us more freedom and variety in how we manage our time, they also seem to reduce our personalities to calculations divided across various digital platforms. We run the risk of collaborating ourselves into auto-automatons.
First up, "'Work Ethics,' by Yudhanjaya Wijeratne".
"SO YOU'RE TELLING me we're going to be automated out of existence," Romesh said. "I'm telling you that what you're doing is wrong, wrong, wrong, and if you had any morals you'd shoot yourself."

The complaint was made in a bar that was mostly cigarette smoke by this point, and to a circle of friends that, having gathered for their quarterly let's-meet-up-and-catch-up thing, had found each other just as tiresome as before. Outside, the city of Colombo was coming to a crawl of traffic lights and halogen, the shops winking out, one by one, as curfew regulations loomed. Thus the drunken ruminations of Romesh Algama began to seem fundamentally less interesting….
(6) SUPPORT SUSAN PETREY SCHOLARSHIPS. Organizers Debbie Cross and Paul M. Wrigley are holding a fundraiser through eBay for the Susan Petrey Clarion Scholarship Fund, which has been helping people attend Clarion and the Clarion West Writer's Workshops since 1982.
At present we award two scholarships & one fellowship annually. Our biggest fund raiser is at the OryCon science fiction convention which should have been held this past weekend. Instead we are running an Ebay auction with books, glass & jewelry,  many quilted items & artwork. The link is below, the auction runs through  Friday. We'll ship everything but pickup in Troutdale is available.

100% goes to the charity.
(7) MEET MARVEL'S CREATORS. Marvel's Storyboards season 2 premieres today on their YouTube channel.
Marvel's Storyboards is a 12-episode non-fiction series following Joe Quesada, EVP, Creative Director of Marvel Entertainment, as he explores the origin stories and inspirations of storytellers of all mediums, backgrounds, and experiences at their favorite spots throughout New York City and beyond. The series aired its first six-episode season this past summer, and continuing this second season, will showcase a variety of visionary, critically acclaimed storytellers including Sasheer Zamata (actress, stand-up comedian and former SNL), Ed Viesturs (high-altitude mountaineer), Nelson Figueroa (former MLB pitcher for the New York Mets), Gillian Jacobs (Community, Love), Samhita Mukhopadhyay (Executive Editor, Teen Vogue), and Taboo (Black Eyed Peas), adding to the first season's featured guests Natalia Cordova-Buckley (Marvel's Agents of S.H.I.E.L.D.), Bobby Lopez (EGOT winning songwriter, Frozen, Avenue Q), Johnny Weir (former Olympic figure skater), Christian Borle (Something Rotten, Smash), Margaret Stohl (Life of Captain Marvel), and Hugh Jackman (Wolverine).
Marvel's Storyboards Season 2 Episode Release Schedule:
Monday, November 16: Episode 1 feat. Gillian Jacobs
Friday, November 20: Episode 2 feat. Sasheer Zamata
Tuesday, November 24: Episode 3 feat. Samhita Mukhopadhyay
Tuesday, December 1: Episode 4 feat. Nelson Figueroa
Tuesday, December 8: Episode 5 feat. Taboo
Tuesday, December 15: Episode 6 feat. Ed Viesturs
(8) MEDIA ANNIVERSARY.
1975 — Forty five years ago, Patricia McKillip's Forgotten Beasts of Eld would win the World Fantasy Award over Poul Anderson's A Midsummer Tempest and H. Warner Munn's Merlin's Ring.  It would the nominated for the Locus Best SF Novel and the Mythopoeic Fantasy Award as well. The wrap-around cover art was by Peter Schaumann. (CE)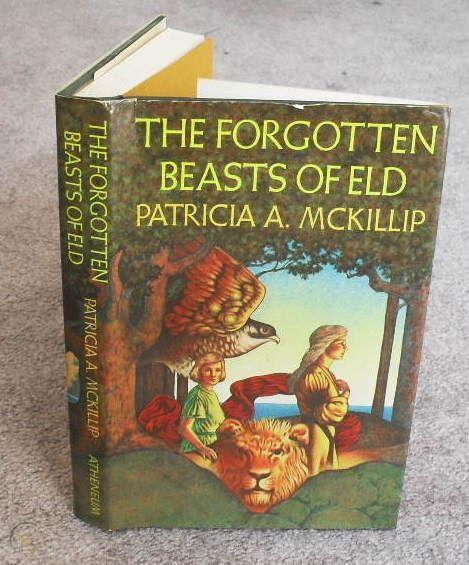 (9) TODAY'S BIRTHDAYS.
[Compiled by Cat Eldridge and John Hertz.]
Born November 16, 1862 – Edith Ogden Harrison.  Five novels, half a dozen collections, of fairy tales and other fantasy; retold Bible stories; travel; recollections.  Wife of five-term Chicago mayor, illustrated his memoirs.  The Lady of the Snows illustrated by J. Allen St. John.  (Died 1955) [JH]
Born November 16, 1907 — Burgess Meredith. Brief though his visit to genre be, he had two significant roles. The first was in Twilight Zone: The Movie as Narrator although initially he was uncredited. One of his other genre roles was a delightful take as The Penguin in original Batman series. He also shows up in Tales of Tomorrow, an anthology sf series that was performed and broadcast live on ABC from 1951 to 1953, and on The Invaders, The Twilight Zone, Faerie Tale Theatre: Thumbelina (with Carrie Fisher!) and The Wild Wild West. Did I mention he he voiced Puff the Magic Dragon in a series of the same name? Well he did.  Ok, so his visit to genre wasn't so brief after all… (Died 1997.) (CE)
Born November 16, 1942 – Milt Stevens.  Co-chaired L.A.con II the 42nd Worldcon, Westercon 33, and the first Loscon.  Fan Guest of Honor at Loscon 9, Westercon 61.  Among our finest fanwriters, in his own zine The Passing Parade and many letters of comment.  Our Gracious Host's appreciation here.  Mine here (PDF; p. 7).  (Died 2017) [JH]
Born November 16, 1950 – P.J. Evans, 70.  A frequent Filer (which tested my typo-avoiding powers).  Her adventures on an electric bendy-bus have been reported elsewhere.  Her many other adventures in fandom I have not found documented, and I won't rely on memory.  I think they included Reynolds Rat and Rat Masterson.  [JH]
Born November 16, 1952 — Candas Jane Dorsey, 68. Canadian writer who's the winner of the Prix Aurora Award and the Otherwise Award for Genre Bending SF for her Black Wine novel. She's also won a Prix Aurora Award for her short story, "Sleeping in a Box".  She's one of the founders of SF Canada which was founded as an authors collective in the late Eighties as Canada's National Association of Speculative Fiction Professionals. At the present time, she appears to have little available from the usual digital suspects. (CE) 
Born November 16, 1958 — Marg Helgenberger, 61. She's best remembered no doubt as Catherine Willows on CSI which might be treated as genre. She was Hera in the recent Wonder Woman, and also appeared in Conan: Red Nail which doesn't even get ratings on Rotten Tomatoes, Species and Species II, not to mention Tales from the Crypt. Oh, and two Stephen King series as well, The Tommyknockers and Under the Dome. (CE) 
Born November 16, 1972 — Missi Pyle, 48. Laliari in Galaxy Quest which is one of my fav SF films of all time. Let's hope that a series never comes to be.  She's also has been in Charlie and the Chocolate Factory, Percy Jackson: Sea of Monsters, A Haunted House 2, Jumanji: Welcome to the Jungle, Star Trek: The Next Generation,  Roswell, The Tick, Pushing Daisies and Z Nation. (CE) 
Born November 16, 1959 – Jessica Rydill, 61.  Five novels, three shorter stories.  Here is her own cover for Malarat (there are other editions too).  In Winterbloom actual historical figures appear, including John Dee, whom I've always thought more interesting than Aleister Crowley, but what do I know?  With Cora Buhlert, edits Speculative Fiction Showcase.  [JH]
Born November 16, 1972 – Tobe Sunaho, 48.  (Her personal name last, Japanese style.)  Illustrator and character designer.  Here is Yurusa reshi itsuwari ("Forgiven and False").  Here is Riviera.  Here are some images from Yggdra Unison (or Union).  Here is a Halloween greeting.  Here is an image from Shiueru's Web.  [JH]
Born November 16, 1976 — Lavie Tidhar, 44. The first work I read by him was Central Station which was the2017 John W. Campbell Memorial Award for Best Science Fiction Novel winner. It certainly deserved that accolade! The next work by him I experienced was The Bookman Histories in which Mycroft Holmes is murdered and, well, everything of a pulp nature gets tossed into alternate history England.  Both brilliant and annoying at times. I've just read Unholy Land, his telling of the founding of a Jewish homeland long ago in Africa, and I've got By Force Alone, his profane Arthurian retelling, on my TBR list. (CE) 
Born November 16, 1977 — Gigi Edgley, 43. Though her genre experiences are varied, I think she'll be only remembered for her role as Chiana, a Nebari who was a member of Moya's crew on Farscape. Other genre appearances include Beastmaster, The Lost World, Quantum Apocalypse and she has a role in the video fanfic Star Trek Continues in the "Come Not Between the Dragons" episode. (CE) 
Born November 16, 1988 – Samantha Bailly, 32.  Six novels for us, three shorter stories; nine other novels, three collections, manga.  Imaginales de Lycéens prize for her first novel Oraisons (French, "prayers") at age 19.  [JH]
(10) COMICS SECTION.
Broom Hilda almost immolates some visitors to a small planet.
(11) TA-NEHISI COATES' BLACK PANTHER RUN RETURNS. Ta-Nehisi Coates resumes his run on Black Panther in February. Featuring outstanding art by Daniel Acuña and Ryan Bodenheim, Black Panther #23 will continue to reveal Coates' grand vision for the character of King T'Challa and the Kingdom of Wakanda.
Since taking over as writer in 2016, the acclaimed author has taken Black Panther and Wakanda to the stars and beyond. Across the multiverse, T'Challa discovered an alternate Wakanda, one ruled far differently than his own. Having abandoned their once peaceful ways, this Intergalactic Empire of Wakanda will stop at nothing to rule all of the cosmos. After initially being enslaved by the empire and then joining a rebellion against it, T'Challa has finally made his way back to Earth, but this twisted reflection of Wakanda is not far behind…

…Said editor Wil Moss, "I promise, these last three issues will be worth the wait — Ta-Nehisi and Daniel have been building to this finale for over two years now, and the ensuing battle between the forces of T'Challa's Wakanda and Emperor N'Jadaka's Intergalactic Empire is going to knock your socks off! Just wait'll you see who shows up to help defend Wakanda…"
(12) NOT MANDALORIAN RFD. Yahoo! Life invites everyone to "Watch Bryce Dallas Howard's sweet homage to her dad in last week's Mandolorian". (Luckily my first thought was wrong, that we were going to see a green Opie.)
This weekend, Baby Yoda wasn't the only endearing Child of a doting father to turn up on The Mandalorian. Episode director Bryce Dallas Howard took the opportunity to remind the world—well, at least to remind Apollo 13 fans—that she, like Baby "The Child" Yoda, has a dad.

…Given the opportunity to pay a little homage to one of her dad's better-known flicks, it seems that Bryce Dallas Howard couldn't resist. And yes, technically this is her second go-round as one of The Mandolorian's directors, but here she was given a chance to nod to Apollo 13 in a way that's absolutely suited to the story she was telling. Miss the reference and it's still a cool sequence.
(13) GIVE OR TAKE A COUPLE YEARS. Jacke Wilson's The History of Literature podcast arrives at last at "The Real Golden Age of Science Fiction".
In Part Two of our look at great literary genres, Jacke probes the development of science fiction, from ancient Greek travels to the moon to the amazing stories of the 20th century. Along the way, he chooses four candidates for the Mount Rushmore of Science Fiction, reads a passage from science fiction's O.G., and sees if there is a secret to science fiction that he can discover.

Jacke Wilson: …[Hugo Gernsback] had a tumultuous career as a publisher and a lousy reputation in the industry. Writers couldn't stand him. They thought he ripped them off. They thought he was a crook. He was a little sleazy. He didn't pay writers well and he stole their rights. He himself tried writing stories and the results were not good. But his magazine, that first magazine especially, Amazing Stories, was transformative. There's no denying that the stories in the magazine are what launched the genre as we know it today. These magazine stories led to the Golden Age of Science Fiction. They were there for a whole generation of young people to discover.

That's sort of the joke about the Golden Age of Science Fiction. They say, what's the Golden Age of Science Fiction? Answer: 14. Get it? We call the '30s and '40s and '50s the Golden Age as magazines thrilled readers with stories about space travel and time travel and nuclear power and everything else. And this was the era of World War II and the Cold War, and we had Sputnik and all of that to fill the need of science, fill the gap that that our confusion and fear about the world was putting into place thanks to our existential threat. Well, science was there to fill that gap, and science stories were there, too.

But 14 is the Golden Age. That's what people say when they tell this joke. The Golden Age is that these stories hit you when you're 14, when you're looking for answers, looking to absorb reality, looking to make sense of it, and looking for something else, too—which is what I'll save until the end.
(14) STATION-TO-STATION. "SpaceX launches 2nd crew, regular station crew flights begin" – the AP has the story.
SpaceX launched four astronauts to the International Space Station on Sunday on the first full-fledged taxi flight for NASA by a private company.

The Falcon rocket thundered into the night from Kennedy Space Center with three Americans and one Japanese, the second crew to be launched by SpaceX. The Dragon capsule on top — named Resilience by its crew in light of this year's many challenges, most notably COVID-19 — reached orbit nine minutes later. It is due to reach the space station late Monday and remain there until spring.
(15) NEW WONDER. Maria Andreeva, in the Deadline story "'Wonder Girl' TV Series With Latina Lead From Dailyn Rodriguez & Berlanti Productions In Works At the CW" says that "Wonder Girl," based on characters developed by Joelle Jones for DC Comics, is currently in development at the CW.,
…This would mark the first Latina superhero title character of a DC TV series. Rodriguez, who is the daughter of Cuban immigrants, is executive producing with Berlanti Prods.' Greg Berlanti, Sarah Schechter and David Madden. Berlanti Productions produces in association with Warner Bros. Television.

The series tells the backstory/origin story of the DC Comics character of Yara Flor, who was recently revealed as a new Wonder Woman. Yara will make her comic book appearance this January in Future State: Wonder Woman, part of DC's Future State event written and drawn by Jones.
(16) GENE-IUS. "Uh-Oh, Scientists Used Human Genes to Make Monkey Brains Bigger" reports Yahoo! Finance.
In an experiment that could portend a real-life Planet of the Apes situation, scientists spliced human genes into the fetus of a monkey to substantially increase the size of the primate's brain. And it worked.

Researchers from Germany's Max Planck Institute of Molecular Cell Biology and Genetics in Germany and Japan's Central Institute for Experimental Animals introduced a specifically human gene, ARHGAP11B, into the fetus of a common marmoset monkey, causing the enlargement of its brain's neocortex. The scientists reported their findings in Science.

The neocortex is the newest part of the brain to evolve. It's in the name—"neo" meaning new, and "cortex" meaning, well, the bark of a tree. This outer shell makes up more than 75 percent of the human brain and is responsible for many of the perks and quirks that make us uniquely human, including reasoning and complex language.
(17) VIDEO OF THE DAY. In "Star Trek: Into Darkness Pitch Meeting" on Screen Rant, Ryan George explains the reason Spock throws a cold-fusion machine into a volcano early in the film "was because it has 'cold' in the title."
[Thanks to Andrew Porter, Michael Toman, Mike Kennedy, John Hertz, Martin Morse Wooster, Cat Eldridge, John King Tarpinian, Daniel Dern, and JJ for some of these stories. Title credit belongs to File 770 contributing editor of the day Andrew (not Werdna).]