(1) YOUR 1962 HUGO WINNERS. The Traveler at Galactic Journey spent Labor Day Weekend in Chicago engaged in fandom's favorite pastime of complaining about the Hugo winners, like that gosh-darned Heinlein novel, Stranger in a Strange Land: "[Sep. 4, 1962] Differences of opinion (the 1962 Hugo Awards!)"
This line-up shouldn't shock me, given the pre-convention buzz, and yet it does.  Stranger has gotten a lot of attention, particularly from the mainstream edges of our fandom (probably because it dares to mention sex).  It has also earned its fair share of scorn.  It's a lousy, preachy book, but if we're judging by the sales, then it's won its trophy, fair and square.
He hates Brian Aldiss' winning works too! (Quick, the fainting cloths!)
I did give a Star to the first story in the Hothouse series, but the quality of the tales went down over the course of the publication.  I understand they were novelized early this year, so Aldiss may get another bite at the apple.  He doesn't deserve it, though (the reviewer for UK sf digest, New Worlds, agrees with me).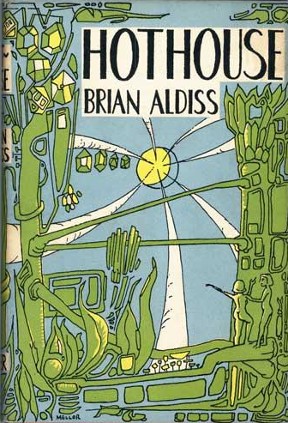 (2) HANDMAID REX. Mari Mancusi saw something strange:
The handmaids were at the DragonCon parade. I'm a little concerned by the look of one of them…
(3) MORE SURPRISES. Here's Atlanta Loop's photos of the rest of the parade. Wait a minute – Jane Yolen was there?!?
Literary Guest of Honor and author of "The Devil's Arithmetic," Jane Yolen, waves to the crowd as she rides in the annual Dragon Con Parade. Photo: Jonathan Phillips
(4) SORRY, SON. Did you remember Indiana Jones has a son? Me neither. And no need to start remembering — Entertainment Weekly says "Indiana Jones 5 won't feature Shia LaBeouf's character".
Will an Indiana Jones protege soon snatch the iconic wide-brimmed fedora from atop Harrison Ford's head? Perhaps, but it won't be Mutt Williams — a.k.a. Indy's son, Henry Jones III — the character Shia LaBeouf played in 2008's Kingdom of the Crystal Skull.

"Harrison plays Indiana Jones, that I can certainly say," screenwriter David Koepp, who has penned a script for the fifth film in the storied Indiana Jones franchise, tells EW. "And the Shia LaBeouf character is not in the film."
(5) EATING THE FANTASTIC. Scott Edelman invites everyone to "Chow down on Tortellini Carbonara with James Patrick Kelly" in Episode 46 of Eating the Fantastic.
James Patrick Kelly is a Hugo and Nebula Award-winning writer who recently published a career short story retrospective as part of the Centipede Press Masters of Science Fiction series. And had I not been turned down by the Clarion Science Fiction Writers Workshop in 1974, I might have shared a dorm room with him! (But don't worry. I was accepted in 1979.)

We discussed the reason he needed to attend the Clarion Science Fiction Workshop twice—and why the rules were then changed so no one could do it again, the suggestion Kate Wilhelm made that saved one of his short stories, why his reaction to comics as a kid was "Marvel, yes, DC, feh," how the science fiction field survived the Cyberpunk/Humanist wars of the '80s, why he takes an expansive view of fanfic, how Cory Doctorow inspired him to enter the world of podcasting early, what allows him and frequent collaborator John Kessel to work together so well, his advice for how writing 10 endings to a story in progress will help writers find the right ending, and more.
(6) GEEKWIRE. Frank Catalano returns with the second podcast in his GeekWire special series on science fiction, pop culture and the arts.
This time, I interview SFWA President Cat Rambo about the new game writer's Nebula Award, consider the importance of awards in a crowd-sourced recommendation landscape, revisit the Puppies controversy in light of last month's Hugo results (you'll recall I wrote about the Puppies for GeekWire two years ago), and get some advice for wanna be writers.
The story (focused on the game writing Nebula) with a link to the full podcast is here: "Game writers to be honored with Nebula Award in first for professional science fiction and fantasy org".
SFWA President Cat Rambo says the organization began admitting game writers as members last year, and announced a Best Game Writing award category for 2018 to cover works published this year.

"I would think that one of the things a Nebula imprimatur would mean for a game is that it is a game that really has some story to it," Rambo said. "That it's a game that can achieve that sort of immersive wonderful experience that only text can bring."

Rambo, a Seattle writer who is in her second term as SFWA president, sat down with GeekWire for this episode of our new podcast series on science fiction, pop culture, and the arts. Rambo has written more than 200 short stories and been nominated for the Nebula and World Fantasy Awards. Her stories are most recently collected in Neither Here Nor There (Hydra House) and Altered America: Steampunk Stories (Plunkett Press)….
Catalano says, "I have to admit, I'm enjoying mining my science fiction writing background. (And I do provide a full disclosure disclaimer early in the podcast interview that I am a former officer of SFWA, and still-active member.)"
(7) NO BUCK ROGERS, NO BUCKS. The iconic sf character is only making money for lawyers right now: "'Buck Rogers' Ownership at Center of Coming Trial". Two rival estates want those bucks for their own.
The lawsuit is between descendants of author Philip Francis Nowlan, who created the fictional space explorer in the 1920s, and descendants of John Flint Dille, whose newspaper company once syndicated a Buck Rogers comic strip. On Friday, a Pennsylvania federal judge wrote the latest chapter in a long-running contest over rights with a decision that sets up a forthcoming trial over ownership….

"Although the question of whether the commercial success of Buck Rogers owes more to John F. Dille or Philip F. Nowlan is surely of great interest to the parties, and to Buck Rogers fans, it is simply irrelevant to the trademark questions that the trier of fact must answer here," writes the judge.

The first big trademark question is who had priority on "Buck Rogers." Who came first to claim "Buck Rogers" as their own? Not Nowlan or Dille, but rather their respective trusts. The Dilles no longer have a valid federal registration, so they must establish prior use of the mark in a way sufficiently public to be identifiable in the minds of the public.

Beetlestone writes that "there is a genuine issue as to whether Plaintiff can establish priority of use in the BUCK ROGERS mark. It must be noted that it is not necessary for Plaintiff to trace its claim to the BUCK ROGERS mark back to John F. Dille or Philip F. Nowlan. Instead, Plaintiff need only point to evidence from which a trier of fact could conclude that it developed trademark rights in the mark prior to January 15, 2009."

That's the date the Nowlans filed an intent-to-use trademark application.

The judge notes that the Dilles held registrations on "Buck Rogers" in the 1980s and had licensed those rights for games, comics and books.
(8) CANDID GIZZARD. The BBC reports "Scientists have developed a camera that can see through the human body".
Scientists have developed a camera that can see through the human body.

The device has been designed to help doctors track medical tools, known as endoscopes, during internal examinations.

Until now, medics have had to rely on expensive scans, such as X-rays, to trace their progress.

The new camera works by detecting light sources inside the body, such as the illuminated tip of the endoscope's long flexible tube.
(9) BREW HAULER. A true fan: "German waiter smashes beer carrying record – again". Video at the link.
Oliver Struempfel spent months of training to carry as many full one-litre mugs as possible for a distance of 40m.
(10) TODAY IN HISTORY
September 4, 1966 – Gene Roddenberry showed Star Trek's "Where No Man Has Gone Before" at Tricon, the Worldcon in Cleveland, OH.
September 4, 1975 — Space:1999 premiered in the U.S.
(11) COMICS SECTION. John King Tarpinian will remember why he recommended this one in a moment: Speedbump.
(12) SECOND VICTIM IDENTIFIED. The Atlanta Journal-Constitution has published the name of the second woman injured by chairs thrown from the Atlanta Marriott early Sunday morning during Dragon Con:
Jamie Temple-Thompson Amador, who was dressed as Jessica Rabbit from the movie "Who Framed Roger Rabbit," was rushed to Wellstar Atlanta Medical Hospital, friend Jennifer Matteson told The AJC.

Both women have been released from their hospitals.

Mattheson said she and Amador drove from Louisiana for their first Dragon Con.

All in all, Matteson said their experience was still positive from the "phenomenal" hotel hospitality to the community.

"The love and support from the Dragon Con family is heart warming to say the least," Matteson said. "We can't wait to return for an even better experience, and reconnect with our new Atlanta family!"
(13) DRAGON AWARDS. At Women Write About Comics, Doris V. Sutherland says "2017 Dragon Awards Are No Longer Puppy Awards". My mileage may vary.
Despite its recent vintage, the Dragon Awards already have a rocky history. Last year, the awards largely reflected the tastes of a very specific voting bloc: namely, supporters of the Sad Puppies and Rabid Puppies campaigns that formed to counter perceived left-wing bias at Worldcon's Hugo Awards.

This led to such ludicrous situations as Brian Niemeier, a Puppy-aligned author, campaigning for his little-known space opera Souldancer to be voted into the Best Horror category for tactical reasons — and winning. L. Jagi Lamplighter, who edited Souldancer and became a finalist this year for her YA novel Rachel and the Many Splendored Dreamland, acknowledged the Puppies' influence on the Dragon Awards results in 2016: "Puppy fans were eager to vote in a new award and may have been more vigilant than general fans who didn't necessarily know about the Dragon Awards ahead of time." Other authors from the Puppysphere, meanwhile, insisted that the Dragons were evidence of their mass popularity with the wider fandom.

However, it seems the farce of the 2016 Dragon Awards can now be consigned to the dustbin of fandom history. The 2017 Dragons have received a much higher turnout of voters and, all in all, they have done a considerably better job of living up to their stated aim of offering "a true reflection of the works that are genuinely most beloved by the core audience."

This year, the one victory from the Puppy circles was earned by Larry Correia and John Ringo's Monster Hunter Memoirs: Grunge, which won Best Fantasy Novel. Correia was the founder of the Sad Puppies campaign and is almost certainly the most popular author to be aligned with the movement, so his success here should not come as too much of a surprise.
(14) NIEMEIER ON DRAGON AWARDS. It's kind of like watching a dog take a victory lap with one leg lifted.
The 2017 Dragon Awards have officially hammered the last nail into the SF SJWs' coffin.https://t.co/wsTHBvN2dJ pic.twitter.com/cpJ4p4xP0w

— Brian Niemeier (@BrianNiemeier) September 4, 2017
(15) LOOK OUT. Kevin Standlee got splashed – uh, with vitriol, that is: "They Doth Protest Too Much Methinks".
I (probably unwisely) tried to ask some of the people crowing over how the recent Dragon Awards are the Best Awards Evar and that The Hugo Awards are dead, dead, dead because of course the only Real Awards are the Dragons, etc., asking why they thought an award that allowed someone with a bit of internet savvy the ability to vote potentially hundreds of times was a good thing, and the amount of vitriol sent my way was, well, not surprising, really. I'm sort of wondering if these people simply assume that everything is corrupt and everyone is on the take. They assumed, after all, that the Hugo Award results were rigged by a Secret Cabal. They don't care of their pet system is rigged or flawed, as long as they Get What They Want. It's sort of like the people who were quoted as saying they didn't care if the last American Presidential election was corrupted, because Their Guy Won, and that's all that matters.
(16) BACK FROM HELSINKI. Susanna Shore adds to the legion of Worldcon 75 reports in "My #worldcon75 experience":
The first panel was called Bad Romance. I'd chosen it because I write romance and I don't want to write it badly, but also because Max Gladstone was on it. He doesn't strike me as a romance writer, but I like his Craft Sequence fantasy series and wanted to hear him. He turned out to be worth the queuing.

The panel had a hiccupy start as the chair didn't show up, but a member of the audience volunteered to moderate. She turned out to be Julia Rios, who had won a Hugo Award the previous night for Uncanny Magazine and had partied till four in the morning, but she still managed to be a great moderator. Not only did she keep the conversation flowing, she also managed to live tweet the panel. As a whole, the panel was good and funny, though I didn't learn anything I hadn't known before.
(17) MARVEL'S INHUMANS. Sneak peek.
[Thanks to JJ, Mark-kitteh, Chip Hitchcock, Andrew Porter, Cat Eldridge, and John King Tarpinian for some of these stories. Title credit goes to File 770 contributing editor of the day Steve Davidson.]