(1) EATING THE FANTASTIC EPISODE 200! To celebrate reaching this milestone Scott Edelman invites listeners to join J. Michael Straczynski for breakfast on Episode 200 of the Eating the Fantastic podcast.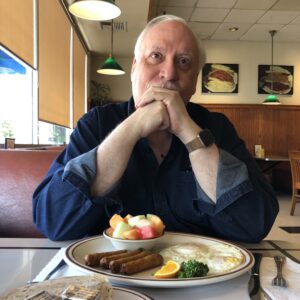 Wait, what? It's Episode 200 of Eating the Fantastic? Really? That number shouldn't seem so unbelievable, because Eating the Fantastic is, after all, my podcast, and I've been responsible for every episode, and yet … it still is. My guest for Episode 200 is J. Michael Straczynski, who took time out of his extremely busy schedule to chat and chew with me just as last month's Nebula Awards weekend was kicking off.

Straczynski is perhaps best known as the creator of the television series Babylon 5, for which he wrote 92 of the 110 episodes. His roles in TV prior to that include acting as story editor on Captain Power and the Soldiers of the Future, executive story editor on the new Twilight Zone, co-producer for Murder, She Wrote, and many others. And after Babylon 5 came its spinoff Crusade, as well as the series Jeremiah and Sense8. He also wrote Amazing Spider-Man from 2001 to 2007, plus extended runs on Thor and the Fantastic Four. In recent years, he's published the autobiography Becoming Superman (2019), the novel Together We Will Go (2021), and Becoming a Writer, Staying a Writer (2021). He is also the executor for the estate of Harlan Ellison, someone whose name popped up frequently during our conversation.

We discussed his appearance on one of the greatest convention panels I've ever been privileged to witness, why Superman stood out above all the other superheroes of his youth, his epiphany which occurred the night before the premiere of Changling at the Cannes Film Festival, the low boredom threshold of Harlan Ellison, how Norman Corwin's ability to overcome bitterness about the Blacklist helped him deal with his own demons, his realization there was something more important about writing than either plot or characters (and what that something is), the tendency of humans to sleepwalk through our lives and what can shake us free from that, the life-changing nature of the "shoelace moment," why DC Comics would never have dared publish anything as political as Captain America #1, the reason you don't ever have to worry about him eating off your plate, the early encouragement he received from Rod Serling, and so much more.
(2) AN INDEX TO S&S CHARACTERS. Christopher Rowe has compiled a listing of contemporary sword and sorcery series characters and where to find their adventures. He includes two by Cora Buhlert: "Sword and Sorcery Reviews: Contemporary Sword and Sorcery Series Characters".
(3) GET READY FOR FATHER'S DAY. Steve Vertlieb "My Father, Myself" points to "the very special tribute that I wrote for my beloved dad, Charles Vertlieb for Father's Day a couple of years ago."
Dad, I love you, and I miss you more and more with every passing day. I live in the sweet shadow of your goodness, and am but a tender reflection of your own humble purity. Wishing you a Happy Father's Day in paradise.
(4) WRITE-A-THON TIME. Clarion West is taking registrations for the annual Write-a-Thon, which will run from June 25 to August 5. Donations are welcome — it's their biggest fundraiser of the year.
The Write-a-thon is a time of year we set aside to focus on our wider writing community: participants set writing goals for themselves, create personal Write-a-thon pages, and write!
Achieve your writing goals
Meet other writers in our online affinity groups
Level up your writing with our weekly writing prompts
Join sprints and writing sessions online
Exclusive access to writing classes and webinars
No cost, no obligations
Anyone, at any level, can participate in the Write-a-thon, an opportunity to write alongside the Six-Week Workshop participants.

You can use the Write-a-thon to set personal goals in writing. You can cheer others on, meet fellow writers, and raise funds for Clarion West. The Write-a-thon brings together CW alumni, instructors, and new friends from around the world in one big happy puddle of writerly support.
(5) YOUNG PEOPLE READ OLD SFF. James Davis Nicoll unleashes the Young People Read Old SFF panel on a Hugo winner by James Patrick Kelly.
June 2023s' Young People Read Old Hugo Finalists story is James Patrick Kelly's ​"Rat," first published in the June 1986 The Magazine of Fantasy & Science Fiction. Kelly, who first debuted in the 1970s1, has an impressive body of work, always worth seeking out. His fiction has been nominated for a wide variety of awards. ​"Rat", for example was both a Hugo2 and Nebula finalist3.

In the ancient and now utterly irrelevant struggle between the so-called Cyberpunks and the so-called Humanists, Kelly was often lumped in the Humanists. Simple categorization is often misleading; ​"Rat" fits nicely into the Cyberpunk genre. Let's see what our Young People made of it…
(6) MEMORY LANE.
2021 – [Written by Cat Eldridge from a choice by Mike Glyer.]
Ryka Aoki is an amazing individual. She says on her on her most excellent blog that notes she's a poet, composer, teacher, and novelist.
Genre wise, her works are not that many. One novel, Light from Uncommon Stars which is where our Beginning comes from, and short piece of fiction, "The Gift".
She's won an Otherwise Award which was in the category for gender-bending SF.
Light from Uncommon Stars was nominated at Chicon 8 for an Award and for a Mythopoetic and Ignyte Awards as well.
Here's our Beginning…
Shhh …
Yes, it hurt. It was definitely not just a bruise. Yes, she was scared. Her throat was raw from screaming.
Cautiously, Katrina Nguyen felt under her bed.
Girl clothes. Boy clothes. Money. Birth certificate. Social security card. Toothbrush. Spare glasses. Backup battery. Makeup. Estradiol. Spironolactone.
Katrina had made an escape bag the first time her father threatened to kill her.
At first, the bag seemed an "in case of emergency," a glass that one would never break.
But after tonight …
Why had she let it come to this? Why couldn't she be what her parents wanted?
Part of her was in a panic. What have you done? Apologize. Knock on their door right now. Say it's all your fault—say you're sorry, say you'll promise to change.
But another, stronger, part of Katrina was calm, even cold.
You have to escape. Tonight. Breathe, be quiet, and listen.
And so, Katrina listened … for footsteps, for breathing, for sleep. She listened, and listened. Through the dark, she heard her mother's one last cough. Her father's one last flush.
And then, finally, there was silence.
Katrina clutched her ribs, then propped herself up. The pain was sharp, but manageable. She was in her room, behind a locked door. All she needed to do was be quiet. And calm. She could do this.
She could do this.
(7) TODAY'S BIRTHDAYS.
[Compiled by Cat Eldridge.]
Born June 16, 1896 — Murray Leinster. It is said that he wrote and published more than fifteen hundred short stories and articles, fourteen movie scripts, and hundreds of radio scripts and television plays. Among those was his 1945 Retro Hugo-winning novella "First Contact" which is one of the first (if not the first) instances of a universal translator in science fiction. So naturally his heirs sued Paramount Pictures over Star Trek: First Contact, claiming that it infringed their trademark in the term. However, the suit was dismissed. I'm guessing they filed just a bit late. (Died 1975.)
Born June 16, 1920 — T.E. Dikty. In 1947, Dikty joined Shasta Publishers as managing editor. With E. F. Bleiler he started the first Best of the Year SF anthologies, called The Best Science Fiction, that ran from 1949 until 1957. He was posthumously named to the First Fandom Hall of Fame in a ceremony at the 71st World Science Fiction Convention. (Died 1991.)
Born June 16, 1924 — Faith Domergue. Dr. Ruth Adams in the classic Fifties film This Island Earth. She has a number of later genre roles, Professor Lesley Joyce in It Came from Beneath the Sea, Jill Rabowski in Timeslip (aka The Atomic Man) and Dr. Marsha Evans in Voyage to a Prehistoric Planet. She amazingly did no genre television acting. (Died 1999.)
Born June 16, 1938 — Joyce Carol Oates, 85. No Hugos but she has garnered a World Fantasy Award in Short Fiction for "Fossil-Figures", and has won more Stokers than I thought possible, the latest one for her most excellent collection of horror and dark fantasy stories, The Doll-Master and Other Tales of Terror. She has written pure SF in the form of Hazards of Time Travel which is quite good.
Born June 16, 1939 — David McDaniel. He wrote but one non-media tie-in novel, The Arsenal Out of Time, but most of his work was writing The Man from U.N.C.L.E. novels, six in total, with one, The Final Affair, which was supposed to wrap up the series but went unpublished due to declining sales but which circulated among fandom. He also wrote a Prisoner novel, Who is Number 2? And he wrote several filk songs, including "High Fly the Nazgul-O" and "The Mimeo Crank Chanty". As a fan, he was quite active in LASFS, serving as its Director and Scribe, writing for various APAs (he aspired to be in all of them) and is remembered as a "Patron Saint" for his financial support of the club. (Died 1977.)
Born June 16, 1940 — Carole Ford, 83. She played the granddaughter and original companion of the First Doctor. She reprised the role for The Five Doctors, the Dimensions in Time charity special, and of course for The Five(ish) Doctors Reboot. Her first genre role was as Bettina in The Day of the Triffids, and she had an earlier role as an uncredited teen in the hall of mirrors in Horrors of the Black Museum.
Born June 16, 1972 — Andy Weir, 51. His debut novel, The Martian, was later adapted into a film of the same name directed by Ridley Scott. He received the Astounding Award for Best New Writer at MidAmeriCon II. His next two novels are Artemis and Project Hail Mary. Intriguingly, he's written one piece of Sherlockian fan fiction, "James Moriarty, Consulting Criminal" which is only available as an Audible audiobook. Project Hail Mary was nominated for a Hugo Award at Chicon 8.
(8) COMICS SECTION.
(9) CARRIE FISHER'S FINALE. [Item by Mike Kennedy.] Carrie Fisher's last movie (for which her work was completed shortly before her death) is to be released theatrically followed by digital release. It's billed as a coming-of-age modern-day fairytale. "Carrie Fisher's Final Movie to Be Released in Theaters, More Than 7 Years After Her Death" at People.
…The film distributor is planning a limited theatrical release for the movie at AMC Theatres before it releases digitally, beginning Friday, June 23. Wonderwell also stars Rita Ora, Nell Tiger Free, Sebastian Croft and Kiera Milward….

The movie follows a girl named Violet (Milward) who is brought to "a mysterious portal" near a medieval Italian village by Fisher's character Hazel, who offers "a glimpse of what [Violet's] future might hold" after Violet and her family travel to the village for her sister's modeling opportunity, according to the outlet….
(10) WHAT ARE THE FAVORITE MOVIES OF THE DC EXTENDED UNIVERSE? With the premiere of The Flash this week JustWatch decided it is time for a definitive ranking of DC Extended Universe movies.
So far fans have had the opportunity to see 13 films, and the most favorite turned out to be The Suicide Squad accounting for 17.45% of the popularity. Thus, the standalone sequel became 3.5x more popular than Suicide Squad, which landed in 8th place. On the cinematic superhero podium, two remarkable entries also shone brightly: the empowering Wonder Woman and Zack Snyder's Justice League.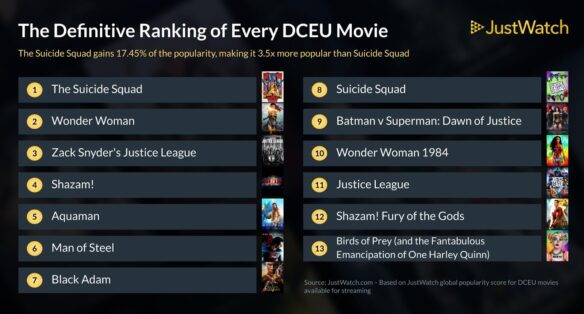 (11) TAILS OF TERROR. "The Fish That Ate Our Ancestors" – Discover Magazine knows how to catch my attention. Here's the opening of the article – more details at the link.
As life was first struggling to set foot on land in the Late Devonian Period, there was a predator waiting to snatch it back to the depths: the recently discovered Hyneria udlezinye, a toothy prehistoric fish estimated to have reached up to 9 feet long.

It represents the largest monster fish yet uncovered from this period and appears to have lurked in the brackish waters of the modern-day Waterloo Farm site in South Africa, in wait for its prey. An excavation exposed a wall of fossils there in 2016, during road construction, and led to this and a number of other discoveries, including the fossil of an early tetrapod, the massive fish's likely prey. These early genetic forebears of modern human resembled large salamanders or small alligators and walked on four feet (thus tetrapod)…
(12) BEYOND AT EASE. If you snooze you don't lose! "The 5-step 'military method' for falling asleep in minutes" at Big Think.
So, what is this magic technique? Below we lay out the military method's steps to a good night's sleep. It's deliberately designed to be easy and efficient, so anyone can start tonight.

Relax your face. Focus on your forehead, your eyes, your cheeks, your jaw, and so on. Feel the tension held in them and consciously push it away.

Drop your shoulders. Let your arms flop down and your shoulders relax. Imagine there is a soft, warm wind gently pushing your arms down.

Take a deep breath. Slowly inhale and let it out. As you do so, focus on how it relaxes your stomach. Don't try to hold your stomach in; let it all out.

Relax your legs. The warm wind is back, and this time it's gently easing your legs down. Let your legs sink into the bed or the floor. They are leaden, and the bed is soft.

Clear your mind. There are a few ways to do this. For instance, try to visualize some calming images, like lying by a flowing river or staring at the clouds. If that doesn't work, try saying the words "don't think" over and over for about 10 seconds. If you get distracted, don't get angry; just pull your mind back to one of those two techniques….
(13) VIDEO OF THE DAY. This is an Honest Trailer about the Flash, but not the latest edition: "Honest Trailers: The Flash (90's)".
[Thanks to Chris Barkley, Michael Toman, Cat Eldridge, SF Concatenation's Jonathan Cowie, Kathy Sullivan, Scott Edelman, Mike Kennedy, Andrew Porter, and John King Tarpinian for some of these stories. Title credit belongs to File 770 contributing editor of the day Andrew (not Werdna).]