(1) CHANGES IN PUBLISHING. Pete Kahle of Bloodshot Books is stepping down from publishing and Joe Mynhardt of Crystal Like Publishing is stepping in to help Bloodshot Books's authors by offering them all a new home at Crystal Lake — or offering them the option to simply take their rights back if they prefer. See "Big Publishing News" on the Crystal Lake Publishing website.
Anyone who knows me [Joe Mynhardt] knows that I'm a big supporter of great books and great authors. I believe in the power of stories, and want to give my all to the genre fiction community.

So whenever I see authors or even a publisher in need, I reach out. Sometimes it's to help publishers end things on the best of terms, and other times to help authors find a new home for their books.

That's why I made the decision to step in and offer all the authors at Bloodshot Books a new home at Crystal Lake Publishing. I'm familiar with most of the authors there (yip, I always keep an eye on talented authors), and some of the actual books. Plus, I know Pete Kahle at Bloodshot Books has a great eye for talent. Unfortunately Pete has to step down from publishing, so this is our way of helping him and the 40+ authors involved.

We have given all the authors the option to take their rights back, in case they want to sub elsewhere or self-publish, but I'm confident that Crystal Lake is a great publishing house. We're trustworthy, pay on time, and hell, we've been around for over 10 years. Which is almost impossible in this industry.

If any Bloodshot Books authors are reading this and you haven't received our emails (there are a few authors we're struggling to get a hold of), please message me. Even if you're not interested, you'll need a rights reversion letter from us.
The essence of why Pete Kahle would be stepping down can be discerned in Brian Keene's "An Open Letter to Pete Kahle of Bloodshot Books" from last December.
(2) GET READY BEAGLE FANS! The Essential Peter S. Beagle, which celebrates the storied career of the bestselling author of The Overneath, Summerlong, and The Last Unicorn, will be released May 16 by Tachyon Publications. They will begin taking preorders on April 11 starting at noon Pacific time.
In addition to the two-volume trade editions, Tachyon Publications has announced single-volume, lettered and numbered limited editions. See details at the link.
Beagle, one of America's most influential fantasists, continues to evoke glowing comparisons to such iconic authors as Twain, Tolkien, Carroll, L'Engle, and Vonnegut. From heartbreaking to humorous, these tales show the depth and power of Beagle's incomparable prose and storytelling.

Featuring original introductions from Jane Yolen (The Devil's Arithmetic) and Meg Elison (Find Layla), and gorgeous original illustrations from Stephanie Law (Shadowscapes), The Essential Peter S. Beagle is a must-have for any fan of classic fantasy.
(3) MATTER HERE, MATTER THERE. James Davis Nicoll takes us to "Five SF Futures Where Teleportation Is Possible (But Not Necessarily Safe)" at Tor.com.
Few headlines thrill like "'Counterportation': Quantum breakthrough paves way for world-first experimental wormhole." The article itself delivers, raising the possibility that "disembodied transport (…) without any detectable information carriers" may prove to be physically realizable.

Teleportation by another name is still teleportation….
First on his list is —
All the Colors of Darkness by Lloyd Biggle, Jr. (1963)

The Universal Transmitting Company has a simple dream: provide the Earth of the mid-1980s with facilities that would allow travellers to step from city to city or continent to continent in a single stride. The business would be instantly profitable and the founders able to sit back and rake in the dough.

This elegant plan is straightforward in concept. In practice, the project has met impediment after impediment. Why, it's almost as if the Universal Transmitting Company had a very determined enemy…
(4) PUTTING CHATGPT TO WORK. Joe Pitkin says "I Used ChatGPT to Write My Novel!" at The Subway Test. But he doesn't mean what was probably the first thought that came to your mind.
Well, not really. Or at least not in the way that you might think: I'm definitely not one of those scammy side hustlers sending ChatGPT-generated concoctions to award winning science fiction magazines.

But the novel I'm working on now, Pacifica, begins each of its 74 chapters with an epigraph. Much like the computer game Civilization, each chapter is named after one of the technologies that have made modern humanity possible. And, much like Civilization, each technology is accompanied by an apposite quote. Leonard Nimoy was the gold standard narrator for those quotes in Civilization IV (though Sean Bean has his moments in Civilization VI).

One of the most fun parts of drafting Pacifica has been finding the right quotes for each chapter. I picked from books and poems that I love (as well as a few books that I hated) to put together what I imagined as a kind of collage or mosaic of human knowledge. I imagined the task as something like a literary version of the cover of Sgt. Pepper's Lonely Hearts Club Band, where The Beatles assembled a photo-collage crowd of their favorite thinkers and artists and goofball influences.

… So I asked ChatGPT to find me some quotes about superconducting….
(5) AN INDEX OF FOOLISHNESS. "The Post ruins April Fools' Day, 2023 edition" is a compilation of shenanigans published yesterday by the Washington Post. Here are a couple of literary-themed examples.
(6) SLF GULLIVER GRANT. The Speculative Literature Foundation announced in February that Em North is the winner of the 2022 Gulliver Travel Grant. North's winning piece is The School of Forgetting.
Since 2004, the Gulliver Travel Grant has sought to assist writers of speculative literature (in fiction, poetry, drama, or creative nonfiction) in their research. The grant awards one writer $1000 annually, to be used to cover airfare, lodging, and/or other travel expenses.

Em North is a writer who has lived in eighteen different states and still can't figure out where to settle down. Their debut novel, IN UNIVERSES, is forthcoming from Harper Books (US) and Heinemann Hutchinson (UK) in March 2024. They received their MFA from Johns Hopkins University, where they were awarded the Benjamin T. Sankey Fellowship for a graduating student. They have also received fellowships from the Bread Loaf Writers' Workshop, the Tin House Summer Workshop, Aspen Words, and the Clarion Writers' Workshop. Their fiction and essays have appeared or are forthcoming in The Sun, Conjunctions, Lightspeed Magazine, Threepenny Review, and Best American Experimental Writing 2020.

Before becoming a writer, they studied physics and philosophy, writing their undergraduate thesis on the many-worlds interpretation of quantum mechanics. In previous lives, they've worked as an observational cosmologist, snowboard instructor, horse trainer, wine taster, pure math researcher, (very brief) investment banker, ranch caretaker, and creative writing instructor.
(7) SLF VIRTUAL CLASSES. The Speculative Literature Foundation has three courses and workshops on its April schedule – see full details and registration cost at the link.
Nancy Hightower, essayist and author, is teaching a workshop on writing about mental health on April 22. The day after, our course on screenwriting begins with Ted Schneider, director and writer of films like "Early Light" and "Iqaluit." On May 13 our Writing the Taboo workshop returns, instructed by our very own director, Mary Anne Mohanraj.
(8) LEO D. SULLIVAN (1940-2023). Animator Leo D. Sullivan, whose most famous work was the chugging engine that opened Soul Train, died March 25 at the age of 82 reports Deadline.
…In addition to creating the memorable Soul Train opener, Sullivan contributed to cartoons featuring Fat Albert, Transformers and My Little Pony. He worked as an animator for five decades.

His resume included television work for The Incredible Hulk, Flash Gordon, BraveStarr and Scooby-Doo, his family said.

Born in Lockhart, Texas, Sullivan moved to Los Angeles in 1952, and started working for Looney Tunes animator Bob Clampett. In the 1960s, he joined forced with Floyd Norman, the first Black animator at Disney, and cofounded Vignette Film, which created educational films about historic Black figures.

He also published a video game that honored the Tuskegee Airmen and taught at the Art Institute of California-Orange County.

Sullivan was honored by the Black Filmmakers Hall of Fame in 1979 and 1991….
(9) MEMORY LANE.
1984 – [Compiled by Cat Eldridge.] Poul Anderson & Karen Anderson's "Cosmic Concepts"
This is less about "Cosmic Concepts" which this is the Beginning of, but rather all of the splendid poetry of The Unicorn Trade.
Now most of you know that this collection which is mostly by Poul Anderson & Karen Anderson was published first by Tor thirty-nine years ago. It's an amazing collection of stories, poems, and, errr, science fiction haikus, something I never knew even existed.
I am not by any means a big poetry fan but I was quite delighted by everything that was here for poetry, most of which is by her. The poetry is a sheer joy to read. Of the collection starts off with "The Unicorn Trade", a stellar affair, by her but I will also single out "Haiku for Mars" and "Professor James" by both of them. A deep drink of their favorite ale is in order!
And now the Beginning of "Cosmic Concepts"…
This is the science fiction story.
This is the young man full of pride,
whose gadgets work the first time tried
in a science fiction story.
This is the elder scientist,
every year on the honors list,
who trained the young man full of pride,
whose gadgets work the first time tried
in a science fiction story.
(10) TODAY'S BIRTHDAYS.
[Compiled by Cat Eldridge.]
Born April 6, 1924 — Sonya Dorman. Her best-known work of SF is "When I Was Miss Dow" which received an Otherwise retrospective award nomination. Her "Corruption of Metals" received won the Rhysling Award of the Science Fiction Poetry Association. She also appeared in Dangerous Visions with the "Go, Go, Go, Said the Bird" story. (Died 2005.)
Born April 6, 1926 — Gil Kane. Artist who created the modern look and feel of Green Lantern and the Atom for DC, and co-created Iron Fist with Roy Thomas for Marvel. I'm going to single him out for his work on the House of Mystery and the House of Secrets in the Sixties and Seventies which you can find on the DC Universe Infinite app. (Died 2000.)
Born April 6, 1935 — Douglas Hill. Canadian author, editor and reviewer. For a year, he was assistant editor of Michael Moorcock's New Worlds magazine. I'm going to admit that I know more of him as a decidedly and to be admired Leftist reviewer than I do as writer, indeed he held the same post of Literary Editor at the socialist weekly Tribune as Orwell earlier did. Who here is familiar with fiction? He was quite prolific indeed. (Died 2007.)
Born April 6, 1948 — Sherry Gottlieb, 75. Best remembered and loved as owner of the Change of Hobbit bookstore whose origin story you can read in her memoir. It closed in 1991. She's written two horror novels Love Bites and Worse Than Death.
Born April 6, 1948 — Larry Todd, 75. Writer and cartoonist, best known for the decidedly adult Dr. Atomic strips that originally appeared in the underground newspaper The Sunday Paper and his other work in underground comics, often with a SF bent. In our circles, Galaxy Science Fiction, Amazing Science Fiction and Imagination were three of his venues. He also did some writing for If. He also did, and it's really weird art, the cover art and interior illustrations for Harlan Ellison's Chocolate Alphabet.
Born April 6, 1956 — Mark Askwith, 67. Did you know there was an authorized Prisoner sequel? Well there was. The Prisoner: Shattered Visage is a four-issue comic book series written by him and Dean Motter who was also the artist. Askwith also wrote for DC Comics, specifically Batman: Gotham Knights.
Born April 6, 1977 — Karin Tidbeck, 46. Her first work in English, Jagannath, a short story collection, made the shortlist for the Otherwise Award and was nominated for the World Fantasy Award. The short story "Augusta Prima", originally written by her in Swedish, was translated into English by her which won her a Science Fiction & Fantasy Translation Award in the Short Form category.
(11) NEVER LET THE FACTS STAND IN THE WAY. "ChatGPT is making up fake Guardian articles. Here's how we're responding" says the Guardian's Chris Moran.
Last month one of our journalists received an interesting email. A researcher had come across mention of a Guardian article, written by the journalist on a specific subject from a few years before. But the piece was proving elusive on our website and in search. Had the headline perhaps been changed since it was launched? Had it been removed intentionally from the website because of a problem we'd identified? Or had we been forced to take it down by the subject of the piece through legal means?

The reporter couldn't remember writing the specific piece, but the headline certainly sounded like something they would have written. It was a subject they were identified with and had a record of covering. Worried that there may have been some mistake at our end, they asked colleagues to go back through our systems to track it down. Despite the detailed records we keep of all our content, and especially around deletions or legal issues, they could find no trace of its existence.

Why? Because it had never been written.

Luckily the researcher had told us that they had carried out their research using ChatGPT. In response to being asked about articles on this subject, the AI had simply made some up. Its fluency, and the vast training data it is built on, meant that the existence of the invented piece even seemed believable to the person who absolutely hadn't written it.

Huge amounts have been written about generative AI's tendency to manufacture facts and events. But this specific wrinkle – the invention of sources – is particularly troubling for trusted news organisations and journalists whose inclusion adds legitimacy and weight to a persuasively written fantasy. And for readers and the wider information ecosystem, it opens up whole new questions about whether citations can be trusted in any way, and could well feed conspiracy theories about the mysterious removal of articles on sensitive issues that never existed in the first place.

If this seems like an edge case, it's important to note that ChatGPT, from a cold start in November, registered 100 million monthly users in January. TikTok, unquestionably a digital phenomenon, took nine months to hit the same level. Since that point we've seen Microsoft implement the same technology in Bing, putting pressure on Google to follow suit with Bard….
This reminds me of the punchline from an old Peanuts strip.
(12) JEOPARDY! David Goldfarb brings us more highlights from Wednesday's Jeopardy! episode, which had (in the Double Jeopardy round) a category called "Literary Bad Day for the Planet".
$1600: Early in this novel Prostetnic Vogon Jeltz informs humanity Earth will be destroyed for a hyperspatial express route

Returning champion Brian Henegar responded: "What is the Hitchhiker's Guide to the Galaxy?"

$400: Set in Melbourne, Nevil Shute's 1957 novel "On the Beach" finds much of the world destroyed by this man-made disaster

Brian: "What is a nuclear war?"

$800: In Neal Stephenson's "Seveneves", this mysteriously blows up into 7 pieces that rain bolides onto Earth

Brian: "What is the moon?"

$1200: Arthur C. Clarke's "The Star" is a sun that went supernova, killing a planet, & is this celestial object from the New Testament

Teresa Browning: "What is the Star of David?"
Silence from the other two.

$2000: John Wyndham's novel about "The Day of" these meat-eating plants sees most of humanity blinded before being featured on the menu

Brian: "What are the triffids?"
(13) FUTURISM RESOURCE. John Shirley and Brock Hinzmann have launched Instant Future, a new site for essays and articles.
Instant Future offers both quick jumps and deep dives into futurist prediction. We look with open minds, informed by critical thinking, to refine the lens of prediction, sorting through new research and media reports so you don't have to. We look for the most insightful voices in the field of prediction, to cite and to interview. We combine the insights of professional futurists and forward-thinkers of all kinds, to give you an advanced look at what's coming.

We're offering a brisk trip to the edge the future itself…an edge that's always edging away.
(14) DO CHICKENS HAVE LIPS? Maybe they would have if they were descended from T. Rex. "Facelift for T. rex: analysis suggests teeth were covered by thin lips" is a report in today's Nature. "Crocodiles and Komodo dragons provide evidence to support the idea of a scaly cover over the teeth of dinosaur Tyrannosaurus rex."
…In crocodiles, the enamel is thick and stays hydrated because they live in the water. Even so, crocodile teeth bear the signs of cracks and damage on their outer surface. That's not the case in theropods, she says. Theropod teeth are covered by just a thin layer of enamel, indicating that these dinosaurs probably had lips to keep the teeth protected and coated in saliva when their mouths were closed….
(15) FREE SHOWING OF SF CLASSIC. The UCLA Library Film & Television Archive will be showing a restored print of Invaders from Mars at the campus' Billy Wilder Theater on April 9 at 7:00 p.m.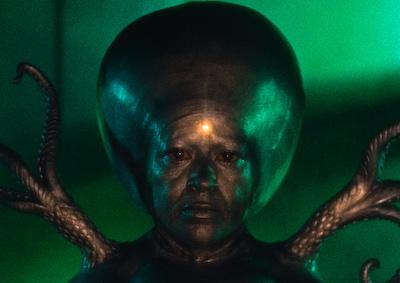 Admission is free. No advance reservations. Your seat will be assigned to you when you pick up your ticket at the box office. Seats are assigned on a first come, first served basis. The box office opens one hour before the event.

Invaders From Mars. U.S., 1953

Young David (Jimmy Hunt) wakes up in the middle of the night and sees a flying saucer land in his backyard. So begins the visually stunning and whimsical film that has been captivating audiences for 70 years, directed by production designer William Cameron Menzies (Gone with the Wind) and photographed by studio legend John F. Seitz (Double Indemnity). Politically and socially charged, this superbly crafted sci-fi thriller captures the paranoia of the time, complemented by a curiosity for the universe. Physically compromised shortly after its release—butchered, recut, elements scattered—Invaders from Mars has been retrieved from the brink of extinction thanks to this dazzling new restoration. Screening on the same date the movie premiered in 1953, the film will be preceded with a presentation about the restoration by former Head of Preservation at the UCLA Film & Television Archive, Scott MacQueen.

DCP, color, 78 min. Director: William Cameron Menzies. Screenwriter: Richard Blake. With: Leif Erickson, Jimmy Hunt, Helena Carter, Arthur Franz.

Restored by Ignite Films in collaboration with the UCLA Film & Television Archive, George Eastman Museum and the National Film and Sound Archive of Australia.
(16) VIDEO OF THE DAY. Philip Harbottle's 1950s British Science Fiction YouTube channel has over 60 videos on the topic. The latest is "John Russell Fearn Inspired Comic Strips (#62)".
[Thanks to Andrew Porter, John King Tarpinian, Chris Barkley, Anne Marble, David Goldfarb, Moshe Feder, SF Concatenation's Jonathan Cowie, Michael Toman, Cat Eldridge, and Mike Kennedy for some of these stories. Title credit belongs to File 770 contributing editor of the day Andrew (not Werdna).]