(1) COMICS: THE INSIDE STORY. Scott Edelman invites listeners to come to Chicago for lunch with Carol Tilley in episode 182 of the Eating the Fantastic podcast.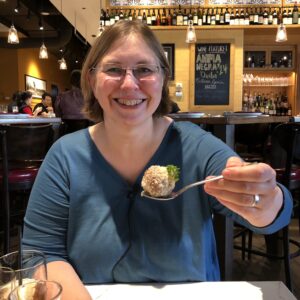 This episode's guest is Carol Tilley, a professor in the School of Information Sciences at the University of Illinois who teaches and writes about comics, libraries, reading, and censorship. We first met six years ago when she was in D.C. to deliver a presentation at the National Archives titled "Dear Sirs: I Believe You're Wasting Your Time," during which she shared what she learned about comics readers of the '50s while researching the records of the Senate Judiciary Committee's Subcommittee on Juvenile Delinquency. In her role as a comics historian, she's made numerous visits to D.C. over the years to research at the Library of Congress and National Archives for a biography of Fredric Wertham, whose attacks on sex and violence in comics, and particularly his infamous book Seduction the Innocent, helped bring about the Comics Code.

She was interested not just in the inner workings of Wertham — who comics fans, when I first entered fandom, considered a bigger villain than Doctor Octopus and Lex Luthor rolled into one — but also in the experiences of those who read, drew, and engaged with comics in the US during the '30s-'50s. She came to Worldcon to share what's she's learned, and was also going to speak on a panel about the renewed attack on books and curriculum in schools across the U.S.

We discussed how we each first learned about the Comics Code, the mostly forgotten rich kid origins of Blondie's Dagwood Bumstead, the unsettling inconsistencies she discovered while going through 200 boxes of Fredric Wertham's papers, what those documents reveal about how he came to believe what he came to believe, what it means to research with the brain of an historian, the proper pronunciations of Potrzebie and Mxyzptlk, her efforts to track down those who wrote letters to the Senate protesting comic book censorship during the '50s (including one of the founders of the Firesign Theater), the enduring power of EC's "Judgment Day," why she believed comic book censorship would have occurred even without Wertham's input, what she thinks he'd make of today's comics, how Wertham felt about the way comic book fans felt about him, and much more.
(2) MAYBE EVEN HOPE ESCAPED THIS TIME. Victoria Strauss of Writer Beware gets the word out about "The Implosion of BBB Publishings: A Peek Into the Sometimes Dysfunctional World of Paid Anthology / Boxed Set Publishing".
… But no one had any inkling the company was in real trouble, or that Nichol was sick. With Nichol incommunicado, and many buy-ins and service purchases much older than PayPal's 180-day claim window, how would authors get their money back? Who were Haney Hayes Promotions? What was this new publisher all about? Why hadn't Nichol herself made any announcements? Why was Sosha Ann, whose name appeared alongside Nichol Smith's on BBB's contracts, and in multiple other contexts to indicate that she was co-owner of the company, now claiming to be just a helpless employee who'd been in the dark about BBB's problems and had no access to its finances? And if she was just an employee, what gave her the authority to transfer BBB's anthology projects to a new publishing company?

Furious not just at the sudden transition and unanswered questions, but at the callous offloading of financial responsibility and the demand that they essentially pay twice for inclusion in the same anthologies, writers poured out their anger, confusion, and hurt on Facebook and in the new SIR Facebook group. Also unleashed: a flood of complaints and reports to me, which in addition to the problems mentioned above, exposed the extreme unprofessionalism of BBB's operations….
(3) TWELVE TOUGH TRIVIA QUESTIONS. [Item by Brick Barrientos.] There is a Seanan McGuire quiz on the Learned League site. It was written by a couple
of fans with the last name Dempsey. It seems pretty difficult, only for avid fans, but File 770 readers might be interested. "LL One-Day Special: Seanan McGuire".
(4) SEE BONESTELL ART AGAIN. In the Washington Post, Michael E. Ruane discusses the renovation of the National Air and Space Museum which will display Chesley Bonestell's 1957 painting "Lunar Landscape," which has not been shown in public since 1970. Bonestell's painting reflected the science of his time but research shows that micrometeorites have made the Moon more worn and less craggy than what Bonestell painted. "Smithsonian Air and Space Museum to reopen after renovations".
… The Apollo 11 moon capsule sits at an angle in the eerie light of its display case, its heat shield still gouged from its 25,000 mph plunge through the atmosphere in 1969.

Nearby, the 1909 Wright brothers flier — the world's first military airplane — still has oil stains on its fabric wings near the engine and the big bicycle chains that turned the propellers….
(5) WHITTAKER COMING TO DOCTOR WHO CON IN LA. Gallifrey One has confirmed Jodie Whittaker, who has played the most recent incarnation of the Doctor since 2017, as their headliner guest for Gallifrey One 33 1/3: Long Live the Revolution, taking place on February 17-19, 2023 at the Marriott Los Angeles Airport Hotel.
Ms. Whittaker, whose appearance is sponsored by Showmasters Events, will be joining us both Saturday & Sunday at the convention, for two interview panels, autographs & photo ops both days, and participating in our evening guest receptions. She joins previously confirmed guests Colin Baker, Janet Fielding, Sophie Aldred, Wendy Padbury, Frazer Hines, and a stellar lineup of guests including many still to be confirmed.

For more details about Ms. Whittaker's appearance at her very first dedicated Doctor Who convention, or to purchase tickets to the event, visit our website at www.gallifreyone.com.
(6) JOHN WILLIAMS, JERRY GOLDSMITH & OTHERS. LA classical music radio station KUSC polled listeners about their favorite pieces of classical music. The station ran a blog post with part of the list – "Your 20 Favorite Movie Scores". Over half are from genre films.
Music from the silver screen made quite a splash once again on this year's Classical California Ultimate Playlist. Check out ths playlist of your favorite 20 favorite pieces from the movies, as voted by you for the 2022 Classical California Ultimate Playlist. Enjoy!
(7) SPIDER-MAN LIBRARY CARD. Spider-Senses will be tingling across New York City as The New York Public Library (NYPL) and Marvel Entertainment join forces to release a special, limited-edition Spider-Man library card on October 11 to inspire new and existing patrons to explore a multitude of free books, resources, and programs at the Library, including Marvel graphic novels.
This dynamic collaboration—which debuts just in time for New York Comic Con—marks the 60th anniversary of Spider-Man's first comic book appearance in Amazing Fantasy #15 and emphasizes the importance of reading, knowledge, and libraries to Peter Parker's crime-fighting comic book adventures. Images of Spider-Man—alongside Miles Morales and Gwen Stacy, two other iconic web-slingers—will be featured on the card, as well as on upcoming banners outside the Stephen A. Schwarzman Building and the windows of the Stavros Niarchos Foundation Library (SNFL), exciting patrons of all ages to tap into the unique power of reading, comics, and libraries to discover their inner super hero. Details about the card and related activities are available online: nypl.org/beyondamazing

The Spider-Man card follows in the footsteps of previous library cards issued for the beloved children's book The Snowy Day and the Library's "Knowledge Is Power" card; aiming to help New Yorkers discover their full potential by tapping into the power of everything NYPL has to offer—millions of books to help readers scale new heights, a web of information via free computers and internet access, and a super-team of library staff—all available at your friendly neighborhood library.

The release of the Spider-Man card also marks the one-year anniversary of the Library's decision to eliminate fines as a way to remove barriers to accessing the Library for all New Yorkers. This historic move was even a plot point in Marvel Comics' Amazing Spider-Man #900, released on July 27. In a special story written by Daniel Kibblesmith, drawn by David Lopez, and colored by Nathan Fairbairn, Peter Parker returns a large stack of overdue books to the Library after learning of the elimination of late fines. Readers can check out Amazing Spider-Man #900 in a special bonus release on Marvel Unlimited, Marvel's premier digital comics subscription service.

The launch of the special-edition card also marks the start of the Library's Open House week, which begins October 11. The card will be available to new and current patrons free on a first-come, first-serve basis at all NYPL branches, located throughout the Bronx, Manhattan, and Staten Island. Libraries will be hosting a variety of programs and events throughout the week, as well as featuring book displays and reading recommendations from a special reading list curated by NYPL staff.
(8) UNHEARD SCREAMING. Do you remember this clue? "Jessica Fletcher. With a Robot. In Space." by Mur Lafferty at CrimeReads.
…Also, I realized that subconsciously I put a little bit of my Grandma Lafferty into a lot of my stories. They seem to frequently include a tough old woman I like to call a "murder granny." (While tough, the murder granny may or may not be an actual murderer. Also, to my knowledge, my Grandma was not a murderer.) In this book, there's a little bit of my maternal grandmother as well, who was not tough as nails, but screamed during televised golf for the rolling ball to do her bidding, and really liked radio contests…
(9) MEMORY LANE.
1993 – [By Cat Eldridge.] So what's Sylvester Stallone's perfect film? Without any doubt at all, that'd be Demolition Man which came out twenty-nine years this evening. (In my universe, all films came out in the evening.) It is a film that I saw first at the cinema on a proper full screen and I think have watched at least a half dozen times since.
It's that ever so rare screenplay written by committee that I like, as it had three hands in the writing of it — Daniel Waters, Robert Reneau and Peter M. Lenkov. Waters had just written Batman Returns and had earlier received an Edgar for Heathers, Reneau had for genre just an episode of Tales from the Crypt, and Lenkov hadn't done anything notable yet though much later he make his mark as a rebooter of, well everything — McGyver, Hawaii 5-0 and even Magnum PI got so done by him.
It was, weirdly, directed by Marco Brambilla, an Italian-born Canadian contemporary artist and film director, known for re-contextualizations of popular and found imagery. Huh?
Now for the film itself.
Stallone played a cop thawed out (shades of Niven) to capture an escaped criminal who originally had been frozen when he was. They both wind up in what is considered a utopia, the city of San Angeles. Like all utopian undertakings, it really isn't.
I loved the absolute deadpan way Stallone deals with everything odd there from the lack of toilet paper to discovering sex has been replaced by virtual experiences. He would have made an absolute spot-on Dredd. (Oh, wait!)
Let's not forget the other casting here. Wesley Snipes gives one of the best performances of his career as Simon Phoenix, and I completely adore Sandra Bullock as Lieutenant Lenina Huxley.
Her character was named after Aldous Huxley, the author of Brave New World, and Lenina Crowne, a character in the novel.
The studio refused to say how much it cost but estimates say somewhere between fifty and seventy-five million. It did exceedingly well at the box office making at least one hundred and seventy million.
(10) TODAY'S BIRTHDAYS.
[Compiled by Cat Eldridge.]
Born October 7, 1938 — Jane Gallion (Ellern). Writer, Poet, and Fan who was one of the members of the Los Angeles Science Fiction Society subgroup The Blackguards, which hosted many parties and tournaments. She edited the fanzines Karuna, and Topaze (etc.) and contributed to many other fanzines over the years. Wrote a great deal of erotica for Essex House, including the post-apocalyptic novels Biker and Going Down. (Died 2003.)
Born October 7, 1942 — Lee Gold, 80. She's a member of LAFA, the Los Angeles organization for filkers, and a writer and editor in the role-playing game and filk music communities. She's published Xenofilkia, a bi-monthly compilation of filk songs since 1988, four issues of the Filker Up anthology; and has published for forty-seven years, Alarums and Excursions, a monthly gaming zine, and edited many other fanzines. She is a member of the Filk Hall of Fame along with Barry Gold, her husband. 
Born October 7, 1945 — Hal Colebatch. Lawyer, Journalist, Editor, and Writer from Australia who has written, singly or in collaboration, two novels and at least two dozen shorter pieces set in Larry Niven's The Man-Kzin Wars series. However, his main body of work is non-genre, including six books of poetry, short stories, and radio dramas and adaptations. His non-fiction books include social commentary, biography and history, and he has published many hundreds of articles and reviews in various news and critical venues. (Died 2019.)
Born October 7, 1947 — John Brosnan. Australian writer who died way too young of acute pancreatitis. He used at least seven pseudonyms, and wrote scripts for a number of what I'll generously call horror films including one I know that somehow I saw — Carnosaur.  If you like your SF with a larger dose of pulp, his Sky Lords trilogy (The Sky Lords, The War of the Sky Lords and The Fall of the Sky Lords) is damn good. Airships, airships! (Died 2005.)
Born October 7, 1950 — Howard Chaykin, born 1950, 72. Comic book artist and writer. His first major work was for DC Comics drawing "The Price of Pain Ease" which was an adaptation of author Fritz Leiber's characters Fafhrd and the Gray Mouser in Sword of Sorcery #1. He would illustrate damn near everything else from Batman and The Legion of Super-Heroes for DC to Hulk and Iron-Man for Marvel (to name but a few series) but I think his best genre work was his own American Flagg! series which I've enjoyed more than a few times. It's available from the usual digital suspects.
Born October 7, 1958 — Rosalyn Landor, 64. She played Guinevere in Arthur the King, and Helen Stoner in "The Speckled Band" of Jeremy Brett's Sherlock Holmes. She was the red-headed colleen Brenna Odell in the "Up the Long Ladder" episode of Next Generation. 
Born October 7, 1977 — Meighan Desmond, 45. One of the beauties of the Xena-Hercules Universe is that they shared secondary characters betwixt them. So was the case with one played by Meighan Desmond — the Greek goddess Discord. She also showed up on the Young Hercules series as well. She stopped acting after these series and has done some, but not much, behind the scenes work since.
(11) COMICS SECTION.
Eek! shows an actor who only wants to do it if it's artistic.
(12) HUMOR LITMUS TEST. Humorist Rex Huppke declares to USA Today readers "I don't care if Herschel Walker paid for an abortion or if he blew up the planet Alderaan". If you read a lot of social media it may take a few paragraphs to convince you he's kidding.
… Like the many Republicans who've rushed in to stick up for Walker in the wake of the abortion news, I don't care if the former football star is an ancient, trans-dimensional, shape-shifting entity of pure evil that takes the form of a clown named Pennywise and terrorizes a small town in Maine. I want control of the Senate, and I'm sure Walker regrets any past desire to feed on humans….
(13) NECROPERSONCY. Camestros Felapton reviews Tamsyn Muir's third Locked Tomb book: "Review: Nona the Ninth by Tamsyn Muir".
… The big advantage Nona has over Gideon and Harrow is that Nona herself is just a lot more likeable. That's a shallow criterion for judging a book but part of Muir's writing genius with the Locked Tomb has been to pitch the style and structure of each volume to the titular character. Gideon was a brash, swashbuckling story with a protagonist who was fun to be with but who never really paid attention to the complex puzzle she was entangled with. Harrow was paranoid, secretive and actively leading the reader astray so as to hide their own vulnerability. Nona also doesn't know what is going on but the central character is both innocent and curious and not afraid to ask questions….
(14) TUNE UP FOR HALLOWEEN. Not sure how the LA Opera got involved with Frankenstein, but they are! Tickets here.
The immortal horror classic is back onscreen with a live orchestra

This 1931 masterpiece of horror was originally released without a musical score, which inspired composer Michael Shapiro to fill in the void by creating an original new soundtrack. As the classic film plays on the big screen, he'll conduct his gorgeous and atmospheric score, performed live by the LA Opera Orchestra, making this the ultimate audience experience for a truly iconic film.

Surround yourself with Old Hollywood glam at the beautifully-restored Theatre at Ace Hotel as the movie that made horror history returns to the big screen. Frankenstein with Live Orchestra is in town October 28 and 29 only, so click below to get your tickets before they're gone!
(15) A TUMBLING TUMBLEWEED NO MORE. [Item by Mike Kennedy.] The pathfinding CAPSTONE mission had been in trouble for weeks with NASA unable to control the tumbling spacecraft. The trouble was finally located and the fix uploaded. This puts the mission back on track to try out the NRHO orbit planned for Gateway, the lunar space station portion of the Artemis program. "Engineers Regain Control of Moon-Bound Probe After a Frightening 4 Weeks" – Gizmodo has the story.
…The recovery team traced the problem to a partially opened valve on one of CAPSTONE's eight thrusters, according to an Advanced Space press release. The requisite fix was transmitted to the spacecraft yesterday and executed this morning to positive results. The probe remains on track as it heads to its operational orbit around the Moon.

CAPSTONE, short for Cislunar Autonomous Positioning System Technology Operations and Navigation Experiment, ran into difficulties following its third course correction maneuver on September 8. The 55-pound (25-kilogram) satellite lost full three-axis control and entered into a troubling tumble. A recovery team led by Advanced Space, which owns and operates CAPSTONE on behalf of NASA, scrambled to regain control of the $33 million cubesat.…
(16) ASTEROIDS IMPACTING EARTH. [Item by SF Concatenation's Jonathan Cowie.] In this week's Nature news of the asteroid re-direction test (previously covered by File 770) but also an editorial calling for NASA to do a complete survey of asteroids that are 140m across
or more. NASA has already completed a survey of asteroids over 1km across likely to hit the Earth. These are of dinosaur global extinction level type asteroids. However, smaller asteroids over a few 100 meters across will cause regional devastation if they hit the Earth. The Near Earth Object (NEO) surveyor began its preparations in 2019 but has had its annual budget cut by over 75% from US$170 million. This will delay NEO's launch from 2026 to after 2028.
(17) VIDEO OF THE DAY. "'Vegetarian Vampire' Toby Helps Heinz Promote Tomato Blood Ketchup" – Adweek explains the campaign.
…Heinz teamed up with "280 year-old vegetarian vampire, influencer and Tomato Blood activist" Toby, portrayed by viral TikTok star E.J. Marcus, on a "public-service-announcement film" to back the release of its Heinz Tomato Blood ketchup in its "spooky, Halloween-themed, limited-edition bottle."…
[Thanks to Andrew Porter, Chris Barkley, Michael Toman, Anne Marble, Brick Barrientos, Jeffrey Smith, SF Concatenation's Jonathan Cowie, Cat Eldridge, Mike Kennedy, Martin Morse Wooster, JJ, and John King Tarpinian for some of these stories. Title credit belongs to File 770 contributing editor of the day Daniel Dern.]