(1) JEMISIN ON BBC. The BBC World Service's In the Studio program features "N K Jemisin: Writing new worlds". (Also available at BBC Sounds.)
New York-based writer N. K. Jemisin is one of the biggest names in modern science-fiction. She's the first in the genre's history to win three consecutive Hugo Awards, for each book in her Broken Earth trilogy. 

In conversation with presenter Dr Vic James, Jemisin talks in-depth about world-building. She reveals how the initial idea for Broken Earth came to her in a dream. This then led her to a NASA writing residency and a trip to Hawaii, flying over its volcanoes in order to accurately visualise the trilogy's setting: a super-continent called The Stillness that is ravaged by earthquakes and volcanic eruptions. 

Jemisin reflects on how it all came together, how she gives voice to the oppressed, and why she thinks these books have resonated with so many people around the world. 
(2) GET YOUR IMAGINARY PAPERS. Imaginary Papers is a quarterly newsletter about science fiction worldbuilding, futures thinking, and the imagination from ASU's Center for Science and the Imagination.
Imaginary Papers Issue 10 features an essay by writer, editor, and scientist Pippa Goldschmidt on the 2014 short film Afronauts, and humanities scholar Paul Cockburn on Ignatius Donnelly's 1890 novel Caesar's Column and its vision of a gridlock-free New York City. There's also a writeup of UNICEF's Imagining Health Futures project.
(3) SFF IS WHERE YOU FIND IT. [Item by Ferret Bueller.] Finally made it back to Mongolia, and here's pictures of two of the recent SF translations in a local bookstore.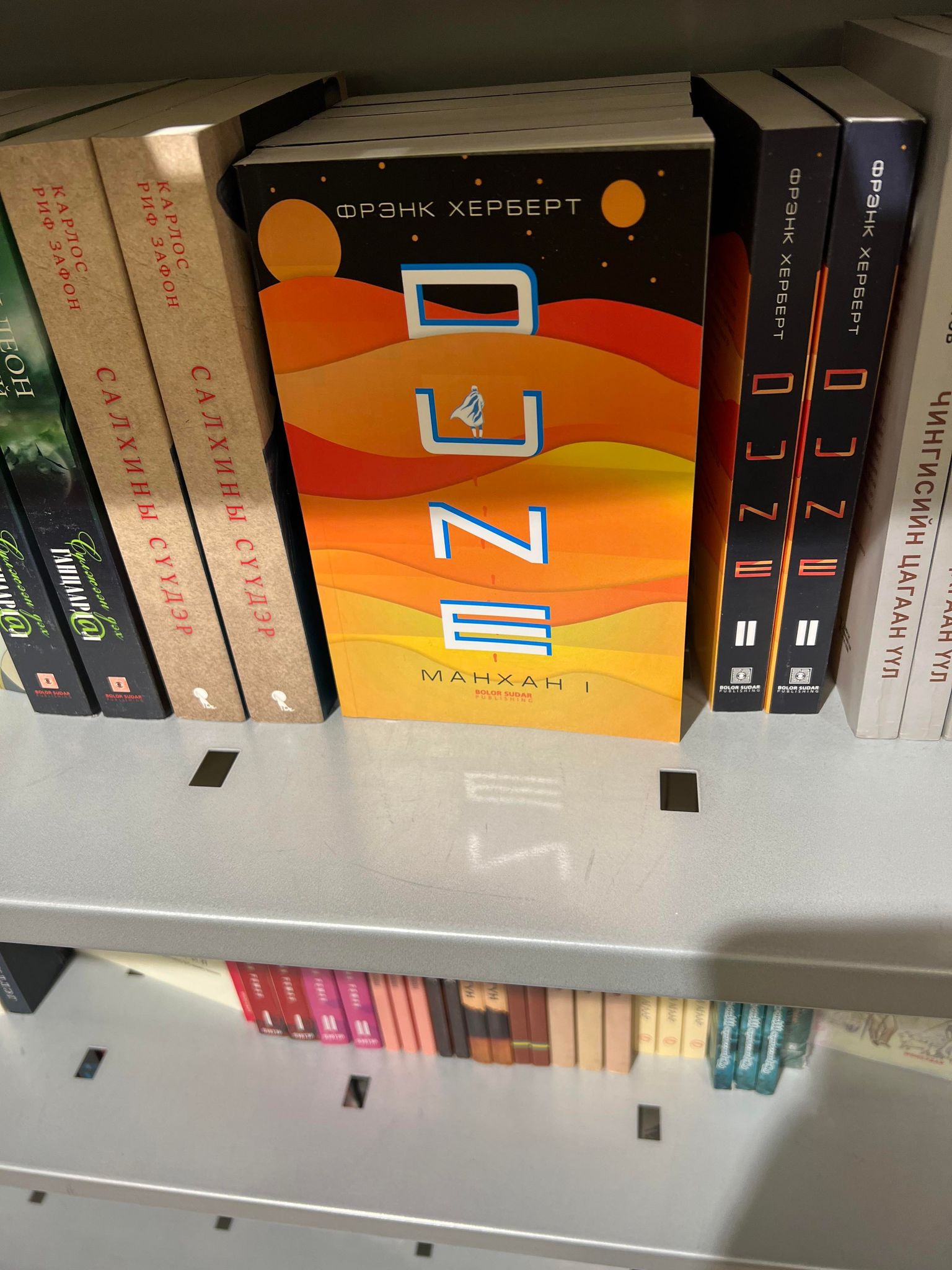 (4) STAND BY FOR NEWS. The Guardian takes a teasing tone as it communicates that Russell T Davies is back in charge of Doctor Who, and changing everything – with the trans actor Yasmin Finney playing Rose Tyler and David Tennant returning, too: "Two Doctors, and a trans actor playing Rose? How Russell T Davies is mixing things up in the Tardis all over again". The article ends —
A black Doctor? A trans Rose? This is political correctness gone mad. You're right. There is no way on earth that a shapeshifting ancient alien god and an interdimensional explorer trapped in a parallel dimension should be played by anything other than a white British guy and the woman from I Hate Suzie respectively.

This isn't the Doctor Who I am used to. But it is. The transgender actor Bethany Black had a role on Doctor Who in 2015. In an episode in 2006, Jack Harkness said that he had a trans co-worker. If you factor in the audio episodes, you'll find yourself inundated with trans characters, actors and writers.

Wait, so I'm the one who's wrong? Exactly right. Stop watching. The rest of us will have a blast.

Do say: "It's great that Rose Tyler is being played by a trans woman."

Don't say: "Oh God, does this mean I have to start watching Doctor Who again?
(5) HEAR FROM THREE LEADING FANTASY WRITERS. Waterstones Bookshops offers "Shelley Parker-Chan, Tasha Suri and C. L. Clark in conversation" on Monday May 30 at 18:30 British Summer Time — livestream tickets for £5. (The in-person component is sold out).
Join us for what promises to be a brilliant evening of conversation with bestselling fantasy authors Shelley Parker-Chan, Tasha Suri and C. L. Clark.

Masters of sapphic fantasy literature, these three authors will be talking about their most recent books: Shelley Parker-Chan's debut novel She Who Became The Sun (publishing in paperback this June), Tasha Suri's epic fantasy The Jasmine Throne and C. L. Clarks's political fantasy The Unbroken.
(6) REWARDS FOR ADVENTUROUS READERS. Simone Heller, in the fourth installment of "Speaking the Truth with Oghenechovwe Ekpeki", asks the Nigerian author about the intricacies of writing from a complex multilingual background for a global audience.
Your stories are usually set in a (futuristic) Nigeria. Do you include bits and pieces or even chunks from the languages surrounding you? And if so, is it accepted by international editors and readers?

Well, there's a bit of truth telling to my writing. Chunks of my reality mixed in with it. Set in Nigeria as you observed, my themes usually touch on issues that are relevant here, and this is also reflected in my language. The dialogue of my characters shifts between pidgin English and regular English as a speaker in my position would. The subject matter, humour, delivery of the conversation also aims to reflect the way we communicate. It's as I said, your culture and identity are reflected in your language. So it does come across as unfamiliar or odd to Western or other readers removed from that culture and identity. It's definitely created a difficulty in publishing sometimes, it's led to odd and overediting requests and an inability to connect or be properly appreciated by readers and reviewers who are not open to these diverse tongues and see everything different as inferior. But I suppose that is the price for speaking my truth with the tongue in my mouth in a world that sees the other as inferior. So yea.
(7) A COUPLE OF MIDWESTERNERS. Hear John Scalzi fielding questions on the "Page Break with Brian McClellan" podcast.
Brian's guest this week is science fiction author John Scalzi. John is known for a massive variety of work, including his early career as a reviewer and columnist, his bestselling breakout novel Old Man's War, his time as president of the Science Fiction Writers of America, and his well-known blog, Whatever.

John and Brian talk about paradigm shifts in their industry, being a longtime public figure, and his well-publicized thirteen-book contract with Tor. They also talk about living and working in the Midwest, and the real nature of professional jealousy.
(8) STUDIO 54. Rich Horton shared on Facebook a post with his picks for "potential Hugo awards from the year 1954 (that is, alternate 1955 Hugos, since two of the 1955 Hugos went to stories from 1955, and the one winner from 1954 is widely regarded as the worst Best Novel Hugo winner of all time. Short version: I actually came up with what I think is a quite strong list of novel nominees…"
(9) PROTACTILE. [Item by Andrew (not Werdna).] The New Yorker reports ways that "DeafBlind Communities May Be Creating a New Language of Touch". Being an SF fan of a certain age, I can't help think of John Varley's "Persistence of Vision."
…Protactile is full of a kind of tactile onomatopoeia, in which a hand resembles the feel of the thing it's describing. In what the linguists call "proprioceptive constructions," the speaker recruits the receiver's body to complete the word, say, by turning her hand into a tree (five fingers as branches) or a lollipop (fist as candy). At one point, I asked Nuccio where she was from, and she told me to make my hand into a fist, which represented the globe. "You and I are in America, over here," she said, touching my first knuckle. "And this is the ocean." She traced a finger to my wrist to find the country where she was born, Croatia. She accomplished all of this in a series of movements that Edwards said followed consistent grammatical rules. At another point, Nuccio described how difficult her life had been when she'd worked as a technician in a genetics lab as she went blind. She had me point my finger up, and told me that it was now the flame of the Bunsen burner that she'd used in her lab. She demonstrated how to adjust the flame on one of my knuckles, and how delicate the apparatus was. I was astonished by the precision of this tactile illustration, which felt, in the moment, more vivid than any verbal description could have….
(10) MEDIA BIRTHDAY.
1977 – [By Cat Eldridge.] Forty-five years ago, Man from Atlantis: The Killer Spores aired on NBC. It was the third of four pilot episodes that preceded the regular Man from Atlantis television series which only lasted thirteen episodes. Calling them pilot episodes is I think just a bit disingenuous — they were full blown episodes of the series.
The extended episode, I hesitate to call it a movie, was directed by Reza Badiyi and written by John D.F. Black. Badiyi is best known for directing episodes of shows such as The Six Million Dollar Man, Phoenix and Deep Space Nine. Black was associate producer on ten episodes of Trek including "The Man Trap", "Mudd's Women" and "The Corbomite Manuever".
It of course starred It Patrick Duffy as Mark Harris and Belinda Montgomery as Doctor Elizabeth Merrill.
Just in case, someone here hasn't seen it, I won't discuss the story which was actually a damn good SF one. Unfortunately the series itself was doomed as it has very high production costs and an audience that dropped way too fast, so NBC didn't pick up its option after the first thirteen episodes were made.
(11) TODAY'S BIRTHDAYS.
[Compiled by Cat Eldridge.]
Born May 17, 1913 — Peter B. Germano. Though neither of his SF novels was of great distinction, The Interplanetary Adventures and The Pyramids from Space (written as Jack Berlin), his scriptwriter output was as he did work on The Time Tunnel, Voyage to the Bottom of the Sea, Land of the Lost, Battle of the Planets and the revival version of The Next Step Beyond, which warrants his being noted here. (Died 1983.)
Born May 17, 1936 — Dennis Hopper. I think his first genre film would be Tarzan and Jane Regained… Sort of, an Andy Warhol film. Queen of Blood, a vampire film very thinly disguised as SF film, was his next genre film. My Science Project was his next outing before he took part in The Texas Chainsaw Massacre 2. And now we get to the Super Mario Bros. where he played King Koopa. What a weird film that was! He followed that by being Deacon on Waterworld… And then doing Space Truckers. Ouch. No, I didn't like it. He's El Niño in The Crow: Wicked Prayer, a film I barely remember. His final role was voicing one of the animated wolves in Alpha and Omega. He was also in Blue Velvet but I'll be damned if I can figure out how to call that genre. Would you?  (Died 2010.)
Born May 17, 1946 — F. Paul Wilson, 76. I've read, let me check, oh about half I see of the Repairman Jack novels. Anyone here finished them off, and should I do so? What else by him is worth my time? He's won five Prometheus Awards for Best Libertarian SF Novel, very impressive indeed. 
Born May 17, 1950 — Mark Leeper, 72. As Mark says on his site, "In and out of science fiction circles Mark and Evelyn Leeper are one of the best known writing couples on the Internet. Mark became an avid science fiction fan at age six with TV's 'Commando Cody.' Both went to the University of Massachusetts in 1968." And as Bill Higgins says here, their MT VOID is one of the longest published fanzines still going. 
Born May 17, 1954 — Colin Greenland, 68. His partner is the Susanna Clarke, with whom he has lived since 1996. Greenland's The Entropy Exhibition: Michael Moorcock and the British 'New Wave' in Science Fiction study is based on his PhD thesis. His most successful fictional work is the Plenty series that starts with Take Back Plenty and continues with Seasons of Plenty, The Plenty Principle and wraps up with Mother of Plenty. In the Eighties and Ninties, he was involved in the editorial work of Foundation: The Review of Science Fiction and Interzone. And yes, he won the Clarke Award for that Take Back Plenty novel.
Born May 17, 1954 — Bryce Zabel, 68. A producer, director and writer. Genre wise, he's been involved as a producer or director with M.A.N.T.I.S., Dark Skies, Blackbeard, Lois & Clark: The New Adventures of Superman and The Crow: Stairway to Heaven. Writing wise, he written for most of these shows, plus the screenplays for Mortal Kombat: Annihilation and Atlantis: The Lost Empire.
Born May 17, 1956 — Dave Sim, 66. Did you know there was a Cerebus radio show at one point? Well there was. Need I say that I read the entire run of Cerebus. The three hundred issues ran from 1977 until 2004. It was created by Sim, written and drawn by him and remained solely his undertaking until background artist Garhard joined up with sixty-fifth issue. As Cerebus continued, it incorporated more and more of Sim's very controversial views, particularly on women, feminism and the fall of Western Society from those factors. Collected Letters: 2004 and Dave Sim's Collected Letters 2 contains his responses to the letters he got criticizing him but not the letters themselves. 
Born May 17, 1967 — Michael Arnzen, 55. Winner of four Bram Stoker Awards, one for his Grave Markings novel, another for Goreletter and yet another for his poetry collection, Freakcidents. Very impressive indeed. Not to mention an International Horror Guild Award for Grave Markings. 
(12) GODDESS HISTORY. Read an extract from Queens of the Wild by Ronald Hutton at the link.
Ronald Hutton, author of Pagan Britain and The Witch, returns with Queens of the Wild, a history of the goddess-like figures who evade both Christian and pagan traditions, from the medieval period to the present day.

In this riveting account, Hutton explores the history of deity-like figures in Christian Europe. Drawing on anthropology, archaeology, literature, and history, Hutton shows how hags, witches, the fairy queen, and the Green Man all came to be, and how they changed over the centuries.

Looking closely at four main figures—Mother Earth, the Fairy Queen, the Mistress of the Night, and the Old Woman of Gaelic tradition—Hutton challenges decades of debate around the female figures who have long been thought versions of pre-Christian goddesses. He makes the compelling case that these goddess figures found in the European imagination did not descend from the pre-Christian ancient world, yet have nothing Christian about them. It was in fact nineteenth-century scholars who attempted to establish the narrative of pagan survival that persists today. In this extract, Hutton focuses on the how the goddess-like figure of Nature develops during the Middle Ages and early modernity….
(13) PARANORMAL CRIME. [Item by Martin Morse Wooster.] I didn't know there were people who collected "haunted dolls!" "Haunted Dolls, Curses, and a True Crime Voodoo Cold Case" by Susan Furlong at CrimeReads.
In writing my crime novel What They Don't Know, I wanted my lead character to have an unusual relationship with her collection of dolls. As a psychological thriller, what better than to include haunted dolls? Not knowing a lot about haunted dolls and wanting to learn more, my research took me to Alabama where I met with Kevin Cain, ghost hunter, haunted doll collector, and author. There we discussed real doll-infested crimes, proving once more, that reality is sometimes stranger than fiction….
(14) WHERE TO GET YOUR GEAR. The Octothorpe podcast – John Coxon, Alison Scott, and Liz Batty – have unfurled a logo short at the Octothorpe Fans shop.
The shop has quite a few other things for sale. I laughed out loud when I saw this quote on a pillow: "Dave Kyle says You Can't Sit Here".
(15) A START TO YOUR CHRISTMAS LIST. Meanwhile, others of you may need this "Edward Gorey Sterling Cat Reading a Book Pin".
This sterling silver pin is adapted from a drawing by Edward Gorey that is part of a series of renderings of fanciful cats engaged in unusual activities. Here a casually seated cat is reading a book with obvious delight. Edward Gorey's initials are engraved on the back. 
(16) THIS SIDE UP. Thanks to David Dyer-Bennet linking to this on FB I learned today "Why do refrigerator magnets only stick on one side?". EngineerDog.com explains Halbach Arrays.
(17) VIDEO OF THE DAY. [Item by Martin Morse Wooster.] In "Honest Trailers: Moon Knight" the Screen Junkies say that having used up its A team, its B team, and its C-team, Marvel was down to either doing Moon Knight or Hellcow. "Are you ready for action?" the narrator says. "Moon Knight isn't. When danger strikes, he blacks out." There are so many blackouts in this series "that it reminds me of when Four Loko was legal."
[Thanks to Mike Kennedy, Martin Morse Wooster, JJ, John King Tarpinian, Ferret Bueller, Rob Thornton, Joey Eschrich, Andrew (not Werdna), Chris Barkley, Andrew Porter, Michael Toman, and Cat Eldridge for some of these stories. Title credit belongs to File 770 contributing editor of the day Jack Lint.]