(1) TARDIS MAKEOVER. Doctor Who Today has this leaked photo of a new TARDIS design.
(2) ANOTHER BIG $ALE. The Hipsters of the Coast report that the "Art for Chandra, Torch of Defiance SDCC Promo Sells for $35,000".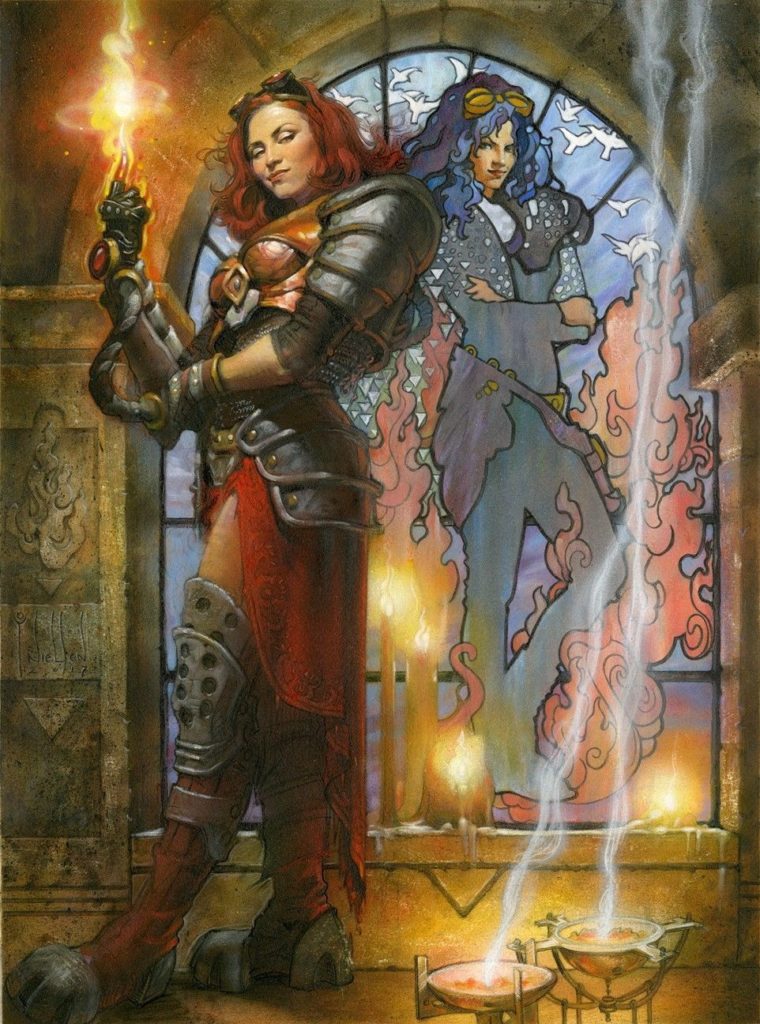 Chandra, Torch of Defiance, the third of the five San Diego Comic Con promotional planeswalker paintings by Terese Nielsen, has sold for $35,000. The final bid all but doubled in the closing minutes of the auction that ended on eBay Sunday evening.

…Chandra, Torch of Defiance blew past the final prices of Liliana, Untouched by Death ($22,950) and Nissa, Vital Force ($25,600), eclipsing the highest total by almost $10,000. I did not expect Chandra to surpass these two, and I'm not sure that anyone, even Terese herself, might have guessed she would either.
(3) CHICAGO 8. The Book Smugglers feature an Uncanny Kickstarter promo about Chicago by the hosts-in-waiting of Uncanny TV: "Eight Nerdy Chicago People and Organizations We Love By Matt Peters and Michi Trota (Uncanny Magazine Kickstarter shout out)"
Our home nerd community in Chicago has countless examples of nerdy groups and individuals using their own geeky passions to inspire and shape incredibly diverse and wide-ranging projects. Their work reminds us why stories matter, and wanting to talk with creators like them and hear their own stories is a primary reason we're so excited for the potential of Uncanny TV. Chicago is one home among many to geeky creators from all walks of life, and our hope is that Uncanny TV will have a chance to visit as many of those communities as possible. We couldn't possibly name all of the nerds and geeks we know whose art and activism are fueled by their geeky loves, but here are eight based in Chicago who provide a snapshot of the inspiring work being created in fandom.

Acrobatica Infiniti Circus

"Cosplay" and "circus" aren't two things we would have thought of putting together before but thankfully someone did! Acrobatica Infiniti Circus, also known as "the Nerd Circus," was created several years ago by Tana "Tank" Karo, who had a background in dance and design but had wanted to create something that allowed her to merge her love for circus and geekery. The resulting collaboration among extraordinarily talented and undeniably nerdy jugglers, acrobats, aerial artists, contortionists, and object manipulators is delightful and surprising each time: Leeloo performing mind-boggling contortionist poses, Totoro juggling sootballs, Harley Quinn on a trapeze. The fact that the group has a rotating cast allows the performers to stay fresh and provides continuous opportunities for new performers to come in and join the show. And rather than approaching the performance scene as a competition, AIC often works in collaboration with similar performance groups to encourage more artistic development and positive ties within the community….
(4) LITTLE-KNOWN WORLDCON BUSINESS. I must have missed this on my first read-through of the agenda. The thread starts here.
For Worldcon 110, I expect and demand fans bake Octogenarian Birthday Crotch Cakes for @mightymur, @howardtayler, and me. We'll put it in the WSFS Constitution to make it so. https://t.co/oHO3IlhTlm

— Adam Rakunas (@rakdaddy) August 10, 2018
(5) 2007 BUSINESS MEETING. Kevin Standlee has uploaded four videos of the 2007 WSFS Business Meeting in Yokohama.
It took him awhile to do it. Kevin says, "My upload bandwidth at home is so poor that I could only upload one file per night overnight."
(6) SIMULATING MARS. NBC News posts a video ("The human factor: What it will take to build the perfect team for traveling to Mars") about a simulated mission to Mars that didn't turn out as planned.
Hi-SEAS in Mauna Loa, Hawaii is a simulated Mars habitat that's meant to facilitate the study of human behavior. A group of four-to-six participants is selected from a pool of hundreds of astronaut aspirants to make up the crew for each mission. So far five missions have been conducted successfully. Mission VI began earlier this year but things didn't go exactly as planned.
The Atlantic thoroughly reviews what happened in the article "When a Mars Simulation Goes Wrong".
… In February of this year, the latest batch of pioneers, a crew of four, made the journey up the mountain. They settled in for an eight-month stay. Four days later, one of them was taken away on a stretcher and hospitalized….
(7) ACROSS THE WALL. Cora Buhlert writes from the divided Germany of 1963 at Galactic Journey — "[August 10, 1963] The Future in a Divided Land, Part 3 (An Overview of Science Fiction in East and West Germany)".
In the last two entries in this series, I gave you an extensive overview of West German science fiction. Now let's take a look across the iron curtain at what is going on in East Germany. For while the inner German border may be nigh insurmountable for human beings, mail does pass through. A lot of us have family in the East, including myself, and are in regular contact with them via letters and parcels. Parcels from West to East Germany usually contain coffee, nylons, soap, canned pineapple and all sorts of other consumer goods that are hard to come by in Communist East Germany.

Unfortunately, we cannot send books and magazines, cause they will probably be seized at the border for fear of "dangerous" ideas spreading. East Germans, on the other hand, are free to send books and magazines to relatives and friends in the West. And since my love for reading in general and for "space books" in particular is well known to my aunts in East Germany, the occasional science fiction novel from beyond the iron curtain has found its way into my hands.

…However, the most exciting of those voice from beyond the iron curtain is not German at all, but a Polish writer, Stanislaw Lem, whose work I encountered via East German translations. I particularly enjoy Lem's humorous stories about the adventures of a space traveller named Ijon Tichy, which have been collected as Die Sterntagebücher des Raumfahrers Ijon Tichy (The Star Diaries of the Spaceman Ijon Tichy).

Lem's more serious works include the novels Eden with its fascinating portrayal of a truly alien society, Planet des Todes (Planet of Death), which was even filmed in 1960, and the generation ship story Gast im Weltraum (Guest in Space), which is currently being filmed in Czechoslovakia.
(8) MASSIVE ROUNDUP. Todd Mason has an ambitious collection of more than three dozen links to recent reviews and essays in "Friday's 'Forgotten' Books and more: the links to the reviews" at Sweet Freedom.
(9) STEAMIN' WORLDCON. Included in The Steampunk Explorer's "Steampunk Digest – August 10, 2018":
Worldcon, the World Science Fiction Convention, will be held August 16-20 in San Jose, within shouting distance of The Steampunk Explorer's International Headquarters. The program lists several steampunk-themed panels, including "Carriger & Adina Talk Steampunk (tea and silliness optional)" with authors Gail Carriger and Shelley Adina; "The Victorian & Edwardian Tech Tree" with Steve Frankel; and "Defining Steampunk" with Elektra Hammond, Anastasia Hunter, William C. Tracy, Diana M. Pho, and Jaymee Goh. We plan to be there, and for the benefit of attendees, we'll be posting stories about steampunk-related attractions in San Jose and elsewhere in Silicon Valley.
(10) LOOKING FOR BOOKS. Donations needed –
Book Drive for The Science Fiction Outreach Project (SFOP). Donate your books so they can be a lure for new fans! Bring them to Worldcon 76 and drop them off at the SFOP display in the Exhibit Hall.

Visit their site: https://t.co/6wo6U7OKrn

— Worldcon 76 San Jose (@worldcon2018) August 9, 2018
(11) WE HAVE ALWAYS BEEN AT WAR WITH EAST BAYSIA. The Digital Antiquarian remembers the big brawl between Apple and Microsoft in "Doing Windows, Part 8: The Outsiders".
…Having chosen to declare war on Microsoft in 1988, Apple seemed to have a very difficult road indeed in front of them — and that was before Xerox unexpectedly reentered the picture. On December 14, 1989, the latter shocked everyone by filing a $150 million lawsuit of their own, accusing Apple of ripping off the user interface employed by the Xerox Star office system before Microsoft allegedly ripped the same thing off from Apple.

The many within the computer industry who had viewed the implications of Apple's recent actions with such concern couldn't help but see this latest development as the perfect comeuppance for their overweening position on "look and feel" and visual copyright. These people now piled on with glee. "Apple can't have it both ways," said John Shoch, a former Xerox PARC researcher, to the New York Times. "They can't complain that Microsoft [Windows has] the look and feel of the Macintosh without acknowledging the Mac has the look and feel of the Star." In his 1987 autobiography, John Sculley himself had written the awkward words that "the Mac, like the Lisa before it, was largely a conduit for technology" developed by Xerox. How exactly was it acceptable for Apple to become a conduit for Xerox's technology but unacceptable for Microsoft to become a conduit for Apple's? "Apple is running around persecuting Microsoft over things they borrowed from Xerox," said one prominent Silicon Valley attorney. The Xerox lawsuit raised uncomfortable questions of the sort which Apple would have preferred not to deal with: questions about the nature of software as an evolutionary process — ideas building upon ideas — and what would happen to that process if everyone started suing everyone else every time somebody built a better mousetrap.
(12) NAVIGATING THE AMAZON. Peter Grant relates more "Lessons learned from a trilogy, Part 2: the impact on sales of rapid releases, and other factors" at Mad Genius Club. He discovered several benefits from releasing a trilogy of new novels in a short timeframe.
You can see at once that sales rose a little per volume after each launch, but not spectacularly so.  What did rise very strongly were KU [Kindle Unlimited] "borrows".  The triple "bounce" is obvious to the naked eye, even without numbers.  It seems that, once they were aware of the series, KU readers jumped on it, and read each volume in turn (sometimes "binge-reading" all three within a week).  That drove the series' sales ranks higher, and is still doing so, long after I'd have expected the earlier books' ranks to drop by much more.  As I write these words, all three volumes are still ranked in the top three-tenths of one percent of all books in the Kindle Store.  Needless to say, I find that very satisfying.
(13) DID THEY GAME THE SYSTEM? Six writers who have been booted from Amazon say they can't understand why: "Amazon self-published authors: Our books were banned for no reason" at Yahoo! Finance.
In recent weeks, Amazon (AMZN) has taken down e-books written by at least six self-published novelists who say they did nothing wrong and depend on the platform to make their living, those six novelists told Yahoo Finance.

The six authors published many of their books through Amazon's online self-publishing platform Kindle Direct Publishing Select, and they expressed shock and frustration over losing their livelihoods without understanding why.

Amazon, for its part, has been cracking down on KDP Select authors who supposedly game the system in order to get paid more. But the authors Yahoo Finance spoke to insist they haven't engaged in this kind of fraud, and that Amazon banned them without sufficient explanation of wrongdoing.
(14) TODAY'S BIRTHDAYS
Born August 10 — Rosanna Arquette, 59. Amazon Women on the Moon as well as voice work in Battle for Terra, appearances in Medium and Eastwick.
Born August 10 — Antonio Banderas, 58. Genre work in Interview with the Vampire: The Vampire Chronicles, the Spy Kids franchise, voice work in Puss in Boots and Shrek 2, appearances in the forthcoming The Voyage of Doctor Dolittle and The New Mutants.
Born August 10 — Suzanne Collins, 56. The Hunger Games trilogy which became a film series as well and The Underland Chronicles, a epic fantasy series.
Born August 10 — Angie Harmon, 46. Barbara Gordon in the animated Batman Beyond series and voice work in the current Voltron series, appeared on Chuck. 
Born August 10 — Joanna Garcia Swisher, 39. Quite a bit genre work including the From the Earth to The Moon miniseries, the animated The Penguins of Madagascar, Are You Afraid Of The Dark, The Astronaut Wives Club,  Kevin (Probably) Saves the World and Once Upon a Time series. 
(15) SHORT FICTION REVIEWS. Charles Payseur sells Ceaseless Sips by the seashore: "Quick Sips – Beneath Ceaseless Skies #257".
I am sorely tempted to guess that the link between the two latest stories from Beneath Ceaseless Skies is that their both authored by a Christopher. Because, at first glance, these two pieces are very different in terms of character, tone, and theme. Looking closer, though, and the stories seem paired not because of how well they work in harmony, but in how well they contrast, showing two sides of the same coin. On one, we get to see a man on a quest realize that he's in danger of losing something of himself and pause, take stock, and find comfort and guidance in another person. In the other story, though, we find a man who has fully embraced his quest, regardless of who he needs to destroy or hurt. Both stories feature mostly conversations and philosophy, but in one a lesson is learned, and in the other it is utterly destroyed. So yeah, let's get to the reviews!
(16) PICK SIX. Grow your TBR pile by reading "Six Books with Sam Hawke" at Nerds of a Feather.
What upcoming book you are really excited about?Probably Foundryside by Robert Jackson Bennett is the one I'm looking forward to the most. He wrote one of my favourite fantasy trilogies of recent years (the Divine Cities) and Foundryside has the thieves and heists in city state, Locke Lamora kind of vibe that I dig. Special mention to The Monster Baru Cormorant (because the Traitor was amaaaaazing) though I am scared of how much it is going to hurt me.
(17) POWER ARRANGERS. Former Archbishop of Canterbury Rowan Williams surprises with his deep interest in the meanings of Lord of the Rings: "Master of his universe: the warnings in JRR Tolkien's novels" in New Statesman.
…Yes, Sam is an idealised version of a socially ambivalent and archaic stereotype. Forget this for a moment and look at his instinctive realisation that fantasies of high-octane power, celebrity and control are poisonous. He is anything but perfect: his stubborn parochialism and his taunting of Gollum are failings, with bad consequences. But he retains some fundamental instinct of moral realism. This helps him share Frodo's burden without collapsing. Frodo's empathy for Gollum (rooted in a shared understanding of the Ring's terrible seduction), finally leads to a genuinely shocking denouement; but Gollum, furious, alienated by Sam, recklessly greedy for the Ring, saves Frodo from his self-inflicted catastrophe and dies as a result.

Somehow, the tangled web of interaction between these three ends in "salvation". Some force overrules and rescues them – but only through the weaving together of a whole set of flawed agencies, mixed motives, compassion, prejudice, courage and craving. Tolkien is seeking to model the way in which the creator works not by intervening but by interweaving. It is this starkly unexpected conclusion to the quest and the journey that makes the book most clearly a Christian fiction.

But even for the non-religious reader, this diagnosis of power is a reason for treating Tolkien more seriously than many are inclined to. Look beyond the unquestionable flaws: the blandly patriarchal assumptions, the recurrent patronising of the less "elevated" characters, the awkwardness of the would-be High Style of narrative and dialogue, the pastiche of Scott or Stevenson at their worst; beyond even the fantastically elaborated histories and lores and languages of Middle Earth.

The work is ultimately a fiction about how desire for power – the kind of power that will make us safe, reverse injustices and avenge defeats – is a dream that can devour even the most decent. But it is also a fiction about how a bizarre tangle of confused human motivation, prosaic realism and unexpected solidarity and compassion can somehow contribute to fending off final disaster. Not quite a myth, but something of a mythic structure, and one that – in our current climate of political insanities and the resurgence of varieties of fascistic fantasy – we could do worse than think about.
(18) UP YOUR UPLOAD. BBC discovered "This rigged charger can hijack your new laptop". "Who ran a sewer through a recreation area?" is joined by "Who put charging on a data line?"
A neat feature of many modern laptops is the ability to power them up through the USB port. Unlike the rectangular USB ports of old, the newer type – USB-C – can carry enough power to charge your machine.

That's great news: it means you don't need to add a separate port just for charging. And when the USB port isn't being used for power, it can be used for something useful, like plugging in a hard drive, or your phone.

But while you and I may look at that as an improvement, hackers see an opportunity to exploit a new vulnerability.

One researcher, who goes by the name MG, showed me how a Macbook charger could be booby-trapped. Modified in such a way it was possible to hijack a user's computer, without them having any idea it was happening.
(19) SENT BACK LIKE GANDALF? "Gladiator 2: The strangest sequel never made?" — Maximus resurrected by Jupiter to fight a rebel god, then sent time-travelling through wars of the ages.
At the time, [Nick] Cave had written just one produced screenplay, John Hillcoat's Ghosts… of the Civil Dead, and he was concentrating on his music career. But he couldn't resist when Crowe offered him the Gladiator 2 job, despite one obvious misgiving. "Didn't you die in Gladiator 1?" he asked. "Yeah, you sort that out," replied Crowe.

And that's what he did. Cave's Gladiator 2 screenplay opens with Maximus waking up in the afterlife. To his disappointment, it isn't the sun-kissed Elysium he dreamt of in Gladiator, but an endless rain-sodden netherworld where wretched refugees huddle on the shores of a black ocean. With the help of a ghostly guide, Mordecai, Maximus treks to a ruined temple where he meets Jupiter, Mars and five other diseased and decrepit Roman deities. Jupiter explains that one of their number, Hephaestus, has betrayed them, and is now preaching the gospel of another god who is more powerful than all of them. Just to quibble for a moment, Hephaestus is a Greek god, not a Roman one, so Cave should really have named him Vulcan. But the screenplay compensates for this slip with some writing to relish….
(20) DO YOU REMEMBER WHO KILLED SUPERMAN? At SYFY Wire — "An oral history of the original Death and Return of Superman, 25 years later".
…Jurgens fittingly enough would be the artist who drew that final image of a battle-weary Superman finally succumbing to battle with Doomsday, cradled in Lois Lane's arms, with Jimmy Olsen forlorn in the background.

Jurgens: As for that final double page splash, well… it first appeared as a triple page spread at the end of Superman #75. I don't think it has ever been reprinted that way, with a double page spread that then folds out into a triple pager. We spent an extraordinary amount of time getting it to work properly and I think it really helped bring Superman #75 to an appropriate close.

Superman #75 would go on to sell millions copies over multiple printings, reaching sales figure that were bolstered in no small part by the mainstream attention the death of this international icon had attracted.

Ordway: Coincidentally, the public's actual reaction mirrored what we did in the comics — they suddenly came out in numbers, professing their love for Superman. That was what we wanted all along, though of course none of us had any idea it would sell. We had hopes that people would respond, maybe comic shops might order more Superman comics.

Jurgens: There is no way we, DC or anyone was prepared for the reaction to our story. We were simply trying to tell a good, dramatic story that said something about the nature of a great character.

Carlin: I still can't believe people believed Superman would be gone forever. Reporter after reporter came up to DC and asked "Why are you killing Superman?" and my standard answer was "When was the last time you bought a Superman comic? Hell, when was the last time you bought ANY comic?" And every reporter said they hadn't bought a Superman comic since they were kids, to which my response was: "Then you're the one who killed Superman!" And most of these reporters, men and women, said that they were reporters because of Clark and/or Lois's inspiration!

For the creative team, the story they yearned to tell was not the slugfest that led up Superman's death, but the stories of loss afterward.

Bogdanove: In what seemed like no time, we'd written most of "Funeral for a Friend," which was where the real meat of the story was. I think we accomplished exactly what Louise spoke of. Through the eyes of Metropolis and the world, via the reactions of heroes, villains and the friends and family he knew, I think we got to say a lot about why Superman matters.

Certain scenes stand out in my memory: Bibbo (Bibowski, a supporting character who idolized the Man of Steel) saying, "It shoulda' been me!" Ma and Pa Kent watching the funeral of their own son on television, all alone by themselves. Some of these scenes we talked about that day still make my eyes tear up just thinking about them.
(21) JOIN THE SPACE FORCE. Commander Fred Willard comes out of retirement to enlist in Trump's Space Force.  "We're going to build a big, beautiful wall and those filthy Neptunians are going to pay for it."  "When there's trouble in space, we're on the case." From the Jimmy Kimmel Show. Fast forward to 3 minutes and 30 seconds.
[Thanks to John King Tarpinian, Kevin Standlee, JJ, Cat Eldridge, Chip Hitchcock, Martin Morse Wooster, Mike Kennedy, David Doering, Carl Slaughter, Andrew Porter, and Hyman Rosen for some of these stories. Title credit belongs to File 770 contributing editor of the day Niall McAuley.]