(1) DREAMSCRAPES. [Item by Mike Kennedy.] DeviantArt has launched a new AI-based text-to-art tool. The training set? Everything on DeviantArt. Of course, artists are allowed to opt out, but the default is opt in. More than a few artists are unhappy about that choice. "DeviantArt upsets artists with its new AI art generator, DreamUp" at Ars Technica.
On Friday, the online art community DeviantArt announced DreamUp, an AI-powered text-to-image generator service powered by Stable Diffusion. Simultaneously, DeviantArt launched an initiative that ostensibly lets artists opt out of AI image training but also made everyone's art opt in by default, which angered many members.

DreamUp creates novel AI-generated art based on text prompts. Due to its Stable Diffusion roots, DreamUp learned how to generate images by analyzing hundreds of millions of images scraped off sites like DeviantArt and collected into LAION datasets without artists' permission, a potential irony that some DeviantArt members find problematic….
(2) JUST A LITTLE RADIOACTIVE. In "Low-hostility reviews", Camestros Felapton thinks out loud about a potential rubric for online reviews.
…Why not "no hostility"? Partly because then you can only review what was good and yes, sometimes you can write a good review of a story you like (I like this one I wrote) but typically it is a lot meaty to get into things you dislike. To stick with the dinosaur theme, I like this review I wrote of Think Like a Dinosaur by James Patrick Kelly. In both those cases, I know the authors have read those reviews because they gave me positive feedback about them. (Should authors read their reviews? That's a silly question, they are going to regardless, but no, they should avoid disputing reviews or letting bad reviews get to them. Easier said than done though.) Also, some writers really are hypersensitive to criticism and may take offence at very innocuous discussions of their books. You can't guarantee nobody will get upset with you.

In addition, superficially "no hostility" can simply be a disguise for patronisation or passive-aggressive writing. Effusive praise in a review that intentionally misses the point of the story is still hostile, as in intended to aggravate the author or fans….
(3) NOW A BIG Z-ERO. "Feds Seize One of the Largest Sites for Pirated Books and Articles, Z-Library" reports Vice.
Last week, one of the largest repositories of pirated books and articles available on the Internet went dark—seemingly for good. As first reported by Torrentfreak, a series of Z-Library domain names were seized by the FBI and the main pages now have the stamped seals of the Department of Justice to prove it.

Z-Library was a shadow library project that offered file-sharing access to scholarly journal articles, academic texts, and trade books. The sites enabled access to otherwise paywalled content including more than 11 million books and over 80 million articles.

The FBI's New York press office declined to comment. However, the seizure comes shortly after authors and publishers began to call out TikTok for giving torrenters a platform to publicize their book piracy hacks.

"The hashtag #zlibrary on popular social media platform TikTok has 19 million views, in reference to the countless videos posted by college and high school students and others across the world promoting it as the go-to place for free ebooks," the Authors Guild wrote in a complaint to the Office of U.S. Trade Representative on October 7….
(4) BOB'S HIS UNCLE. Some heirlooms from Robert Bloch's wife have made their way to another generation, items from separate golden ages of Hollywood and science fiction: "Manitoba man inherits trove of famous author Robert Bloch's belongings" – CBC News also has some pictures.
… But to Unik, Bloch was just his great-uncle Bob, who he remembers visiting in Los Angeles as a young boy. Bloch introduced Unik to celebrity friends like Barbara Eden, who starred in I Dream of Jeannie, and George Kennedy, from movies like Earthquake.

Unik said his mother, Myrna Unik, inherited the items from her Aunt Elly, who was born Eleanor Zelisko in Manitoba. She later became a model, moved to Los Angeles and married Bloch.

"That's how I ended up … having a famous great uncle who's a writer," said Unik, who lives in the city of Selkirk, just north of Winnipeg.

The items Unik is still going through include two bookcases filled with autographed books and photographs of Bloch with actors including Boris Karloff, Joan Crawford, Christopher Lee and Buster Keaton — and even Hitchcock himself, he said.

Then there's a Christmas poem to his great-aunt and uncle from the author Ray Bradbury, who wrote the novel Fahrenheit 451….
(5) ADRIAN TCHAIKOVSKY JOINS AMAZING STORIES SPECIAL ISSUE: SOL SYSTEM. Publisher Kermit Woodall says one of the goals for the "Amazing Stories Annual Special: SOL SYSTEM" Kickstarter has been a special chapbook to be first handed out to AmazingCon II attendees. Today he announced that the story which will be so published has been commissioned from award-winning British author Adrian Tchaikovsky.
(6) MEMORY LANE.
1995 — [By Cat Eldridge.] Everything it seems get rebooted and so it was on this night twenty-seven years ago that The Invaders which ran twenty-eight years previously on ABC for two seasons saw itself rebooted.
James Parriot, who executive produced this series, went on to executive produce Dark Skies and Forever Knight. He previously did the same for Misfits of Science as well. Very impressive indeed.
Ray Thinnes was the lead in the original series which I admit I really loved, whereas Scott Bakula got the nod for the role here. He was Nolan Wood, who discovers the alien conspiracy, and Roy Thinnes rather briefly appeared as David Vincent, now an old man handing the matter of dealing with the aliens over to Wood.
This is not, repeat not, a full blown series, but rather a two-part movie, though it's promoted as a miniseries.
VERY BRIEF SPOILERS ARE HERE.
The story is remarkably similar to the original Invaders and no one should expect to be otherwise.
Nolan Wood who is a former Air Force officer Man inmate in prison for manslaughter charges, meets David Vincent while both are in prison. Vincent tells Nolan a fantastic story about the alien conspiracy to control the world.
Shortly after that, Wood begins to have visions about aliens and UFOs. Are they real, or is he going crazy?
Wood falls under the mental control of the aliens but eventually breaks free so he can save the President from certain death on a runaway train.
OK, YOU CAN COME BACK.
It was supposed to be a pilot for a series but the ratings and internal politics at Fox made it not happen. Thinnes was supposed to have a larger role if it went to series however interestingly enough Bakula was supposed to be recast or in a much more limited role.
In the FOX TV movie, the aliens were never shown even though digital footage of them existed. They do appear in the later airing on SYFY and on the DVD.
It is not streaming legally anywhere now. That means you may not offer up links to the YouTube copies as they are pirated as it is still under copyright.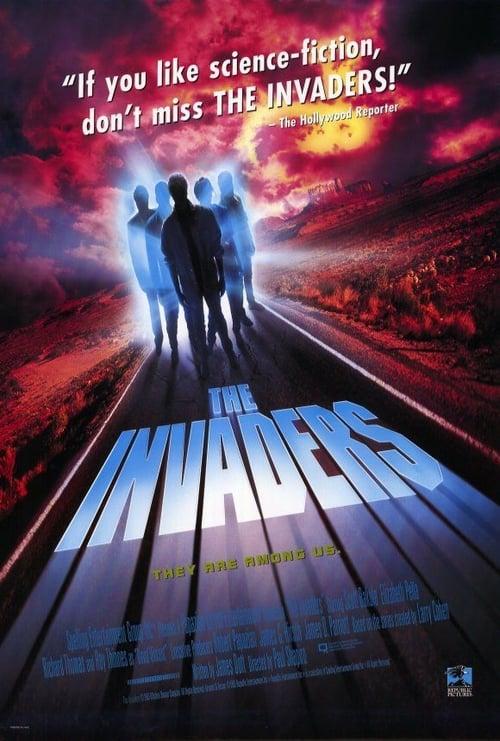 (7) TODAY'S BIRTHDAYS.
[Compiled by Cat Eldridge.]
Born November 12, 1917 — Dahlov Ipcar. Though primarily an artist and you really should go visit her website, she wrote three amazing young adult novels between 1969 and 1978 which are The Warlock of Night, The Queen of Spells and A Dark Horn Blowing. She lived but thirty miles north of here and I was privileged to meet her a few times. Lovely lady! (Died 2017.)
Born November 12, 1922 — Kim Hunter. She portrayed the chimpanzee scientist Zira in the Planet of the Apes films. Her first genre role was her debut as Mary Gibson in the early Forties film The Seventh Victim. She's June in A Matter of Life and Death, and Amanda Hollins in The Kindred. She has one-offs on Project U.F.O., Night Gallery, Mission Impossible and even appeared on The Evil Touch, an Australian horror anthology series. (Died 2002.)
Born November 12, 1929 — Michael Ende. German author best known for The Neverending Story which is far better than the film. Momo, or the strange story of the time-thieves is a charming if strange novel worth your time. The rest of his children's literature has been translated from German into English mostly by small specialist presses down the years. Unlike The Neverending Story and Momo, which I've encountered, I've not read any of these. (Died 1995.)
Born November 12, 1943 — Valerie Leon, 79. She appeared in two Bond films, Never Say Never Again and The Spy Who Loved Me. She was in the horror flick Blood from the Mummy's Tomb as Margaret Fuchs / Queen Tera. She was also Tanya in Revenge of the Pink Panther, and had one-offs in The Avengers, Space:1999 and Randall and Hopkirk (Deceased).
Born November 12, 1943 — Wallace Shawn, 79. Probably best remembered as the ferengi Grand Nagus Zek on Deep Space Nine, a role he only played seven times. He was also Vizzini in the beloved Princess Bride, and he played Dr. Elliott Coleye in the My Favorite Martian film. He also was the voice of Rex in the Toy Story franchise.
Born November 12, 1945 — Michael Bishop, 77. David Pringle included his Who Made Stevie Crye? novel in Modern Fantasy: The 100 Best Novels, An English-Language Selection, 1946-1987, high praise indeed. Though slightly dated feeling now, I'm fond of his Urban Nucleus of Atlanta series. And Philip K. Dick is Dead, Alas is simply amazing.
Born November 12, 1952 — Max Grodenchik, 70. He's best known for his role as Rom, a recurring character on Deep Space Nine. He has a long genre history with appearances in The Rocketeer, Here Come The Munsters, Rumpelstiltskin, Star Trek: Insurrection (scenes as a Trill were deleted, alas), Tales from The Crypt, Sliders, Wienerland, The Adventures of Rocky and Bullwinkle and Bruce Almighty.
Born November 12, 1982 — Anne Hathaway, 40. She starred as Selina Kyle in The Dark Knight Rises, the final installment in The Dark Knight trilogy. More impressive she was The White Queen In Alice Through the Looking Glass, and she was Agent 99 in the remake of Get Smart! No, not as good as the original but fun nonetheless.
(8) GHIBLI AND GROGU. "Studio Ghibli's Star Wars Short 'Zen – Grogu and Dust Bunnies' is Out" and FirstShowing.net gives a description of the short now available on Disney+.
…Zen – Grogu and Dust Bunnies is a hand drawn animated short by Studio Ghibli. The short film is written and directed by and animated by filmmaker Katsuya Kondo, who was worked as a key animator for Studio Ghibli on every single film ever since Castle in the Sky (in 1986) through The Wind Rises (2013) and When Marnie Was There (2014). Featuring digital ink & paint & camera & composite by Yoichi Senzui. Produced by Tomohiko Ishii. Including a zen circle by iconic Ghibli producer Toshio Suzuki. With music by Ludwig Göransson….
(9) AIR SHOW TRAGEDY. "Texas: Vintage military aircraft collide mid-air at Dallas air show" and perhaps as many as half a dozen pilots and crew are dead, although specific details have yet to be released.
A Boeing B-17 Flying Fortress and a Bell P-63 Kingcobra collided and crashed at the Wings Over Dallas airshow around 1:20 p.m. on Saturday, according to the Federal Aviation Administration.

Authorities responded to the incident at Dallas Executive Airport, Jason Evans with Dallas Fire-Rescue told CNN on Saturday.

The number of casualties in the crash was still not confirmed later on Saturday afternoon, according to Dallas Mayor Eric Johnson….

The B-17 was part of the collection of the Commemorative Air Force, nicknamed "Texas Raiders," and had been hangered in Conroe, Texas near Houston. It was one of about 45 complete surviving examples of the model, only nine of which were airworthy.

The P-63 was even rarer. Some 14 examples are known to survive, four of which in the United States were airworthy, including one owned by the Commemorative Air Force.

More than 12,000 B-17s were produced by Boeing, Douglas Aircraft and Lockheed between 1936 and 1945, with nearly 5,000 lost during the war, and most of the rest scrapped by the early 1960s. About 3,300 P-63's were produced by Bell Aircraft between 1943 and 1945, and were principally used by the Soviet Air Force in World War II….
(10) DID YOU MISS ME? "Unmanned, solar-powered US space plane back after 908 days" at MSN.com. I guess we're not supposed to ask what it was doing. (Waiting for the results of the midterms before deciding to come back to the US?)
An unmanned U.S. military space plane landed early Saturday after spending a record 908 days in orbit for its sixth mission and conducting science experiments.

The solar-powered vehicle, which looks like a miniature space shuttle, landed at NASA's Kennedy Space Center. Its previous mission lasted 780 days.

"Since the X-37B's first launch in 2010, it has shattered records and provided our nation with an unrivaled capability to rapidly test and integrate new space technologies," said Jim Chilton, a senior vice president for Boeing, its developer….
(11) STANISŁAW LEM IN SCIENCE PAPER. [Item by SF Concatenation's Jonathan Cowie.] Stanisław Lem's Solaris has become a model for Gaian evolution.
The Earth's biosphere consists of many sub-systems such as tropical rain forest biomes and peri-Arctic boreal land. These subsystems also undertake what is called ecosystem function such as the storage of carbon, management of water flow and so forth. Gaia theory has it that systems work together to provide stable states for the biosphere (such as creating greenhouse levels for either a glacial or interglacial planetary mode). A paper, 'Gaia as Solaris: An Alternative Default Evolutionary Trajectory', in the journal Origins of Life and Evolution of Biospheres has been published that suggests that ultimately all these sub-systems could become so closely integrated that they effectively become a super-organism. The researchers say: 'The blueprint for a possible outcome of this scenario has been masterfully provided by the great Polish novelist Stanisław Lem in his 1961 novel Solaris. In fact, Solaris offers such a persuasive and powerful case for an "extremely strong" Gaia hypothesis that it is, arguably, high time to investigate it in a discursive astrobiological and philosophical context.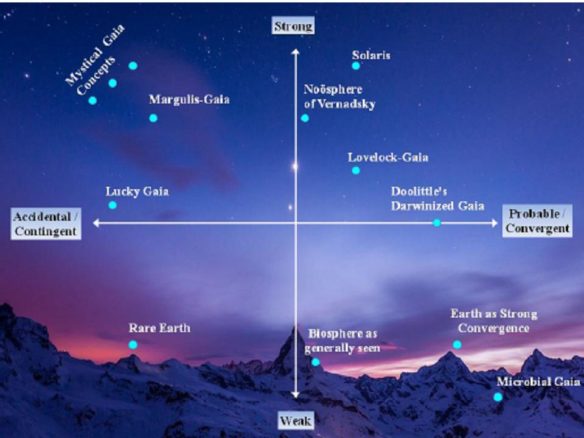 (12) HAVE I REACHED THE PARTY TO WHOM I AM SPEAKING? "Scientists Preparing for Alien Contact" says Futurism.
The University of St. Andrews in Scotland has announced the formation of a new research hub last week, bringing together the brightest minds to prepare humanity for the day we might make first contact with an intelligent extraterrestrial civilization.

The SETI (Search for Extraterrestrial Intelligence) Post Detection-Hub is meant to be a meeting point for experts to devise a unified way to respond to aliens — in case they do get in touch with us, or vice versa.

… So far, the only commonly agreed upon rules have been set out by the SETI community, as laid out in the SETI Institute's "Declaration of Principles Concerning the Conduct of the Search for Extraterrestrial Intelligence."

But those rules are very vague. The SETI Post-Detection Hub is planning to overhaul and expand upon them significantly….
[Thanks to Cat Eldridge, Mike Kennedy, Martin Morse Wooster, Michael J. Walsh, SF Concatenation's Jonathan Cowie, Kermit Woodall, JJ, John King Tarpinian, Chris Barkley, Andrew Porter, and Michael Toman, for some of these stories. Title credit belongs to File 770 contributing editor of the day Cat Eldridge.]