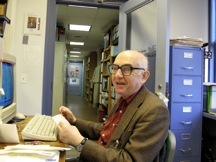 By Andrew Porter: Thomas Endrey, 77, New York City science fiction and gaming fan who attended numerous Boskones, Lunacons, and other local conventions, was found dead at home in Manhattan in mid-February after failing to show up for a gaming group meet-up. He is survived by a sister, Elizabeth von Riesenfelder, of Manchester, Vermont.
Born on January 12, 1940 in Hungary, I believe he came to New York from his native Hungary following the events there of 1956. Tom was retired from CitiBank in NYC. In retirement, he was an office volunteer on the Great Gull Island Project at the American Museum of Natural History in NYC.
He also volunteered in the late 1990s as an assistant editor on my Science Fiction Chronicle. He refused to take payment in cash, but I would give him books, and pay for his lunch, at a local Polish-American restaurant where he would enthusiastically consume Lazanki, a Polish dish which he relished.
[Editor's Note: Endrey wrote several good conreports for File 770 in days gone by, and wrote a lot more for other fanzines. He will be missed.]