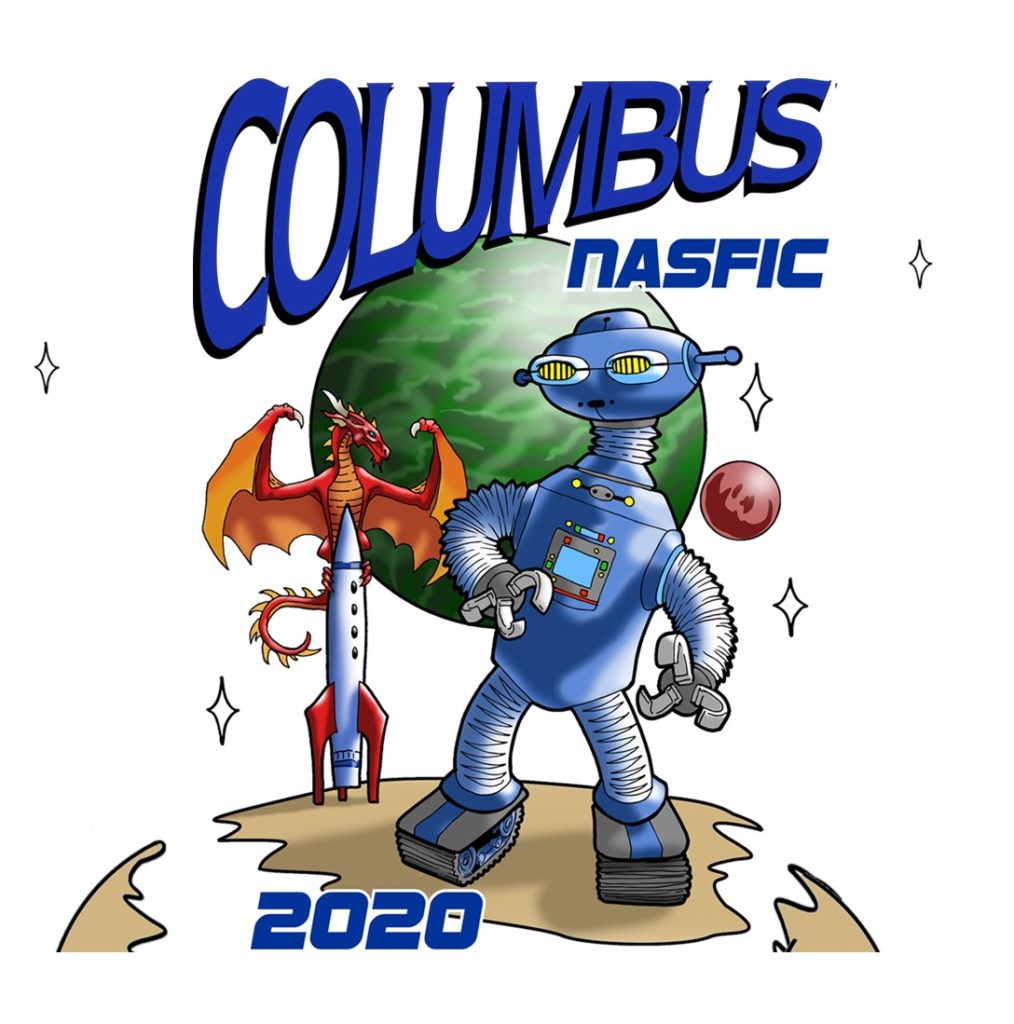 (1) COLUMBUS NASFIC OPENING CEREMONIES. [Item by David Doering.] Watching the Opening Ceremonies of the Columbus NASFiC, I noted the number of apologies for lack of the in-person meetings.
However, I also think we should celebrate that we are LIVING an SF novel. If we had written this 20 years ago, it would have been SF–real-time linkups with AV from around the globe!! Is that KEWL or what??
We did NOT have to cancel. We still have a great slate of programming. AND we still can get together to honor Mike Resnick.
I should add that we also don't have worry about scaring each other with pathogens if we were in person. Thus potentially setting off a "War of the Worlds" scenario with all of us "aliens" descending on a single city only to be doomed by GERMS.
(2) ROGUE NASFIC. Chris Garcia is the virtual Columbus NASFiC's Editor Guest of Honor. The con newsletter made everyone aware he's also got some real-life concerns right now:  
Please share your positive thoughts, hopes, prayers – as appropriate – and spare a moment of contemplation for Christopher J. Garcia (GOH), his wonderful family Vanessa, John Paul and Ben, as they await news of their home, and neighbourhood, evacuated as they are from Boulder Creek in the Santa Cruz County CZU August Lightning Complex Fire. Certainly, we all wish them well. (submitted by James Bacon)
In better Chris Garcia news, check out his Rogue NASFiC YouTube channel of extra programming. As Chris explained on Facebook:
This is what happens when I'm given the power of Guest of Honor without oversight!

This YouTube Channel has some great videos of interviews and more! I'll be adding as the Weekend (and beyond!) goes on!

Coming soon will be our Podcast channel!

I wanna thank the entire team of the NASFiC for letting me have a little fun!!!
Here's one example:
(3) NINA ALLAN FIRES A CANON. [Item by PhilRM.] Here's another very interesting piece by Nina Allan, discussing, among other things**, the notion of an SFF canon: "Weird Wednesdays #11: the question of lineage". There's a well-known quote by Borges, from his essay on Kafka: "The fact is that every writer creates his own precursors. His work modifies our conception of the past, as it will modify the future." Nina's take (which I completely agree with) is that every writer creates their own canon; I'd extend this to say that every reader creates their own canon also.

**Her piece also convinced me that I really need to read William Golding's The Inheritors and The Spire, which sound like fascinating books.
…I have explored and will continue to explore some of the 'canonical' works from science fiction's so-called Golden Age – not because I feel I should but because I am interested. I enjoy thinking about these things, I enjoy writing criticism, and I happen to believe that the more widely you read around a subject, the more fiercely you can argue your corner, the more enjoyment you can derive. And having said that, I saw an interesting comment somewhere at some point during the post-Hugo furore with words to the effect that it is actually the middle generation of science fiction writers – Le Guin, Butler, Russ, Delany, Disch, Haldeman, Pohl – who are the true pioneers of the American tradition, who not only wrote better then but speak better now to the generation of writers currently winning Hugos. That definitely rings true for me, though it might not for you. But that's the beauty of such contentions: they are there to be discussed.
(4) SFF WRITERS ON AMW PODCAST. The American Writers Museum in Chicago is doing a series of science fiction-themed podcast episodes for the Ray Bradbury Centennial.
In celebration of Bradbury, the AWM will also air in August on its newly launched podcast four conversations with contemporary science fiction and fantasy writers. Each weekly episode of the podcast features one of the AWM's past live programs and covers a range of topics including process, writing influences, and the life of a writer. J. Michael Straczynski, author of Becoming Superman headlines the August 10 episode. On the August 17 episode, Annalee Newitz, author of The Future of Another Timeline, is joined by journalist Dan Sinker. Hugo-Award winner John Scalzi, author of The Consuming Fire, is featured on the August 24 episode. Isabel Ibanez, author of Woven in Moonlight, closes out the month on the August 31 episode.
Episodes already online —
(5) THE POWER OF FIVE. James Davis Nicoll has assembled another listicle for Tor.com: "Five SF Books That Would Make Great Musicals".
If there is one lesson to be learned from Hamilton's Broadway success, it's that a surprising diverse number of themes can be successfully turned into musicals. After all, who would have believed Ontario's steel town—just a second—I have just been informed that the musical Hamilton is not in fact about Hamilton, Ontario, but rather about a significant figure in the American Revolution. I see.

Nevertheless, my point stands: almost everything can be turned into a musical, given sufficient talent. Even science fiction epics. Which brings me to the exciting topic of What Science Fiction Works I Would Like to See as Musicals.
(6) HARRYHAUSEN SCULPTURE. This piece is up for bid at Nate D. Sanders Auctions until August 27. "Ray Harryhausen Original Bronze Sculpture — One of 12 in His Limited Edition Self-Portrait Entitled 'Giving Life to Fantasy'"
Ray Harryhausen original sculpture, #10 in the limited edition of 12 created in the early 1990s, and then cast in 2010, the last work of fine art by the cinematic trailblazer before his passing. Entitled "Giving Life to Fantasy", this self-portrait sculpture depicts Harryhausen as he wanted to be remembered, filming the animated creatures of his imagination: the Cyclops and Dragon in their climactic battle in "The 7th Voyage of Sinbad". Other personal touches in this detailed sculpture include Harryhausen's Giant Octopus from "It Came from Beneath the Sea" in a box on the floor (along with his inspiration, the gorilla from "King Kong"), and his Brontosaurus from "The Animal World" on the side table. Signed and numbered by Harryhausen on the corner of the table, "Ray Harryhausen 10/12". Sculpture stands on a green marble and wooden base, with entire presentation measuring 19" x 11.5" x approximately 11" tall, and weighing nearly 50 lbs. Some light patina to bronze, overall near fine condition.
(7) HUNGER GAMES IN EVERYDAY LIFE. [Item by Martin Morse Wooster, Designated Reader, Financial Times.] This is the lede of an article by John Reed in the August 20 Financial Times about protests against the Thai government.
"It is a morning ritual at every Thai school, steeped in tradition and nationalist decorum: children stand still and sing the national anthem as the kingdom's blue, white, and red flag is raised.

But this week, amid a growing 'Free People' youth protest movement, children across Thailand raised their hands during the ceremony to make the protesters' trademark, defiant three-fingered salute.

The gesture originated in The Hunger Games, the dystopian young adult franchise of books and films, but has been adopted as an emblem of a movement that has spread from university campuses to secondary schools…

…"it has become a peacefully powerful symbol of anti-authoritarianism,' said Viengrat Nethipo, assistant professor of political science at Bangkok's Chulalongkorn University. 'Recently it's been described among youth as symbolic of the French Revolution's values of liberty, equality, and fraternity, so it's easily adopted as a symbol.'"
(8) STATUE READY FOR PRIME TIME. [Item by rcade.] Medusa, a 2008 statue by the Argentine-Italian sculptor Luciano Garbati, is getting a seven-foot tall bronze version in New York City across from the New York Criminal Courthouse where Harvey Weinstein was put on trial. NSFW image in a tweet here.
Garbati's statue is a response to Benvenuto Cellini's famous Perseus with the Head of Medusa statue and the idea that Medusa is the villain of the story.
Quartz explains in "The story behind the Medusa statue that has become the perfect avatar for women's rage" –
The original Greek myth of Medusa offers plenty to be angry about. The monstrous being with snakes for hair starts out as a human woman, who Poseidon rapes in Athena's temple. The goddess then punishes Medusa by turning her into a Gorgon and exiling her. Perseus is later sent on an errand to bring Medusa's head to King Polydectes. Equipped with a mirrored shield, winged sandals, and a special sack for her head, Perseus creeps up on Medusa while she lies sleeping, cuts off her head, and then uses it as a weapon for turning enemies into stone."
Garbati says, "The representations of Perseus, he's always showing the fact that he won, showing the head…if you look at my Medusa…she is determined, she had to do what she did because she was defending herself. It's quite a tragic moment."
(9) STEVEN UNIVERSE AND SHE-RA. "In Conversation: Rebecca Sugar and Noelle Stevenson" at Paper.
…With Steven Universe and She-Ra both having ended this year, PAPER invited showrunners Rebecca Sugar and Noelle Stevenson to sit down with one another and reflect on the legacies of their respective series, getting their start in comics, the state of representation in the animated field and where things go from here.

PAPER: Since you're both wrapping up your respective series', looking back at what each of you have accomplished, in those series what are you proud of, what do you wish you could have improved on or pushed further?

Rebecca Sugar: Okay, well looking back on everything, I'm really proud of what we were able to do with the characters of Garnet and Ruby and Sapphire. It really goes all the way back to the time I spent on Adventure Time and when I got a chance to do some of the earlier episodes with Marceline and Bubblegum. This was 2010 so Don't Ask Don't Tell was still a national policy. It would be half a decade before same-sex marriage was legal in The United States and I wanted to do something with the characters of Marceline and Bubblegum but figure out how to get it on TV. The strategy at the time that I pitched was that because they're both centuries-old, millenniums-old, had a relationship sometime in the past and they're unpacking that in a way that would be apparent. That was the only way to be able to do something with these characters and their relationship on screen.

As I was entering my show, I really wanted to find a way to be able to show characters actively in a relationship happening in real-time. We strategized the concept of fusion to be able to explore relationships and include queer relationships. Central to that, one of the things we were excited about was to have the character of Garnet have a ton of screen time and be a main character. There were a lot of things I wanted to explore with an active relationship to parallel my own relationship. I was inventing these characters with my co-executive producer Ian Jones-Quartey, who is also my partner. We wanted to explore an active, queer relationship that would parallel a lot of our experiences with bigotry as an interracial couple.
(10) N.K. [Item by rcade.] While discussing a project called Women's Prize for Fiction Reclaim Her Name that asked to publish one of her stories for free, then asked to publish one of her novels for free, Nora Jemisin explains how she came to write novels under the initials N.K. Thread starts here.
"(And for those wondering, I've said this in multiple interviews, but I did it bc at the time I was an academic starting to publish papers, and thought the initials would separate my fiction writing from my academic writing. [Yeah, this was before natural language processing.])"
Read the whole thread for how she handles a question about what the K stands for.
(11) MEDIA ANNIVERSARY.
August 1998 — Blade premiered. With Wesley Snipes as Blade, this film, the first of a trilogy, was directed by Stephen Norrington and written by David S. Goyer as based on the Marvel character developed by writer Marv Wolfman and penciller Gene Colan. It was produced by Snipes along with Peter Frankfurt and Robert Engelman. Stephen Dorff, Kris Kristofferson, N'Bushe Wright and Donal Logue were the other principal cast. Marvel, along with Amen Ra Films and Imaginary Forces, were the producing film companies. It was generally well-received by critics though several thought it was way too violent. Box office-wise, it did fantastic but Marvel earned just a flat fee of $25,000. Audience reviewers at Rotten Tomatoes currently only give it a 55% rating.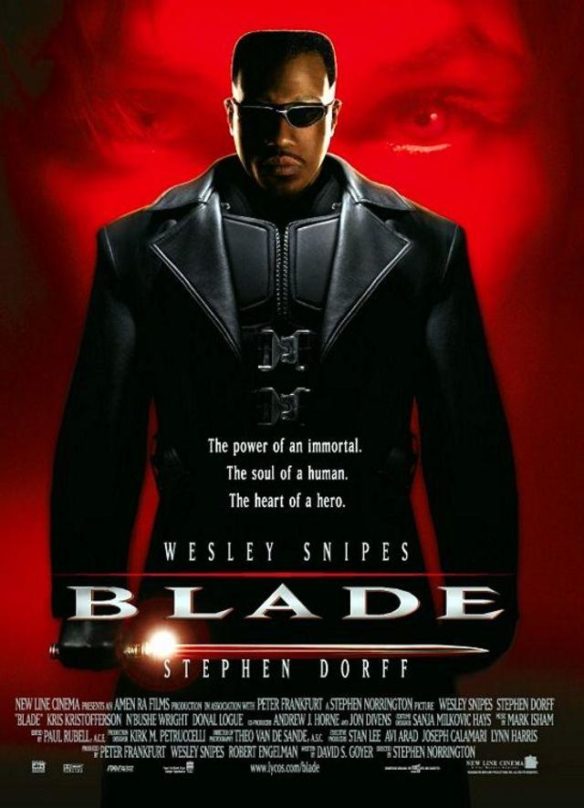 (12) TODAY'S BIRTHDAYS.
[Compiled by Cat Eldridge and John Hertz.]
Born August 21, 1872 — Aubrey Beardsley. Best remembered for his often highly erotic art, ISFDB lists him as having a genre novel, The Story of Venus and Tannhäuser, which bears one of the longest subtitles I've encountered ("The story of Venus and Tannhäuser in which is set forth an exact account of the manner of State held by Madam Venus, Goddess and Meretrix under the famous Hörselberg, and containing the Adventures of Tannhäuser in that Place, his Repentance, his Journeying to Rome, and Return to the Loving Mountain"). He has two genre novellas as well, "Catullus: Carmen Cl." and " Under the Hill". And yes, he was just twenty-five when he died of tuberculosis. (Died 1898.) (CE)
Born August 21, 1888 — Miriam Allen deFord. Although it is said that she started writing SF when Boucher became editor of The Magazine of Fantasy & Science Fiction, she only published five of her eighteen late Forties through Fifties works there. One published there, "Mary Celestial", was written with Boucher. And one, "A Death in the Family", was adapted in Night Gallery's second season. Best remembered as a mystery writer. I see no indication that she's in print in any manner these days for her SF (but three of her mysteries are available from the usual suspects) though she had two SF collections, Elsewhere, Elsewhen, Elsehow and Xenogenesis. (Died 1975.) (CE)
Born August 21, 1911 – Anthony Boucher. Co-founded The Magazine of Fantasy & Science Fiction with Francis McComas, co-edited with him 1949-1954, alone through '58; two Hugos for Best Professional Magazine. Eight Best of F&SF anthologies 1952-1959 ('52-'54 with FM). A Treasury of SF '59, one of our best. Six dozen short stories. Translated into Dutch, French, German, Hungarian, Italian, Japanese, Russian. Opera lover. First translator of Borges into English, hello Evelyn Leeper. Also detective fiction (a star there too), radio drama, poker. (Died 1968) [JH]
Born August 21, 1927 – Arthur Thomson. Fanartist. Thirty covers, a hundred forty interiors. Signature often read as "ATom", some insist it's just "Atom". Resident illustrator of Hyphen. Back covers for Nebula. Here is the Nov 64 Riverside Quarterly. Here is Banana Wings 49 (repr. from An ATom Sketchbook). TAFF (Trans-Atlantic Fan Fund) delegate, published ATom Abroad. Official Artist of Boskone 15. Two Novas. Rotsler Award. (Died 1990) [JH]
Born August 21, 1943 – Ron Walotsky. A hundred eighty covers, fifty interiors. Gallery in Locus 500. Interview in SF Chronicle 214. Magic: the Gathering cards. Ancient Warriors of Lost Civilizations series based on horseshoe-crab shells found near his Florida home. Here is the May 67 F&SF. Here is Lord of Light. Here is Earth Ship and Star Song. Here is The Shores Beneath. Here is Houston, Houston, Do You Read? (Souls cover bound with it is by Dieter Rottermund.) Here is the Nov 97 Analog. Here is Jimi Hendrix. Artbook, Inner Visions. (Died 2002) [JH]
Born August 21, 1943 — Lucius Shepard. Damn, I didn't know he'd passed on. Life During Wartime which won him the Astounding Award for a Best New Writer is one seriously weird novel. And his World Fantasy Award winning The Jaguar Hunter is freaking amazing as are all his short collections. I don't remember reading " Barnacle Bill the Spacer" which won a Best Novella Hugo at ConFrancisco. (Died 2014.) (CE)
Born August 21, 1956 — Kim Cattrall, 64. Gracie Law in John Carpenter's amazing Big Trouble in Little China. She also played Justine de Winter in The Return of the Musketeers, Paige Katz in Wild Palms, Lieutenant Valeris in Star Trek VI: The Undiscovered Country and Linday Isley in Good v. Evil. Series wise, she was one offs in Tales of the Gold Monkey, Logan's Run, The Incredible Hulk and The Outer Limits. (CE);
Born August 21, 1957 – John Howe, 63. A hundred sixty covers, two hundred fifty interiors. The Maps of Middle-Earth, There and Back Again with Brian Sibley; A Middle-Earth Traveler. Here is Rip van Winkle. Here is The Lord of the Rings (presumably not meaning to imply Gandalf is he, aiee). Here is The Once and Future King. Here is Fool's Errand. Here is Créatures. Artbooks Myth & Magic, Sur les terres de Tolkien, John Howe Fantasy Art Workshop, Forging Dragons, Lost Worlds, Coloring Dragons. Website here. [JH]
Born August 21, 1965 – Darynda Jones, 55. Sixteen novels, three shorter stories. Summa cum laude from U. New Mexico. Sign-language interpreter. RITA Award. Admits to almost finishing a post-Apocalypse story while in a corner booth at a Tastee Freez, kindly has never shown the manuscript. Lives in New Mexico with husband and two sons the Mighty Mighty Jones Boys. Third Grave Dead Ahead a NY Times Best Seller. [JH]
Born August 21, 1968 — Carrie-Anne Moss, 52. I first saw her as Tara McDonald in the Dark Justice series. Not genre, just her first video I think. Due later played Monica Howard in the "Feeding the Beast" episode of Forever Knight as her first genre role. Oddly enough her next role was as Liz Teel in the Canadian series called Matrix which has nothing to do with the Matrix film franchise where she's Trinity. Her latest genre role was playing Jeryn Hogarth in the now defunct Netflix based Marvel Universe. (CE)
Born August 21, 1972 – Socorro Vegas, 48. Premio Nacional de Poesía y Cuento «Benemérito de América», Premio Nacional de Novela Ópera Prima «Carlos Fuentes» (Mexico). Five book-length works (Todos las islas is short stories). We may claim "The Giant in the Moon", see it in English here. Other translations in Compressed, Concho River Review, The Listening Eye, Literal, The Modern Review. [JH]
Born August 21, 1975 — Alicia Witt, 45. Her first role was at age eight as Alia Atreides in David Lynch's Dune. Next, genre wise at least, voices Caitlin Fairchild In the animated Gen¹³ film. She has series one-offs in Twilight Zone, Person of Interest, Elementary, Walking Dead, Supernatural and The Librarians. She showed up in an episode of the original Twin Peaks and reprised that role nearly thirty years later in Twin Peaks: A Limited Event Series. (CE)
(13) DC FANDOME. In addition to everything else happening this busy weekend is the DC Fandome. It's free and signing up is easy — here. The 24-hour event starts at 10 a.m. Pacific.
(14) GRATITUDES. In "i am grateful", Wil Wheaton admits it's hard for him to fall asleep because when he's trying, that's when anxiety works on him most aggressively. He shares a practice that has made it easier.
…But I started doing something that's been incredibly helpful, and I thought I'd share it.

Every night as I'm getting ready for bed, I focus on a list of things for which I am grateful. I call it "doing my gratitudes". I just start somewhere, like "I am grateful that I am going to sleep in a warm, safe bed. I am grateful that I get to share this bed with Anne. I am grateful I have enough food." Stuff like that. I remind myself that there is so much that is good in my life, and by thinking about those things, recognizing those things, and making space to feel grateful for them, I do not give my anxiety an opportunity to grab hold of anything and go to work on me.

… Those bright lights are so important right now, whether they are stadium lights turning night into day, or pinpricks that barely allow candlelight through black velvet. Spending time in gratitude makes it easier for me to find the light, and remember that it is there, even when I can't see it.
(15) THE CAST IS IN HERE. SYFY Wire believes "The X-Files Cast Singing Its Theme Song On Zoom Is Now, Like The Truth, Out There".
Did the iconic theme song for The X-Files need fan-written lyrics? If it got the cast of the sci-fi series to reunite for a musical Zoom call, then, perhaps — like the massive government archives secreting away the supernatural — it's worth it for the greater good.

…Now how many government secrets are hidden in this song? The new lyrics — courtesy of contest winners Jennifer Large and Rebecca MacDonald — give composer Mark Snow's classic eerie theme a twist, especially when sung by a wide-ranging collection of cast members and crew.
(16) A KIND OF WORLDBUILDING. Tiffany Meuret analyzes "Our Timely Obsession with Animal Crossing" at the SFWA Blog.
…Explanations abound for the game's sudden explosion in popularity, but I have noticed a particularly common camaraderie among fellow writers. What is it about this game, with so many other open-concept games already in existence, that draws writers to it with such gusto? The timing of release and the sweetness of the game in such dark times are no doubt factors, but I believe it goes deeper than that, down to the very core of our creative hearts.

…From that moment on, I unconsciously spun the narrative of my experience. From the clothes I wore to where I placed the coin-operated tourist binoculars I'd shot out of a balloon with a slingshot, I was crafting a story within this story-less game. This is the garden where I breed pink roses. Here is my carnival for when I need a bit of a thrill, outfitted with a popcorn machine and a teacup ride. There is the playground and community pool where I'll meet my friends on the weekend, lined with color-coded tables for playing chess. Every piece of wallpaper, every color, every pair of jelly sandals I place on my chibi feet are dishing out tone and theme and mood.

And then there are the villagers. They are a delight to witness as they flit about the island, munching on popsicles, singing, or sprinting Naruto-style on the beach. I've dedicated far too many hours to crafting and designing spaces on my island that my residents might enjoy, despite many of the items being stationary and non-interactive. My imagination does all the work the game does not.
(17) TALL TYPO TALE. [Item by rcade.] The new version of Microsoft Flight Simulator maps the entire world so you can fly over it, using AI and lots of mapping data. Engadget reports "A typo created a 212-story monolith in 'Microsoft Flight Simulator'"
Alexander Muscat tweets, "In Microsoft Flight Simulator a bizarrely eldritch, impossibly narrow skyscraper pierces the skies of Melbourne's North like a suburban Australian version of Half-Life 2's Citadel, and I am -all for it-."
(18) VANISHING POINT. BBC Documentary covers "Rulebreakers: How I disappear".
In Japan, if you want to disappear from your life, you can just pick up the phone and a 'night moving company' will turn you into one of the country's 'johatsu,' or literally 'evaporated people.' You can cease to exist. Meet the people who choose to disappear and the people who are left behind.
(19) NOT COYOTE AND ROADRUNNER. But there are prints from two animals. "Cliff collapses in Grand Canyon, revealing 313 million-year-old footprints, park says" – Yahoo! News has the story.
A geology professor hiking in the Grand Canyon made a "surprising discovery" — the oldest recorded tracks of their kind.

After a cliff collapsed in Grand Canyon National Park, a boulder with fossilized tracks was revealed, park officials said in a Thursday news release. The fossil footprints are about 313 million years old, according to researchers.

"These are by far the oldest vertebrate tracks in Grand Canyon, which is known for its abundant fossil tracks" Stephen Rowland, a paleontologist at the University of Nevada, Las Vegas, said in the news release. "More significantly, they are among the oldest tracks on Earth of shelled-egg-laying animals, such as reptiles, and the earliest evidence of vertebrate animals walking in sand dunes."
(20) IT'S BACK. Like The Blob or The Thing, there's no stopping Pumpkin Spice from showing up anytime it wants. Morning Consult takes notice: "With Seasonal Products Making an Early Return This Year, Consumers Weigh In on Sweet Spot for Promotions".
Pumpkin spice came early this year — too early, according to majorities of consumers.

Dunkin' Donuts' pumpkin-flavored coffee and other fall treats returned to the menu earlier than ever this year, the company said, arriving at participating locations Wednesday. Starbucks Corp. has yet to confirm the return date for its much-loved pumpkin spice latte, but one location reportedly said the product would launch on Aug. 28.

While some social media users are eager for the early return of fall products — a silver lining in an otherwise difficult year — new polling from Morning Consult shows that many consumers would prefer to see products promoted closer to the seasons or holidays with which they're associated….
(21) VIDEO OF THE DAY. Metal Monsterette is a fun family film made in 1957 with kids and cousins by Ed Emshwiller. His daughter Eve is the heroine and daughter Susan is the mad scientist Dr. Majenius.
[Thanks to Cat Eldridge, Mike Kennedy, John King Tarpinian, John Hertz, Michael Toman, JJ, rcade, Martin Morse Wooster, and Andrew Porter for some of these stories. Title credit goes to File 770 contributing editor of the day Kip W.]