(1) STAR DATING. Thanks to The Hollywood Reporter we have not missed these entries: "William Shatner Gives Captain's Log Updates as Kirk Amid Coronavirus Standstill".
It would appear William Shatner is not quite through with Capt. James T. Kirk after all. The actor has been giving Star Trek fans a treat via social media with Captain's Log updates — a plot device, usually done for story exposition, on the famed sci-fi TV show and subsequent films. Shatner, like many around the world, is self-isolating during the coronavirus pandemic.
(2) NEBULA CONFERENCE. A plan will be shared at the end of the month said SFWA President Mary Robinette Kowal today in "An Update on the SFWA Nebula Conference".
Last night, California announced that it was extending its shelter-in-place measures across the entire state. With the Nebula Conference scheduled to take place in Los Angeles at the end of May, we have been anticipating that move and working towards a positive solution which we had planned to announce on March 31st. I would like to keep to that timeline as it will enable us to complete some final details for what we believe will be a great conference. I would appreciate your patience until then.

Though the circumstances are distressing, the alterations that we are making to prioritize the health and safety of our attendees have offered us some exciting opportunities to make the Nebula Conference more accessible and inclusive. I know you may have questions about refunds and your hotel reservations. Please do not make any changes until we share with you our plan on March 31st, which will allow us to expand the range of options that you will have.

I look forward to speaking with you on March 31st.
(3) INDUSTRY POSTPONEMENTS. On the other hand, BookExpo has definitely moved reports Shelf Awareness:
BookExpo, Unbound and BookCon are being moved to July 22-26 from May 27-31, at the Javits Center in New York City.

Reedpop, the organizer of the events, explained: "We have been closely monitoring the outbreak of COVID-19 in New York and around the country. Following the guidance of health officials, we are now complying with the State's request that large gatherings be postponed to ensure the well-being of everyone involved with our event."

Event director Jenny Martin commented: "If the situation changes again between now and July, we will change along with it. We run events, we pivot proudly. Right now, we remain focused on the goal of serving our community this summer with those who want to do the same."
(4) A LITTLE LIST. Discover magazine calls these the "10 Best Science Fiction Planets" – a 2008 post, but it's news to me!
4. Mote Prime (1974): In Larry Niven and Jerry Pournelle's The Mote in God's Eye, this is the homeworld of the Moties, a species that, due to cosmic happenstance, has been bottled up in its solar system ever since it evolved. Mote Prime is planet which has become a palimpsest, mutely testifying to the endless cycles of technological development and collapse experienced by the trapped Moties.
I'm quoting this one because a friend recently shared with me his quite definite ideas about the usage of palimpsest.
(5) PRODUCTION HALTED. TV Guide's article includes news of many genre/related media going on hiatus: "Coronavirus Update: Every TV Show, Movie, Sport, and Major Event Canceled Due to COVID-19". Here are a couple of excerpts – more at the link.
The Handmaid's Tale

Deadline reports that production on Season 4 of The Handmaid's Tale has been temporarily suspended due to concerns over the recent spread of COVID-19, aka coronavirus. The show, which films in Toronto, has yet to announce whether this suspension will delay its planned fall premiere date….

Disney+ Marvel Shows, including MCU spin-offs

On March 10, Disney+ shut down production on its Marvel series The Falcon and the Winter Soldier, which stars Anthony Mackie and Sebastian Stan, because the Czech Republic placed restrictions on travel and events, and closed its schools due to COVID-19 concerns. There is no word yet on if the show will revisit Prague to finish shooting.

On March 14, Variety reported Marvel Studios paused production on the rest of its Disney+ series, which includes Loki and WandaVision. For shows currently in production, the work will continue remotely.
(6) INFLUENTIAL CINEMA. The Criterion Channel is running a block of historic movies of the "German Expressionism" school.
Physical reality warps and bends to fit the twisted psychological states on display in the cinema of the German expressionist movement of the 1920s. With their emphasis on exaggerated shadows, off-kilter camera angles, dreamlike sets, and macabre story lines, these movies paved the way for the aesthetics of both horror cinema and film noir, genres in which mood and atmosphere take precedence over realism. This selection of some of the movement's key works includes the quintessential example of the style, the delirious nightmare THE CABINET OF DR. CALIGARI; F. W. Murnau's shivery vampire classic NOSFERATU; and several masterpieces by Fritz Lang, who, following the success of works like METROPOLIS and M, would go on to become instrumental in importing expressionist aesthetics to the Hollywood of the 1930s and '40s.
(7) ACCIO JAVA. Delish reports some clever branding: "This Harry Potter Inspired Coffee Comes In Flavors Fit For Your Favorite Wizards".
…Etsy shop 9andthreequartersco has created coffee blends inspired by the magical world of Harry Potter. These coffees names are not only inspired by the books and movies, but so are the flavors.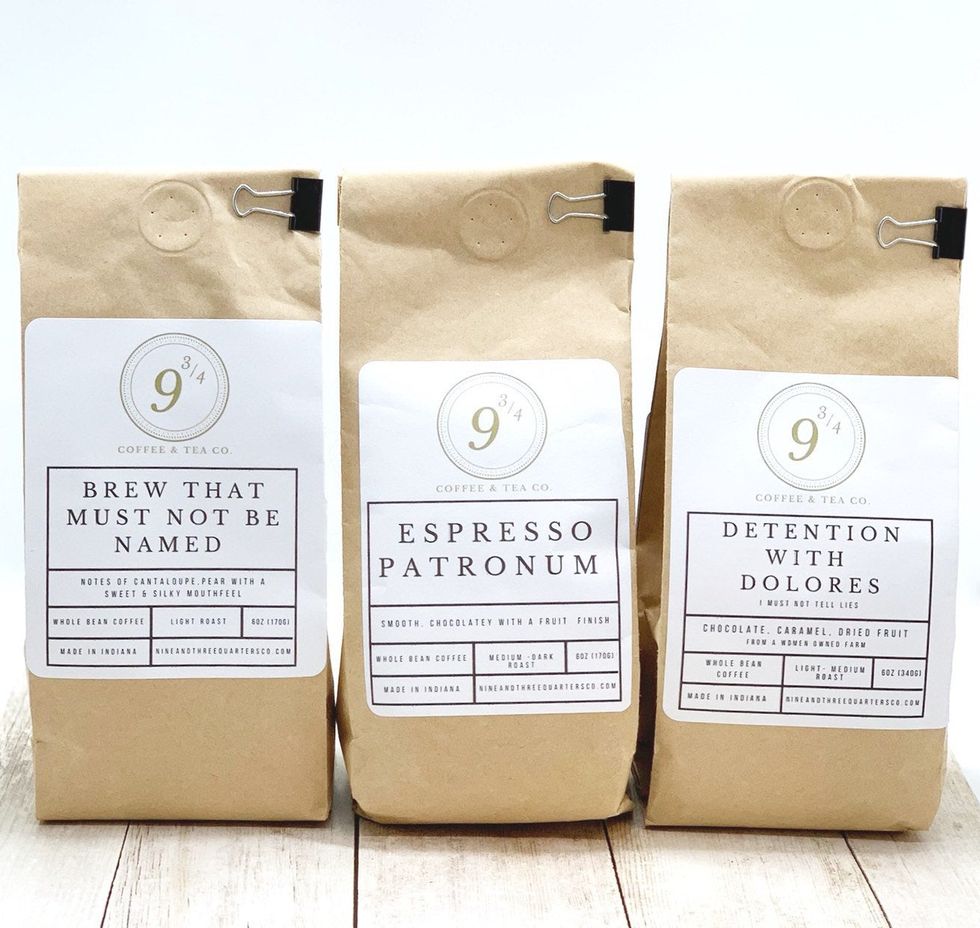 (8) TODAY IN HISTORY.
March 20, On this date, X Minus One's "Protection" first aired. A man accidentally acquires an alien protector, who knows every disaster in the world before it happens. The script is by Ernest Kinoy.  The cast includes Bill Redfield, William Keane and Elliott Reed.  It written by Robert Sheckley.  It was a half-hour science fiction radio drama series that broadcast from April 24, 1955 to January 9, 1958 in various timeslots on NBC. You can hear it this episode here.
(9) TODAY'S BIRTHDAYS.
[Compiled by Cat Eldridge.]
Born March 20, 1902 — David Lasser. From 1929 to 1933, he was the Managing Editor of Gernsback's Stellar Publishing Corporation. He edited Science Wonder Stories and Wonder Stories Quarterly, as well working with writers on both zines. Lasser also edited Gernsback's Wonder Stories from June 1930 to October 1933. As near as I can tell, The Time Projector novel is his only genre work. (Died 1996.)
Born March 20, 1932 — Jack Cady. He won the Nebula Award, the World Fantasy Award, and the Bram Stoker Award, an impressive feat indeed. McDowell's Ghost gives a fresh spin on the trope of seeing seeing a War Between The States ghost, and The Night We Buried Road Dog is another ghost story set in early Sixties Montana. Underland Press printed all of his superb short fiction into two volumes, Phantoms: Collected Writings, Volume 1 and Fathoms: Collected Writings, Volume 2. (Died 2004.)
Born March 20, 1948 — Pamela Sargent, 72. She has three exemplary series of which I think the Seed trilogy, a unique take on intergenerational colony ships, is the one I like the best. The other two series, the Venus trilogy about a women determined to terraform that world at all costs is quite good also, and there is the Watchstar trilogy which I know nothing about. Nor have I read any of her one-off novels, so please do tell me about them. 
Born March 20, 1950 — William Hurt, 70. He made his first film appearance as a troubled scientist in Ken Russell's Altered States, a history-making film indeed. He's next up as Doug Tate in Alice, a Woody Allen film. Breaking his run of weird roles, he shows in it's that not bad really to be Lost in Space as Professor John Robinson. Dark City and the phenomenal role of Inspector Frank Bumstead follows for him. He was in A.I. Artificial Intelligence as Professor Allen Hobby and performed the character of William Marshal in Ridley Scott's Robin Hood, Up next was horror film Hellgate and his role as Warren Mills which spiked a lot watchable than The Host and Jebediah character  from Winter's Tale as adapted from the Mark Helprin novel was interesting as wax the entire film. His final, to date that is, is in Avengers: Infinity War as Thaddeus "Thunderbolt" Ross. Two series roles of notes, the first being in the SyFy Frank Herbert's Dune as Duke Leto I Atreides. Confession: the digitised blue eyes bugged me so much that I couldn't watch it. The other role worth noting is him as  Hrothgar in Beowulf: Return to the Shieldlands. 
Born March 20, 1955 — Nina Kiriki Hoffman, 65. Her first novel, The Thread That Binds the Bones, won the Bram Stoker Award for first novel. In addition, her short story "Trophy Wives" won a Nebula Award for Best Short Story. Other novels include The Silent Strength of Stones (a sequel to Thread), A Fistful of Sky, and A Stir of Bones. All are excellent. Most of her work has a strong sense of regionalism being set In either California or the Pacific Northwest. 
Born March 20, 1979 — Freema Agyeman, 41. Best-known for playing Martha Jones in Doctor Who, companion to the Tenth Doctor. She reprised that role briefly in Torchwood. She voiced her character on The Infinite Quest, an animated Doctor Who serial. She was on Sense8 as Amanita Caplan. And some seventeen years ago, she was involved in a live production of Terry Pratchett's Discworld's Lords and Ladies held in Rollright Stone Circle Chipping Norton, Oxfordshire. It was presented out of doors in the centre of two stone circles. 
(10) COMICS SECTION.
Macanudo wonders what if traditional witches gained access to Lovecraftian monsters?
Bizarro finds the … bright? … side of a visit to the pediatrician.
Reprinted in The Paris Review – "Krazy Kat Gets the Spanish Flu."
(11) FREE READS. Apex Book Company is offering "Free eBooks for Your Covid-19 Social Distancing".
Available until March 31st

Covid-19 is serious business. In an effort to control the spread of the virus, people across the world are being asked to practice social distancing and to stay home.

As part of that call, Apex Books and other publishers are providing free eBooks to help readers cope with the extended periods of inactivity and being housebound.

We hope this selection of Apex titles will help make this stressful time pass a little easier, a little quicker.

Books in the Covid-19 bundle:
Machine by Jennifer Pelland (dark SF)
Stay Crazy by Erica L. Satifka (dark SF)
Maze by J.M. McDermott (dark fantasy)
Beautiful Sorrows by Mercedes M. Yardley (horror)
Like Death by Tim Waggoner (horror)
(12) FREE MISS FISHER. [Item by Daniel Dern.] Even if you've already seen all the Miss Fisher Mysteries episodes, here's your chance to see the new (releasing 3/23/2020) movie! Also starring David Tennant and (from The Good Wife/The Good Fight) Cush Jumbo (she played Luca Quinn)
Per a Miss F movie thread on Facebook from a few weeks back that I'm not sure where it is.
Starting today, we're offering an extended 30-day free trial for new subscribers with code FREE30. Settle in for the streaming debut of Miss Fisher and The Crypt of Tears (3/23) and Deadwater Fell starring David Tennant and Cush Jumbo (4/6). Share the best TV from Britain and beyond.
Sign up at http://acorn.tv — use special code: FREE30
Daniel Dern notes: "I'm not sure whether they'd already been offering a 30-day free trial anyway. Their 'Start Free Trial' page asks for, but doesn't seem to require, a promo code. Since we've already been subscribing to Acorn for a buncha months — watched/watching Murdoch Mysteries, The Good Karma Hospital, the Brokenwood Mysteries, Foyle's War, etc.
"Mmm, they have Slings & Arrows, which we saw years ago, but if you haven't, recommended! ('…this darkly comic Canadian series follows the fortunes of a dysfunctional Shakespearean theatre troupe, exposing the high drama, scorching battles, and electrifying thrills that happen behind the scenes. Paul Gross (Tales of the City, Due South [AND The Republic Of Doyle – DPD]) leads an outstanding ensemble cast in 'one of TV's greatest shows' (The A.V. Club).'"
(13) UNCLE TIMMY TRIBUTE. The Give Me Libertycon anthology E-ARC is available from Baen. The trade paperback will be released in June.
Since its inception, LibertyCon has been a science fiction convention like no other. Held annually in Chattanooga, Tennessee, LibertyCon attracts the best of the best science fiction and fantasy writers, working scientists, fans, and organizers. Now, join Baen Books as we celebrate this unique institution with an anthology of all-new fiction and nonfiction—and some filk songs, too! A new Honorverse story by David Weber, and stories by Timothy Zahn, David Drake, Larry Correia, Jody Lynn Nye, Mike Massa, Charles E. Gannon and Sarah A. Hoyt, David B. Coe, Kacey Ezell and Christopher L. Smith, Bill Fawcett, and more. Plus, nonfiction by Les Johnson, filk (science fiction folk) songs by Gray Rinehart.

A portion of the sales will fund a scholarship set up in the name of superfan, TVA engineer, and LibertyCon founder Richard T. "Uncle Timmy" Bolgeo.
(14) SUPER-ROOMBA. "Coronavirus: Robots use light beams to zap hospital viruses".
"Please leave the room, close the door and start a disinfection," says a voice from the robot.

"It says it in Chinese as well now," Simon Ellison, vice president of UVD Robots, tells me as he demonstrates the machine.

Through a glass window we watch as the self-driving machine navigates a mock-hospital room, where it kills microbes with a zap of ultraviolet light.

"We had been growing the business at quite a high pace – but the coronavirus has kind of rocketed the demand," says chief executive, Per Juul Nielsen.

He says "truckloads" of robots have been shipped to China, in particular Wuhan. Sales elsewhere in Asia, and Europe are also up.

…Glowing like light sabres, eight bulbs emit concentrated UV-C ultraviolet light. This destroys bacteria, viruses and other harmful microbes by damaging their DNA and RNA, so they can't multiply.

It's also hazardous to humans, so we wait outside. The job is done in 10-20 minutes. Afterwards there's a smell, much like burned hair

"There are a lot of problematic organisms that give rise to infections," explains Prof Hans Jørn Kolmos, a professor of clinical microbiology, at the University of Southern Denmark, which helped develop the robot.

"If you apply a proper dose of ultraviolet light in a proper period of time, then you can be pretty sure that you get rid of your organism."
(15) COURTSHIP RITE. "Vampire bats 'French kiss with blood' to form lasting bonds".
Vampire bats establish friendships by sharing regurgitated blood with their neighbours in a "kind of horrifying French kiss", a new study says.

Researchers observing the mammals said their sharing behaviours appeared to be an important aspect of their bonding.
(16) LOST MOON. "Coronavirus: Nasa's Moon plans take a hit".
The fall-out from the coronavirus crisis is even being felt in space.

Rising infection rates near key technical centres in Louisiana and Mississippi mean the US space agency is suspending production and testing of its Moon rocket and capsule systems.

…Nasa said it had no choice but to suspend work on the construction of the rocket, called the Space Launch System, and the capsule, known as Orion.

The Stennis Space Center in Mississippi has had one confirmed infection among its staff, and although the Michoud Assembly Facility in Louisiana hasn't yet had a COVID-19 case – growing infection rates in the communities around both complexes means a shut-down is the only sensible option.
(17) CORONAVIRUS ADVICE. This is how you get to be a 2000-year-old man. "Don't Be A Spreader," a message from Mel Brooks' son.
(18) CHANGES IN STORE. John Scalzi is among the writers contributing the the Washington Post's speculative"After the Pandemic". As he framed it at Whatever –
The folks over at the Washington Post have put together a piece on how the world will change after this pandemic — not in the huge ways, but in the smaller, day-to-day ways — and they asked me to write something for it. I did a piece on personal greetings, because, as it happens, it was a matter of some discussion on the cruise I just came back from.
[Thanks to Daniel Dern, Michael Toman, Andrew Porter, John King Tarpinian, JJ, Rich Horton, Cat Eldridge, Chip Hitchcock, Mike Kennedy, Willard Stone, Jeffrey Smith, and Martin Morse Wooster for some of these stories. Title credit goes to File 770 contributing editor of the day Daniel Dern.]