(1) EATING THE FANTASTIC. Scott Edelman invites listeners to share Sachertorte with Steve Toase in Episode 131 of the Eating the Fantastic podcast.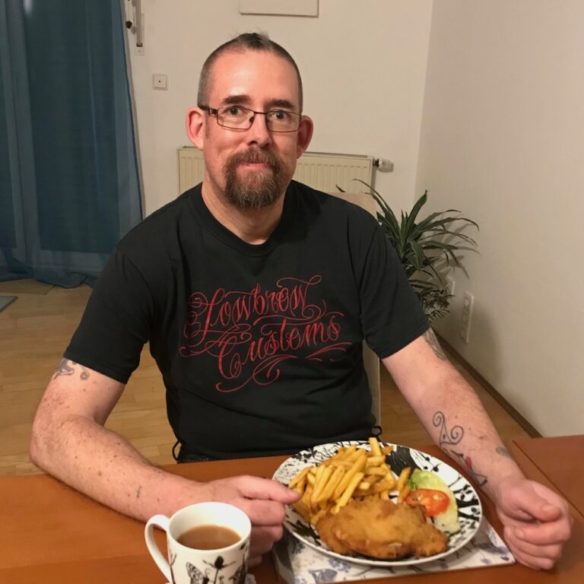 My guest this time around for a conversation which couldn't happen earlier this year but which we're going to pretend did, thanks to the urging of my Patreon supporters, is Munich-based writer Steve Toase.

Steve's fiction has appeared in Aurealis, Not One Of Us, Nox Pareidolia, Three Lobed Burning Eye, Shimmer, Lackington's, and other magazines and anthologies. His stories have been reprinted multiple times in volumes of The Best Horror Of The Year. He was also the lead writer on a project called Haunt, about Harrogate's haunting presence in the lives of people experiencing homelessness there. He writes regularly for Fortean Times and Folklore Thursday. His first short story collection, To Drown In Dark Water, will be released by Undertow Publications in January.

We discussed how his COVID-19 lifestyle has been both an inspiration for and a distraction from his writing, the way reading his stories at open mic nights helped him hone his craft, the importance of dread in horror, how his background in landscape archeology helps make his fiction more visceral, the challenge of scripting a planetarium show for the visually impaired, what gave birth to his fascination with Forteana, his advice for those who'd like to improve their flash fiction, the short story sale which told him he'd made it, our shared love of the great Italo Calvino, which of his creations brings him the greatest pride, the advice he wishes he could give his younger self about writing, and much more.
(2) CITY TECH SYMPOSIUM. The Fifth Annual City Tech Science Fiction Symposium on Race and Science Fiction will be held on Thursday, November 19 from 9:00 a.m.-5:00 p.m. online via Zoom Webinar. "Program and Registration for The Fifth Annual City Tech Science Fiction Symposium on Race and Science Fiction"
The day-long event features this sff author panel —
1:40PM–2:45PM Roundtable: Science Fiction Writers
Organizer: Emily Hockaday
Moderator: Joy Sanchez-Taylor
Panelists: Alaya Dawn Johnson, Cadwell Turnbull, Erin Roberts, Carlos Hernandez
(3) DEPP OUT AS GRINDELWALD. Actor Johnny Depp has resigned his Fantastic Beasts role at the studio's request.
(4) THE PLAY'S THE THING. Francis Hamit, a frequent File 770 contributor over the years, has published the text of his play Memorial Day.
This is a link to a stage play I wrote in 2004.  It was preened in a workshop as part oft  the Envision program at the Masquers Playhouse in Richmond, California in May, 2005, after which I did revisions based on audience feedback.,  Since them I've had parts of it read in staged readings in a local workshop.  I think it's ready for a full production but my health and Covid make that unlikely in the near term so I am simply making it available for reading through Stageplays.com.

Please let people know.  Not SF but still something of my own.  I started as a writer with plays.
The tagline for Memorial Day:
In the early days of the Iraq War a Vietnam veteran who was awarded the Medal of Honor confronts and questions his own service and the cost of always "answering the call" for military service in a small town

As do the other characters, all of whom have served and still pay the cost

This is a pro-military anti-war drama
(5) AND NOW FOR SOMETHING COMPLETELY FLAT. At Open Culture, "Terry Gilliam Reveals the Secrets of Monty Python Animations: A 1974 How-To Guide".
…Gilliam preferred cut-out animation, which involved pushing bits of paper in front of a camera instead of photographing pre-drawn cels. The process allows for more spontaneity than traditional animation along with being comparatively cheaper and easier to do.

Gilliam also preferred to use old photographs and illustrations to create sketches that were surreal and hilarious. Think Max Ernst meets Mad Magazine. For Monty Python's Flying Circus, he created some of the most memorable moments of a show chock full of memorable moments: A pram that devours old ladies, a massive cat that menaces London, and a mustached police officer who pulls open his shirt to reveal the chest of a shapely woman. He also created the show's most iconic image, that giant foot during the title sequence.
(6) PALMER OBIT. Actor Geoffrey Palmer has died at the age of 93. A tribute in The Guardian:
At first a dour and dignified supporting actor, usually playing figures of authority and moral rectitude, Geoffrey Palmer, who has died aged 93, became a television star in three highly popular series. In each, he punctured his own apparent pomposity with a comedy technique that made him attractive and funny to audiences over several decades.

… …Admiral Roebuck, M's adviser, in … Tomorrow Never Dies (1997)… 

… Sporadic appearances in Blackadder (as Field Marshal Haig, naturally), Doctor Who and Fawlty Towers – as the doctor demanding his breakfast while Basil is trying to conceal a corpse – kept his ever straight face before the public. 

… Almost his last public deeds were to play the head geographer in the first Paddington movie in 2014 before reverting to dignified outspokenness as the lord chief justice in Richard Eyre's BBC film of Henry IV Part 2 – and in vocal off-camera opposition to the HS2 rail line, due to be passing near his Buckinghamshire front door. He is due to appear in the forthcoming Roald Dahl film An Unquiet Life, as Dahl's Repton headmaster (and later archbishop of Canterbury) Geoffrey Fisher.
(7) GORDON OBIT. Charles Gordon, the Oscar-nominated producer behind such films as Field of Dreams, Die Hard, October Sky and Waterworld, has died of cancer at the age of 73. Th Hollywood Reporter obituary is here.
He and his brother, Laurence, also produced Die Hard 2 (1990), Leviathan (1989), Lock Up (1989), K-9 (1989), Unlawful Entry (1992) and The Rocketeer (1991).
(8) MEDIA ANNIVERSARY.
November 6, 1981 — Time Bandits premiered. Co-written, produced, and directed by Terry Gilliam and starring Kenny Baker, Sean Connery, John Cleese, Shelley Duvall, Ralph Richardson, Ian Holm, Michael Palin, and David Warner. Gilliam has referred to it as the first in his Trilogy of Imagination followed by Brazil  and ending with The Adventures of Baron Munchausen. It received widespread critical acclaim with a current ninety percent rating at Rotten Tomatoes among audience reviewers and was a financial success as well.  Apple has gained the rights for a Time Bandits television series for their Apple TV+ service with Gilliam on board in a non-writing production role and Taika Waititi who directed Thor: Ragnarok as the director of the pilot.  You can read Kage Baker's review of the Criterion edition here.
(9) TODAY'S BIRTHDAYS.
[Compiled by Cat Eldridge and John Hertz]
Born November 6, 1907 – Catherine Crook de Camp.  Married six decades to Sprague de Camp, collaborating with and without credit.  Some of Footprints in the Sand attributed to her alone; named sole editor, Creatures of the Cosmos; appreciations of Heinlein, Leiber in Locus.  (Died 2000) [JH]
Born November 6, 1914 — Jonathan Harris. Doctor Zachary Smith, of course, as seen on Lost in Space. He was somewhat typecast as a villain showing up as such as Mr. Piper on Land of the Giants, The Ambassador on Get Smart and the voice of Lucifer on the original Battlestar Galactica. He did play lighter roles such as Johann Sebastian Monroe on Bewitched  in the "Samantha on the Keyboard" episode, and the voice of Professor Jones, the second Butler of Freakazoid on the series of that name. (Died 2002.) (CE) 
Born November 6, 1929 – Ed Cox.  Long-time fan, mainstay of Fourth or perhaps Fifth Fandom, tried to establish minimum activity for the N3F (Nat'l Fantasy Fan Fed'n) which was naturally not adopted though he was elected; in FAPA, SFPA; one of the three prophets of Roscoe.  Fanzines today still sport blank spaces marked "Ed Cox, doodle here".  (Died 1997) [JH]
Born November 6, 1948 — Michael Dirda, 72. Currently book critic for the Washington Post. His connection to genre is a fascinating work entitled On Conan Doyle; or, The Whole Art of Storytelling which won the Edgar Award for Best Critical / Biographical Works in 2012 and which looks at his SF work as well. Also worth bringing to your attention is Browsings: A Year of Reading, Collecting, and Living with Books which y'all should naturally be interested in reading. (CE) 
Born November 6, 1951 — Nigel Havers, 69. The bridegroom Peter Dalton in "The Wedding of Sarah Jane Smith" on The Sarah Jane Adventures, the spin-off of Doctor Who.He's done a lot of children's genre theatre: Jack in the Beanstalk twice, Robin Hood, Cinderella, Peter Pan and Aladdin. He's been in one Doctor Who audiobook and narrated Watership Down once upon a time. He was Mark Ingram in An Englishman's Castle, an alternate telling of WWII. (CE) 
Born November 6, 1954 – Jay Rothbell, 66.  Fourth wife of Robert Sheckley; two dozen stories under her name and his (i.e. "Jay Rothbell", "Jay Sheckley", "Jay Rothbell Sheckley") not counting collaborations; poetry.  Here is a 1982 photo of them.  [JH]
Born November 6, 1955 — Catherine Asaro, 65. She is best known for her books about the Ruby Dynasty, called the Saga of the Skolian Empire. I don't think I've read them, so if you have please do tell me about them. The Quantum Rose won a Nebula as did "The Spacetime Pool" novella. And I would argue strongly that her magnificent "Ancient Ages" song is definitely genre in content. It's available from the usual musical digital sources with her books available from the usual digital suspects. (CE) 
Born November 6, 1958 – Rodica Bretin, 62.  A dozen novels, four dozen shorter stories for us; a dozen nonfiction books about unexplained phenomena and fantastic literature, four anthologies (she has done historical and archeological research in France, Italy, Romania), four translations including Lady Chatterley's Lover.  Best Foreign Story at 1996 Int'l Festival of Fantastic Art, France; Best Foreign Novel 2005 from Fantasia Art Ass'n; Opera Omnia Award, 40th Nat'l SF Con, Romania, 2019.  [JH]
Born November 6, 1961 – Kim Huett, 59.  Member (from Australia!), Stipple-APA.  Edited John Brosnan collection You Only Live Once (rev. 2018), Lucy Huntzinger coll'n A Bright Particular Star.  Helpful provider of photos, scans, to fanac.org.  Often seen in letter columns of e.g. Banana Wings, SF Commentary; has a tag here.  Current zine Doctor Strangemind.  [JH]
Born November 6, 1965 — Sandra Newman, 55. She has two genre novels, both of which did well as mainstream fiction as well: The Country of Ice Cream Star, a near future dystopian feminist novel and The Heavens which may or may not involve time travel back to Elizabethian times. She also co-authored with Howard Mittlemark, How Not to Write a Novel: 200 Classic Mistakes and How to Avoid Them–A Misstep-by-Misstep Guide. (CE)
Born November 6, 1972 — Rebecca Romijn, 48. Played Mystique in the X-Men film franchise but my favorite role for her was as Eve Baird, The Guardian of the Library that crosses all realities in The Librarians series.  She also was a regular playing Roxie Torcoletti in Eastwick, yet another riff off the John Updike novel. She was now Number One on Discovery, a rolewhich she'll be reprising on the forthcoming Strange New Worlds series. (CE) 
Born November 6, 1978 – Nicole Dubuc, 42.  Yale woman – which was once impossible.  Child actress (e.g. Robin in Major Dad, television 1989-1993); Clio Award.  Story editor and writer on Disney's My Friends Tigger and Pooh.  Co-created Transformers: Rescue Bots.  At DC Comics, first woman to write for The Flash.  Co-author under another name of six My Little Pony "Ponyville Mysteries".  Showrunner for Disney's Rocketeer.  Eight Emmy nominations.  2018 Animation Writers Caucus' Animation Writing Award for lifetime achievement.  [JH]
(10) HANNA-BARBERA EVOLUTION. John King Tarpinian has ordered one of these t-shirts: "I could not resist."
(11) SOYLENT GREEN ADJACENT. Gizmodo hopes you're not tired of the grind: "The First Human Composting Company Is Nearly Ready to Lay You to Rest in Washington". (That would be the state of, not the national capital.)
 The Evergreen state has become even more, uh, evergreen. Washington passed a law in 2019 allowing people to turn themselves into compost after death. This month, the first officially licensed human composting company has opened its doors to help citizens meet their maker in a more environmentally friendly manner.

Recompose, whose founder helped drive the law into existence, is one of a small handful of green death companies licensed in Washington state and the first to offer its services. The company is the first to be certified by the state to break down your body into organic fertilizer. The company's process involves sealing a body into a capsule with plant matter; microbes then break it all down over the course of about 30.
(12) D&D DOA. Krypton Radio's "Video Of The Day: 'Dungeons & Dragons Animated Series: Requiem'".
It's the final piece of the puzzle. Dungeons & Dragons was an animated series on CBS Saturday morning television between 1983 and 1985, running 27 episodes over three seasons. It was one of the greatest disappointments to D&D fandom that there was never a final episode where the six friends finally got to go home. The show was canceled before the final episode could be produced, leaving millions of fans in the lurch. There was a TV Commercial released by the Brazilian branch of Renault that finished the story, but while it pulled at the heartstrings, it didn't tell the whole story, and really centered on selling cars.

The final episode, however, wouldn't die. The script has since been published online and was performed as an audio drama as a special feature for the BCI Eclipse DVD edition of the series. Now a group of dedicated fans, led by Marshall Hubbard and Ryan Nead, have combined some of the original footage from the show with new animation to create the closest thing to an official final episode for the series that anyone will ever see. Original cast member Katie Leigh reprises her role of Shelia, and the music was reconstructed from the original series.
(13) TWENTY THINGS. [Item by Dann.] A couple of recent "10 Things You Didn't Know…" videos from Minty that I thought were interesting.
10 Thing's You Didn't Know About Connery's James Bond
10 Thing's You Didn't Know About Logan's Run
(14) VIDEO OF THE DAY. Kohl's holiday commercial. Big box of tissues recommended.
This year looks different—and so do our wish lists. Where once we just wished for things like toys and tech, we're now wishing for happiness, understanding and kindness more than ever. And time spent together is the greatest gift of all. This year looks different because the world is different. So give with all your heart.
[Thanks to John King Tarpinian, Michael Toman, Dann, Mike Kennedy, JJ, John Hertz, Cat Eldridge, Martin Morse Wooster, and Andrew Porter for some of these stories. Title credit belongs to File 770 contributing editor of the day Bruce Baugh.]