(1) Quirk Books has compiled an array of "Bookish Tights and Leggings" now on the market. For example:
ColineDesign Printed Tights

Jane Austen quotes. Emily Dickinson poems. ColineDesign on Etsy also allows you to personalize your tights with any text you want.

Because I could not stop for Death, he kindly gave me these leggings.

We have our eye of Sauron on this map of Middle Earth by BlackMilk Clothing.

If you're looking to go into fight some Orcs, these sword leggings by Souvrin will keep you battle ready.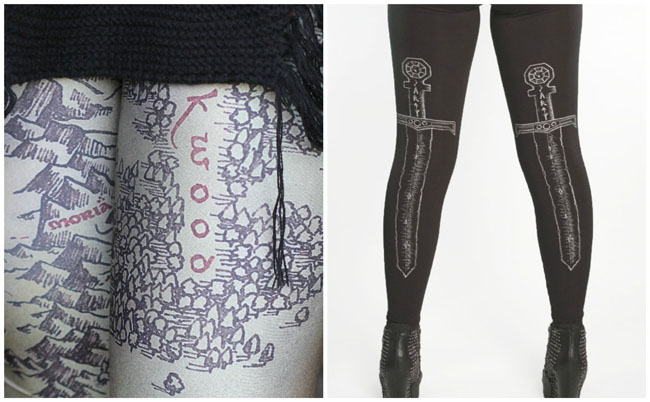 (2) John King Tarpinian remembers the neighbors built a fall-out shelter — today it is a wine cellar. Atlas Obscura looks back to the Cold War days in it gallery "Surviving a Nuclear Attack with Spam, and Other Images from Cold War Fallout Shelters".
During the Cold War, as the arms race between Soviet Russia and the United States escalated, the perceived threat of nuclear attack became increasingly heightened. In response, the U.S. developed procedures to protect its citizens should the worst happen. In 1956, the National Emergency Alarm Repeater—NEAR—warning siren device was implemented to alert citizens to a nuclear attack. Students were drilled in "duck and cover" practices at schools. Books with titles such as Nuclear War Survival Skills were issued. And the only means of protection against radiation in the event of such a catastrophe was a fallout shelter.

Designs for fallout shelters appeared in pamphlets, subway advertisements and displays at civil defense fairs.  President Kennedy even got involved. In September 1961, the same month that the Soviets resumed testing nuclear weapons, Life magazine published a letter from the President advocating the use of fallout shelters. Rather terrifyingly, it was printed over an image of a mushroom cloud.

But that was just one of the many interesting graphical representations of the threat of annihilation. Below, check out our collection of fallout shelter designs and photographs that show just how people in the 1950s and 1960s tried to prepare for the unthinkable.
(3) Last Halloween Curbed posted a fascinating collection of photos of party costumes created by members of the Bauhaus school.
Most people attribute Germany's Bauhaus school with the following: being on the vanguard of minimalist design, the paring down of architecture to its most essential and non-ornamental elements, and the radical idea that useful objects could also be beautiful. What may be overlooked is the fact that the rigorous design school, founded by modernism's grandsire Walter Gropius, also put on marvelous costume parties back in the 1920s. If you thought Bauhaus folk were good at designing coffee tables, just have a look at their costumes—as bewitching and sculptural as any other student project, but with an amazing flamboyance not oft ascribed to the movement.
(4) M. Harold Page tells how to conquer the NaNoWriMo challenge at Black Gate, with a collection of links to posts filled with his advice. Two examples…
Some Writing Advice That's Mostly Useless (And Why): The following writing advice is mostly useless — "Work on your motivation," "Revise, revise, revise," "Have a chaotic life," "Just write," "Know grammar and critical terms," "Practice skills in isolation."

World Building Historical Fiction using Military Thinking: Don't fall down the rabbit hole of research or worldbuilding. Instead use a layered approach, focussing your world building  as you descend from Strategic (villas exist and can be raided for supplies), through Operational (this villa sits on this ground amidst these fields), to Tactical (here is the ground plan of the villa and here are the people guarding it) level.
(5) Timothy Harvey's "Doctor Who: How To Train Your Time Lord" at SciFi4Me concludes its introduction with a true piece of wisdom:
We don't watch Doctor Who for history lessons.
It's an episode recap with the premise —
OK, so if you've ever wanted to see what happens when you cross Doctor Who with How to Train Your Dragon, well, here you go.
(6) "10 Alabama actors who had roles in 'The Twilight Zone' series" —
Day 5 of Kelly Kazek's "13 Days of Alabama Halloween," posted each day from Oct. 19-31 featuring an old news item, spooky legend, historical tale or fun list about All Hallow's Eve.

"The Twilight Zone" TV series was groundbreaking for its time, not only for its spooky and supernatural content but for its social commentary. Twice, the show's tales featured Alabama. A 1964 episode mentions Birmingham in a morality tale about hatred and the 1983 movie based on the series also references Alabama in a segment that features the Ku Klux Klan.

But the series has other Alabama connections: At least 10 Alabama actors had roles in the original and reboot of "The Twilight Zone" series, including some of the best-known episodes, such as "Nightmare at 20,000 Feet."
(7) Maureen O'Hara passed away October 24. Her resume was light on genre work, but included memorable fantasies like The Hunchback of Notre Dame, Miracle on 34th Street, and Sinbad the Sailor, the latter with Douglas Fairbanks Jr. She never was nominated for a competitive Oscar but received an honorary Academy Award last year.
(8) Many fans are linking to video of a Lenin monument that has been made over as a statue of Darth Vader,  part of the "de-Communization" of Ukraine, and David K.M. Klaus says, "I'm not sure that this is an improvement…!"
People dressed as Chewbacca and Stormtroopers from Star Wars attend the unveiling of the Darth Vader monument in Odessa on Friday. The monument, built around a bronze Lenin statue, is part of Ukraine's de-communisation legislation which was introduced earlier this year. The Darth Vader character attending the event says that he is happy to be made into a monument while 'still alive'
(9) Today's Birthday Boy
October 24, 1915 — Bob Kane (cartoonist; co-creator of Batman) was born
(10) I only thought I had never heard of PewDiePie, the most-viewed YouTuber of all-time. Then I read that he does the Let's Play! videos. My daughter has watched a bunch of those and shown me a couple.
(11) "The most complete picture of the Milky Way ever" explains Gizmodo —
The picture comes from astronomers at Germany's Ruhr-Universität Bochum. Of course, this wasn't a simple matter of an instantaneous point-and-click shot. Instead, to get the full spread, researchers spent a full five years taking photos, which they put into a single 46 billion pixel image.

The entire resulting image was so large, that the photo could only be released in sections…

To see the whole thing, Ruhr-Universität Bochum built a special tool where you can scroll through the full image right here.
(12) Actor Richard Benjamin will do a Q&A following a showing of the movie Westworld at The Theatre at Ace Hotel on November 15 at 1 p.m. Presented by Creature Features. Hosted by Geoff Boucher. Tickets $15.
(13) "Shambleau" read aloud by the author C.L. Moore – the audio from a 1980 spoken word record, posted on YouTube.
(14) Via Andrew Liptak at io9 –
Yesterday, word broke that Bryan Fuller was bringing the sci-fi anthology show Amazing Stories back to life. Now, you can watch the entire first season of the original 80s series over on NBC.
(15) Haven't had enough Star Wars trailer creativity yet? Science Vs. Cinema co-creator James Darling has mashed together the ultimate supercut for Star Wars: The Force Awakens using all three trailers and the Comic-Con BTS reel.
[Thanks to Michael J Walsh, James H. Burns, and John King Tarpinian for some of these stories. Title credit goes to File 770 contributing editor of the day ULTRAGOTHA.]