(1) NEW SOLUTION FOR X. Louisiana convention CONtraflow X has been cancelled for 2021 due to the pandemic, and been rescheduled to 2022.
Some unfortunate news to pass on- CONtraflow Faithful, Friends, and Fen- with the recent Delta-Variant COVID-19 surge not yet peaking in our region and after working with/looking at all of our options with our host hotel and city/parish/state leadership, the board of directors of CONtraflow has come to the following conclusion. We must once again postpone/reschedule CONtraflow X. Pandemic conditions and restrictions, as they currently are and will be for the foreseeable future, make it next to impossible to host the convention in even a close approximation to what you all expect from a CONtraflow. Our only responsible, reasonable, and possible choice is to reschedule CONtraflow X….
(2) UK PROZINE LAUNCHES. ParSec Digital Magazine – Issue 1 has been released by PS Publishing, which announced plans for the new title after failing to acquire Interzone. See the table of contents at the link.
(3) FOURTH DOCTOR CONFESSES. "Tom Baker: 'I didn't know what to do with Doctor Who'" he tells Radio Times.
Tom Baker first played the Doctor almost 50 years ago – and to hear the acting legend tell it, he's never really stopped.

"I got it right out of the blue," he tells RadioTimes.com of his 1974 casting as Jon Pertwee's Doctor Who replacement. "There we were, and I thought… I didn't know what to do with it. And I still don't know what to do with it! Because of course, the problem is it's not really an acting part. In fact, I don't really do acting parts, because they just embarrass me.

"I try to inhabit these kind of crackpot people who I play, and find a crackpot niche in my crackpot brain… I slot them in and off we go!"

…From storytelling structure to music and sound design, these new stories – adapted from Hinchcliffe's initial ideas by writer Marc Platt – seek to recapture the flavour and feel of Doctor Who's Hammer Horror-influenced TV outings from the 1970s. Recapturing his performance wasn't a problem for Baker, chiefly because he claims playing the Doctor wasn't for him a performance at all.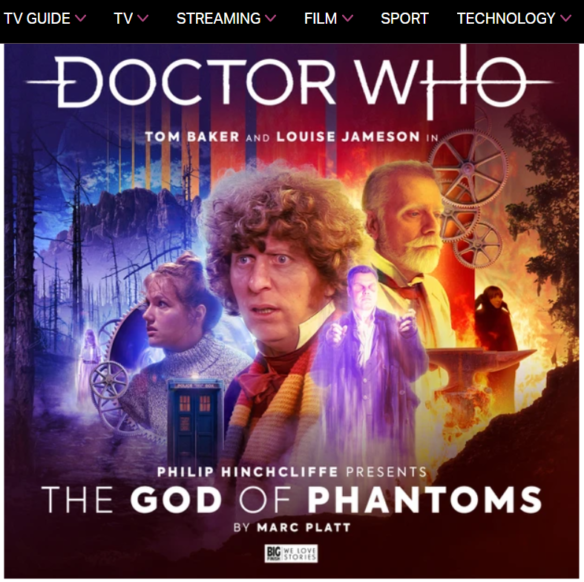 (4) HORROR POET. "Life Between This World and the Next: An Interview with Poet Corrine De Winter" at the Horror Writers Association Blog.
On the latest HWA Horror Poetry Blog, Bram Stoker winning author Corrine De Winter shares thoughts on the craft of poetry, being mentored by William Packard and discusses an upcoming new volume of verse "Awakening Persephone."
(5) ON THE RADIO. A short audio SF play that filers might like, recommended by SF Concatenation's Jonathan Cowie: BBC Radio 4 – Angst!, Gaia
Gaia. It's a job, cleaning the fusty man's laboratory.
But a job that could hold the fate of humanity in the balance….

In today's 'zeit', the 'geist' is everywhere – environmental catastrophe, conspiracy theories, populism, fake news, the age of the algorithm, nationalism, racism, social exclusion. Not to mention pandemics.

As the world teeters on the edge of various self-made apocalypses, Angst! takes a satirical sideways look at our own naked fears. Five separate but connected half-hour 'what if?' stories all told under the watchful eye of the enigmatic Timor Greer.

What if the planet is, in reality, a single sentient organism, intent on ridding itself of the poisonous human parasites living on its surface? And what if a way is found to communicate with this 'intelligence'? And what if the person put in charge of negotiations is a refugee cleaner from Darfur?
(6) TORRID TOURISM. [Item by Darrah Chavey.] Clearly an SF poster, and should have been a book cover! This really was produced by NASA, but I had no idea they had an "Exoplanet Travel Bureau". "55 Cancri e: Skies Sparkle Above a Never-Ending Ocean of Lava". This poster from the NASA Exoplanets Exploration Program's Exoplanet Travel Bureau was recently Wikipedia's Picture of the Day.
A global ocean of lava under sparkling, silicate skies reflecting the lava below: what better choice for an extreme vacation? Planet Janssen, or 55 Cancri e, orbits a star called Copernicus only 41 light years away. The molten surface is completely uninhabitable, but you'll ride safely above, taking in breathtaking views: the burning horizon, Janssen's sister planet Galileo hanging in a dark sky, and curtains of glowing particles as you glide across the terminator to Janssen's dark side. Book your travel now to the hottest vacation spot in the galaxy, 55 Cancri e.
(7) MEMORY LANE.
1982 – Thirty-nine years ago, the animated film Flash Gordon: The Greatest Adventure of All premiered on NBC as produced by Filmation who did The New Adventures of Superman and Star Trek: The Animated Series. It was written by Samuel A. Peeples whose first season script, "Where No Man Has Gone Before", was actually the one that sold Paramount on that series. It was produced by Don R. Christensen who did illustrations for such comic book titles as Donald Duck, Magnus, Robot Fighter, and Uncle Scrooge. Critics consider this movie one of the most faithful adaptations of the original Flash Gordon material. IMDB reviewers give an excellent seventy seven percent rating. Oddly there's no rating at Rotten Tomatoes.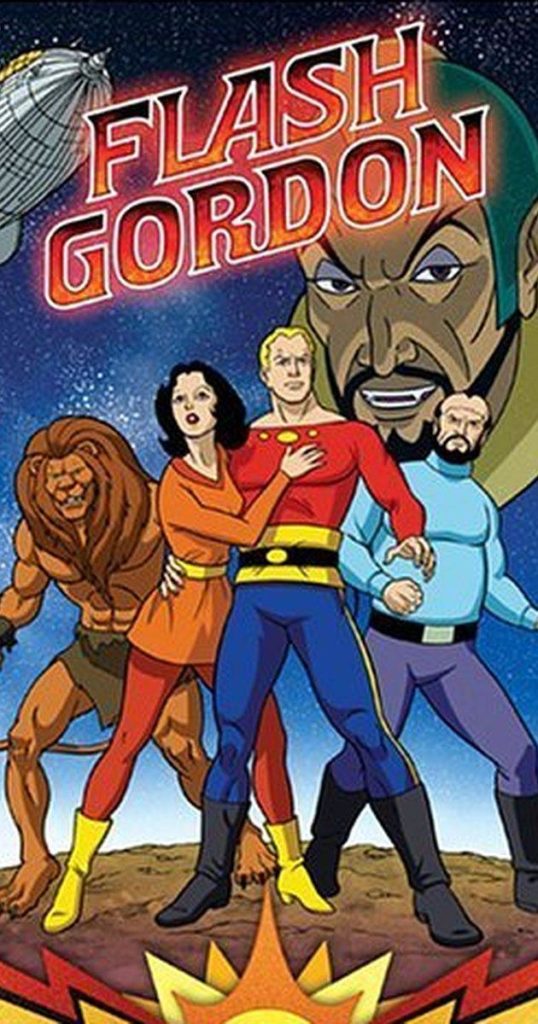 (8) TODAY'S BIRTHDAYS.
[Compiled by Cat Eldridge.]
Born August 21, 1872 — Aubrey Beardsley. Best remembered for his often highly erotic art, ISFDB lists him as having a genre novel, The Story of Venus and Tannhäuser, which bear one of the longest subtitles I've encountered ("The story of Venus and Tannhäuser in which is set forth an exact account of the manner of State held by Madam Venus, Goddess and Meretrix under the famous Hörselberg, and containing the Adventures of Tannhäuser in that Place, his Repentance, his Journeying to Rome, and Return to the Loving Mountain"). He has two genre novellas as well, "Catullus: Carmen Cl." and "Under the Hill".  And yes, he was just twenty-five when he died of tuberculosis. (Died 1898.)
Born August 21, 1888 — Miriam Allen deFord. Almost all of her genre fiction was published at Magazine of Fantasy & Science Fiction under the editorship of Anthony Boucher. It can be found in two collections, Xenogenesis and Elsewhere, Elsewhen, Elsehow. Her "A Death in the Family" story was adapted in Night Gallery's second season. Other than scattered short stories, nothing's available at the usual suspects. (Died 1975.)
Born August 21, 1911 — Anthony Boucher. Rocket to the Morgue is of course a really great read. If you can find a copy, The Compleat Boucher: The Complete Short Science Fiction and Fantasy of Anthony Boucher is a most excellent read. Fortunately The Compleat Werewolf and Other Stories of Fantasy and Science Fiction is available at the usual suspects and it's quite delicious. Award-wise, he would win Hugos at Solacon (1958) and the next year at Detention for Best Professional Magazine for his editing of F&SF. (Died 1968.)
Born August 21, 1943 — Lucius Shepard. Astounding Award for a Best New Writer winner of 1985. His Life During Wartime  is one seriously weird novel. And his World Fantasy Award winning The Jaguar Hunter is freaking amazing as are all his short collections. I don't remember reading "Barnacle Bill the Spacer" which won a Best Novella Hugo at ConFrancisco. (Died 2014.)
Born August 21, 1953 — Rev Ivan Stang, 68. Best known as the author and publisher of the first writings of the Church of the SubGenius. He's credited with founding the Church with friend Philo Drummond in 1979. ISFDB only lists "The Scepter of Praetorious" as genre but really isn't the entire Church genre? (Ducks really quickly to avoid anything thrown at him.)
Born August 21, 1956 — Kim Cattrall, 65. Gracie Law in John Carpenter's amazing Big Trouble in Little China. She also played Justine de Winter in The Return of the Musketeers, Paige Katz in Wild Palms, Lieutenant Valeris in Star Trek VI: The Undiscovered Country and Linday Isley in Good v. Evil. Series wise, she was one offs in Tales of the Gold Monkey, Logan's Run, The Incredible Hulk and The Outer Limits. 
Born August 21, 1968 — Carrie-Anne Moss, 53. I first saw her as Tara McDonald in the Dark Justice series. Not genre, just her first video I think. She later played Monica Howard in the "Feeding the Beast" episode of Forever Knight as her first genre role. Oddly enough her next role was as Liz Teel in the Canadian series called Matrix which has nothing to do with the Matrix film franchise where she's Trinity. Her latest genre role was playing Jeryn Hogarth in the now defunct Netflix based Marvel Universe, most notably Jessica Jones. She reprising her Trinity role in the forthcoming Matrix 4 film.
Born August 21, 1975 — Alicia Witt, 46. Her first role was at age eight as Alia Atreides in David Lynch's Dune. She next, genre wise at least, voices Caitlin Fairchild in the animated Gen¹³ film which I've not seen but want to. She has series one-offs in Twilight Zone, Person of Interest, Elementary, The Mentalist, Walking Dead, Supernatural and The Librarians. She showed up in an episode of the original Twin Peaks and reprised that role nearly thirty years later in Twin Peaks: A Limited Event Series. She had a recurring role in The Exorcist series as Nikki Kim.
(9) COMICS SECTION.
(10) THE CAPTAIN WHO FELL TO EARTH. "Capt. Janeway" is joining the cast of the remake of The Man Who Fell to Earth. No, she will not be playing the David Bowie role. Gizmodo has the story.
…Mulgrew is just the latest in an increasingly impressive list of additions to the cast of the adaptation of Walter Tevis novel and inspired by the iconic 1976 film adaptation by Nicolas Roeg. The movie starred the legendary and dearly missed David Bowie as Thomas Jerome Newton, an alien being who comes to Earth from his devastated homeworld, Anthea, in search of water supplies that could save the planet from a deadly drought. Mulgrew joins Chiwetel Ejiofor, who will play the new alien being who has fallen to earth in a time of great upheaval for humanity, and Naomie Harris in the main cast, alongside Sonya Cassidy, Clarke Peters, and Jimmi Simpson. All this goes a long way to saying we're not quite sure it can live up to Bowie's turn, but even then, it's clear Showtime's taking a big swing at attempting to follow up on Roeg's and the music icon's take on Tevis' work….
(11) METAVERSE TRAITOR! Alexandra Petri thinks it's a bad idea to tell office workers they're characters in the metaverse! "Do you ever think … that Facebook's virtual-reality office is stupid?" in the Washington Post.
… "Do you ever think …" a voice said from what sounded like Greg's right. Greg turned his cartoon avatar to look in the direction of the voice, " … that maybe the Metaverse is a stupid waste of everyone's time?"

The voice was coming from a cartoon avatar of a bald man in small, 2000s-era sunglasses and a trench coat, although the trench coat only extended to his waist because everyone's avatars stopped there, so it looked more like a trench jacket….
(12) 'SHIPS AHOY. Sarah Z does a very thorough investigation of the "Proshippers" and "Antishippers" in a wide variety of fandoms:
…All of these is an undercurrent of something… more. Something beyond just the basic aspect of pairing two characters together. Because no matter how simple a fictional character pairing may seem, the truth is that it is almost never that simple. There is almost always going to be discourse of some kind, be it because people find the ship offensive, because they find it unappealing, or because they don't like the people doing the ship itself. And soon what happens is that the very basic concept of shipping two characters becomes the breeding ground for something deeper and darker and messier. It brings you into the world of proshippers and antis….
(13) BOMBADIL AWAY! And an older vid of Dominic Noble's:"The coolest character in LOTR that didn't make it into the movies" — and it's not Tom Bombadil.
The Lord of the Rings adaptations were amazing, but no film can include EVERY character from the book. In this video we take a look at five creations of J. R. R. Tolkien that didn't make the cut, including the coolest one of all.
(14) TIME DILATION. "Vacation Warp Speed, Mr. Sulu!" "Let's Get the Hell Out of Here!" In "Why Time Slows Down When We're Afraid, Speeds Up as We Age, and Gets Warped on Vacation" we revisit a 2013 Brain Pickings post. (Just how old does that feel to you?)
…Among the most intriguing illustrations of "mind time" is the incredible elasticity of how we experience time. ("Where is it, this present?," William James famously wondered. "It has melted in our grasp, fled ere we could touch it, gone in the instant of becoming.") For instance, Hammond points out, we slow time down when gripped by mortal fear — the cliche about the slow-motion car crash is, in fact, a cognitive reality. This plays out even in situations that aren't life-or-death per se but are still associated with strong feelings of fear. Hammond points to a study in which people with arachnophobia were asked to look at spiders — the very object of their intense fear — for 45 seconds and they overestimated the elapsed time. The same pattern was observed in novice skydivers, who estimated the duration of their peers' falls as short, whereas their own, from the same altitude, were deemed longer.

Inversely, time seems to speed up as we get older — a phenomenon of which competing theories have attempted to make light. One, known as the "proportionality theory," uses pure mathematics, holding that a year feels faster when you're 40 than when you're 8 because it only constitutes one fortieth of your life rather than a whole eighth. Among its famous proponents are Vladimir Nabokov and William James. But Hammond remains unconvinced…
(15) VIDEO OF THE DAY. [Item by Martin Morse Wooster.] In "The Stunt Man Tutorial" at Screen Rant, written by Ryan George. Samuel Brisson plays stunt man Chuck Fluster, who's trying to be Tom Cruise's stunt double and knows he'll hear from Tom soon because whoever runs tomcruise at gmail.com asked for his Social Security number! And if you need a stunt man to wrestle in a Planet of the Apes movie, Chuck's ready!
[Thanks to Andrew Porter, Martin Morse Wooster, JJ, Jennifer Hawthorne, Darrah Chavey, SF Concatenation's Jonathan Cowie, Michael Toman, John King Tarpinian, Cat Eldridge, and Mike Kennedy for some of these stories. Title credit belongs to contributing editor of the day Ingvar.]