(1) CORE FOR RAVENCLAWS. At BookRiot, Rachel Brittain offers "A Hogwarts House Reading List: 20 Books for Ravenclaws".
It's also about creativity and individuality, originality and acceptance. All Ravenclaws value learning and curiosity, but not all Ravenclaws are traditionally book smart or love school. Like all the houses, Ravenclaw is home to a wide and diverse group of students. Admittedly, most of them have aced arithmancy, potions, transfiguration, care of magical creatures, DADA, and received OWLs so good it made Professor Flitwick cry, but still. No two Ravenclaws are alike. Except in one thing: Ravenclaws. Love. Books.

So set down your Self-Spelling Quill and your charms homework for just a moment, friends, and check out these twenty books for Ravenclaws that are sure to spark your imagination and make you a little smarter along the way.
Two of the books on the list are:
About: the letters written between Juliet Ashton and a group of friends from Guernsey who survived the German occupation by concocting a fake book club after being caught breaking curfew.

Because: it's all about books and the friends you can make because of them, even in the midst of chaos and crisis.

About: Naoki Higashida, who describes what it's like to be autistic in his own words.

Because: learning how other people think and process the world around them is something you find endlessly fascinating and important.
(2) STAR CROSSED (OUT). Slate's "Browbeat" blog tells how Kirkus Reviews changed their review after fierce criticism – from people who can't have read the book yet: "YA Novel About 'Mob Mentalities' Punished After Online Backlash".
American Heart won't be published until January, but it has already attracted the ire of the fierce group of online YA readers that journalist Kat Rosenfield has referred to as "culture cops." To them, it was an irredeemable problem that Moriarty's novel, which was inspired in part by Huckleberry Finn, centers on a white teenager who gradually—too gradually—comes to terms with the racism around her. On Goodreads, the book's top "community review," posted in September, begins, "fuck your white savior narratives"; other early commenters on Goodreads accused Moriarty of "profiting off people's pain" and said "a white writer should not have tackled this story, and neither should a white character be the center of it."

The backlash escalated last week, when Kirkus Reviews gave American Heart a coveted "starred review," which influences purchases by bookstores and libraries. Kirkus' anonymous reviewer called the book "by turns terrifying, suspenseful, thought-provoking, and touching," and praised its "frighteningly believable setting of fear and violent nativism gone awry." The book's critics were not pleased with the commendation.
Author Laura Moriarty commented on Facebook:
Dear friends, I write this with a heavy but hopeful heart. If and when you have time, I would appreciate your thoughts on this (longer than average) post. And feel free to share.

My new novel, American Heart, is a crossover novel (for both older teens and adults) that imagines a United States where American Muslims are deported to "safety zones" in Nevada. The main character is a young non-Muslim who believes the deportations are necessary until she meets an American Muslim headed to freedom. You may or may not have noticed, but even though the book isn't due out until 1/30/18, it already has a very low rating on Goodreads. This is because a group, profiled in Kat Rosenfield's "The Toxic Drama on YA Twitter" for Vulture, has been bombarding American Heart with one-star reviews because they don't approve of the idea of the book and because they are assuming it is a white-savior narrative. (Actually the main character realizes, accurately, that she alone can't save anyone, but you would only know that if you'd read the book.) Most of reviewers on Goodreads openly admit to not having read the book.

I was encouraged last week when Kirkus Reviews gave American Heart a starred review (starred as in 'this is great!' not one star like the mad people on Goodreads), calling it a "moving portrait of an American girl discovering her society in crisis, desperate to show a disillusioned immigrant the true spirit of America." The Kirkus reviewer, an observant Muslim and a woman of color, called the book "sensible, thought-provoking, and touching . . and so rich that a few coincidences of plot are easily forgiven." (Okay, okay, fine, I'll take it.)

As one may have predicted, the book's very vocal critics (again, this group is made up almost entirely of people who have not read the book) were outraged by the starred review. That's fine. That's their right to free speech. What has both surprised and disturbed me, and what I think would be surprising and disturbing to anyone concerned about censorship and free speech, was that this morning, Kirkus announced it was: retracting American Heart's starred review.
Kirkus offered this explanation in "A Note From The Editor In Chief".
It is a policy of Kirkus Reviews that books with diverse subject matter and protagonists are assigned to Own Voices reviewers—writers who can draw upon lived experience when evaluating texts. Our assignment of the review of American Heart was no exception to this rule and was reviewed by an observant Muslim person of color (facts shared with her permission). Our reviewer is an expert in children's & YA literature and well-versed in the dangers of white savior narratives. She found that American Heart offers a useful warning about the direction we're headed in as far as racial enmity is concerned.

The issue of diversity in children's and teen literature is of paramount importance to Kirkus, and we appreciate the power language wields in discussion of the problems. As a result, we've removed the starred review from kirkus.com after determining that, while we believe our reviewer's opinion is worthy and valid, some of the wording fell short of meeting our standards for clarity and sensitivity, and we failed to make the thoughtful edits our readers deserve. The editors are evaluating the review and will make a determination about correction or retraction after careful consideration in collaboration with the reviewer.
(3) INDIE. SFWA President Cat Rambo completes her series about what the organization has to offer indie writers: "SFWA and Independent Writers, Part Four: What Lies Down the Road"
Going forward, I expect more and more indies to enter the organization as it proves that it's giving them solid valid for their membership in the form of:

Community
Knowledge sharing
Publications like the Bulletin and the Singularity
Chances attend and sell books at places like Baltimore Bookfest, ALA, and other book-related events
Marketing opportunities for themselves such as the Speakers Bureau
Promotional opportunities for their work such as the New Release Newsletter
Reading material (there's a lot on those internal forums)
The wealth of networking and information available via the SFWA Nebula Conference
Existing programs like Griefcom, the Emergency Medical Fund, and the Legal Fund
(4) CHECKMATE. A recent episode of The Post Atomic Horror Podcast, which appeals to fans with an interest in filking and other poetic diversions, featured a guest who summarized the Enterprise's episode "A Night In Sickbay" to the tune "One Night in Bangkok". The summary begins about 2 minutes into the episode and proceeds for roughly 4 minutes.
Come for the filk, stay for the commentary!
(5) VIEW FROM A GANTRY. Rocket Stack Rank's October 2017 ratings are live, and Jeremiah Tolbert's novella The Dragon of Dread Peak was the highest-rated story.
(6) REMODELING COMPLETE. Locus Online's lovely redesigned website went live today.
(7) HOT OFF THE PRESS. An institute for design in Holland has come up with an experimental edition of Ray Bradbury's Fahrenheit 451 which requires you to nearly burn the book to read it: "Ray Bradbury's Fahrenheit 451: This edition can be read only if you apply heat to the pages". See it in action —
(8) TODAY IN HISTORY
October 16, 1995 – Candyman was released in theaters in the U.S.
(9) EYE SPY. At Fantasy Book Critic, Tom Doyle considers "The Unreliability of Magical Surveillance".
In my American Craftsmen trilogy, psychic spies (farseers) can view intel across the distances of time and space (farsight). Their visions guide the missions of magical and mundane soldiers, and they play against the farseers of hostile powers. I want to look briefly at some of the popular stories of magical surveillance. The use of magical or psychic means to view across space and time is an old idea. Yet few of the stories that come immediately to mind view such power as an unambiguous good for the wielder. In the story of Snow White, the evil queen uses a magic mirror for scrying. Like many such devices, the mirror is a two-edged weapon. On the one hand, the mirror demonstrates what powerful surveillance can accomplish; for example, the attempt of Snow White and the huntsman to fake her death fails because of it. On the other hand, the mirror seems to be driving the queen to her eventual destruction by doling out only as much information as she requests and no more. In The Lord of the Rings, we have the Mirror of Galadriel, the palantíri, and the Ring itself. All of these are in their own way unreliable. The Mirror of Galadriel shows Sam a vision of an industrializing Shire that momentarily discourages him from his mission, when his mission is the one hope of Middle Earth. Denethor's palantir gives him true intel, but only what Sauron wants him to see, and so he goes mad with despair. In turn, Aragorn is able to use Saruman's palantir to nudge Sauron into rushing his attack. The Ring seems to serve as a sort of tracking device, but only when Frodo puts it on does it work well enough to zero in on him….
(10) SPEAKING UP. AudioFile is campaigning to get a Grammy Award nomination for Neil deGrasse Tyson's Astrophysics for People in a Hurry. Those eligible to vote will do so between October 16-19.
What is the nature of space and time? How do we fit within the universe? How does the universe fit within us? There's no better guide through these mind-expanding questions than acclaimed astrophysicist and bestselling author Neil deGrasse Tyson.

But today, few of us have time to contemplate the cosmos. So Tyson brings the universe down to Earth succinctly and clearly, with sparkling wit, in digestible chapters consumable anytime and anywhere in your busy day.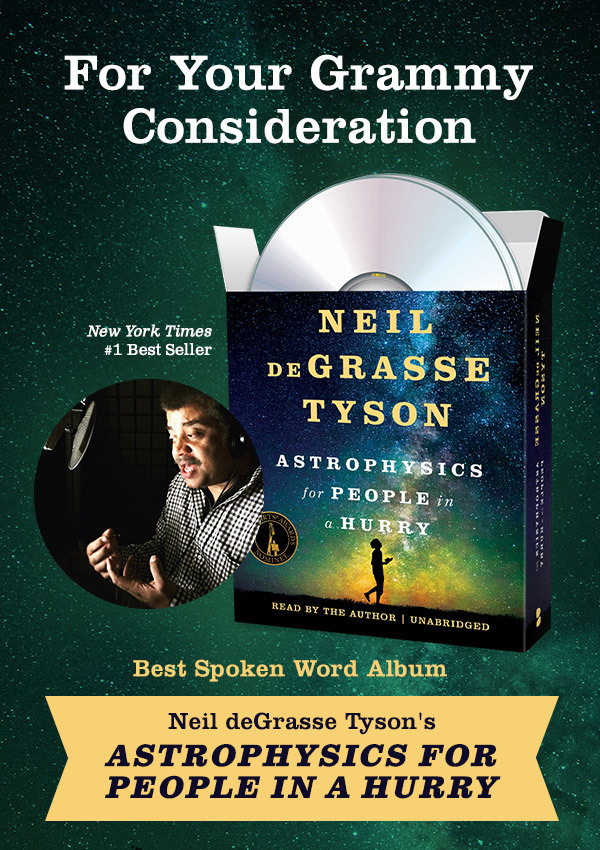 (11) BALLS. Motherboard takes readers "Inside the Most Exclusive High-Powered Rocketry Event in America".
"We might be digging a hole to get at this thing, man," Joshua Allen told me as we barreled across Nevada's Black Rock Desert in the back of a covered pickup truck.

Allen and his peers from Oregon State University had just launched their homemade rocket at Big Ass Load Lifting Suckers (BALLS), an annual gathering of rocketeers that showcases the most powerful amateur rockets in the US. It was their first time at the event, held late in September, and they hoped that their two-stage rocket would fly to 100,000 feet, about one-third of the way to space proper. The Oregon State students, many of whom graduated in May, had spent the last year designing, building, and testing the rocket we were hunting from a pickup. Allen estimated that it contained over $20,000 of purchased and donated materials—and after a malfunction during its flight, he wasn't sure they would recover it in one piece, if at all.

Every September for the last 27 years, the Tripoli Rocketry Association—one of the two amateur rocketry groups in the US—has hosted BALLS as a showcase of the rockets built by people like Allen that are too powerful to be safely flown anywhere but the middle of the desert. Black Rock is a well-worn stomping ground for amateur rocketry due to its expansive, barren lake bed that lacks any signs of life or flammable materials. This was the location that the first civilian team launched a rocket into space in 2004 and is frequented throughout the year by local high-powered rocketry groups in the southwest.

In order to bring hundreds of rocketeers together for a weekend of punching holes in the sky, Tripoli must obtain a flight waiver from the Federal Aviation Administration that allows the organization to fly over 100,000 feet. It's the highest flight waiver granted to amateur rocketeers by a federal administration anywhere in the world.
(12) TOURIST ATTRACTION. Just how many tourists will be attracted is the question "A Giant Concrete Orb in Northern Iceland Moves With the Arctic Circle". (Say what you like, it looks like Rover from The Prisoner to me.)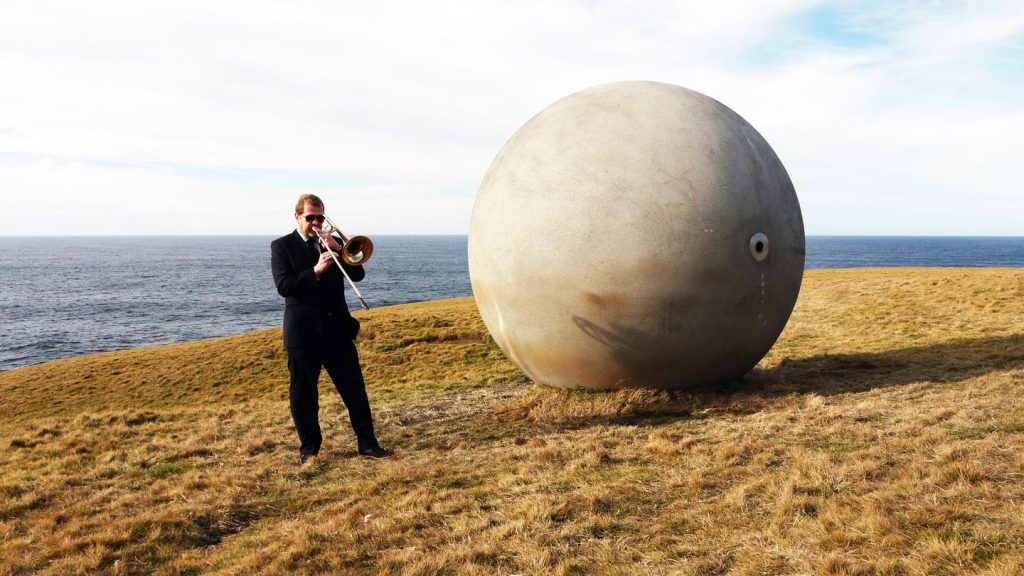 On Grímsey, a remote island 25 miles off the northern coast of Iceland, sits a massive orb of concrete that marks the Arctic Circle. The artwork, called Orbis & Globus ("Circle & Sphere"), weighs 8 metric tons (almost 9 tons US), and will be physically moved a short distance each year because the Arctic Circle is moving, too.

"The Arctic Circle marks a point where the Sun never sets in the summer and never rises in the winter," Steve Christer, a partner with Studio Granda, which created the work in a partnership with artist Kristinn E. Hrafnsson, told me over the phone from Reykjavik. "It isn't just a point on a map." At 66.5 °N, the Arctic Circle moves a little bit each year as the Earth travels through space, shifting on its axis. (Earth's axial tilt can vary by about 2° over the course of a 40,000-year cycle.) This giant orb will have to be repositioned every year by an average of 14.5 meters. Christer told me they'll hire a contractor to do it.

The orb was commissioned by the nearby town of Akureyri, which was seeking "a symbol for the Arctic Circle on the island of Grímsey," he said. Getting the work there was no easy feat.
(13) HALLOWEEN REVIVALS. Joel Ryan, in the Yahoo! TV piece "TV's Lost Halloween Classics:  Six Specials From Beyond The Grave",  introduces a new generation to "Mad Monster Party," "Halloween is Grinch Night," and the Cartoon Network adaptation of "The Halloween Tree."
The Worst Witch The Tim Curry Halloween movie for the whole family, about a boarding school for aspiring broomstick types, also boasts the fabulous Diana Rigg, Fairuza Balk (The Craft), the post-Facts of Life Charlotte Rae, and production design that screams HBO in the mid-1980s. (Yes, we know The Worst Witch was a British coproduction, but then again, that's what HBO originals looked like in the mid-1980s: things that were not quite of Hollywood.) In any case, the movie is a charming reminder of those simple days before the Hogwarts Express rolled into the creative space.
(14) GULLIVER'S CREATOR. Nature's Greg Lynall, in "In Retrospect: Gulliver's Travels", looks at the science in Gulliver's Travels, in a piece commemorating the 350th anniversary of Jonathan Swift's birth. (Apologies – I can't make my computer pick up excerpted text.)
(15) HAMIT SCRIPT RACKS UP ANOTHER AWARD. Francis Hamit has won a third screenwriting contest with his screenplay for the forthcoming feature film Christopher Marlowe.
The Elizabethan-era historical thriller is slated to be produced primarily in the United Kingdom by famed Producer Gary Kurtz. On September 16, 2017 the screenplay won the "Best Thriller Screenplay" prize at the GO International Independent Film Festival in Washington, DC. Hamit's previous awards for this work were at the 2016 Hollywood Book Festival and the 2017 New Renaissance Film Festival in London.
(16) WOKE-O-METER. Motherboard offers a solution: "Want More Diverse Entertainment? A New Site Has You Covered"
When it comes to movie reviews, there are plenty of resources that can tell you the most critically-acclaimed films and popular flicks. But what about when it comes to how woke they are?

Enter Mediaversity, a website that reviews TV and movies based on how well they represent diverse gender, race, and LGBTQ characters and stories, created by Li Lai, a graphic designer from New York.

"What really solidified this idea for me was last year when I was watching Oscar nominees and critically-acclaimed TV shows," Lai told me over the phone. "Right in a row I watched Narcos, Game of Thrones, and The Revenant. All of them had awful portrayals of women."

She was surprised that all of these highly-praised works were so tone deaf. Lai hopped online to look up reviews that might elucidate this aspect of media, as well as diverse representations of race and LGBTQ characters and stories. But she realized there was a dearth of information. There are plenty of resources if you want to know how entertaining a movie is, or how artistic, or how clever the dialogue is. But it's a lot harder to find out whether or not the only time women appear onscreen is in rape scenes.

So, nine months ago, Lai decided to create Mediaversity, a labor of love which she said she currently has no plans to monetize. Though, like all reviews, the ratings are subjective, Mediaversity has a guideline for how Lai and her fellow reviewers—a diverse team of friends and bloggers—measure a show's representation success, and uses a letter grading system from A+ to F.
(17) ANOTHER HALLOWED BREW. A gigantic "monster" IPA with just the right balance to bring palates back from the dead: "Stone Brewing's Concoctions Go Wild and Dr. FrankenStone's Monster IPA is Born".
Late one evening, into the deepest vaults of Dr Frankenstone's steaming lab – a monster IPA was born. This morbid creation was the result of our brewers pushing the hop limits (most of which are successful) to an insane level that would unleash an IPA like none other from the brewery. It was a creature that haunted our brewers for many nights, as this beaker-buster was something they could not explain, yet was such a balanced delight to taste. Unbeknownst to our brewers, the horrific beast of a beer was a result of their blending sessions that got out of hand! After the first taste of the fresh liquid, our brewing team of mad scientists knew they had to re-create this experiment for October only in draft form.
[Thanks to JJ, Martin Morse Wooster, Cat Eldridge, Harold Osier, John A Arkansawyer, and John King Tarpinian for some of these stories. Title credit goes to File 770 contributing editor of the day Rob Thornton.]