(1) CLARKE AWARD CEREMONY. The Arthur C. Clarke Award winner will be announced September 27. Award Director Tom Hunter adds, "Long-time subscribers may remember back to pre-pandemic times when we used to announce our winner in July rather than September, but as with last year we've been committed to going one step at a time across our announcements and judging process as things continue to evolve. Hopefully 2022 will allow us to return to our usual scheduling. In the meantime, as with 2020, we have decided to forego a public ceremony event this year, but I am delighted to share that this year's winner will be revealed live by presenter & science fiction fan Samira Ahmed on BBC Radio 4's Front Row."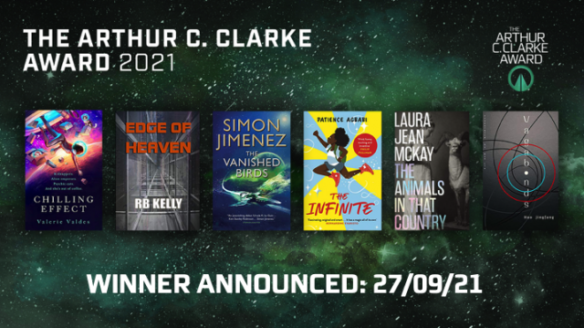 (2) UNAUTHORIZED. Will Oliver has dug up an unauthorized sequel to Robert E. Howard's "Worms of the Earth" from 1938, decades before L. Sprague de Camp and Lin Carter started up their own Howard pastiche business: "The Robert E. Howard Bran Mak Morn Sequel: Maker of Shadows by Jack Mann" at Adventures Fantastic.
 … Lai believes that Howard first came to the attention of Cannell in 1933. After the publication of his "Worms of the Earth" in the November 1932 issue of Weird Tales, Christine Campbell Thomson included the story in her collection Keep on the Light (Selwyn and Blount, 1933). The book was the ninth in a series of collected tales of horror and the supernatural titled Not at Night. Howard had previously appeared in the eighth volume of the series with "The Black Stone," and that anthology was titled Grim Death (Selwyn and Blount, 1932); that was also REH's first ever appearance in a hardcover book. So taken with Howard's Bran Mak Morn story, Cannell incorporated "Worms of the Earth" into his Gees series, the fifth book, making it a sort of sequel. The version I read came from Ramble House and, despite the poor cover, the story appeared to me to be a good reprinting of the story….
(3) BIG BUCKS. The Guardian reports that a first edition of Mary Shelley's Frankenstein has sold for a record-breaking sum: "First edition of Frankenstein sells for record breaking $1.17m".
Mary Shelley was just 18 when she dreamed up her story of a "pale student of unhallowed arts" and the "hideous phantasm of a man" he created. Now a first edition of her seminal classic of gothic horror, Frankenstein; or, The Modern Prometheus, has set a world record for the highest price paid for a printed work by a woman, after selling at auction for $1,170,000 (£856,000)….
(4) TENNESSEE GENRE CONNECTION. Also from The Guardian, an unpublished short story by Tennessee Williams has been discovered. And yes, this is of genre interest, because Tennessee Williams debuted in Weird Tales as a 16-year-old: "Newly discovered Tennessee Williams story published for the first time".
 As soon as he crossed the border into Italy, Tennessee Williams found his health was "magically restored". "There was the sun and there were the smiling Italians," wrote the author of A Streetcar Named Desire in his memoirs. Now a previously unpublished short story by Williams describes his protagonist experiencing similar feelings – although the Italians do not feel quite so warmly towards him….
(5) BEFORE HE WAS A BESTSELLER. [Item by Cora Buhlert.] G.W. Thomas has a three part post about the lengthy writing career of John Jakes and that he wrote so much more than just historical family sagas. I actually knew that he wrote fantasy in the 1960s, but I didn't know that he wrote in pretty much every genre and every venue:
… Did the fledgling Pulp writer (by night) and ad man (by day) have any inkling what lie ahead? Probably not, but to John's credit he always wrote what interested him, what offered him a challenge, shifting between genres and venues. If the Pulps hadn't died, he could have spent his entire career writing Westerns. Or Space opera. Or hard-boiled. But he did all of these, and well, before moving onto bigger things…
John Jakes, after five years in the Pulps, moved on to writing for magazines and novels. His story output slowed a little but he produced at least two novels most years, sometimes under his own name, sometimes under pseudonyms. For historical adventure he used the name Jay Scotland. He used his own name for the hard-boiled detective series starring Johnny Havoc but also wrote the last three Lou Largo novels as William Ard. The 1960s saw John writing tie-ins for Mystery television. This would later lead to him writing for The Man From U. N. C L. E.  and The Planet of the Apes novelizations in the 1970s. He also sold the first (and best) Brak the Barbarian stories to Cele Goldsmith at Fantastic…. 
John Jakes finished the 1960s writing television tie-ins along with other paperbacks. The first collections of Brak appeared alongside his best Science Fiction novels. But in 1974 everything would change with the arrival of The Kent Family Chronicles. John had several paperback novels on the bestsellers list at one time. From 1974 on he would be known not as a SF, Sword & Sorcery or Mystery writer but as a bestseller….
(6) TWO ORBIT AUTHOR Q&A'S. Orbit Live invites everyone to this pair of author conversations.
SEPTEMBER 28: Andy Marino and M.R. Carey will discuss their books and what it's like writing supernatural thrillers. Register here.
Andy Marino is the author of The Seven Visitations of Sydney Burgess, a new supernatural horror and thriller novel. Marino has previously written several books for young readers. The Seven Visitations of Sydney Burgess is his debut book for adults.

M.R. Carey is the author of several books including The Girl With All the Gifts, the acclaimed and bestselling supernatural thriller, and The Rampart Trilogy, which began withThe Book of Koli. Carey has also written a number of radio, TV, and movie screenplays.
OCTOBER 12: Django Wexler and Melissa Caruso talk about their new books, creating fantasy worlds, and writing the middle book of a fantasy trilogy. Register here.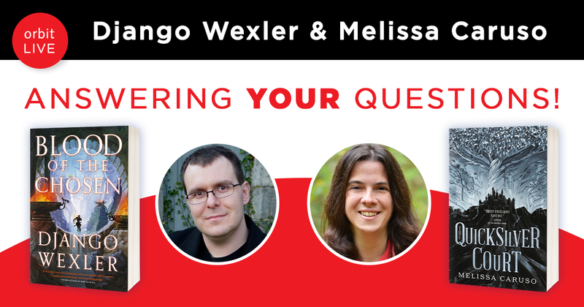 Django Wexler (he/him) is the author of the several adult and young adult fantasy series. Blood of the Chosen, the second book of his Burningblade & Silvereye trilogy, releases October 5.

Melissa Caruso (she/her) is the author of the Swords and Fire trilogy, which began with The Tethered Mage. The Quicksilver Court, the second book of her Rooks and Ruin trilogy, releases October 12.
(7) ZOOM INTO FANHISTORY. Fanac.org has Zoom history sessions scheduled through the end of the year. To RSVP please send a note to [email protected]
September 25, 2021 – 2PM EDT, 11AM PDT, 1PM CDT, 7PM London, 4AM Sydney
Juanita Coulson
October 23, 2021 – 2pm EDT, 7PM London, 11AM PDT
St. Fantony, BSFA, Brumcon and more – British Fan history with Keith Freeman and Rob Hansen.
December 4 (US) and December 5 (Australia), 2021 – 7PM Dec 4 EST, 4PM Dec 4 PST, 11AM Dec 5 Melbourne AU
Wrong Turns on the Wallaby Track:: Australian Science Fiction Fandom to Aussiecon – Part 1, 1936 to 1960, with Leigh Edmonds and Perry Middlemiss
(8) MEDIA BIRTHDAY.
1962 – Fifty-nine years ago this date in prime time on ABC, The Jetsons premiered. It was created by William Hanna and Joseph Barbera who had previously produced such series as the Quick Draw McGraw and the Yogi Bear Show. The primary voice cast was George O'Hanlon, Penny Singleton, Janet Waldo, Daws Butler and Mel Blanc. The latter voiced Cosmo Spacely, George's boss. It would last three seasons for seventy-five roughly half-hour episodes. A number of films, reboots and one truly awful idea, The Jetsons & WWE: Robo-WrestleMania, followed down the years.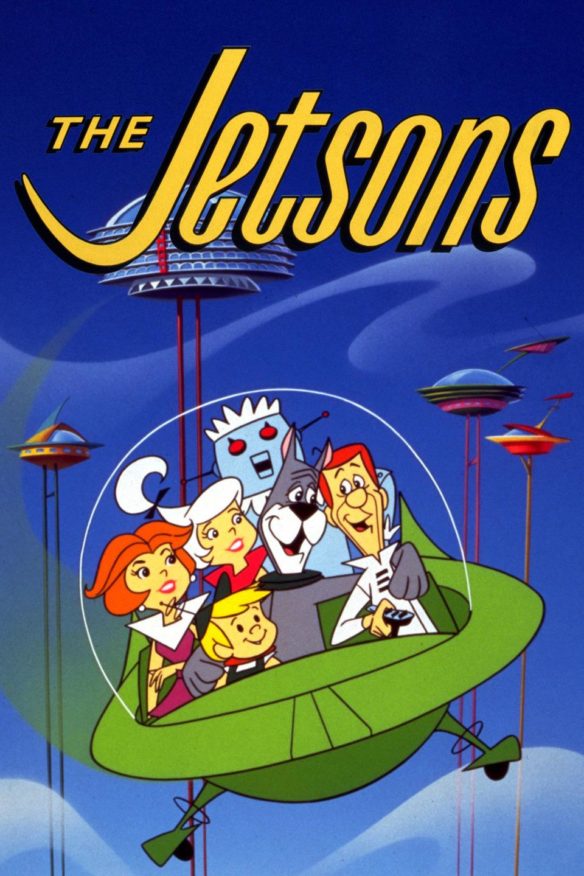 (9) TODAY'S BIRTHDAYS.
[Compiled by Cat Eldridge.]
Born September 23, 1897 — Walter Pidgeon. He's mostly remembered for being in the classic Forbidden Planet as Dr. Morbius, but he's done some other genre work being in Voyage to the Bottom of the Sea  as Adm. Harriman Nelson, and in The Neptune Factor as Dr. Samuel Andrews. The Mask of Sheba in which he was Dr. Max van Condon is at genre adjacent. (Died 1984.)
Born September 23, 1908 — Wilmar H. Shiras. Also wrote under the name Jane Howes. Her most famous piece was  "In Hiding" (1948), a novella that was included in The Science Fiction Hall of Fame anthology. It is widely assumed that it is the inspiration for the Uncanny X-Men that Stan Lee and Jack Kirby would shortly release. (Died 1990.)
Born September 23, 1936 — Richard Wilson, 85. He played Doctor Constantine in "The Empty Child" and "The Doctor Dances", two Ninth Doctor stories. He played Gaius, Camelot's court physician, in the entire of Merlin. And he's was in Peter Pan as Mr Darling/Captain Hook  at the Royal Festival Hall, Southbank Centre. 
Born September 23, 1956 — Peter David, 65. Did you know that his first assignment for the Philadelphia Bulletin was covering was covering Discon II? I'm reasonably sure the first thing I read by him was Legions of Fire, Book 1: The Long Night of Centauri Prime but he's also done a number of comics I've read including runs of Captain Marvel, Wolverine and Young Justice.
Born September 23, 1959 — Elizabeth Peña. Ok, these notes can be depressing to do as I discovered she died of acute alcoholism. Damn it all. She was in a number of genre production s including *batteries not included, Ghost Whisperer, The Outer Limits, The Invaders and even voiced Mirage in the first Incredibles film. Intriguingly she voiced a character I don't recognize, Paran Dul, a Thanagarian warrior, four times in Justice League Unlimited. (Died 2014.)
Born September 23, 1967 — Rosalind Chao, 54. She was the recurring character of Keiko O'Brien with a total of twenty-seven appearances on Next Generation and Deep Space Nine. In 2010, a preliminary casting memo for Next Gen from 1987 was published, revealing that Chao was originally considered for the part of Enterprise security chief Tasha Yar. Now that would have been interesting. 
Born September 23, 1967 — Justine Larbalestier, 54. Writer, Editor, and Critic. An Australian author of fiction whose novels have won Andre Norton, Carl Brandon, and Aurealis Awards, she is probably best known for her comprehensive scholarly work The Battle of the Sexes in Science Fiction which was nominated for a Hugo at Torcon 3. Her Daughters of Earth: Feminist Science Fiction in the Twentieth Century, an anthology of SFF stories and critical essays by women, won The William Atheling Jr. Award.
Born September 23, 1971 — Rebecca Roanhorse, 50. Her "Welcome to Your Authentic Indian Experience™" which was first published  in the August 2017 of Apex Magazine won a Hugo as best short story at Worldcon 76. (It won a Nebula as well.) She also won the 2018 Astounding Award for Best New Writer. Rebecca has five published novels: Trail of Lightning, its sequel Storm of Locusts; Black Sun; Race to the Sun (middle grade); and a Star Wars novel, Resistance Reborn. Black Sun is nominated for a Hugo this year. 
(10) COMICS SECTION.
(11) MADE YOU LOOK. The New Yorker's Megan Broussard devises "Clickbait for Classic Literary Characters". Such as —
Dorian Gray ("The Picture of Dorian Gray")
Soul-to-Sketch Art Converter app on Google Play. Turn selfies into paintings. Start your FREE seven-day, seven-sins trial today!
(12) HOPEPUNK. Mythic Delirium Books contends that readers who are looking for hopepunk will find it in Dark Breakers the new collection of short fiction from World Fantasy Award-winning author C. S. E. Cooney which will be released in February 2022. Its two previously uncollected novellas, "The Breaker Queen" and "The Two Paupers," and three new stories, "Salissay's Laundries," "Longergreen" and "Susurra to the Moon" — take place in three parallel worlds, one inhabited by humans, one ruled by the Gentry (not unlike the Fae of Earthly legend) and one the realm of goblins. The heroines and heroes of these adventures confront corruption and the threat of tyranny armed with their own wits and the life-changing power of art. Pre-orders are activating now, with e-book pre-orders widely available and Barnes & Noble allowing advance purchases of all three editions.
(13) THEY'RE COMING. IGN introduces the Invasion trailer for Apple TV+ series.
Apple has released the official trailer for its ambitious new sci-fi series, Invasion, starring Jurassic Park's Sam Neill.

The three-episode premiere of Invasion will be available to stream on Apple TV+ on Friday, October 22, 2021. Invasion comes from the minds of X-Men and Deadpool producer Simon Kinberg, as well as The Twilight Zone's David Weil. The series follows the events of an Alien invasion through the lens of several characters spread across multiple continents.
(14) PROPRIETIES OBSERVED. [Item by Todd Mason.] The second episode of Have Gun, Will Travel repeated this morning on the H&I Network begins with the protagonist Paladin riding his horse in rocky country.As he passes an outcropping, a woman slips out of the shadows and cocks her rifle while leveling it at his back.
Closed Captioning as presented by H&I: "(sound of woman XXXXing rifle)"
As the Jimmy Kimmel Live show used to enjoy playing with, "Today in Unnecessary Censorship," making the tampered-with/censored bit seem much more blue than simply letting it be would…
(15) BIG LEAGUE SHIRT. I was surprised to find a logo shirt available – and apparently sanctioned by the rights holders! The Science Fiction League Shirt.
The Science Fiction League was created by Hugo Gernsback and launched in Wonder Stories in 1934. 

Our design is inspired by the logo created for the League by Frank R Paul, and the League badges. With thanks to the Frank R Paul estate. 
(16) THE SPEED OF DARK. "New type of dark energy could solve Universe expansion mystery" according to today's issue of Nature.
Traces of primordial form of the substance hint at why the cosmos is expanding faster than expected.

Cosmologists have found signs that a second type of dark energy — the ubiquitous but enigmatic substance that is pushing the Universe's expansion to accelerate — might have existed in the first 300,000 years after the Big Bang….
(17) KALLING ALL KAIJU KOLLECTORS. [Item by Michael Toman.] This Deep Dive into Godzilla movie commentaries, including the two which met with disapproval from Toho and were pulled, not to mention the ones which are only available to Japanese speakers, might be of interest to Other Filer G-Fans?
(18) VIDEO OF THE DAY. [Item by Martin Morse Wooster.] In "Honest Game Trailers' No More Heroes 3" on YouTube, Fandom Games, in a spoiler-filled episode, says that the third adventure of assassin Travis Touchdown has him fighting aliens. It is a "weird (bleeping) game for weird (bleeping) gamers," features every bad Power Ranger villain, and includes as a character director Takashi Miike, the Japanese goremaster.
[Thanks to Cat Eldridge, Mike Kennedy, Andrew Porter, Todd Mason, Cora Buhlert, SF Concatenation's Jonathan Cowie, Martin Morse Wooster, JJ, Michael Toman, and John King Tarpinian for some of these stories. Title credit belongs to contributing editor of the day Jack Lint.]