(1) INTERNATIONAL SERIES AWARD TAKING ENTRIES. The Sara Douglass Book Series Award judging panel welcomes entries for the 2021 award. The deadline to enter is September 30. See full guidelines at the link.
The third iteration of the Sara is underway in 2021, covering series ending (in original publication anywhere in the world) between January 2018 and December 2020.
The current judging year is deliberately excluded. This permits an earlier submissions deadline to allow adequate time for the judges to consider all works entered….
(2) REMEMBERING LOSS. In "The Grief in Memories", a guest post at Stone Soup, TJ Klune frankly discusses personal experiences with death and grief and how they informed his new novel Under the Whispering Door.
… I know grief. I do. Chances are you do too. If you live long enough to learn what love is, you'll know loss. Though no two people will grieve the same way, there's still something universal about it, the way it changes us. It makes us feel like our hearts are being torn from our chests. It makes us furious, ranting and raving at the unfairness of it all. It's all-consuming, this great thing that wraps itself around us and refuses to let go….
(3) FANAC.ORG. One of the fanzines now available at Fanac.org is a rarity mentioned in Ed Meskys' obituary a few weeks ago. ("Peggy Rae McKnight (later Sapienza) began publishing Etwas in 1960; 'We traded fanzines at the time, her Etwas (German for something) for my Niekas (Lithuanian for nothing).'")
Etwas, Peggy Rae McKnight. Added the full 7 issue run of this early 1960s fanzine by Peggy Rae. Peggy Rae McKnight of course is Peggy Rae McKnight Pavlat Sapienza. Contributors include Harry Warner, Jr., Les Gerber, Ozzie Train, and others. The shorter issues may be more like perzines.
(4) PARTY LIKE IT'S 2010 AGAIN. As part of the Bradbury birthday commemoration, Phil Nichols produced a bonus episode of Bradbury 100 LIVE! In the 90th birthday video clip you can see all kinds of people, like the late George Clayton Johnson, Marc Scott Zicree, and John King Tarpinian (even though he's trying to be invisible.)
On the eve of Ray Bradbury's 101st birthday, I ran Bradbury 100 LIVE – a livestream version of my Bradbury 100 podcast. Joing me via Zoom was Steven Paul Leiva: novelist, friend of Ray Bradbury, and former Hollywood animation producer. This live show includes never-before-seen photos and video from Ray's 90th birthday party, held in Glendale California in 2010. And we talk at length about one of Ray's "lost" films, Little Nemo In Slumberland. We also discuss legendary animator Chuck Jones, who was a friend of Ray's, and who was significant to the origin of The Halloween Tree and the abandoned Nemo project.
(5) WELL, EXCUSE MEEE. Despite popular demand, "John Cleese to explore cancel culture in new Channel 4 documentary" reports Radio Times.
British comedy legend John Cleese will be exploring cancel culture in a new documentary series for Channel 4.

The series – which is to be titled John Cleese: Cancel Me – will see the Monty Python and Fawlty Towers star "explore why a new 'woke' generation is trying to rewrite the rules on what can and can't be said".

Throughout the series, the comedian will talk to a variety of people – including some famous faces who claim to have been 'cancelled' and others who have campaigned against comedians and programmes – to ask if it is possible to create comedy without causing offence….
(6) LEGAL MANEUVERING. In the Scarlett Johansson-Disney lawsuit, the latter has filed a motion to send the matter to binding arbitration. "Disney pushes for private arbitration in Scarlett Johansson's 'Black Widow' lawsuit" at USA Today.
Disney has filed a motion to settle a lawsuit brought by "Black Widow" star Scarlett Johansson behind closed doors.

The motion was filed to Los Angeles Superior Court on Friday afternoon by Disney attorney Daniel Petrocelli. In documents obtained by USA TODAY, Petrocelli argued that the contract between Disney and Periwinkle Entertainment Inc., the company representing Johansson, included an agreement to settle any disputes through "binding arbitration" in New York City.

Disney's request for arbitration is the company's first filing in the case since Johansson filed suit on July 29, alleging her contract with Marvel was breached when "Black Widow" was released on the Disney+ streaming service at the same time as in theaters.

In Friday's filing, Disney argued the complaint put forth by Johansson and Periwinkle Entertainment has "no merit."

"There is nothing in the Agreement requiring that a 'wide theatrical release' also be an 'exclusive' theatrical release," Petrocelli wrote.

Petrocelli cited box office numbers, noting that the combined opening weekend revenue from ticket sales in theaters and Disney + Premiere Access receipts totaled more than $135 million. That surpassed other Marvel Cinematic Universe films that were released before the pandemic, including "Thor: The Dark World," "Ant-Man and the Wasp" and "Guardians of the Galaxy," Petrocelli wrote.

"Disney is now, predictably, trying to hide its misconduct in a confidential arbitration," Johansson's attorney John Berlinski told USA TODAY in a statement. "Why is Disney so afraid of litigating this case in public?"…
(7) THE TIME OF DAY. James Davis Nicoll reaches for the shelf with "Classic SF Featuring Planets With Very Long or Very Short Days" at Tor.com.
…SF authors have noticed this and written books about planets/planetesimals with different day lengths. Consider these five vintage works.

Mission of Gravity by Hal Clement (1953)

61 Cygni's world Mesklin is sixteen times more massive than Jupiter. A day less than twenty minutes long means that the gravity at the equator is a measly three gravities. Thus, human starfarer Charles Lackland is able to briefly set down near the equator, where he is subjected to extreme discomfort (rather than immediate death). Too bad for Lackland that the object of his quest, a lost probe, is near one of Mesklin's poles, where gravity is high enough to reduce a human to paste.

Conveniently for Lackland, Mesklin is not only life-bearing—it has natives. Rational self-interest being universal in Clement's universe, Lackland strikes a deal with local trader Barlennan: retrieve the probe in exchange for services only someone with space flight can provide the trader. What follows is a glorious expedition through conditions quite alien to the human reader….
(8) MEMORY LANE.
1989 – Thirty-two years ago at Noreascon 3 where the Toastmaster was Frederik Pohl, C. J. Cherryh wins the Hugo for Best Novel for Cyteen. It had been published by Warner Books the previous year. Other nominated works that year were Red Prophet by Orson Scott Card, Falling Free by Lois McMaster Bujold, Islands in the Net by Bruce Sterling and Mona Lisa Overdrive by William Gibson. Andrew Porter's Science Fiction Chronicle would give it their SF Chronicle Award and Locus would award it their Best SF Novel Award. It was nominated for a BSFA as well.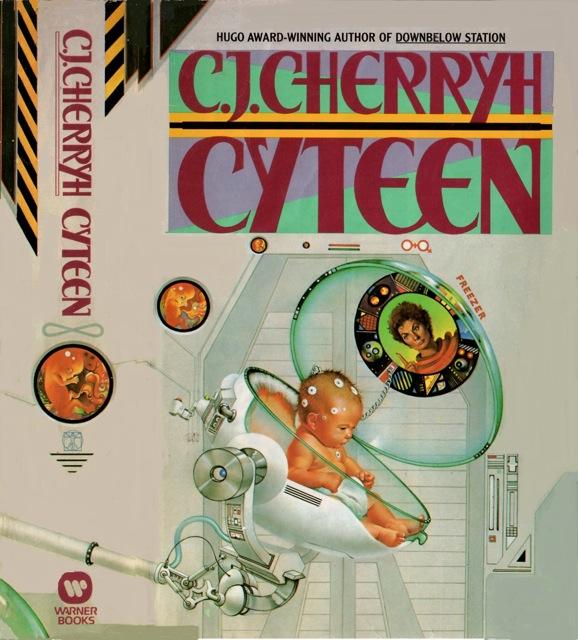 (9) TODAY'S BIRTHDAYS.
[Compiled by Cat Eldridge.]
Born August 23, 1927 — Peter Wyngarde. Not one who was a lead actor in any genre series save Department S where he was Jason King but interesting none-the-less. For instance, he shows up in the two Sherlock Holmes series, one with Peter Cushing and one with Jeremy Brett. He's in a series of Doctor Who with the Fifth Doctor, and he faces off against the classic Avenger pairing of Steed and Peel. He shows up as Number Two in The Prisoner as well. (Died 2018.)
Born August 23, 1929 — Vera Miles, 92. Lila Crane in Psycho which she reprised in Psycho II. On a much more family friendly note, she's Silly Hardy in Tarzan's Hidden Jungle, the very last of the twelve, count 'em twelve, Tarzan pictures released by RKO. She has done one-offs on Buck Rogers in Twentieth Century, Fantasy Island, The Twilight Zone, Alfred Hitchcock Presents, I Spy and The Man from U.N.C.L.E.
Born August 23, 1931 — Barbara Eden, 90. Jeannie on I Dream of Jeannie. Her first genre role however was on Voyage to the Bottom of the Sea as Lt. Cathy Connors, and she'd show up a few years later as Greta Heinrich on The Wonderful World of the Brothers Grimm. She was  Angela Benedict in The Seven Faces of Dr. Lao, the wonderful film version of Charles Finney's novel, The Circus of Dr. Lao. Some thirty-five years after I Dream of Jeannie went off the air, she had a recurring role as Aunt Irma on Sabrina, the Teenage Witch. Her latest genre was just two years ago, Mrs. Claus in My Adventures with Santa. 
Born August 23, 1944 — Karl Alexander. Author of Time after Time which was filmed as Time after Time as directed and written by Nicholas Meyer. Cast includes Malcolm McDowell, Mary Steenburgen and David Warner. (A thirteen-episode series would happen in 2017.) His sequel of Jaclyn the Ripper is not as well known, nor is his Time-Crossed Lovers novel. Time after Time was nominated for a Hugo at Noreascon II, the year Alien won. (Died 2015.)
Born August 23, 1965 — Chris Bachalo, 56, Illustrator well known for his work on DC Comics' Shade, the Changing Man and Gaiman's two Death series, Death: The High Cost of Living and Death: The Time of Your Life. 
Born August 23, 1966 — Charley Boorman, 55. He played a young Mordred in Excalibur which was directed by his father (and he was joined by his older sister Katrine Boorman who played Ygraine, Mordred's grandmother) He was Tommy Markham in The Emerald Forest, and had an uncredited role in Alien. 
Born August 23, 1990 — Jessica Lee Keller, 31. Lauren, Elise's Best Friend, in The Adjustment Bureau from Philip K. Dick's "Adjustment Team" story. She also shows up in Lucifer, Terror Birds and 12-24. 
(10) COMICS SECTION.
Tom Gauld shows it's not paranoia, if you're actually being watched.
(11) OUT OF COSTUME. Comics writer Tom King, while signing at Awesome Con in Washington DC over the weekend, had to deal with a fan who refused to wear a mask. Fascinatingly, the fan was dressed as Rorschach. Thread starts here. The fan was removed by the concom.
(12) WHO IS HOSTING JEOPARDY? "'Jeopardy!': Mayim Bialik To Step In As Temporary Host Of Syndicated Show After Mike Richards' Exit" – Deadline has the story.
…Mayim Bialik, who earlier this month was announced as host of the Jeopardy! primetime and spinoff series, will fill in as host of the mothership syndicated program following the abrupt exit of Mike Richards as host after one day of tapings. (He remains an executive producer of the franchise.)

Bialik, who guest hosted earlier this year in the wake of Alex Trebek's death, is currently scheduled to tape three weeks of episodes (15 episodes) when production resumes this week. Additional guest hosts will be announced as search for a permanent host of the Sony Pictures Television program resumes.
(13) SCI-FI FOR STRINGS. CBS Sunday Morning did a piece on John Williams, with the news that he is rearranging some of his film scores for violinist Anne-Sophie Mutter.
John Williams is one of America's most celebrated musical talents – the best-known creator of music for films. He has written the scores for such revered classics as "Jaws," "Star Wars," "Superman" and "Schindler's List." In a story originally broadcast September 22, 2019, Correspondent Tracy Smith talks with Williams, and with violinist Anne-Sophie Mutter, who collaborated with the composer on an album of works for violin and orchestra adapted from his film scores, "Across the Stars."
(14) RAIN DANCE. [Item by Mike Kennedy.] The Hollywood Reporter has a delightful story about an encounter (and aftermath) between Malcolm McDowell and Gene Kelly, recounted here on the 99th anniversary of the latter's birth. Always remember: it's showbiz, not just show. "Malcolm McDowell Learned 40 Years Later Why Gene Kelly Was Upset With 'A Clockwork Orange' Using "Singin' in the Rain"".
…McDowell's character sings the iconic 1952 musical number during one of the most disturbing and graphic scenes in the 1971 Kubrick classic. Talking to the same room of fans, McDowell said the song was not in the script, the idea just came to him during a take and Kubrick loved it. "It was just instinctive," he added.

It would not be until 40 years later when McDowell would learn why Kelly was so mad about the situation.

"I am telling this story to the Academy, and afterward this lady came up and said, 'I'm Gene's widow. Gene wasn't upset with you, Malcolm. He was really upset with Stanley Kubrick because he hadn't been paid.' And I went, 'My God, there's quite a gang of us who haven't been paid!'" he said to laughs.
(15) HOOCH TREK. "Star Trek Wines Adds New Alien-Inspired Bottles" – Food & Wine admires the designs. (See full details at the Star Trek Wines site.) Click for a larger image.
…Star Trek Wines has just announced the addition of two more bottles to its now six-bottle lineup.

To recap, Star Trek Wines launched with two options — Chateau Picard Cru Bordeaux and United Federation of Planets Old Vine Zinfandel — produced in partnership with Wines That Rock. (If that name sounds familiar, it's because they also make wines for The Hallmark Channel, NPR, and Downton Abbey, along with their namesake rock band-themed products.) A year later, in 2020, two more wines joined the mix: Klingon Bloodwine and United Federation of Planets Sauvignon Blanc.

Now, it's 2021, and as any serialized TV show knows, you need fresh content, so say hello to your latest season of Star Trek Wines: United Federation of Planets Special Reserve Andorian Blue Chardonnay (at $50 per bottle) and Cardassian Kanar Red Wine Blend (at $60 per bottle)….
(16) ON THE STAGE. Michael Toman pointed out a couple of the latest sort-of-genre items available from Playscripts.
When a narrator displeased with her part tries to ruin the happy endings of five Grimm's fairy tales, a talking lobster must save the day. A charming comedy full of enterprising animals and classic storytelling magic.
When Archer finds herself a captive audience for her dad's latest masterpiece, it seems pretty familiar for a fantasy adventure screenplay at first. Wars, in the stars. Brides, of the princess variety. This story's got such an incredibly absurd array of heroes, villains, robots, and romances, it's total chaos. But once Archer gets pulled in to the mashup tale of a princess with a secret agenda and some space wizards destined for greatness, she starts to wonder: Could this be so much chaos it's actually… genius? With all the special effects achieved by one actor hurling models and puppets, plus a flexible cast, an epic quest can come to any stage in this hilarious satire of beloved fantasy adventures.
(17) MIMEO MAKERS. In the Forties, when a couple of fans couldn't afford a mimeograph, they figured out how to DIY – they made one from a paint can. Now that mimeos practically don't exist anymore, this technique might come in handy again.
Join Olson Graduate Rich Dana and Curator of Science Fiction and Popular Culture Collections Peter Balestrieri as they explore the techniques created by Dale and Anita Tarr back in the 1940s of printing zines with a paint can.
[Thanks to JJ, Michael Toman, John King Tarpinian, Lise Andreasen, Dann, Cat Eldridge, Mike Kennedy, Andrew Porter, and Martin Morse Wooster for some of these stories. Title credit belongs to contributing editor of the day Jim Janney.]