(1) JEMISIN ADAPTING BROKEN EARTH FOR FILM. Gizmodo collates the news about "N.K. Jemisin's Hugo-Winning Broken Earth Trilogy Movie Deal".
N.K. Jemisin has already made history by winning three consecutive Hugo awards for each entry in her Broken Earth trilogy: The Fifth Season, The Obelisk Gate, and The Stone Sky. Now, the perhaps inevitable next step is here, with a just-announced big-screen deal with Sony's TriStar Pictures that will see the author adapting her own novels.

Deadline broke the news, noting that it was a "seven figure deal," and Jemisin herself shared the story on Twitter (further down the thread, she joyfully emphasized the part about "the author will adapt the books herself").

…Sharp-eyed readers may recall that The Fifth Season was, at one time, being developed as a TV series for TNT—but that was back in 2017, and obviously the situation has changed.
(2) 2023 SITE SELECTION. DisCon III says the 2023 Worldcon bidders have set the voting fee.
All bidders for the 2023 Worldcon have agreed the voting fee will be $50 USD. If you are at least a Supporting Member of DisCon III, you're eligible to vote for the 2023 Worldcon Site Selection. The voting fee is in addition to your DisCon III membership. All site selection voters will become Supporting Members of the 2023 Worldcon regardless of who wins. All money collected from the voting fee will be turned over to the winning bid. Further details regarding the voting process will be announced later this summer.
(3) CANCEL CULTURE. The Guardian's Alison Flood talks to industry people with different perspectives in her article "'If publishers become afraid, we're in trouble': publishing's cancel culture debate boils over".
… Sometimes the pressure works: Yiannopoulos was dropped by S&S amid outrage over his comments about consent, and Allen was dropped by Hachette after a staff walkout. Sometimes it doesn't: staff at PRH Canada complained about Jordan Peterson's book Beyond Order, but it went ahead anyway; PRH India chief executive Gaurav Shrinagesh brushed off Mishra's concerns by writing about publishing a "diverse range of voices". S&S president Jonathan Karp told staff protesting about Pence that "we come to work each day to publish, not cancel, which is the most extreme decision a publisher can make" – but reports from a recent S&S town hall show this did little to calm the workforce.

…One managing director at the Big Five, who asked to remain anonymous, said he saw "a strange contradiction" in his workplace where everyone was positive about diversity, but where some also want to "pick and choose the kind of diversity we want".

"If we want to be a publisher and employer for everyone, our publishing has to reflect that. And it becomes a necessary inevitability that we publish books and authors of viewpoints some of our staff don't agree with or indeed, very, very actively disagree with," he says. "That tension is not entirely new, but for whatever reason, it seems to be sort of boiling over now. It is complicated, but also, I think, quite stimulating."

At political publisher Biteback, editorial director Olivia Beattie finds it frustrating that the debate is "so often framed as younger editors being oversensitive, rather than acknowledging that what senior editors choose to publish has an impact on the terms of public debate.

"Any half-decent junior editor learns very quickly how to separate their personal ideological positions from the material they're editing, because that's a crucial part of the job," she says. She believes the publishing industry skews more leftwing than the book-buying public, making it inevitable that staff will work on books they disagree with.

"But people aren't having these kinds of conflicts over simple differences of political opinion, as you might assume from listening to the debate on it," she says. "Nobody's refusing to work on a book because it doesn't fit with their party affiliation: what's been at stake has virtually always been a question of whether the book or the author is responsible for inciting prejudice against already marginalised and oppressed minorities. That's an absolutely valid area for debate. It's also not always clear-cut – some people will be deafened by a dog-whistle that others can't hear."

Once junior editors are "up in arms", Beattie believes that is proof of enough concern to warrant an internal conversation. "Ironically, the people railing against 'cancel culture' very often seem to be trying to shut down criticism themselves," she says….
(4) MELLOW YELLOW. [Item by Martin Morse Wooster.] In the June 2 Financial Times, Tom Faber discusses the antitrust lawsuit Fortnite creator Epic Games filed against Apple.
Most ludicrous was the debate reported by the tech news website The Verge around Peely, a humanoid banana who is something of a mascot for Fortnite. Apple's lawyers displayed an image of the figure in his 'Agent Peely' guise, saying, 'We thought it better to go with the suit than the naked banana, since we are in federal court this morning, implying that a banana without clothes is somehow obscene. Hours later Epic's attorney returned to this ridiculous proposition by asking Epic's VP of marketing whether Peely without clothes would be 'inappropriate'. Hi response was a firm 'no.': 'It's just a banana, ma'am.'
It really is a banana with sunglasses.
(5) I SEE BY YOUR OUTFIT. "Here's the first teaser for Shazam! Fury Of The Gods, or at least Zachary Levi's outfit in it" – Yahoo! tells what they can make of this dimly-lit pan of the new costume.
(6) AMERICA: THE MOTION PICTURE. This Netflix movie asks. "What if America's greatest political leaders were superheroes who know four letter words and can smash things?"
(7) BOOKSELLER OBIT. [Item by Tom Whitmore.] Bob Brown (Robert L. Brown of B. Brown and Associates in Seattle) recently died of esophageal cancer.
Bob was pretty directly responsible for me becoming a bookseller: he and Clint Bigglestone and I did a rare book mailorder business in the early 1970s (50 years ago!). He continued to maintain his business, in conjunction with his other work of selling space and time (for advertising) up until right before his death. Anyone who went to big conventions and collected books probably knew him — he was a regular dealer. And he always had interesting books. His personal specialty was 19th Century SF and fantasy, but he had plenty of modern books as well; he also dealt in mysteries, like so many SF dealers. His other passions were his family and fishing. His passing leaves a major hole in the field. I'll miss him.

PS: Please note that this is not the Bob Brown of B-Cubed Press. It's too easy to get them confused.
(8) MEDIA BIRTHDAY.
June 4, 1982 – On this date in 1982, Star Trek II: The Wrath of Khan premiered. Directed by Nicholas Meyer and produced by Robert Sallin, the screenplay was by Jack B. Sowards off a story by Harve Bennett and Jack B. Sowards. It starred the entire original Trek cast plus guest stars of Bibi Besch, Merritt Butrick, Paul Winfield, Kirstie Alley and Ricardo Montalbán. Gene Roddenberry was not involved in its production. It was a box office success and critics really, really liked it. It's generally considered the best of all the Trek films ever produced. It would finish second to Bladerunner at ConStellation for Best Dramatic Presentation. Audience reviewers at Rotten Tomatoes give it a stellar ninety percent rating.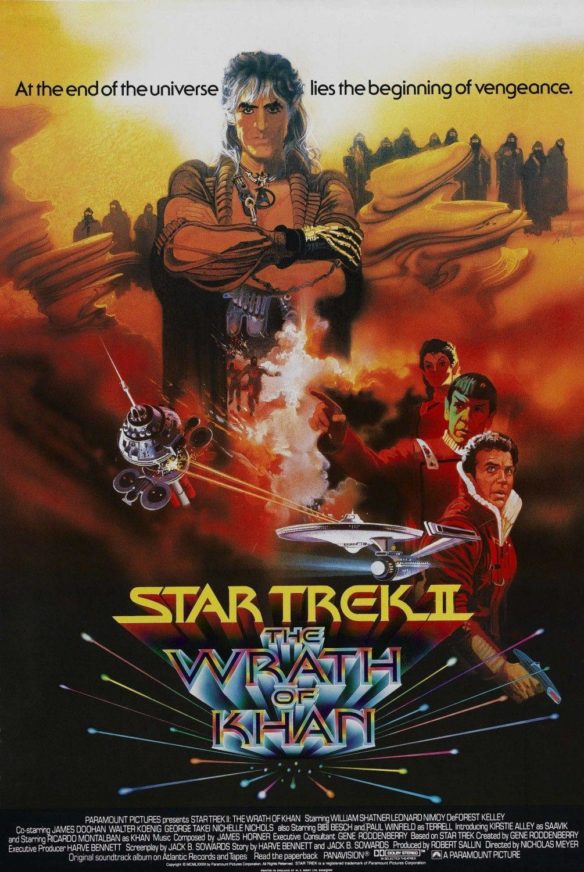 (9) TODAY'S BIRTHDAYS.
[Compiled by Cat Eldridge and John Hertz.]
Born June 4, 1894 – Patricia Lynch.  Interwove Irish rural life and fantasy.  In The Turf-Cutter's Donkey (here's a Jack Yeats illustration) and 3 sequels, children meet the Salmon of Knowledge and Fionn mac Cumhaill (pronounced roughly "fin m'cool"), are replaced by mischievous changelings, and like that; in Brogeen of the Stepping Stones and 11 sequels the leprechaun Brogeen keeps running away from home, with his elephant companion Trud.  Fifty novels, two hundred shorter stories.  (Died 1972) [JH]
Born June 4, 1916 – Ozma Baum Mantele.  First granddaughter of Frank Baum.  The Lost Princess of Oz was dedicated to her.  It was one of her last wishes that Baum's manuscript of his last Oz book (Glinda of Oz) be donated to the Library of Congress; done, the year after her death.  "Memories of My Grandmother Baum", "Ozcot, My Second Home", and "Fairy Tales Can Come True If You're Young at Heart" in The Baum Bugle; see also its "Baum Family Questionnaire".  (Died 1999) [JH]
Born June 4, 1930 – Steve Schultheis, age 91.  Coined "Beastley's on the Bayou" when Beatley's hotel on Indian Lake, Ohio, wouldn't admit African-American Bev Clark to Midwestcon IV.  Wrote (with Virginia Schultheis) the song "Captain Future Meets Gilbert & Sullivan".  Retrieved the 15th Worldcon's gavel for the Goon Defective Agency, in what proved to be as true to life as the Agency itself (John Berry wrote up the Agency, satirizing himself as Goon Bleary).  Instrumental in composing the World Science Fiction Society constitution adopted by the 21st Worldcon.  [JH]
Born June 4, 1951 — Wendy Pini, 70. With husband Richard, responsible for Elfquest which won them a Balrog. Over the years Elfquest has been self-published by the Pinis through their own company Warp Graphics, then Marvel Comics, then the Pinis again, more recently DC Comics and then Dark Horse Comics. Everything prior to 2013 is free online at the Elfquest Comic Viewer. Be prepared to spend hours lost in great reading! (CE)
Born June 4, 1960 — Kristine Kathryn Rusch, 61. If you've not discovered the delights of her Diving Universe series, you're in for a treat — it's that good. Her Retrieval Artist series is one that can be read in no particular order so is a great deal of fun no matter where you start. Other than those two series, I've not read deeply of her, so other recommendations are welcome. Oh, and she won the Astounding Award for Best New Writer. Her Website is here; don't miss her appreciation of A.J. Budrys.  (CE)
Born June 4, 1953 – Pam Fremon, F.N.  Chaired two Boskones; worked on 47th, 62nd, 66th Worldcons (maybe more if I remembered better).  Elected a Fellow of NESFA (New England SF Ass'n; service).  Here's a photo of some watermelon art for the Orlando in 2001 Worldcon bid.  (Died 2012) [JH]
Born June 4, 1964 — Sean Pertwee, 57. Let's see, where did I see him first? Oh, of course, playing Sheriff Hugh Beringar on Cadfael but that's not genre, is it? Captain Heinz in "Trenches of Hell, Part 2 ",  on The Young Indiana Jones Chronicles which was his first genre role followed being Pilot Smith on Event Horizon and Macbeth in a UK film of that name the same year. He did a bit of low budget horror playing Bradley Cortese in Tale of the Mummy and likewise in being Sergeant Harry G. Wells in Dog Soldiers. There were some fairly low budget SF as well, say Father in Equilibrium. Not to mention Brother Proteus in Ultramarines: A Warhammer 40,000 Movie which I dearly want to see! All of which gets redeemed by his Inspector Lestrade in Elementary, a stunning take on that character. And then there's his Alfred in Gotham. 
Born June 4, 1969 – Ralph Voltz, age 52.  German-born illustrator now of North Carolina.  Four hundred fifty covers, and much else, in and out of our field.  Here is This Is My Funniest; here is The Nakk and the Cat (Nakks are in the Perry Rhodan universe); here is "Star Wars" on Trial.  [JH]
Born June 4, 1972 — Joe Hill, 49. I've met him once or twice down the years as he shows up here in Portland for signings at both book shops and comic shops. Nice guy like his father. Actually the whole family is amazingly nice. Locke & Key is a superb graphic novel series and I'm fond of all of his short stories, particularly those collected in 20th Century Ghosts. I've got Full Throttle, his latest collection in my digital reading pile. I notice that though he's not yet won a Hugo, he's won a fistful of Stokers, many BFAs, a World Fantasy Award and even an International Horror Guild Award.  (CE)
Born June 4, 1975 — Angelina Jolie, 46. I really liked her two Tomb Raider films and thought Sky Captain and the World of Tomorrow was a really cool film with her role being quite magnificent. I never saw her early Cyborg 2 undertaking but think Hackers and her role as Kate "Acid Burn" Libby was rather good. I've not seen, nor have any desire to see, her Maleficent films. (CE)
Born June 4, 1984 – Xia Jia, age 37.  Two dozen short stories so far (a dozen and a half available in English; E-book collection A Summer Beyond Your Reach appeared Apr 2020).  In "The Demon-Enslaving Flask" James Clerk Maxwell meets a demon, with footnotes.  "A Hundred Ghosts Parade Tonight" shows what at first seems a haunted keep, as in millennia of Chinese stories, but proves to be a decayed far-future theme park with cyborgs.  Under the name by which she earned a Ph.D. she is a university lecturer in China.  [JH]
Born June 4, 1991 — Jordan Danger, 30. She is best known for her role as Zoe Carter on Eureka. (Now inexplicably renamed A Town Called Eureka in syndication.) She also showed up in Ragin Cajun Redneck Gators which as horror is genre of sorts, plus the SF films, Higher Power and Beyond the Sky. And even a vampire film, Living Among Us. All low budget, all straight to DVD productions. (CE) 
(10) COMICS SECTION.
Wulffmorgenthaler-36 envisions the day water is more expensive than oil. Lise Andreasen translates the caption from Danish: "Listen up, soldiers. This is your new equipment for our incredibly peaceful and diplomatic mission. The willow branch is to look for water, and the bazooka is for diplomacy, if they won't give you their water…"
(11) RUNS WITH SCISSORS. On the day that that Worldcon 76 settles with Jon Del Arroz – "Worldcon 76 Settles with Jon Del Arroz: Issues Apology, Will Pay Compensation" – there's hardly anyplace he can crow because Facebook and Twitter have him suspended. He told his 3,000 YouTube subscribers yesterday in "SJWs Are Trying To Deplatform Me EVERYWHERE!" —
…and I found that I can't post or comment for 28 days. That also includes liking apparently I tried to like a post and this came up.
And if you scroll through here there's all of these posts dating back to June 15, 2020 uh that they say violates their community standards. Now I don't know what these posts are. You can't click on any of these nor tell what they are uh so it's all guesswork but I'm gonna guess i posted some memes that somebody went through and combed through my account and then uh tried to harass me here because this is just too many instances all at once. Very very odd uh that this showed up now. I don't say anything that salty uh usually. I do comment perhaps on some globo homo stuff with my memes especially uh you know with pride month uh you know being in our faces constantly with their little fake corporate shilling that they always do. And I also comment a lot on uh I'd say election integrity, and uh you know certain uh shots that people are getting at this point so maybe that's what had to do with it i don't know. But uh one sort of post going through that's one thing but all of these it looks like somebody went back and combed through my stuff just to try to target me now. Of course within a couple hours of that I found out that the same thing had happened on Twitter.
So I'm suspended for a 30 day on Facebook uh seven day on Twitter for a recent meme I posted which was making fun of the corporate pride month. And we'll call it corporate pride month because that's what it is. That's it and so they made me remove it and I'm stuck without being able to market anywhere except for here for that amount of time so they are trying to hit my social media accounts and this comes in the wake where I've actually got some big news in the pipeline…
(12) SPOT ON. Olivia Rutligliano reminds us why One Hundred and One Dalmatians remains one of the best Disney animated films in "Stopping for a Moment to Appreciate the Original 1961 film One Hundred and One Dalmatians" at CrimeReads.
As I type this, a new film has been released which offers a backstory into the motivations of the Disney villainess Cruella de Vil, a character who needs no introduction (or even, some might say, explanation) but has been given one anyway. I haven't seen this new film, Cruella, which stars Emma Stone and sets itself up as a pseudo-prequel to Disney's live-action 101 Dalmatians film from 1996, which starred Glenn Close as the diabolical, piebald, puppy-stealing termagant. I probably won't see the new film (simply because I'm not very interested in Disney's live-action remakes and such), but I'm not writing this to knock it. All I can say about it is that I've noticed that, in preparation for or perhaps inspired by its release, many have taken to watching or rewatching Disney's original 1961 film. To which I say: good.

One Hundred and One Dalmatians (which IS a crime film) is a timeless joy, and an aesthetic marvel. If you have seen it (or even if you haven't) you probably know the gist, but here's a deeper dive….
(13) TRAVEL TRIVIA. "In the 1950s and 60s a UFO was described as cigar shaped. Now a UFO is described as TicTac shaped," notes John King Tarpinian.
(14) PLANE SPEAKING. Nature covers scientific findings of "Ultrahigh-energy photons up to 1.4 petaelectronvolts from 12 ?-ray Galactic sources".
Over 500 extremely high energy cosmic rays (PeVatrons) have been detected.

These are atomic nuclei travelling close to the speed of light. PeVatrons have energies around 100 times that of the particles generated in CERN's Large Hadron Collider. They have been detected before but their source is something of a mystery. This is because magnetic fields in space bend their trajectories. However, when they interact with the interstellar medium they generate gamma rays and these do travel in a straight line. The researchers have identified one source, the Crab Nebula. They have detected a dozen sources so doubling the known PeVatron sources. These sources seem to lie along the Galactic Plane. Sources could be other supernovae remnants, pulsar winds and related to the Galactic centre black hole: we just don't know. However, we may learn more when the Cherenkov telescope Array in Chile and the Southern Wide-field Gamma Ray Observatory in S. America come on-line.
(15) DECISION JUICE. [Item by Mike Kennedy.] Queue up the obligatory "big brain/little brain" joke: "Human brain and testis found to have the highest number of common proteins" reports Phys.org.
…In this new effort, the researchers noted that evidence from other studies has found some signs of similarities between testis and the human brain. Intrigued, they initiated a study that involved analyzing the proteins produced by different parts of the body and then comparing them to see similarities. The researchers found the greatest similarities between the brain and testicles—13,442 of them. This finding suggests that the brain and the testicles share the highest number of genes of any organs in the body….
(16) LEAVING OUT THE MIDDLEMAN. This is a piece in which a woman who published a "speculative thriller" about parthenogenesis explains why she did it: "Finding Inspiration for Speculative Fiction in the History of Reproduction" at CrimeReads.
…Plutarch's observations about mola, the supposed products of parthenogenesis, almost definitely referred to molar pregnancies, birth defects incompatible with life, or other conditions that lacked a clear medical explanation at the time. But my paranormal-obsessed brain took the idea and ran with it in entirely different directions. Plutarch couldn't have imagined that, roughly eighteen hundred years later, a young woman would encounter his general idea and instantly feel inspired to write a thriller about virgin birth.

And yet, that's exactly what happened. I'm a sucker for a good origin story, and this one felt big. What if Plutarch was right, and women who strayed too far from a rational male influence—women who thought for themselves—could literally imagine their own children into being? What if a woman's unruly brain gave rise to an unruly child, conceived without the "soul" that a father would imbue?…
(17) THREE VIDEOS BY DOMINIC NOBLE. [Item by Jennifer Hawthorne.] The Deceit and Broken Promises Behind The Worst Adaptation Ever (Earthsea) is coverage of how Le Guin got incredibly badly treated by the people who produced the terrible SciFi miniseries of Earthsea.
Lost In Adaptation: Earthsea is the video about the first two books of Earthsea and the terrible miniseries itself
Lost In Adaptation: The Golden Compass is his latest video, about The Golden Compass.
[Thanks to Martin Morse Wooster, JJ, Michael Toman, Tom Whitmore, Lise Andreasen, Jennifer Hawthorne, Rob Thornton, SF Concatenation's Jonathan Cowie, John King Tarpinian, Cat Eldridge, John Hertz, Mike Kennedy, and Andrew Porter for some of these stories. Title credit belongs to contributing editor of the day bill.]