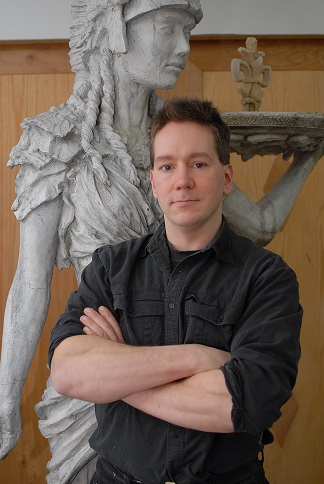 Michigan fans and other friends around the world are mourning the unexpected passing of 3D artist Tomak Julian Baksik who died of a sudden illness on May 2. He was 51.
He will be greatly missed. The family obituary here describes how and why his was a tremendous presence in the fannish community.
Taken from us too soon, he was an artist of vibrant ingenuity and passionate commitment. His unique and exquisite works were a process of invention, re-invention, design, craft and creation. He dedicated his life to his work, his family and his friends. Tomak touched the lives of those who knew him, with both his artistic vision and his kinetic personality. He lived his life with enthusiasm and unwavering optimism, challenging himself and those around him to expand and explore. He had a deep appreciation of nature and the outdoors, where he was not bound by fences, distances or heights. He inspired those around him to join him on his treks around the world, including to Poland, his ancestral homeland.

As founder and owner of NetherCraft Creations, he designed and manufactured themed surfaces in plastics and metals. His scenic wall panels were described as one of thirteen modern haunt innovations that shook the haunt industry….

Another major work is the Pennsic Cathedral, designed for the Society of Creative Anachronism (SCA), a gothic cathedral featuring two rose windows, four flying buttresses, and a vaulted ceiling. Tomak was a member of SCA for over 30 years, where he was allowed to be his own wonderful flavor of strange and extraordinary. Many were his gifts of time, toil, and effort, and his generosity and kindness knew no bounds. He had a great love of teaching and regularly opened his workshop to instruct and mentor in bronze casting, glass casting and bladesmithing. He was an esteemed and favorite guest of many encampments and SCA will dearly miss him.
Click here to see a photo of The Pennsic Cathedral.
Many examples of his work can be seen in the gallery at Julian Bronze.
The Ann Arbor Observer's 2012 article "Minerva and Cthulhu" has a colorful interview with a couple about the exotic sculpture they commissioned from Baksik. (No photos, unfortunately.)
…Near the porch of the yellow brick suburban house next door, a nearly eight-foot statue of a bearded, three-hoofed, ­octopus-armed Cthulhu, squid-like tentacles protruding from his cloak, stands sentry on a platform, his faux patina nearly blending in with the nearby arborvitae. Poised and ready to pounce from his place on the porch, a small dragon with a hammerhead, serpentine neck, carved scales, and spinelike protrusions displays his fangs.

"They're real crime deterrents," jokes Kevin Nickerson, the owner of the home and its unusual art. "Cthulhu alone would scare the hell out of any intruder." His wife, Jennifer, laughs and says that Cthulhu reminds her of the Davy Jones character in Pirates of the Caribbean.
…Kevin met Tomak Julian Baksik, the creator of all three pieces, through the Society for Creative Anachronism. Mutual interests in science fiction and fantasy—and Kevin's appreciation for Baksik's art—cemented their friendship and inspired Kevin to buy the dragon and then to fund the creation and installation of Cthulhu in 2002….
Friends are posting photos of their own projects they worked on with Baksik, including this Facebook album about installing the Hundred Acres Manor Haunted House in Pittsburgh.
Nethercraft, which Baksik founded, also offers an interesting line of vacuumformed panels for use in an "escape room theme, lobby or [to] create that horror filled science lab." The Steampunk Themed and Space Themed panels are fascinating. A short video shows the latter series assembled as the "Nethercraft Spaceship".
[Thanks to Anne Gray for the story.]