(1) NEXT ON BABYLON 5. "The secret Babylon 5 project is… an animated movie". The Verge does a roundup of what is known about the project based on J. Michael Straczynski's tweets today, plus a little bit from his Patreon page. More details are coming next week, including a release date.
Meanwhile, the Babylon 5 reimagining live action show that's been in development remains "on hold pending WGA issues" Straczynski said on Facebook last week.
(2) FAN WINS MINN STATE LITERARY AWARD. Congratulations to Minn-Stf member Karen E. Cooper on receiving the 2023 Emilie Buchwald Award for Minnesota Nonfiction, part of the Minnesota Book Awards. Cooper's winning book is When Minnehaha Flowed with Whiskey: A Spirited History of the Falls.
From the 1880s until at least 1912, Minnehaha Falls was a scene of surprising mayhem. The waterfall was privately owned from the 1850s through 1889, and entrepreneurs made money from hotels and concessions. Even after the area became a city park, shady operators set up at its borders and corrupt police ran "security." Drinking, carousing, sideshows, dances that attracted unescorted women, and general rowdiness reigned—to the dismay of the neighbors. By 1900, social reformers began to redeem Minnehaha Park. During the struggle for control, the self-indulgent goings-on there became more public and harder to ignore.
(3) LIKE SAND THROUGH THE HOURGLASS. The trailer for Dune: Part Two dropped today.
"Dune: Part Two" will explore the mythic journey of Paul Atreides as he unites with Chani and the Fremen while on a warpath of revenge against the conspirators who destroyed his family. Facing a choice between the love of his life and the fate of the known universe, he endeavors to prevent a terrible future only he can foresee.
(4) TONY AWARDS 2023. The 2023 Tony Award nominations are out. There are a few productions of genre interest like Into the Woods with cast members among the nominees, however the list is mostly not sff. The complete roster is at the link.
(5) KGB. Fantastic Fiction at KGB reading series hosts Ellen Datlow and Matthew Kressel present Paul Tremblay & John Langan on Wednesday, May 10, 2023, at 7:00 p.m. Eastern.
Paul Tremblay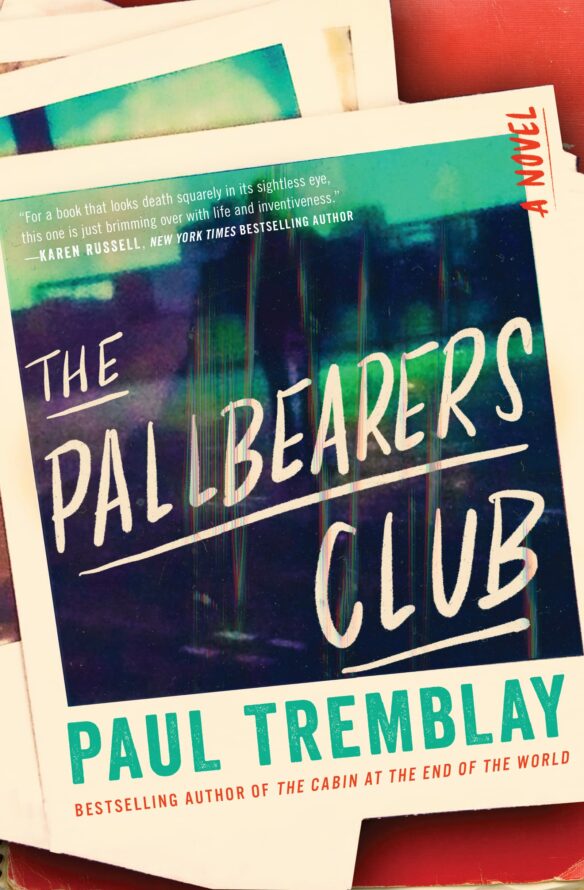 Paul Tremblay has won the Bram Stoker, British Fantasy, and Massachusetts Book awards and is the author of The Pallbearers Club, Growing Things, Disappearance at Devil's Rock, A Head Full of Ghosts, and the crime novels The Little Sleep and No Sleep Till Wonderland. His novel The Cabin at the End of the World was adapted as the major motion picture Knock at the Cabin. His essays and short fiction have appeared in the Los Angeles Times, New York Times, and numerous year's-best anthologies. He has a master's degree in mathematics and lives outside Boston with his family.
John Langan
John Langan is the author of two novels and five collections of fiction. For his work, he has received the Bram Stoker and the This Is Horror awards. He is one of the founding members of the Shirley Jackson awards, and serves on its Board of Advisors. He lives in New York's Mid-Hudson Valley with his family and worries about bears roaming the woods behind the house. His latest book is Corpsemouth and Other Autobiographies.
Where: KGB Bar, 85 East 4th Street, New York, NY 10003 (Just off 2nd Ave, upstairs).
(6) THE SEX LIVES OF TRALFAMADORIANS. [Item by Steven French.] In an interesting and helpful article in Aeon, entitled "Sex Is Real" (but with the important sub-title: 'Yes, there are just two biological sexes. No, this doesn't mean every living thing is either one or the other'), philosopher of biology Paul Griffiths tackles the Tralfamadorians:
… imagine if there was a whole species … where three different kinds of gametes combined to make a new individual – a sperm, an egg and a third, mitochondrial gamete. This species would have three biological sexes. Something like this has actually been observed in slime moulds, an amoeba that can, but need not, get its mitochondria from a third 'parent'. The novelist Kurt Vonnegut imagined an even more complex system in Slaughterhouse-Five (1969): 'There were five sexes on Tralfamadore, each of them performing a step necessary in the creation of a new individual.' But the first question a biologist would ask is: why haven't these organisms been replaced by mutants that dispense with some of the sexes? Having even two sexes imposes many extra costs – the simplest is just finding a mate – and these costs increase as the number of sexes required for mating rises. Mutants with fewer sexes would leave more offspring and would rapidly replace the existing Tralfamadorians. Something like this likely explains why two-sex systems predominate on Earth….
(7) VECTOR NEEDS EDITORS. Jo Lindsay Walton and Polina Levontin will be standing down as editors of the British Science Fiction Association's magazine Vector after one more issue (#298, late 2023), and the BSFA is inviting applications for new editors: "Vector: be part of a new editorial team!"
(8) MEMORY LANE.
2011 – [Compiled by Cat Eldridge.]
Let's talk about David Langford for a minute. Y'all know this wonderful individual already, so I need not go into depth on who he is, though I'd be very remiss not to mention that he has the most Hugo Awards in hand with twenty-nine so far.
Many of those came about from his work as a fan journalist on his essential-reading Ansible newsletter which he has described as The SF Private Eye. The name Ansible you likely know is taken from Le Guin's communication device.
That he borrowed the name from a fictional device is a fact that lends itself to the lead-in for the Beginning excerpted in this Scroll. It's from Langford's story in Fables from the Fountain, edited by Iain Whates, a collection which paid homage to Arthur C. Clarke's Tales from The White Hart.
Fables from the Fountain centers on The Fountain, a traditional London pub situated in Holborn, sited just off Chancery Lane, where Michael, our landlord, serves only superb ales, ably assisted by barmaids Sally and Bogna. It is a place where a group of friends – scientists, writers and, yes, genre fans — meet regularly on a Tuesday night to tell true stories, and some well, maybe not so true.
Our story, "The Pocklington Poltergeist", was published by NewCon Press as part of this collection twelve years ago. Dean Harkness did the cover art.
They are, I must say, quite fun tales that keep nicely in the spirit of Clarke's own. Available at the usual suspects, or in a more traditional paper edition.
And let's us step into The Fountain for our Beginning…
A buzz of expectation could be felt in the back bar of the Fountain that Tuesday evening, and Michael the landlord hoped aloud that this didn't mean funny business. No one needed to be told what he meant. The previous meeting had gone with a bang, not to mention a repeated flash, crackle and puff of purple vapour when anyone stepped in the wrong place. Whatever that noisy stuff was, it got on your shoes and followed you even into the sanctuary of the toilet.
"Nitrogen tri-iodide," said Dalton reminiscently. "Contact explosive. A venerable student tradition. It's amazing how each new year discovers the formula, as though it were a programmed instinct."
"They read science fiction," Ploom suggested. "Robert Heinlein gives a fairly detailed recipe in Farnham's Freehold."
"Not his best," said Dalton. "And not the best procedure either. Solid iodine crystals are far, far more effective than the usual alcoholic solution. I speak purely theoretically, of course."
At the bar, Professor Mackintosh made reassuring noises. "The only upheaval we're expecting is a celebrity visitor, Michael. A demi-celebrity, at any rate. Have you heard of Dagon Smythe "the psychic investigator – a real-life Carnacki the Ghost-Finder? Colin Wilson wrote a whole book about him once."
Next to the Professor, Dr Steve spluttered something into his beer. It could have been: "That charlatan."
"Now, now," murmured Mackintosh. "Guests are always received politely. We even managed to be civil to Uri Geller."
(9) TODAY'S BIRTHDAYS.
[Compiled by Cat Eldridge.]
Born May 3, 1896 — Dodie Smith. English children's novelist and playwright, best remembered for The Hundred and One Dalmatians which of course became the animated film of the same name and thirty years later was remade by Disney as a live action film. (Saw the first a long time ago, never saw the latter.) Though The Starlight Barking, the sequel, was optioned, by Disney, neither sequel film (101 Dalmatians II: Patch's London Adventure and 102 Dalmatians) is based on it. Elizabeth Hand in her review column in F&SF praised it as one of the very best fantasies ("… Dodie Smith's sophisticated canine society in The Hundred and One Dalmatians and The Starlight Barking…") she read. (Died 1990.)
Born May 3, 1928 — Jeanne Bal. Ebony In Trek's "The Man Trap" episode, she played Nancy Crater, a former lover of Leonard McCoy, who would be a victim of the lethal shape-shifting alien which craves salt. This was the series' first-aired episode that replaced "The Cage" which the Network really didn't like. She also had one-offs in Thriller and I-Spy. (Died 1996.)
Born May 3, 1939 — Dennis O'Neil. Writer and editor, mostly for Marvel Comics and DC Comics from the Sixties through the Nineties, and was the Group Editor for the Batman family of titles until his retirement which makes him there when Ed Brubaker's amazing Gotham Central came out. He himself has written Wonder Woman and Green Arrow in both cases introducing some rather controversial storytelling ideas. He also did a rather brilliant DC Comics Shadow series with Michael Kaluta as the artist. (Died 2020.)
Born May 3, 1949 — Ron Canada, 74. He's one of those actors who manages to show up across the Trek verse, in this case on episodes of Next Generation, Deep Space Nine and Voyager. He also showed up in the David Hasselhoff vanity project Nick Fury: Agent of SHIELD as Gabe Jones, and had further one-offs on The X-Files, Star Gate SG-1, Elementary, Grimm and The Strain. He had a recurring role on the now canceled Orville series as Admiral Tucker.
Born May 3, 1958 — Bill Sienkiewicz, 65. Comic artist especially known for his work for Marvel Comics' Elektra, Moon Knight and New Mutants. His work on the Elektra: Assassin! six-issue series which written by Frank Miller is stellar. Finally his work with Andy Helfer on The Shadow series is superb.
Born May 3, 1965 — Michael Marshall Smith, 58. His first published story, "The Man Who Drew Cats", won the British Fantasy Award for Best Short Story. Not stopping there, His first novel, Only Forward, won the August Derleth Award for Best Novel and the Philip K. Dick Award. He has six British Fantasy Awards in total, very impressive indeed.
Born May 3, 1969 — Daryl Mallett, 54. By now you know that I've a deep fascination with the nonfiction documentation of our community. This author has done a number of works doing just that including several I'd love to see including Reginald's Science Fiction and Fantasy Awards: A Comprehensive Guide to the Awards and Their Winners written with Robert Reginald. He's also written some short fiction including one story with Forrest J Ackerman that bears the charming title of "A Typical Terran's Thought When Spoken to by an Alien from the Planet Quarn in Its Native Language". He's even been an actor as well appearing in several Next Gen episodes ("Encounter at Farpoint" and "Hide and Q") and The Undiscovered Country as well, all uncredited. He also appeared in Doctor Who and The Legends Of Time, a fan film which you can see here if you wish to.
(10) COMICS SECTION.
Frazz – is built around a culture wars malaprop. (Or at least a misunderstanding.)
(11) EXECUTIVE ACTION. "Jim Lee Re-Ups at DC, Promoted to President" – The Hollywood Reporter has the story.
Jim Lee, the superstar artist-turned-publisher of DC, has added the title president to his growing list of executive designations.

Lee, re-upping his deal with DC, has been promoted to president as well as publisher and CCO of the comic book company, which is part of Warner Bros. Discovery.

The executive will continue to report to Pam Lifford, president of global brands, franchises and experiences at Warner Bros. Discovery, who announced the promotion Wednesday.

Lee, per the company, will continue in his primary role as publisher at DC, where he leads the creative teams. He will also continue to lead the creative efforts to integrate DC's publishing portfolio of characters and stories across all media, supporting the brands and studios of WBD…
(12) I'VE HEARD THIS TUNE BEFORE. [Item by Dan Bloch.] Did Spider Robinson nail it or what? (Cf. "Melancholy Elephants") "The Ed Sheeran lawsuit is a threat to Western civilization. Really." says Elizabeth Nelson in an opinion piece for the Washington Post.
Spider Robinson's 1983 Hugo-winning short story "Melancholy Elephants" is about a woman fighting a bill in congress which would extend copyright into perpetuity, because it would ultimately stifle humanity's artistic creativity. ("Senator, if I try to hoard the fruits of my husband's genius, I may cripple my race.")
The Post article talks about musician Ed Sheeran currently being sued by a songwriter's estate which claims that "a similar but not identical chord progression used by both songs as a principal motif" is copyrighted. The author says the effects of the estate winning would be horrible: "If artists must pay a tax for employing the most common modes and tones of composition, the process of grinding popular music down to a consensus-driven pay window for tech entrepreneurs and corporate opportunists will have reached its apotheosis."
The two are eerily similar.
(13) BIG GULP. The good part is you won't be around by the time this happens to the earth: "Sun-like star swallowed entire planet, MIT and Harvard astronomers say" at CBS News.
For the first time, scientists have caught a star in the act of swallowing a planet – not just a nibble or bite, but one big gulp.

Astronomers on Wednesday reported their observations of what appeared to be a gas giant around the size of Jupiter or bigger being eaten by its star. The sun-like star had been puffing up with old age for eons and finally got so big that it engulfed the close-orbiting planet.

It's a gloomy preview of what will happen to Earth when our sun morphs into a red giant and gobbles the four inner planets.

"If it's any consolation, this will happen in about 5 billion years," said co-author Morgan MacLeod of the Harvard-Smithsonian Center for Astrophysics….
The source article is "An infrared transient from a star engulfing a planet" in Nature.
(14) VIDEO OF THE DAY. Jeanne Gomoll and Scott Custis replaced their garage floor/slab with new concrete. But before that could happen, workers had to lift up the garage and move it out of the way. This timelapse video of their project is quite something.
[Thanks to Michael Toman, Cat Eldridge, Mike Kennedy, N., Steven French, Jo Lindsay Walton, Dan Bloch, Andrew Porter, John King Tarpinian, and Chris Barkley for some of these stories. Title credit belongs to File 770 contributing editor of the day Cat Eldridge.]