By Andrew Porter: The most interesting part for me of the Associated Press article "Book industry looks to hold steady in turbulent time" was —
Square footage for the show has shrunk noticeably in recent years and the large gaps on the convention floor at times gave BookExpo the look of an idled factory. Publishers have wondered for years whether the convention was necessary in the Internet Age, when deals once negotiated at BookExpo are now accomplished online.
Having attended from the mid 1970s to now, I've seen the convention grow enormously, with extravagant parties and promotional events — parties on paddle wheelers in New Orleans, at Hugh Hefner's mansion in LA, at Radio City Music Hall in NYC, and the party in DC for The Name of the Rose, held at the Italian Embassy's estate — among memorable soirees, and then shrink from more than 40,000 attendees to the current ensmalled convention, with exhibits taking a fraction of the space they used to.
There were wide empty places on the exhibit floor that in years past would have had booths shoe-horned in everywhere; empty spaces behind black curtains where nothing was happening; meeting rooms that in previous years would have been on other floors.
Many of the older exhibitors I talked to commented on this shrinking convention, and wondered what the future would bring. The convention has already become a 2-and-a-half day event from 4-5 days previously. It's rattling around in the Javits Center now, and I wonder whether it could go back to being held in a few large hotels instead. Or back to DC's Shoreham Hotel, where it was held for decades, with the publishers displaying their wares on card tables in the hotel's garage.
Here are a few of my photos; I took photos for Baen at their always excellent party.
Robert Gleason autographing for Tor Books:
Charlie Jane Anders autographing:
The exhibit hall:
Larry Correia with the cover of his new novel at the Baen party: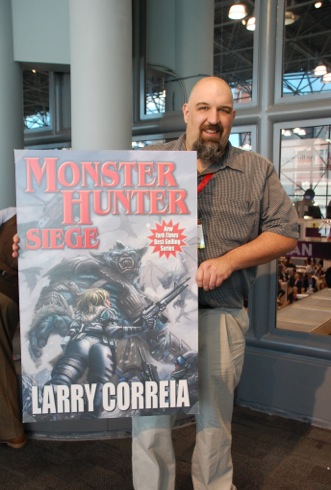 Tony Daniel with the cover of his new novel: