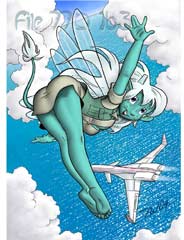 I couldn't let a year go by without a new issue of File 770 and, with creative help from Taral, John Hertz and John King Tarpinian, I managed to get one done just before the last page was torn from the calendar.
File 770 #163 [PDF file] boasts Taral's diplomatic memoir about his brief time as an artist for an sf publisher, a full LoneStarCon 3 report from John Hertz, and Martin Morse Wooster's account of Readercon 24, the first one since It Happened.
This is an especially good a day to visit to Bill Burns' eFanzines site. The latest three zines to be posted, besides my own, are Robert Lichtman's Trap Door #29, Steven H Silver's Argentus #13 — and Journey Planet #18, guest edited by Helen Montgomery, where anonymous contributors say what they think about the effects of social media on fandom.