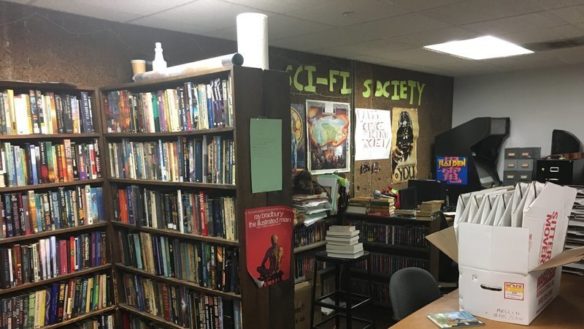 Three student clubs are protesting a policy change by the University of Massachusetts Amherst which has evicted their 9,200-volume science fiction library from the permanent space it occupied for almost six decades. The groups have distributed the following press release asking for public support, including signing the "Help save a historic student library" at Change.org.
---
The UMass Science Fiction Society (UMSFS) library is a historic public lending library, founded in 1964, with over 9,200 items in its collection. However, a new policy by the University of Massachusetts Amherst has taken away the permanent space for the library which has been in existence for nearly six decades. This new policy effectively denies the public access to the second-largest science fiction library in New England. It acts as the location for thousands of books, videos, and board games which are accessible to anyone who wants to get a library card. In addition to the books available for lending, the library serves as a reading room for its patrons, and meeting space for several clubs. The collection was built through generous donations of books from students, alumni, and other community members, and cared for by generations of student volunteers. As of June 23, over 2500 people have signed the petition to preserve this historic student library.
This new policy comes at an odd time, just after completion of the $62 million Student Union, half of which is paid for by an increase in student fees, with no mention ahead of time about the curtailment of permanent club spaces. It also comes as most students are finally able to return to campus. Under the new policy, clubs are not allowed to have "designated" spaces on campus. Instead, clubs must rent out rooms in advance. While this might work for other clubs, the library has a large collection which requires a more permanent space.
History. UMSFS is one of the oldest college science fiction clubs in the country and once hosted Isaac Asimov. Countless students have benefited over the years from the chance to explore this deep and varied collection, meet other students with similar interests, deepen their sense of connection with the college, find their niche and safe space. The students treasure this collection, their club, and their connection with its long history.
Notable alumni including Suzanne Palmer, a Hugo Award winner, and Jane Yolen, a prolific and award-winning author, have spoken out about the loss of the UMSFS library. Palmer tweeted "That place was my heart, the first place in my life I felt safe." Yolen put out a statement on Facebook "I am appalled at such a possible move on the UMass library's part and devoutly hope they will reconsider it."
Over 35 other alumni have sent in testimonials as to the value of the UMSFS library. The exploration of science fiction can deepen the joy of reading, help expand imagination, and are part of academic research. The world is changing rapidly and we need people who have a greater vision of possibilities for the future.
Three Clubs Affected. The library space and collections are shared by UMSFS, the Game Hobbyists' League, and the Anime and Manga club. The Game Hobbyists' league has 242 items in its collection. The Anime and Manga Club has 1,026 items. The library is a keystone; it provides a hub for club meetings, and a space where members of the community can get together and socialize over common interests. All three of the clubs hold weekly meetings during the school year and organize events such as book clubs and film screenings.
Curtailing Access and Endangering the Books. Loss of the space has forced the removal of the books to storage in Bartlett Hall. It would not be feasible to run a lending library from long-term storage. The storage space UMass has provided is not climate-controlled, which could quickly and irreparably damage our books due to heat and humidity. Our library has numerous valuable and rare materials, including first editions, such as Survivor, Octavia Butler's lost novel, and signed posters from science fiction giants such as Ray Bradbury. This move by the University violates the UMSFS Constitution (which was approved by the University), which states that UMSFS is a lending library. Without a place to lend out the books, they will continue to be confined to storage. UMSFS is a Registered Student Organization with the college, serving students for several generations, but this new policy by UMass Amherst blocks it from achieving its mission. Books and the life of the mind should be respected by an esteemed institution of Higher Education. This student created and run library space is a gem that should be protected by the University instead of replaced by administrative office space.
The move-out is currently in process. The public is asked to assist by:
[Based on a press release. Thanks to Elodie Carel, Rick Kovalcik, and Vivian Spartacus for the story.]