(1) FUTURE TENSE. The July 2021 entry in the Future Tense Fiction series is Justina Ireland's "Collateral Damage", about how an Army platoon responds when an experimental military robot is embedded with it.
…Unit 10003 interacted with assigned platoon during physical training and assisted in small tasks. Complete recordings are now available for download. Morale of assigned unit is high and no hostility was experienced. ENTRY COMPLETE…
Writer and military historian Andrew Liptak's response essay asks "Will members of the military ever be willing to fight alongside autonomous robots?"
…The development of the Greek phalanx helped protect soldiers from cavalry, the deployment of English longbows helped stymie large formations of enemy soldiers, new construction methods changed the shape of fortifications, line infantry helped European formations take advantage of firearms, and anti-aircraft cannons helped protect against incoming enemy aircraft. The technological revolution of warfare has not stopped, and today, robotics on the battlefield—through the use of drones, automated turrets, or the remote-controlled Flir PackBot—have made appearances in the most recent conflicts….
(2) BOUCHERCON CANCELLED. The 2021 Bouchercon, a convention for mystery fans that was scheduled to be held this month in New Orleans, has been cancelled by the organizers. Members received an email explaining the decision (which has not yet been published). Writers commenting on Facebook pointed to Louisiana's COVID spike, The con will be held in the city in 2025, instead. The Anthony Awards are still happening and details of the online/virtual awards ceremony will be coming soon.
(3) LONGYEAR ACCEPTANCE SPEECH. Barry B. Longyear invites Facebook readers to hear his Prometheus Award acceptance speech via Zoom on August 21, followed by a panel discussion "SF, Liberty, Alternative Publishing Trends and the Prometheus Awards" hosted by LFS and sponsored by Reason Magazine. The Zoom event will take place 3:00-4:30 PM EDT on August 21 and it is open to the public. This is the Zoom event link.
(4) FLASH FICTION ROUNDUP. Space Cowboy Books in Joshua Tree, CA presents "An evening of Flash Science Fiction with stories by Christopher Ruocchio, Brent A. Harris and David Brin" on August 10 at 6:00 p.m Pacific. Register for the free Zoom event here.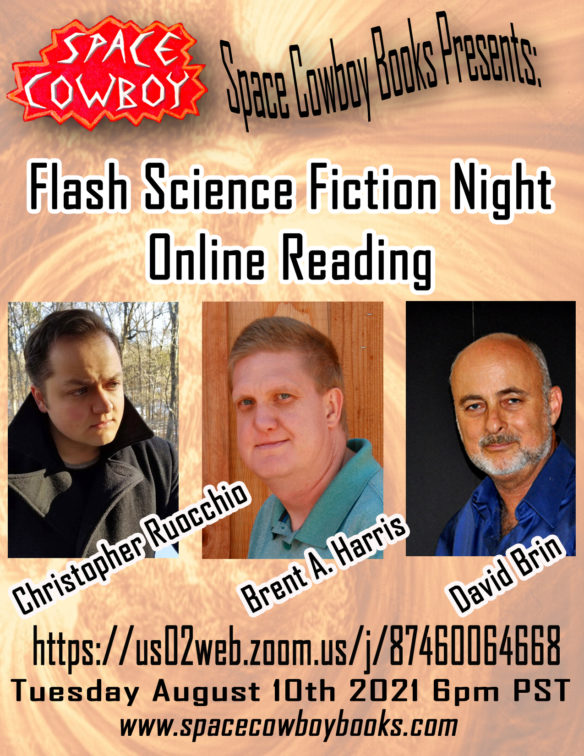 (5) BLUE PLAQUE SPECIAL. Another commemorative plaque honoring Tolkien has been installed on a British building: "Blue plaque celebrates time Lord of the Rings author Tolkien spent near Withernsea a century ago" reports the Yorkshire Post.
A blue plaque has gone up in Withernsea to mark the time Lord of the Rings author JRR Tolkien and his wife spent there when he was a soldier during World War One.

The Lifeboat Café, where it has gone up, occupies the site of 76 Queen Street, where Tolkien's wife Edith lodged in 1917, while he was stationed at nearby Thirtle Bridge Camp, three miles away, for a time as commander of the Humber Garrison, which was tasked with protecting the coast from invasion.

Tolkien, who was recovering from trench fever which he'd picked up in France, had not yet been published

…The plaque, funded by wellwishers, was organised by Phil Mathison, the author of Tolkien in East Yorkshire 1917-1918.

Two others have been installed at the Dennison Centre in Hull, which was Brooklands Hospital during the First World war, and in Hornsea, where his wife stayed at 1 Bank Terrace.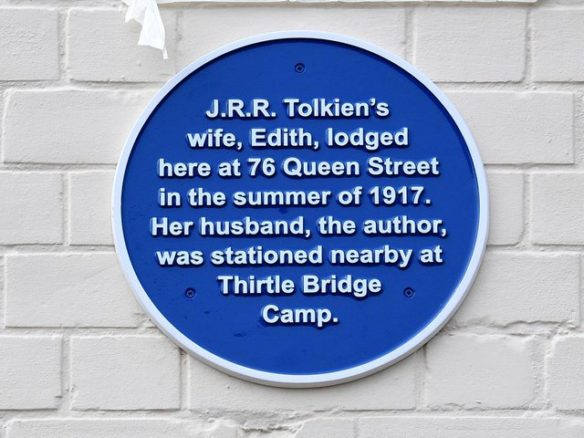 (6) KISWAHILI SF PRIZE. The Nyabola Prize for Science Fiction was announced earlier this year, inviting writers between the ages of 18 and 35 to submit sci-fi and speculative fiction in the Kiswahili language. Over 140 million people speak Kiswahili in Eastern and Southern Africa and it is the most widely spoken African language in the world. The deadline to enter was May 31. Read the March 24 announcement here. It offers $1,000 to the first place winner, and $500 and $250 to the second and third place winners. The top ten stories will be published in an anthology.
In a recent interview published in The Conversation, two of the prize's principal administrators, Mukoma wa Ngugi and Lizzy Attree, commented on the impact of empowering writers to create sci-fi in African language literature. "New Kiswahili science fiction award charts a path for African languages".
…Mokoma adds that fostering science fiction in African languages changes the narrative that African languages cannot accommodate scientific discourse:

"There is also the idea that African languages are social languages, emotive and cannot carry science. Most definitely not true. All languages can convey the most complex ideas but we have to let them. There is something beautiful about African languages carrying science, fictionalised of course, into imagined futures."
(7) THERE WILL BE WAR. [Item by Jennifer Hawthorne.] This was originally a thread on Twitter, but Cory Doctorow compiled and posted it to his blog. "Games Workshop declares war on its customers (again)". It references Making Light, Warhammer 40K (extensively) and "Starship Troopers."
There's a difference between a con-artist and a grifter. A con-artist is just a gabby mugger, and when they vanish with your money, you know you've been robbed.

A grifter, on the other hand, is someone who can work the law to declare your stuff to be their stuff, which makes you a lawless cur because your pockets are stuffed full of their money and merely handing it over is the least you can do to make up for your sin.

IP trolls are grifters, not con artists, and that's by design, a feature of the construction of copyright and trademark law.

Progressives may rail at the term "IP" for its imprecision, but truly, it has a very precise meaning: "'IP' is any law that lets me control the conduct of my customers, competitors and critics, such that they must arrange their affairs to my benefit."…
(8) TALKING ABOUT PIRANESI. Susanna Clarke will discuss her Hugo-nominated and Kitschie-winning book Piranesi with Neil Gaiman in a free (or pay-what-you-can) online event September 2 at 11:30 a.m. Pacific. Get tickets here.
Step into the extraordinary and mysterious world of Sunday Times and New York Times bestselling author Susanna Clarke as she discusses her spectacular novel, Piranesi, with the one and only Neil Gaiman live and online exclusively for 5×15. Join us for what promises to be an unmissable conversation between two of our best loved, most powerfully imaginative writers.
(9) THE BOOK OF VAUGHN. Boing Boing reports there's a "Vaughn Bode documentary in the works". [Note: The line over the "e" in his name is not shown here because WordPress doesn't support the character.]
Vaughn Bode was one of the coolest underground artists of the 1960s and 1970s, painting a joyous mix of sexuality, psychedelia and appropriated cartoon tropes. It would have been his 80th birthday this month, and director Nick Francis is preparing a documentary about his short life and long influence.
(10) THE FORCES OF EVIL DO NOT SLEEP. Cora Buhlert writes about the new Masters of the Universe: Revelation cartoon and the classic sword and sorcery influences on the Masters of the Universe franchise in general in "Eternia Revisited – Some Reflections on Master of the Universe: Revelation". Includes spoilers.
…Those cartoons were basically 25-minute toy ads and I knew that even as a kid (especially since the commercial breaks helpfully ran ads for the very same toys). Nonetheless, I loved them. They also had a big influence on me – how big I wouldn't realise until many years later. And I'm far from the only one. Look at how many reboots, reimaginationings, live action versions, etc… of 1980s kid cartoons there have been in recent years. For example, right now Snake Eyes, a pretty neat looking movie based on the ninja character from G.I. Joe, is in the theatres. They may only have been glorified toy commercials, but those cartoons influenced a whole generation and have outlasted many of the more serious and wholesome media of the same era. At any rate, I don't see a big screen Löwenzahn reboot anywhere. As for wholesome and educational cartoons, how wholesome and educational does Fat Albert and the Cosby Kids look now, knowing what we know about Bill Cosby?…
(11) THREE COSTUMERS PASS AWAY. The International Costumers Guild has announced the deaths of three veteran masqueraders in recent days.
R.I.P. Robert "G. Bob" Moyer. He was a fixture at many East-Coast Costume-Cons, and always had good garb. He was also known for his middle-eastern dance skills and charming personality.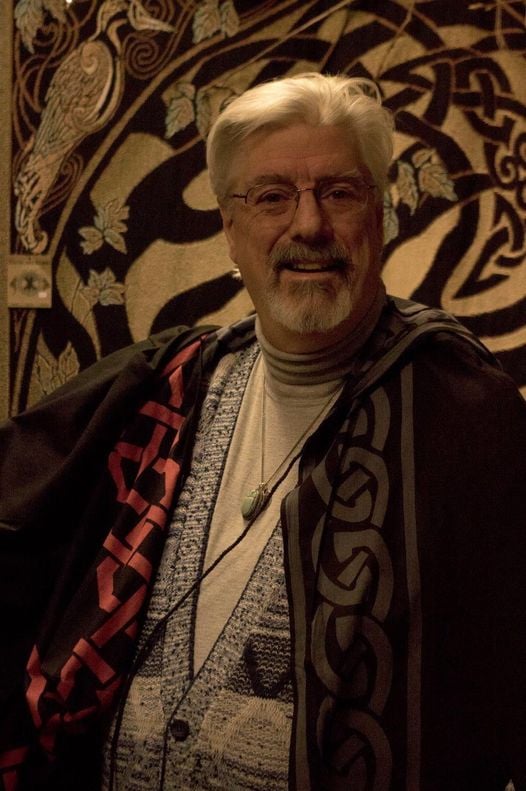 More sad news for our community, Leo d'Entremont passed away suddenly at home last night. [August 1] He will be missed at many events and our thoughts go out to his wife and family.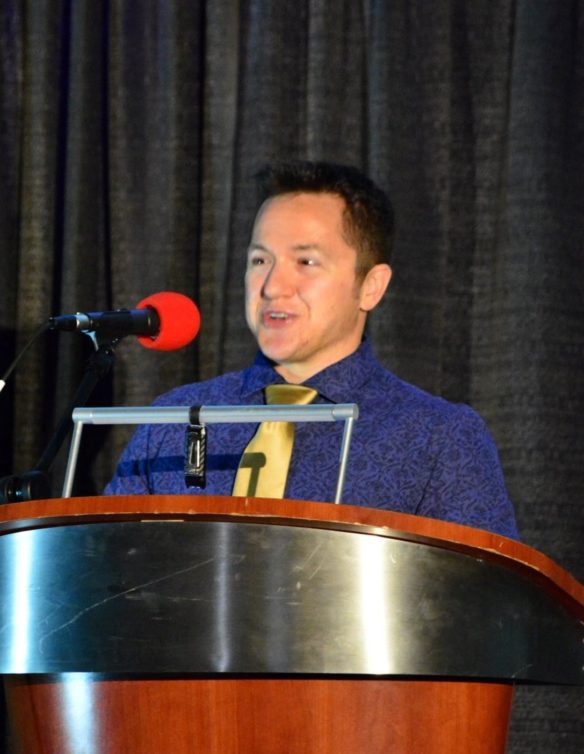 Dana MacDermott passed last night. [August 3] An inspiration and icon to many, she will be missed. Our thoughts go out to her husband, Bruce MacDermott, as well as her sons, family and many friends.
(12) J.W. RINZLER (1962-2021). Jonathan Rinzler, who wrote under the name J.W. Rinzler, died July 28 from pancreatic cancer at the age of 58.
Berkleyside has a detailed appreciation of his career: "Remembering Jonathan Rinzler, bestselling author of 'Star Wars' books".
Rinzler had a prodigious career as a bestselling author of cinematic history books about Star Wars, Indiana Jones, and other 20th century blockbuster films. He joined Lucasfilm in 2001 and became the executive editor of its publishing arm, Lucasbooks. Over 15 years, he authored an extensive body of Star Wars-related publications, including The Making of Star Wars (a New York Times bestseller), The Making of The Empire Strikes Back, The Making of Return of the Jedi, Star Wars: The Blueprints, and The Sounds of Star Wars.

… In addition to his multiple books about the Star Wars and Indiana Jones franchises, he wrote The Making of Aliens, The Making of Planet of the Apes, The Making of Stanley Kubrick's The Shining, and Howard Kazanjian: A Producer's Life.

…In addition to his nonfiction works, Rinzler wrote two novels, the No. 1 best-selling graphic novel The Star Wars, which he co-authored with artist Mike Mayhew, and his recent space history novel All Up…
Mary Robinette Kowal added this note to the announcement:
(13) MEMORY LANE.
1972 – Forty-nine years ago at L.A.Con 1, Poul Anderson win the Best Novella Hugo for "The Queen of Air and Darkness". (It was his fourth Hugo. All of his Hugo wins would be in the non-Novel categories.) Other nominated works "A Meeting with Medusa" by Arthur C. Clarke, "The Fourth Profession" by Larry Niven, "Dread Empire" by John Brunner and "A Special Kind of Morning" by Gardner R. Dozois. It would also win a Locus Award for Short Fiction and a Nebula Award for a Novelette. (One work, three different categories.)  It's available, not surprisingly, in The Queen of Air and Darkness: Volume Two of the Short Fiction of Poul Anderson which is available from the usual suspects.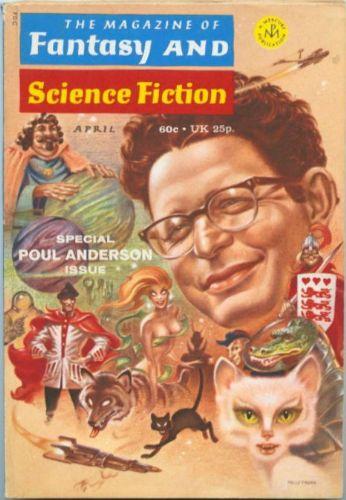 (14) TODAY'S BIRTHDAYS.
[Compiled by Cat Eldridge.]
Born August 4, 1923 — Paul Schneider. He wrote scripts for the original Star Trek, Star Trek: The Animated Series, The Starlost, The Six Million Dollar Man, and Buck Rogers in the 25th Century. He's best remembered for two episodes of the original Trek series: "Balance of Terror" and "The Squire of Gothos." "Balance of Terror," of course, introduced the Romulans. (Died 2008.)
Born August 4, 1937 — David Bedford. Composer who worked with Ursula K. Le Guin to produce and score her Rigel 9 album which the Encyclopedia of Science Fiction says is "a work that is musically pleasant although narratively underpowered." I've not heard it, so cannot say how accurate this opinion is. (Died 2011.)
Born August 4, 1942 — Don S. Davis. He's best-known for playing General Hammond on Stargate SG-1 and Major Garland Briggs on Twin Peaks. He had a small part in Beyond the Stars as Phil Clawson, and was in Hook as Dr. Fields. Neat factoid: on MacGyver for five years, he was the stunt double for Dana Elcar. (Died 2008.)
Born August 4, 1944 — Richard Belzer, 77. In the Third Rock from The Sun series as himself, also the Species II film and an adaption of Heinlein's The Puppet Masters, along with series work too in The X-Files, The Invaders, Human Target, and a recurring role in the original Flash series to name a few of his genre roles.
Born August 4, 1950 — Steve Senn, 71. Here because of his Spacebread duology, Spacebread and Born of Flame. Spacebread being a large white cat known throughout the galaxy as an adventuress and a rogue. He's also written the comic novels, Ralph Fozbek and the Amazing Black Hole Patrol and Loonie Louie Meets the Space Fungus. Spacebread is available at the usual suspects for a mere ninety cents as is Born of Flame: A Space Story!
Born August 4, 1968 — Daniel Dae Kim, 53. First genre role was in the NightMan series, other roles include the Brave New World tv film, the second Fantasy Island of three series, recurring roles on Lost, Angel and Crusade, the Babylon 5 spinoff Crusade series, Star Trek: Voyager, Charmed and voice work on Justice League Unlimited.
Born August 4, 1969 — Fenella Woolgar, 52. Agatha Christie in "The Unicorn and The Wasp" episode of Doctor Who where she more than capably played off against David Tennant's Tenth Doctor. She was series regular Min in the Jekyll series. Her only other genre work was as Helena in A Midsummer Night's Dream at the Royal Exchange Theatre, Manchester. 
Born August 4, 1981 — Meghan, the former Duchess of Sussex, 40, Yes she's done a genre performance or so. To be precise, she showed up on Fringe in the first two episodes of the second season ("A New Day in the Old Town" and "Night of Desirable Objects" as Junior FBI Agent Amy Jessup. She was also in the "First Knight" episode of Knight Rider as Annie Ortiz, and Natasha in "A Mind is a Terrible Thing to Lose" on Century City. 
(15) COMICS SECTION.
(16) FF@60. Fans will get to experience two of the Fantastic Four's greatest adventures in a new way when Fantastic Four Anniversary Tribute #1 is published in November. In the tradition of Giant-Size X-Men: Tribute To Wein & Cockrum #1 and Captain America Anniversary Tribute #1, this giant-sized issue will present classic stories with new artwork by today's leading artists.
 Sixty years ago, Stan Lee and Jack Kirby made history and brought about the beginning of the Marvel Age of comics with the release of FANTASTIC FOUR #1. Now a bevy of Marvel's finest creators will pay tribute to that monumental moment by reinterpreting, page by page, the story from that inaugural release as well as FANTASTIC FOUR ANNUAL #3, the wedding of Reed Richards and Sue Storm!
(17) HULL & POHL. Andrew Porter took these photos of Elizabeth Anne Hull and her husband Frederik Pohl in years gone by. Hull died this week, and Pohl in 2013.
(18) TRYING TO BE HELPFUL. Daniel Dern nominates these as the titles for Phillip Pullman Dark Materials sequels.
The Precient Wrench
His Uglee Mugge
The Ambitious Protractor
The Slye Pliers
The Open Source Aleitheometer
The Dust Buster
The Unworthy Hammer
The Book In The Stone
The Sword In The Scroll
(19) SOUL MAN. The dark year 2204, in a world that has seen 73 years of continuous war. A Shaman is sent on a mission to convert the soul of a giant battle colossus. "The Shaman" curated by DUST.
The dark year 2204, in a world that has seen 73 years of continuous war. Recently mankind re-discovered the arts of Shamanism. The Shaman's school of thought believes that every person or object has a soul. During battle Shamans step over into the Netherworld to find and convert the souls of their enemies' giant battle machines. This tactic enables a single man to overcome an invincibly seeming steel monster. This is the story of Joshua, a Shaman, who is sent on a mission to convert the soul of a giant battle colossus. He does not yet know that the soul is prepared for his coming and that the deadly psychological soul-to-soul confrontation in the Netherworld will be on eye level.
(20) A DIFFERENT SHIELD BEARER. "The Multiverse Blows Open With Captain Carter In New Clips From Marvel's 'What If…?' Series On Disney+" – SYFY Wire sets the frame:
The animated series, which arrives on Disney+ next week, takes Loki's introduction of the multiverse and runs with it, presenting alternate outcomes for our favorite MCU heroes and villains. Overseeing all of these parallel dimensions is Uatu the Watcher (voiced by Wright), an omnipotent celestial being whose job it is to watch over the Earth without interfering….
(21) THE DRINK OF DRAGON CON. Makes me wonder what the official beverage of the Worldcon would be named.
(22) AIR APPARENT. [Item by Daniel Dern.] What a difference a (longer) day makes: "'Totally New' Idea Suggests Longer Days On Early Earth Set Stage For Complex Life" at Slashdot.
"A research team has proposed a novel link between how fast our planet spun on its axis, which defines the length of a day, and the ancient production of additional oxygen," reports Science Magazine. "Their modeling of Earth's early days, which incorporates evidence from microbial mats coating the bottom of a shallow, sunlit sinkhole in Lake Huron, produced a surprising conclusion: as Earth's spin slowed, the resulting longer days could have triggered more photosynthesis from similar mats, allowing oxygen to build up in ancient seas and diffuse up into the atmosphere."
(23) VIDEO OF THE DAY. [Item by Martin Morse Wooster.] In "Honest Trailers: G.I. Joe: Rise of Cobra and Retaliation," the Screen Junkies say the first two G.I. Joe movies are "like Team America but without the jokes" that mixes "generic military dudes and hot military babes."
[Thanks to John King Tarpinian, Cat Eldridge, Mike Kennedy, Lise Andreasen, Daniel Dern, Jennifer Hawthorne, Joey Eschrich, Andrew Porter, Martin Morse Wooster, JJ, and Michael Toman for some of these stories. Title credit belongs to contributing editor of the day Soon Lee.]