(1) BLUE PLAQUE SPECIAL. Radio Times reports "Verity Lambert, Doctor Who's original producer, honoured with blue plaque".
Some major names in the history of British television gathered on Sunday 29th May to honour the pioneering producer Verity Lambert, as Doctor Who's very first director Waris Hussein and former showrunner Steven Moffat jointly unveiled a blue plaque on the wall of Riverside Studios in Hammersmith.
As the first ever female producer in the BBC drama department, Verity made a name for herself launching Doctor Who in 1963. Across a long and prestigious career, she produced dozens of successful and fondly remembered programmes, such as Take Three Girls, Budgie, The Naked Civil Servant, Rock Follies, Edward and Mrs Simson, The Flame Trees of Thika, Minder and Jonathan Creek. She died in 2007.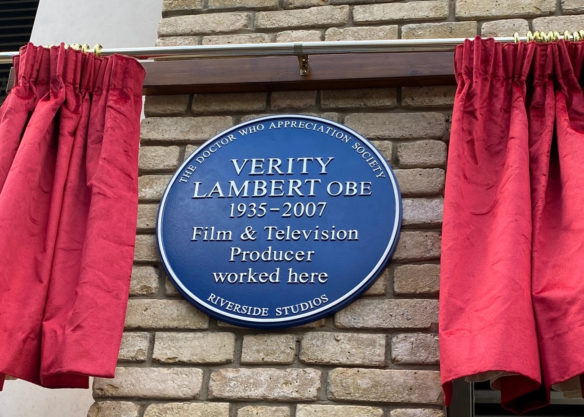 (2) KGB. Fantastic Fiction at KGB reading series hosts Ellen Datlow and Matthew Kressel present Karen Heuler and Sam. J. Miller in person at the KGB Bar on Wednesday, June 15 at 7:00 p.m. Eastern. Masks Strongly Encouraged.
Karen Heuler's stories have appeared in over 120 literary and speculative magazines and anthologies, from Conjunctions to The Magazine of Fantasy and Science Fiction to Weird Tales, as well as in a number of Best Of anthologies (and in one of Ellen Datlow's anthologies!). Her latest novel, The Splendid City, has just been published by Angry Robot Books. It's a tale about stolen water, an exiled witch and her gun-wielding cat, and a city run by a self-declared President who loves parades. She has a literary short-story collection about dementia coming out in August, and Fairwood Books will publish A Slice of the Dark, a SF/F mix, this coming November.
Sam J. Miller's books have been called "must reads" and "bests of the year" by USA Today, Entertainment Weekly, NPR, and O: The Oprah Magazine, among others. He is the Nebula-Award-winning author of Blackfish City, which has been translated into six languages and won the John W. Campbell Memorial Award. Sam's short stories have been nominated for the World Fantasy, Theodore Sturgeon, and Locus Awards, and reprinted in dozens of anthologies. He's also the last in a long line of butchers. He lives in New York City, and at samjmiller.com
KGB Bar, 85 East 4th Street, New York, NY 10003 (Just off 2nd Ave, upstairs).
(3) PAUL WEIMER. Camestros Felapton continues his series of why-you-should-vote-for each Best Fan Writer finalist with "Paul Weimer: Hugo 2022 Fanwriter Finalist".
Paul Weimer is a fan, a photographer, a podcaster, a review, a critic, a traveller and did I mention that he is a fan? A prolific reviewer and a frequent guest on numerous podcasts, Paul does not literally know everybody in science fiction but I like to imagine that he does. These days you are most likely to find paul at the Nerds of a Feather fanzine blog or on the Skiffy and Fanty podcast or among the webpages of Tor.com….
(4) HOW THE WEST WAS WON. Clarion West invites everyone to support the students coming to this year's workshop by chipping in to pay for things on their Summer Workshop Wish List.
If you'd like to help the workshop's students be more comfortable in our new facilities where they'll be eating, sleeping, and living story for six weeks this summer, there are ways for you to help!

The Summer Workshop needs items large and small for the students every year—from coffee to whiteboards and beyond. This year we especially need additional safety supplies to be as safe as we possibly can during the pandemic and to meet our COVID protocols. If you'd like to help out, you can purchase items from our Amazon Wish List.

Thank you so much for helping support our students and our workshop!
(5) DEVOLVER NEWS. [Item by Martin Morse Wooster.] In the Financial Times behind a paywall, Tom Faber reviews the games of "tastemaking indie publisher Devolver Digital." WASD was a game fair held recently in London.
Every year, a few Devolver titles inevitably make their way to year-end best-of lists. 'That success gives us the mandate to take risks and do some really interesting, off-the-wall games,' says Graeme Struthers, head of publishing. At WASD, this reputation attracted a constant stream of excited gamers to their booth of playable demos. I sampled new releases Trek To Yomi, a moody samurai game in grainy monochrome inspired by classic Kurosawa films; Card Shark, a beautifully illustrated tale of cheating your way to the top of 18th-century French society using only a deck of cards; and Terra Nil, a 'reverse city builder' that asks you not to pave over the wilderness with motorways but instead restore the countryside to its former glory…

….Many of Devolver's best releases take a received idea about games on their head and encourage players to look at the medium from a new perspective. Often this means casting the player as a character they never thought they would inhabit. In Ape Out, you play an escaped gorilla whose every movement triggers a crash of cymbals or a snare-hit, creating a jazz score as you go. The highlight of Devolver's upcoming roster at WASD, Cult Of The Lamb, casts players as a sacrificial lamb which escapes from the altar and starts building its own cult in revenge.
(6) SIDE BY SIDE BY CYBERMEN. Radio Times tries to read the tealeaves of the Doctor Who multiverse: "Could Yasmin Finney's new Rose be the key to Doctor Who's own multiverse?"
… Jodie Whittaker's exit coming a year ahead of Doctor Who's 60th anniversary means fans are expecting something massive in the next 12 months. Alongside the high-profile returns of David Tennant and Catherine Tate as the Tenth Doctor and Donna Noble, Heartstopper's Yasmin Finney is paving the way for diversity. Details about these returns and debuts are sketchy, but Finney's role as "New Rose" could have us opening the doors to the multiverse….

… When Whittaker's Thirteen escaped a possible-future version of a nuclear-ravaged Earth in Orphan 55, she told us. "The future is not fixed, it depends on billions of decisions and actions, and people stepping up." This was teased years earlier when the Doctor-lite Turn Left explained how drastically things can change with a simple decision. Ten's iconic episode featured Donna being manipulated by a Time Beetle, and although 'Donna's World' was erased from existence, it's got us thinking about how many others there are.

Doctor Who has long established that N-Space is the Prime Universe in canon, but over the past 60 years, we've learned about a lot more. Across various media, the Doctor has visited an alternate Earth populated by the vampire-like Haemovores, the many alternate realities that have been conquered by Cybermen, and even one with Tardis Tails – an anthropomorphic cat version of the Doctor….
(7) MEMORY LANE.
1969 – [By Cat Eldridge.] On this date in 1969, the first incarnation of Star Trek came to an end. Its "five-year mission: to explore strange new worlds, to seek out new life and new civilizations, to boldly go where no man has gone before" would last just three years and seventy-nine episodes before ending with the "Turnabout Intruder". 
The ratings for the series were never great and NBC responded by cutting the production each season from one ninety thousand the first season to the one eighty-five thousand the second season to the one hundred seventy-five thousand the last season. Assuming that there were salary increases which there were obviously were, this left little for special effects, costumes or anything else by the third season. And yes, it showed.
It might have been a ratings failure in its first run but it thrived in syndication and spawned a vast franchise currently of ten television series (eleven if you include Short Treks which is remarkably good) with the latest being Strange New Worlds which I like quite a lot, and thirteen films. Not to mention novels, comics, action figures, games and toys. And decades of cosplayers.
I've rewatched a lot of the series recently courtesy of Paramount + which is the home of it and everything else Trek. Some of the episodes are quite excellent, some are not bad and some are really execrable. I think it holds up fairly well all things considered.
(8) TODAY'S BIRTHDAYS.
[Compiled by Cat Eldridge.]
Born June 3, 1901 — Maurice Evans. Ahhh the amazing work of make-up. Under the make-up that was Dr. Zaius in Planet of the Apes and Beneath the Planet of the Apes was this actor. Though this was his most well-known genre role, it wasn't his only ones — he was in a Thirties Scrooge as poor man, on Bewitched as Maurice, Samantha's father, on Batman as The Puzzler in "The Puzzles are Coming" and "The Duo Is Slumming", in Rosemary's Baby as Hutch, and finally in Terror in the Wax Museum as Inspector Daniels. Oh, and he showed up on Columbo as Raymond in "The Forgotten Lady". No, not genre — but I love that series! (Died 1989.)
Born June 3, 1946 — Penelope Wilton, 76. She played the recurring role of Harriet Jones in Doctor Who wherethey actually developed a story for the character. She was also played Homily in The Borrowers, Barbara in Shaun of the Dead, The Queen in Roald Dahl's The BFG, Beatrix Potter in The Tale of Beatrix Potter, The White Queen in Through the Looking-Glass and Gertrude in in Hamlet at the Menier Chocolate Factory.
Born June 3, 1947 — John Dykstra, 75. He was one of the founders of Industrial Light & Magic. That means he's responsible for the original visuals for lightsabers, the space battles between X-wings and TIE fighters, and much of the other Star Wars effects. Can't list everything he later worked on, so I'll single out his work on Battlestar Galactica, the sfx for Batman Forever and Batman and Robin, the visual effects on X-Men: First Class, and visual effects supervisor on Doolittle. I know the last is a shite of a film but the creatures aren't.
Born June 3, 1949 — Michael McQuay. He wrote two novels in Asimov's Robot City series, Suspicion and Isaac Asimov's Robot City (with Michael P. Kube-McDowell) and Richter 10 with Arthur C. Clarke. The Mathew Swain sequence neatly blends SF and noir detective tropes – very good popcorn reading. His novelization of Escape from New York is superb. (Died 1995.)
Born June 3, 1950 — Melissa Mathison. Another one who died far too young of cancer. Screenwriter for E.T. the Extra-Terrestrial. Spielberg credits the line "E.T. phone home" line to her. (She's Eliot's school nurse in the film.) She also wrote the screenplays for The Indian in the Cupboard and BFG with the latter being dedicated in her memory. And she wrote the "Kick the Can" segment of Twilight Zone: The Movie. (Died 2015.)
Born June 3, 1958 — Suzie Plakson, 64. She played four characters on the Trek franchise: a Vulcan, Doctor Selar, in "The Schizoid Man"(Next Gen); the half-Klingon/half-human Ambassador K'Ehleyr in "The Emissary" and "Reunion" (Next Gen); the Lady Q in "The Q and the Grey" (Voyager); and an Andorian, Tarah, in "Cease Fire" (Enterprise). She also voiced Amazonia in the "Amazon Women in the Mood" episode of Futurama. Really. Truly. By the way, her first genre role was in the My Stepmother Is an Alien film as Tenley. She also showed up in the Beauty and the Beast series as Susan in the "In the Forests of the Night" episode.
Born June 3, 1964 — James Purefoy, 58. His most recent genre performance was as Laurens Bancroft in Altered Carbon. His most impressive was as Solomon Kane in the film of that name. He was also in A Knight's Tale as Edward, the Black Prince of Wales/Sir Thomas Colville. He dropped out of being V in V for Vendetta some six weeks into shooting but some early scenes of the masked V are of him. And let's not forget that he's Hap Collins in the Sundance series Hap and Leonard which is steaming on Amazon Prime.
(9) COMICS SECTION.
Bizarro shows why it's not easy for a monster to get a drink.
Breaking Cat News shows that the future is unequally distributed.
(10) TANGLED WEB. BBC's Tanya Beckett takes a closer look at how China's increasing influence is affecting the movie-making process in Hollywood. "Why did China ban Spider-Man?" – listen in at BBC Sounds.
Ever since Hollywood entered the Chinese market in the early '90s, the importance of Chinese audiences was apparent. Over recent years the Chinese market has grown in significance to the point of deciding whether a film is ultimately successful or not. Given the country's importance to the overall profitability of Tinsel Town, it is of little surprise that their censors are able to increasingly demand changes to films that threaten the Chinese narrative. Despite this, the recent Sony/Marvel blockbuster Spider-Man did not appear to challenge Chinese values.
(11) PROJECTING. GameSpot calls these "The Very Best Sci-Fi Movies Of the 1980s". Twenty films – but there are three I've never had a desire to see. Does it help balance things that I have watched this one so many times?
2. Ghostbusters (1984)

Much like another entry on this list, Back to the Future, Ghostbusters was almost a very different film with a very different cast. Luckily, though, the production ended up with the right team and script to truly capture a lightning ghost in a bottle. Ghostbusters tells the story of a trio of academics and inventors studying the paranormal, who go into the business of capturing and containing dangerous ghosts. It is, in essence, blue-collar sci-fi, with a heavy dose of comedy resulting from having three of the best comedy actors of the 1980s on the cast. Few movies are this rewatchable and this quotable.
(12) SPEAKING OUT. In the Washington Post, Michael Cavna profiles Kristen Schaal, who is proud of her extensive voice work in animation (most recently in The Bob's Burgers Movie) but also in BoJack Horseman and Toy Story. "Kristen Schaal of 'Bob's Burgers' is the queen of quirky voice acting".
… The Emmy-nominated actress aims to elude being pigeonholed, yet she's well-aware that some casting directors now refer to a "Kristen Schaal type," saying on Marc Maron's podcast several years ago that their elevator-quick description of her as performer might well be: "She's manic and a little crazy, coming out of that sweet face and voice."

Whatever the alchemy within her artistry, there's no doubting that Schaal has carved out an animation niche within her larger résumé: She is the queen of voicing the askew….
(13) AUTHOR'S PAPERS. This processing of Lawrence Watt-Evans's papers reportedly is very recent. UMBC is the University of Maryland (Baltimore County). "Lawrence Watt-Evans papers". They were donated in 2017.
Abstract: The collection contains materials that cover Lawrence Watt-Evans professional career from 1974 to 2018. Included are manuscripts of his books, short stories, editorials, and comics and graphic novels; personal papers; correspondence with publishers, fellow authors, and fans; and convention memorabilia including programs and fliers.

Citation: Lawrence Watt-Evans papers, Collection 260, Special Collections, University of Maryland, Baltimore County (Baltimore, MD).
(14) PIZZA NIGHT ON THE ISS. Six of seven Expedition 67 crew members are pictured enjoying pizza during dinner time aboard the International Space Station. Clockwise from left are, Flight Engineer Denis Matveev, Commander Oleg Artemyev, and Flight Engineer Sergey Korsakov, all from Roscosmos; NASA Flight Engineers Kjell Lindgren and Jessica Watkins; and ESA (European Space Agency) Flight Engineer Samantha Cristoforetti.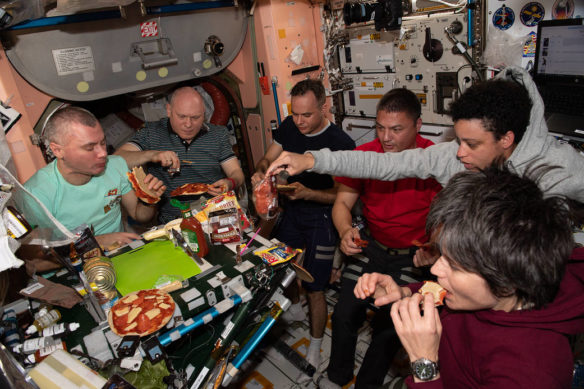 (15) WHERE TO GET BUTTERSCOTCH BEER. [Item by Andrew Porter.] Wand sold separately (and batteries not included!) "Flying Cauldron Butterscotch (non alcoholic) Beer – 12 Oz".
The Art Of Magic Is Thirsty Work!

Flying Cauldron Butterscotch Beer (non-alcoholic)

Last time around, you cleared our shelves of this irresistible soda within hours of our owls delivering the newsletter!

Flying Cauldron Butterscotch (non-alcoholic) Beer is another butterscotch flavored soda in our beverage lineup. This is a fun, magical drink that is free of preservatives, free of caffeine, free of gluten & GMO's. Enjoy this drink in a frozen mug or drop in a scoop of vanilla ice cream.
(16) VIDEO OF THE DAY. [Item by Martin Morse Wooster.] In The Mandrake, jointly made by 11 students at the Savannah College of Art and Design, carrot farmer Mr. Rabbit is right to worry when a raccoon shows up with a strange plan.
[Thanks to Martin Morse Wooster, JJ, John King Tarpinian, Chris Barkley, Nancy Sauer, Andrew Porter, Michael Toman, Cat Eldridge, and Mike Kennedy for some of these stories. Title credit belongs to File 770 contributing editor of the day Peer.]