(1) WORLDCON VENUE DISPLAY. [Item by Ersatz Culture.] Blogger skyxiang1991, who posts photos of the Chengdu SF museum/convention centre, uploaded a video earlier today showing a test of the light/laser (?) display at what is perhaps the entrance. See the video here.
The 2 characters on the left of the entrance are 科幻 (kehuan/science fiction), I can't make out the stuff on the right.
(2) WORLDCON INVITATION. [Item by Ersatz Culture.] Whilst looking for any relevant posts or updates on the Xiaohongshu social media platform, I came across this post from September 5, which — based on the footer — indicates that the Chengdu organizers were still sending out invitations as of September 4. [Click for larger images.]
Google Translate indicates that the English and Chinese language pages have broadly the same information. There's nothing about the nature of the invitation though e.g. will they be appearing on panels, that says the Worldcon is offering any assistance towards their attendance, etc.
One of the comments is from a volunteer, who says that they have started training for the event.
I have no idea who Chen Ming Da / 晨鸣达 is, although their Xiahongshu bio and posts indicate they are a street artist in Guangdong province.
(3) BACK YOUR FAVORITE MAGAZINES. Jason Sanford says "Don't Let Our Current Golden Age of Genre Magazines Fade Away" in a post at Apex Magazine.
…Last month, Fantasy Magazine announced they're closing their doors, in part because of Amazon's change to Kindle Newsstand. And there are fears more magazines could follow.

As magazines deal with the fallout from Amazon nuking the digital subscription landscape, people will no doubt be told that magazines are no longer relevant in today's genre. That it is the magazine's fault for trusting Amazon. Or that only writers read these magazines (an outright myth, with Neil Clarke's recent analysis of Clarkeworld's readership data showing that only 13% of his known subscribers are writers who also submitted to the magazine).

The truth is that in today's fragmented online world, genre magazines are even more vital to the SF/F/H genre. Magazines are where new and marginalized voices can be heard. Magazines are where genre communities and connections can be formed. Magazines are where our genre futures are being created today….
(4) FIND OUT "HOW TO". Mary Soon Lee's How to Navigate Our Universe, released this past week, is a collection of 128 poems, ranging from whimsical to serious — poems about planets, stars, black holes, and astronomers, complete with essential advice such as "How to End the Universe".
Here's an example —
How to Be a Star

Gravitationally collapse a nebula.
Fuse hydrogen into helium.
If desired, explode.
And there is other How-to astronomy poetry to answer vexing questions such as "How to Surprise Saturn", "How to Blush Like Betelgeuse", and "How to Survive a Black Hole".

Mary Soon Lee is a Grand Master of the Science Fiction & Fantasy Poetry Association, and has won the Rhysling Award, the Elgin Award, and the AnLab Readers' Award.
The book is self-published, and available through Amazon.com.
This is her second collection of science poetry, following on from Elemental Haiku: Poems to honor the periodic table three lines at a time.
(5) I COULD SING THIS ALL DAY. "Captain America's MCU Musical is Now Streaming" – Gizmodo alerts the media.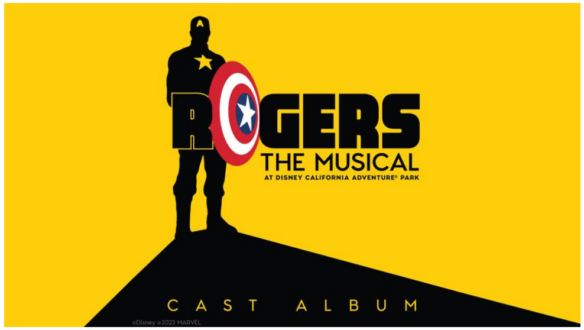 You usually go to the Marvel Cinematic Universe for a lot of things, but memorable original music isn't really one of them. But Rogers: The Musical—a corny Hamilton-alike that told a very condensed story of Chris Evans' Captain America—is one of the more successful attempts at musically spicing things up for the films, if only because people seemed to like its brief appearance in the first episode of Hawkeye. It even took off well enough that Disney brought it to its theme parks for the summer—which is why Disney's now putting the album out on streaming.

Marvel released Rogers' 12-track album at the start of the weekend, which comes from the most recent performance held at Disney's California Adventure Park at the Hyperion Theater. Beyond the novelty of being an MCU musical, the album boasts five brand new original songs that were made specifically for the production.
(6) ONLY 97 SHOPPING DAYS BEFORE CHRISTMAS. This is what someone at TrekCore.com is getting this year: "Hallmark Honors Data and His Cat with 2023 'Ode to Spot' STAR TREK Ornament".
…Featured in the episode "Schisms" — did that episode mess anyone else up? Just me? — the poem "Ode to Spot" has a special place in this 90s kid's Star Trek lovin' heart. I was delighted to see that Hallmark decided to immortalize this iconic TNG moment in this year's ornament line up.

The push button audio includes the first and final stanzas of the poem…
(7) A DEAL, DEPENDING ON HOW YOU FEEL ABOUT IT. [Item by Daniel Dern.] I see that Amazon is currently offering three free months of Kindle Unlimited. (Just noticed after pre-ordering a book, by an author I'm overdue to write a scroll about.)
I'm well aware that while this is good for us voracious read'n'release readers, it's arguably trebleplusungood for creators. OTOH, IMHO much of the reader/creator $ chain seems problematic, e.g., as mostly library/e-library user, not to mention a frequent rereader of the books I own, and still-occasional used-book buyer, creators aren't being remunerated for much of my eyeball input (ditto audio, etc.)
(8) SUING ANOTHER INTERNET BOOK INFRINGER. "Four large US publishers sue 'shadow library' for alleged copyright infringement" – the Guardian briefs readers about the case.
Four leading US publishers have sued an online "shadow library" that allows visitors to download textbooks and other copyrighted materials free.

Cengage, Macmillan Learning, McGraw Hill and Pearson Education filed the suit against Library Genesis, also known as LibGen, in Manhattan federal court, citing "extensive violations" of copyright law.

LibGen operates a collection of different domains that allow users to search for and download pdf versions of books. The suit, filed on Thursday, said LibGen holds more than 20,000 files published by the four suing companies.

"LibGen's massive infringement completely undermines the incentive for creation and the rights of authors, who earn no royalties for the millions of books LibGen illegally distributes," Matt Oppenheim, the attorney representing the publishing companies, told the Guardian.

The publishers asked for an unspecified amount of money in damages and called for LibGen domain names to be deleted or transferred to the four companies. The complaint said that LibGen's activities cause "serious financial and creative harm" because they devalue the textbook market and deprive publishers of income from textbook purchases, which may lead companies to stop publishing "deserving" titles that have low sales….
(9) IS STRIKE AGAINST VIDEO GAME COMPANIES NEXT? "SAG-AFTRA President Fran Drescher Urges Members To Approve Strike Authorization Against Video Game Companies" at Deadline.
SAG-AFTRA President Fran Drescher, saying that "right now is the time to show our solidarity," is urging her members to authorize a strike against the video game industry. The guild, which has been on strike against the film and TV industries since July 14, could go on strike against the gaming companies any time after September 25, when voting on the strike authorization ends. The guild's first and only strike against the gaming companies lasted 183 days in 2016-17.

In a new video, Drescher notes that voting for a strike authorization doesn't necessarily mean that there will be a strike. But rather, it authorizes the board to "to call a strike if needed."

"It's been nearly a year since SAG-AFTRA began negotiating the Interactive Media Agreement with video game companies, "she says in the video. "Despite many multi-day bargaining sessions, the companies are refusing to meet our members' needs in vital areas."…
(10) TODAY'S BIRTHDAYS.
[Compiled by Cat Eldridge.]
Born September 18, 1884 — Gertrude Barrows Bennett. She's been called a pioneering author of genre fiction. She wrote a number of fantasies between in the late teens and early twenties, and has been called "the woman who invented dark fantasy". Her short story, "The Curious Experience of Thomas Dunbar" which was published under G.M. Barrows in Argosy is considered first time that an American female writer published SF story using her real name. I'm pleased to say that both iBooks and Kindle are heavily stocked with her works. (Died 1948.)
Born September 18, 1917 — June Foray. Voice performer with such roles as Cindy Lou Who, Natasha Fatale and Rocky the Flying Squirrel. She also provided the voice of Lucifer the Cat from Disney's Cinderella. She also did a lot of witches such as Looney Tunes' Witch Hazel which you can hear over here courtesy of WB Kids. She was instrumental in the creation of the Academy Award for Best Animated Feature twenty years ago. OGH has a most touching remembrance here. (Died 2017.)
Born September 18, 1946 — Struan Rodger, 77. He was the Bishop in Stardust, and shows up in the A Discovery of Witches as John Dee. (Loved the novels, skipped the series as I always do.) He voiced the Three-Eyed Raven in The Game of Thrones' "The Lion and The Rose" and "The Children". More interestingly he's got multiple roles in Doctor Who. First he's The Voice of The Face of Boe in the Tenth Doctor stories, "New Earth" and "Gridlock", next he's Clayton in the Twelfth Doctor story, "The Women Who Lived" and finally he's a voice again, that of Kasaavin in "Skyfall, Part One", a Thirteenth Doctor story.
Born September 18, 1948 — Lynn Abbey, 75. She's best known for co-creating and co-editing with Robert Lynn Asprin (to whom she was married for awhile) the Thieves' World series of shared-setting anthologies. (All twelve volumes!) Her Sanctuary novel set in the Thieves' World universe is quite excellent. I've not kept up with her later work, so y'all will need to tell me how it is.
Born September 18, 1951 — Dee Dee Ramone. Yes, the Ramones bassist. He penned Chelsea Horror Hotel, a novel in which he and his wife move into New York City's Hotel Chelsea where the story goes that they are staying in the same room where Sid Vicious allegedly killed his girlfriend, Nancy Spungen. Many predictable ghosts visit them. (Died 2002.)
Born September 18, 1953 — Michael R. Nelson, 70. Conrunner from the BaltiWash area who got into fandom in 1989. He chaired Disclave 41, Capclave 2002 and co-chaired the DC17 Worldcon bid. He is a member of the Washington Science Fiction Association.
Born September 18, 1984 — Caitlin Kittredge, 39. Wiki say she's best known for her Nocturne City series of adult novels, and for The Iron Codex, a series of YA novels, but I think her best work is by far the Black London series. She's also writing the current Witchblade series at Image Comics.
(11) COMICS SECTION.
Close to Home features a super-proud dad.
The Argyle Sweater imagines climate change affecting Westeros.
Dog Eat Doug is another Game of Thrones gag – and don't you wonder what kind of seed they're using?
A Tom Gauld doubleheader.
(12) JEOPARDY! Andrew Porter was tuned into tonight's Jeopardy! where a couple contestants were stumped by the show's final item.
Final Jeopardy: Authors

Answer: He dedicated books to each of his 4 wives, including Hadley Richardson and Martha Gelhorn.

Wrong questions: Who is [C.S. crossed out] Tolkien? Who is Mark Twain?

Correct question: Who is Hemingway?
(13) THE OPPOSITE OF DÉJÀ VU IS NOT DEJAH THORIS. But ScienceAlert will be happy to tell you what it is in "The Opposite of Déjà Vu Exists, And It's Even More Uncanny".
…The opposite of déjà vu is "jamais vu", when something you know to be familiar feels unreal or novel in some way. In our recent research, which has just won an Ig Nobel award for literature, we investigated the mechanism behind the phenomenon.

Jamais vu may involve looking at a familiar face and finding it suddenly unusual or unknown. Musicians have it momentarily – losing their way in a very familiar passage of music. You may have had it going to a familiar place and becoming disorientated or seeing it with "new eyes".

It's an experience which is even rarer than déjà vu and perhaps even more unusual and unsettling. When you ask people to describe it in questionnaires about experiences in daily life they give accounts like: "While writing in my exams, I write a word correctly like 'appetite' but I keep looking at the word over and over again because I have second thoughts that it might be wrong."…
(14) SHOULD THESE HOMINID FOSSILS HAVE BEEN TAKEN FOR A RIDE? According to BGR, "Archaeologists are losing it over Virgin Galactic's latest spaceflight".
Last week, Virgin Galactic completed yet another flight, sending three passengers and an instructor to the edge of space. But it wasn't the living passengers onboard the VSS Unity that had a lot of people in an uproar. Instead, reports note that archaeologists worldwide are upset that one of the passengers carried ancient human fossils into space aboard the flight….

The taking of these ancient human fossils into space was part of an elaborate publicity stunt to draw attention to "science, exploration, human origins, and South Africa," Berger's request noted. Despite the possible exposure it could bring, archaeologists say that the move put the remains in danger and could have led to the loss of one of the key identifying references for A. sediba, as the shoulder bone taken into space is actually the first A. sediba fossil to be discovered, and thus a reference that helps define the species.

Of course, this story would probably be a lot different if the flight hadn't been successful, not only because of the loss of life, but because of the loss of history possible if the flight had not gone so smoothly. Luckily, that isn't the case….
(15) PERMISSION DENIED. "Space Drugs Factory Denied Reentry to Earth" reports Gizmodo.
After manufacturing crystals of an HIV drug in space, the first orbital factory is stuck in orbit after being denied reentry back to Earth due to safety concerns.

The U.S. Air Force denied a request from Varda Space Industries to land its in-space manufacturing capsule at a Utah training area, while the U.S. Federal Aviation Administration (FAA) did not grant the company permission to reenter Earth's atmosphere, leaving its spacecraft hanging as the company scrambles to find a solution, TechCrunch first reported. A spokesperson from the FAA told TechCrunch in an emailed statement that the company's request was not granted at this time "due to the overall safety, risk and impact analysis."

…Varda Space launched its spacecraft on board a Falcon 9 rocket on June 12. The 264-pound (120-kilogram) capsule is designed to manufacture products in a microgravity environment and transport them back to Earth. On June 30, its first drug-manufacturing experiment succeeded in growing crystals of the drug ritonavir, which is used for the treatment of HIV, in orbit. The microgravity environment provides some benefits that could make for better production in space, overall reducing gravity-induced defects. Protein crystals made in space form larger and more perfect crystals than those created on Earth, according to NASA…
(16) IT'S A GAS. "Jupiter's Moon Callisto Has a Whole Lot of Oxygen Scientists Struggle to Explain" – CNET has the story.
…It isn't clear what's happening at Callisto to produce so much oxygen, but Carberry Mogan hopes to get a better understanding of processes active in the moon's surface that may yield an explanation or clues.

"That's probably Callisto's most enigmatic feature is its surface," said Carberry Mogan, who's a postdoctoral researcher in planetary science at the University of California at Berkeley. "It's supposed to be an icy body, but when you look at it, it's mostly this dark surface, anywhere from millimeters to kilometers deep."

It's still up for debate whether Callisto's surface is more rock or ice. The dark material on its surface could also be ice-rich, providing a plentiful source for the mysterious amount of oxygen in the atmosphere.

For help with the mystery, Carberry Mogan is looking to upcoming robotic missions like ESA's Juice and NASA's Europa Clipper, which may swing close enough to Callisto to gather new data that could shed light on the puzzle….
(17) NUMBER NINE, NUMBER NINE. [Item by SF Concatenation's Jonathan Cowie.] The Science & Futurism with Isaac Arthur YouTube channel marked its ninth year this weekend. Its first ever YouTube video was on 'Megastructures in Space' that came out on September 17, 2014. To mark this anniversary at the weekend the month's "Sci-Fi Sunday" with an episode "The Fermi Paradox: Fallen Empires". In it he contemplated what the ruins of ancient Galactic Empires and the remains of their mega-structures of ancient, interstellar civilizations floating around the Galaxy might look like….
The cosmos seem silent and empty of any great interstellar empires, but perhaps they once existed, and if so, what titanic ruins might they have left behind?
(18) IF THE ROARING TWENTIES WERE SUPER. Today's ShortyVerse — lots of nice close-ups! Interestingly, a mix of DC and Marvel characters. And an ad for Hulk Chocolate Protein Bars! "Epic Superhero Moments Throughout History".
Let's imagine what current movies/series would be like in 1920
[Thanks to SF Concatenation's Jonathan Cowie, Mike Kennedy, Andrew Porter, Mary Soon Lee, Daniel Dern, Kathy Sullivan, John King Tarpinian, Chris Barkley, and Cat Eldridge for some of these stories. Title credit belongs to File 770 contributing editor of the day Brian Z.]