(1) IMAGINARY PAPERS 15. The latest issue of Imaginary Papers, ASU Center for Science and the Imagination's quarterly newsletter about science fiction worldbuilding, futures thinking, and imagination, is out today.
In this issue, Hispanic studies scholar Mateo Díaz Choza writes about the 1968 speculative fiction story "Tesis," by José B. Adolph; film studies student Devan Hakkal writes about the gloriously strange 2010 video game Nier: Replicant; and we cover UNESCO's new open-access book Reporting on Artificial Intelligence: A Handbook for Journalism Educators.
Tesis (1968)

A spacecraft is crossing some indeterminate region of outer space. Inside, a group of students presents their final projects to Professor Locust. His favorite student, Andros, introduces a case study: an unknown planet will be struck by a comet, and violent precipitation and inundations will follow. Andros describes the planet as a primitive place where civilization is in its early stages, though its inhabitants have developed agriculture, modes of transportation, and small cities. When Professor Locust asks Andros how he will resolve the issue of preserving this young civilization, Andros enigmatically answers, "solution B."…
The full archive of Imaginary Papers is available to read here.
(2) LANSDALE Q&A. Shelf Awareness brings us "Reading with… Joe R. Lansdale".
Book you've bought for the cover:

A lot of Ace Double science fiction books. There's no single book I've bought for the cover, but many. But the Ace Doubles were great. You got two books for the price of one, short books, and these really outstanding covers that were sometimes better than the contents. I remember one book I bought because of a giant lizard man approaching a human. They were both on a netting in the trees–and I think they were armed–and from there I filled in the story. When I actually read the book, it was nowhere as good as in my imagination. But there were many that fulfilled my expectations. Philip José Farmer was one.
(3) SMOFCON REMINDER. Smofcon, an annual conference for convention planners, will be held December 1-3 in Providence, RI. The event will be fully hybrid convention so members can attend from anywhere. Tammy Coxen explained on Facebook:
At Smofcon, we gather to discuss many aspects of convention planning, at both the local level and at the Worldcon and other large conference level. We look for old friends, make new ones, attend panels on a variety of subjects about convention running, and express our views on best ways to do something. We often get recruited to work on other conventions — or recruit others to come work on our next convention.

While Smofcon covers a variety of topics, this year's program will have a particular focus on running hybrid conventions.
Learn more and sign up at the Smofcon 40 website.
(4) LEARNEDLEAGUE. [Item by David Goldfarb.] Another SFF question cropped up in the "Notable Women of Asia" mini-league.
Persis Khambatta was the winner of the 1965 Miss Femina India pageant, a contestant in that year's Miss Universe pageant, and the first Indian person to present at the Academy Awards. But you may also know her as Deltan Starfleet officer Lt. Ilia in what 1979 science fiction film, a role for which she shaved her head.
This is of course Star Trek: the Motion Picture. It had a 57% get rate, with 13% giving the most common wrong answer of Alien.
(5) A CONDUCTOR'S LIFE. While looking up info about Somtow Sucharitkul for a post today I came across one of the maestro's anecdotes in Martin Morse Wooster's 2015 "Operacon Report":
…Somtow also told about the time he tried to bring an elephant for a performance of Aida. He didn't know that elephants in Bangkok had to be licensed, and was surprised when the pachyderm police showed up and arrested the elephant, taking him to the elephant impoundment lot or wherever it is that unlicensed elephants in Bangkok go. The resulting performance of Aida was elephant-free….
(6) AUSSIE FANHISTORY IN THE WORKS. Leigh Edmonds announced on Facebook he finished drafting the first part of the history of Australian science fiction fandom.
This project was ordered on my during Aussiecon 4 in 2010 and has taken 13 years to get this far partly because of the necessities of daily life. Partly also because I had expected the entire project of writing a history of Australian fandom up to Aussiecon in 1975 would run to around 50,000 words and the part that I have just completed, which covers the period from 1936 to about 1960, runs to just on 75,300 words. Now it's time to write an introduction, polish up the text, find some photos, an editor and indexer (hint, hint) and get it published. I still have no idea what to call it.
(7) UNDER COVER OF DARKNESS. While we're all preparing for the upcoming eclipses, Michael Toman suggests Filers will enjoy hearing Cordelia Willis, Courtney Willis, and Connie Willis tell about family trips they have taken to see eclipses. This 2018 recording is preserved at StoryCorps Archive. There's a transcript, too. This excerpt quotes Cordelia:
The eclipse itself is very short, you know… Then I remember as the sun started to reappear people yelling out "Encore!" and I did not know what that word meant. And everyone around me laughed and I remember turning to my parents and saying "What does encore mean, what does that mean?" And they said it means "You are so good. We wanted you to do it again."
(8) MEMORY LANE
2016 – [Written by Cat Eldridge from a choice by Mike Glyer.]
David Hutchison's Fractured Europe Sequence is a brilliant telling of a Europe fractured into hundreds, maybe thousands, of political polities. Europe in Winter was published by Solaris seven years ago. It was the third of the five Fractured Europe Sequence novels. There may a sixth novel someday Hutchison says.
It's an interesting series as the novels share the same setting but aren't connected though the characters are common to the series except the final novel which has an all new cast of characters.
There are also two stories. Remember my wish that more stories were sold separately? Good luck on reading these two — one is in Barcelona Tales, the other is in London Centric: Tales of Future London which I actually have.
Our Beginning comes from Europe in Winter that won a BSFA. The series actually nominated for a lot of Awards include a Campbell Memorial, a Clarke, multiple BSFAs, a Dragon and even a Kitschies.
And now for our Beginning….
TRANS-EUROPE EXPRESS
THEY ALMOST MISSED the train. They had always planned to arrive close to departure time, so that Amanda had to spend as little time as possible on her feet, but there was a flash mob on the Place de la Concorde and all the streets leading into it were blocked.
"What the hell is this?" muttered William, who was driving. "Anti-Union protesters," Kenneth said, reading the placards being carried by the crowds boiling between the traffic.
"Well, God has a sense of irony, anyway," muttered Amanda, shifting uncomfortably on the back seat.
William looked back at her. "How are you feeling?"
"I'm all right," she said. "Don't worry about me. Can we go another way?"
They were in a make of vehicle nicknamed La Rage by the French, basically a looming black mediaeval fortress festooned with bullbars and lights and antitheft devices. Kenneth had wanted something more anonymous, but William said the only thing Parisian drivers understood was force. It had one obvious drawback; although its defensive systems could cause epileptic fits and rectal bleeding in anyone stupid enough to try to steal or attack it, it was too large to go down many of Paris's lesser thoroughfares.
"We're stuck," William said, twisting left and right to look out of the windows and hovering his finger over the icon on the dash display which triggered a 10,000 volt charge through the skin of the car, as protesters bumped and pushed by between the line of vehicles."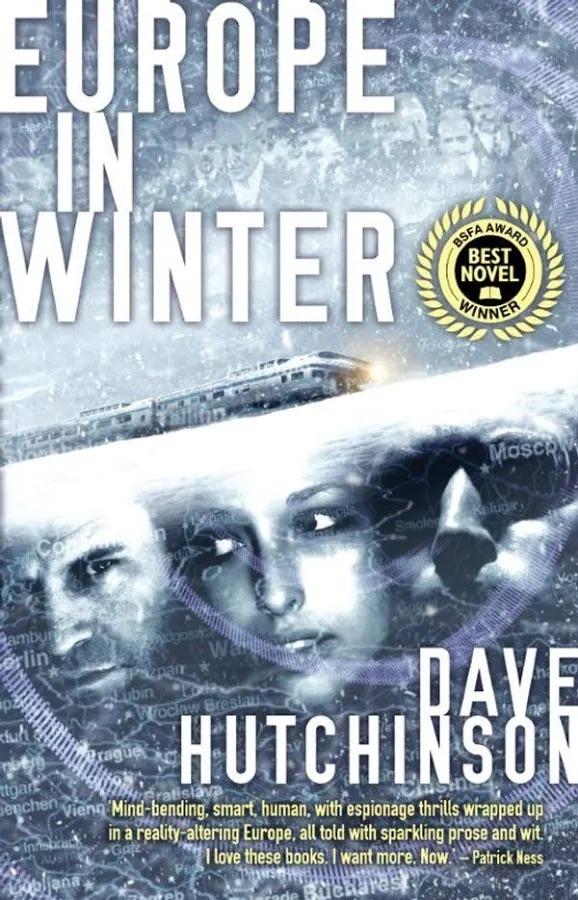 (9) TODAY'S BIRTHDAYS.
[Compiled by Cat Eldridge.]
Born August 23, 1868 — Edgar Lee Masters. Author of the Spoon River Anthology which, since each poem is by someone who's dead, should count as genre, shouldn't it? Well, I think so even if you don't, so there. (Died 1950.)
Born August 23, 1927 — Peter Wyngarde. Not a lead actor in any genre series but interesting nonetheless. For instance, he shows up in the two Sherlock Holmes series, one with Peter Cushing and one with Jeremy Brett. He's in a series of Doctor Who with the Fifth Doctor and he faces off against the classic Avenger pairing of Steed and Peel. He shows up as Number Two in The Prisoner as well. (Died 2018.)
Born August 23, 1929 — Vera Miles, 94. Lila Crane in Psycho which she reprised in Psycho II. On a much more family friendly note, she's Silly Hardy in Tarzan's Hidden Jungle, the very last of the twelve Tarzan pictures released by RKO. She has done one-offs on Buck Rogers in Twentieth Century, Fantasy Island, The Twilight Zone, Alfred Hitchcock Presents, I Spy and The Man from U.N.C.L.E.
Born August 23, 1931 — Barbara Eden, 92. Jeannie on I Dream of Jeannie. Her first genre role however was on Voyage to the Bottom of the Sea as Lt. Cathy Connors, and she'd show up a few years later as Greta Heinrich on The Wonderful World of the Brothers Grimm. She was Angela Benedict in The Seven Faces of Dr. Lao, the wonderful film version of Charles Finney's novel, The Circus of Dr. Lao. Some thirty-five years after I Dream of Jeannie went off the air, she had a recurring role as Aunt Irma on Sabrina, the Teenage Witch. Her latest genre was just two years ago, Mrs. Claus in My Adventures with Santa.
Born August 23, 1944 — Karl Alexander. Author of Time after Time which was filmed as Time after Time as directed and written by Nicholas Meyer. Cast includes Malcolm McDowell, Mary Steenburgen and David Warner. (A thirteen-episode series would happen in 2017.) His sequel of Jaclyn the Ripper is not as well known, nor is his Time-Crossed Lovers novel. Time after Time was nominated for a Hugo at Noreascon II, the year Alien won. (Died 2015.)
Born August 23, 1966 — Charley Boorman, 57. He played a young Mordred in Excalibur which was directed by his father (and he was joined by his older sister Katrine Boorman who played Ygraine, Mordred's grandmother) He was Tommy Markham in The Emerald Forest, and had an uncredited role in Alien.
(10) ALIENS ALL OVER THE WORLD TONIGHT. "Invasion season 2 review: Apple's sci-fi drama ramps up the tension" says critic Andrew Webster in The Verge.
…One of the most notable things about Invasion is its structure. The show follows a handful of characters spread across the globe, each dealing with the invading aliens in different ways. Season 1 was all about survival for pretty much the whole cast, whether it was a mother in America trying to keep her kids alive, a bus full of students stranded and alone in England, or a Japanese communications expert desperately trying to contact a lost astronaut who also happened to be her secret girlfriend. But in season 2, most everybody has a bit more direction, and it makes the show move forward with more purpose and intensity.

The new season picks up a few months after the spiky alien blobs first made their presence known, and things aren't going so well. Major cities look like war zones, with most people having fled or died, while those who remain struggle to fight against the very tough to kill invaders. If it weren't for the looming spaceships on the horizon, the show could be mistaken for any number of postapocalyptic series early on…
(11) TENNANT IN STAR WARS PROPERTY. "Who Is Huyang? David Tennant's 'Ahsoka' Character, Explained" at The Mary Sue.
… Professor Huyang is a droid who made his first appearance in the animated series Star Wars: The Clone Wars. He appeared in a total of three episodes in season 5, accompanying Yoda (Tom Kane) and Tano (Ashley Eckstein) to the planet Ilum with a group of younglings so they could find Kyber crystals to assemble their lightsabers. This is an important rite of passage for a youngling on their journey to becoming a Jedi. Huyang has been aiding younglings at this stage of their training for centuries and was specifically built to serve this purpose….

…Not much is known about Huyang's role in Ahsoka, but we can probably expect him to be just as loyal and filled with stories and wisdom as ever. Additionally, we're expecting a top-notch performance from Tennant, who took home an Emmy award for Outstanding Performer in an Animated Program for his role as Huyang in Star Wars: The Clone Wars. Tennant's performances brings so much depth, mystery, and allure to the character. Whether it's another award-winning performance or adding further context to this ancient droid, Huyang's role in Ahsoka holds quite a bit of potential.
(12) VES HONOREES. Yahoo! is standing by as "Visual Effects Society Reveals 2023 Founders Award & Lifetime Honorees".
Oscar-winning VFX supervisor and VES founding member Tim McGovern will receive the 2023 VES Founders Award, and the group has awarded lifetime VES memberships to McGovern, archivist and curator Sandra Joy Aguilar, producer and AMPAS Governor Brooke Breton and VFX artist agent and executive Bob Coleman.
(13) RYAN GEORGE VIDEO. It's great to be a genius, of course, but that's not who we're talking to here: "The First Guy To Ever Own A Bird".
[Thanks to Cat Eldridge, SF Concatenation's Jonathan Cowie, Mike Kennedy, David Goldfarb, Joey Eschrich, Andrew Porter, John King Tarpinian, Chris Barkley, and Michael Toman for some of these stories. Title credit belongs to File 770 contributing editor of the day Russell Letson.]