(1) RIC BERGMAN UPDATE. [Item by Chris Barkley.] As of this past Tuesday, the Cincinnati Police Department and the Hamilton County Coroner's Office were unable to locate any of the late Ric Bergman's relatives. If no one had been found, Ric's body would be processed and buried in a pauper's area of a local cemetery.
I say would have been, had I not been very attentive Wednesday morning.
At just a little before 10:00 a.m, I received a message on Twitter from a fan named Paul Hattori. Mr. Hattori stated that he had read the tribute I wrote and was moved to contact me.
He provided the names and phone numbers of several relatives who live locally, including a sister, Beth Kelley.
I relayed all of this to my fellow CFG member Tanya Carter (who had been in contact with local authorities), who in turn contacted the family members.
The relatives quickly swung into action and forestalled any further action by Hamilton County.
This past Thursday, Beth Kelley professed her thanks to the CFG for notifying the family members and wrote the following in the CFG Facebook page:
"Hi everyone, I'm Ric Bergman's sister. Thanks so much for getting in touch with us. I should be getting access to his apartment sometime today. I was thinking of having prayer cards made for him, but I want to do something that really says "Ric Bergman" … Please feel free to contact me. I'll keep you all posted as I know more. Thanks for being there for him.

If anyone is interested I was thinking about having a get together a little later in the summer. He's going to at least partially get his viking funeral!! There's a small park in Covedale I was going to rent for a day. Also there are soooooooo many books and movies. I'll try to get pictures of them today and tomorrow while we're packing up his belongings. I will be selling a lot of that stuff to help pay for this….

Please let me know what you guys think and if anyone would like to attend. Thanks again!"
(2) MARCHING TO A DIFFERENT DRUMMER. Meanwhile, in the Guardian "M John Harrison: 'I want to be the first human to imitate ChatGPT'".
How do you feel about the emergence of AI?
I'd separate the thing itself from the boosterism around it. We're at a familiar point on the curve when it comes to the overenthusiastic selling of new scientific ideas, where one discovery or tech variant is going to solve all our problems. I'd say wait and see. Meanwhile I'll be plotting to outwrite it; I want to be the first human being to imitate ChatGPT perfectly. I bet you it's already got mimickable traits.
(3) FREE ONLINE POE READING. The Baltimore Sun tells about a marathon Poe reading that's in progress NOW. "In Fells Point, reading Edgar Allan Poe through the night for 'Doomsday' is 'quirky, like Baltimore'". The article is behind a paywall, but the reading can be viewed free on YouTube.
If you stumble through Fells Point late enough Saturday (or early enough the next day), swing by the independent bookstore on the corner of Aliceanna and South Ann streets, and peer into the window, you'll catch a glimpse of something strange: a group of people reading aloud while the city sleeps.

Don't be spooked — they'll be celebrating "Doomsday," an annual event started last year by Baltimore's National Edgar Allan Poe Theatre. This year, the 24-hour Poe-themed read-a-thon will be co-hosted at Greedy Reads' Fells Point shop. Enoch Pratt Free Library is also a partner in the event.

"It's quirky, like Baltimore is," said Alex Zavistovich, the founder and artistic director of The National Edgar Allan Poe Theatre.

Zavistovich started "Doomsday" last summer as a locally oriented take on "Bloomsday," an international celebration of the Irish writer James Joyce's "Ulysses."

"Why focus on an inscrutable Irish writer when we have a perfectly inscrutable American writer, right here in Baltimore?" said Zavistovich, 62….

…Local celebrities, including Maryland State Del. Mark Edelson, WYPR host Tom Hall and Baltimore-based authors Brandi Collins-Dexter, Sarah Pinsker, Jeannie Vanasco and Jung Yun, are slated to participate….
(4) VERY BAD NO GOOD. Walter Jon Williams calls his visit to Malta the "Worst. Trip. Ever." After you read the medical problems that beset him and his wife Kathy when they got to the island, you won't disagree.
(5) KUANG Q&A. "Rebecca F Kuang: 'Who has the right to tell a story? It's the wrong question to ask'" in the Guardian.
… Yellowface's protagonist, who describes herself as a boring "brown-eyed, brown-haired June Hayward from Philly", is viciously jealous of fellow writer Athena Liu, a "beautiful, Yale-educated, international, ambiguously queer woman of colour", whose education in British boarding schools equips her with "a posh, unplaceable foreign accent". "Publishing picks a winner," June thinks; Athena, with her string of bestsellers, is the anointed one. After Athena suddenly dies, June discovers a manuscript she had been working on, about the 95,000-strong Chinese Labour Corps who supported Britain in the first world war. It's intimidatingly good. When June polishes it up and passes it off as her own, the book shoots her to literary stardom.

Reviewers then debate June's right to tell the story, echoing familiar conversations on whether authors should write about characters and histories outside their own race or lived experiences. In Yellowface, that initial query spirals into increasingly outlandish backlashes, and everything that was once coherent and proportionate disappears under a mountain of tweets. Kuang's view, however, is clearer. "I really do not like this framework," she says. Concerns about "who has permission to tell these stories, or who has the right, or who is qualified" seem like "the wrong questions to ask".

"We're storytellers, and the point of storytelling is, among other things, to imagine outside of your lived experience and empathise with people who are not you, and to ideally write truthfully, and with compassion, a whole range of characters," she continues. "Otherwise all we could ever publish are memoirs and autobiographies and nobody wants that." For her, more interesting is how authors approach these stories: "Are they engaging critically with tropes and stereotypes that already exist in the genre? Or are they just replicating them? What is their relationship to the people who are being represented?" And, "most importantly, does the work do something interesting? Is it good?" While some concerns about the "permission to speak" come from desires to support underrepresented authors, Kuang thinks it "usually gets wielded as a double-edged sword against marginalised writers, to pigeonhole them into only writing about their marginalised experiences. And I hate this. It really functions as another form of gatekeeping."
(6) CLASSIC FILK MANUAL. Fanac.org has added the 2001 combined edition of Bruce Pelz's Filksong Manual. Originally published in 4 parts, the combined edition is 101 pages long. Cover by Stu Shiffman.
This index is intended to be ordered chronologically, but I've listed this right after the original publication of part 2. If you've wanted to find the words to the Gilbert and Sullivan parodies, or "The Childish Edda", here's your chance. There are songs by Poul Anderson, Randall Garrett, Tom Digby, Ted Johnstone, and of course, Bruce Pelz. Plus many others. The original publications were in 1965-1969, and some of the songs are considerably older. "Think of the Old Tacky Stuff as Of Historical Interest. To Someone. Somewhere. Somewhen. And blame the appearance of this revision/reprinting -three years after I started it — on Lee Gold."
(7) MEMORY LANE.
1980 – [Compiled by Cat Eldridge.]
So let's talk about Walter S. Tevis whose Mockingbird is the source of our Beginning this Scroll. Tevis wrote not only The Man Who Fell to Earth which is definitely genre and I think has had at least two film versions so far, along with the near future SF novel The Steps of the Sun but also the delicious chess novel The Queen's Gambit which also became a film of some distinction.
This novel was published by Doubleday in 1980. The cover illustration is by Fred Marcellino.
It was nominated for both the Ditmar and Nebula Awards.
And now for our Beginning…
Spofforth
Walking up Fifth Avenue at midnight, Spofforth begins to whistle. He does not know the name of the tune nor does he care to know; it is a complicated tune, one he whistles often when alone. He is naked to the waist and barefoot, dressed only in khaki trousers; he can feel the worn old paving beneath his feet. Although he walks up the middle of the broad avenue he can see patches of grass and tall weeds on either side of him where the sidewalk has long before been cracked and broken away, awaiting repairs that will never be made. From these patches Spofforth hears a chorus of diverse clickings and wing rubbings of insects. The sounds make him uneasy, as they always do this time of year, in spring. He puts his big hands into his trouser pockets. Then, uncomfortable, he takes them out again and begins to jog, huge and light-footed, athletic, up toward the massive form of the Empire State Building.
The doorway to the building had eyes and a voice; its brain was the brain of a moron—single-minded and insensitive. 'Closed for repairs,' the voice said to Spofforth as he approached.
'Shut up and open,' Spofforth said.
And then, 'I am Robert Spofforth. Make Nine.'
'Sorry, sir,' the door said. 'Couldn't see…' 'Yes.
Open up. And tell the express elevator to be down for me.'
The door was silent for a moment.
Then it said, 'Elevator's not working, sir.' 'Shit,' Spofforth said.
And then, 'I'll walk up.'
The door opened and Spofforth walked in and headed across the dark lobby toward the stairway. He muted the pain circuits in his legs and lungs, and began to climb. He was no longer whistling; his elaborate mind had become fixed narrowly now upon his annual intent.
When he reached the edge of the platform, as high above the city as one could stand, Spofforth sent the command to the nerves in his legs and the pain surged into them. He wobbled slightly from it, high and alone in the black night, with no moon above him and the stars dim. The surface underfoot was smooth, polished; once years before Spofforth had almost slipped. Immediately he had thought, in disappointment, If only that would happen again, at the edge. But it did not.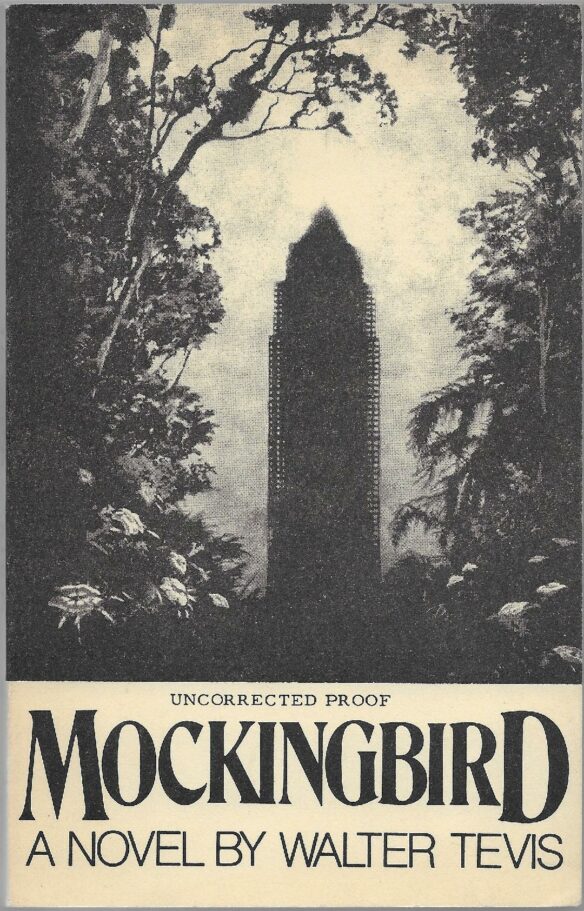 (8) TODAY'S BIRTHDAYS.
[Compiled by Cat Eldridge.]
Born May 20, 1911 — Gardner F. Fox. Writer for DC comics and other companies as well. He was prolific enough that historians of the field estimate he wrote more than four thousand comics stories, including 1,500 for just DC Comics. For DC, He created The Flash, Adam Strange and The Atom, plus the Justice Society of America. His first SF novel was Escape Across the Cosmos though he wrote a tie-in novel, Jules Verne's Five Weeks in a Balloon, previously. (Died 1986.)
Born May 20, 1928 — Shirley Rousseau Murphy, 95. Author of the Joe Grey series of mysteries. Its narrator is a feline who speaks and who solves mysteries which is definitely genre. Excellent series which gets better in characterization as it goes along. And the audiobooks as narrated by Susan Boyce are a great deal of fun listening. She also did some more traditional genre fiction, none of which I've read in the Children of Ynell series and the Dragonbard trilogy.
Born May 20, 1936 — Anthony Zerbe, 87. Zerbe played the major role of Matthias, the news anchor turned mutant albino cult leader determined to kill Charlton Heston's Richard Neville in The Omega Man, the loosely-adapated 1971 film version of Richard Matheson's novel, I Am Legend. He was the villain Milton Krest in the Licence to Kill bond film; Roger Stuart in Steven King's The Dead Zone; Admiral Dougherty in Star Trek: Insurrection; and Councillor Hamann in The Matrix Reloaded and The Matrix Revolutions. Series wise, he showed up on the Wild, Wild West and five episodes of Mission: Impossible as five different characters, he was Dr. Charles Napier on the Asteroid series on NBC in 1997 that I never heard of.
Born May 20, 1940 — Joan Staley. She showed up twice as Okie Annie on Batman in "It's How You Play the Game" and "Come Back, Shame". She played Ginny in Mission Impossible's two-parter, "The Council", and she was in Prehistoric Valley (Dinosaurs! Caveman! Playboy mates in bikinis!) She also played Fiona in Brigadoon which has to be genre, isn't it? (Died 2019.)
Born May 20, 1946 — Cher, 77. Yes she was Alexandra Medford in The Witches of Eastwick, a film that I absolutely love and adore, (and no I've not read the novel) which is really her only genre credit. She did appear as Romana on The Man from U.N.C.L.E. in "The Hot Number Affair" and she's voicing herself in The New Scooby-Doo Movies which despite the name was actually a series, but that's it.
Born May 20, 1951 — Steve Jackson, 72. The UK game designer (not to be confused with the owner of Steve Jackson Games). With Ian Livingstone, he founded Games Workshop and also the Fighting Fantasy gamebooks, the two most dominant aspects of the UK games industry before it came to be essentially wiped by the advent of videogames. I'm fairly sure the only one of his works that I've played is Starship Traveller which I'd have been playing around the same time as Traveller.
Born May 20, 1961 — Owen Teale, 62. Best known role is as Alliser Thorne on the just-concluded Game of Thrones. He also was Will Scarlet in the superb Robin Hood where the lead role was performed by Patrick Bergin, he played the theologian Pelagius in 2004 King Arthur, was Vatrenus in yet another riff on Arthurian myth called The Last Legion, was Maldak in the "Vengeance on Varos" episode in the Era of the Sixth Doctor, and was Evan Sherman in the "Countrycide" episode of Torchwood. He's currently playing Peter Knox in A Discovery of Witches based on the All Souls trilogy by Deborah Harkness, named after the first book in the trilogy. I read most if not all of that series and it's quite excellent. Keeping with my firm belief of never watching a series based on fiction that I really, really liked, I have not seen the series.
(9) IN A HOLE IN THE GROUND. Space.com's review says "'Crater' on Disney Plus offers kids out-of-this-world charm".
NASA's Artemis program is stirring up renewed interest in lunar exploration, and retro-style coming-of-age flicks from Hollywood are proving to be very popular with audiences and viewers.

So Disney Plus has decided to merge those two elements for its new kid-friendly sci-fi film, "Crater."

Directed by Kyle Patrick Alvarez ("C.O.G."), "Crater" unfolds its gripping tale of five adventurous kids in the year 2257 living at a protected mining colony on the surface of the moon who steal a research rover and embark on a wild overland romp to explore a notorious crater….
(10) ROGER CORMAN APPEARANCE IN LA. Fans will have an opportunity to meet Roger Corman at Chris Alexander's book signing on June 10.
Canadian writer, editor, music composer and filmmaker Chris Alexander (former editor-in-chief of iconic horror film magazine FANGORIA and editor-in-chief/co-founder of DELIRIUM magazine), and legendary American film director, producer and actor Roger Corman are meeting in Los Angeles on Saturday, June 10th for a signing of CORMAN/POE: Interviews and Essays Exploring the Making of Roger Corman's Edgar Allan Poe Films, 1960–1964. The book will hit shelves June 6th.

Written by author and filmmaker Chris Alexander, CORMAN/POE: Interviews and Essays Exploring the Making of Roger Corman's Edgar Allan Poe Films, 1960–1964 is the only book to fully examine this important chapter in horror film history. In-depth conversations with the maverick Roger Corman are book-ended by engaging critical analyses of each of the eight films, which together stand as a fully realized and consistent creative vision.

WHEN: Saturday, June 10th, 3pm – 5pm PST

WHERE: Dark Delicacies, 822 N Hollywood Way, Burbank, CA 91505
(11) NEW FAMILY TRADITION. "Orcas have sunk 3 boats in Europe and appear to be teaching others to do the same. But why?" Can Live Science really not guess the answer?
Orcas have attacked and sunk a third boat off the Iberian coast of Europe, and experts now believe the behavior is being copied by the rest of the population.

Three orcas (Orcinus orca), also known as killer whales, struck the yacht on the night of May 4 in the Strait of Gibraltar, off the coast of Spain, and pierced the rudder. "There were two smaller and one larger orca," skipper Werner Schaufelberger told the German publication Yacht. "The little ones shook the rudder at the back while the big one repeatedly backed up and rammed the ship with full force from the side."

Schaufelberger said he saw the smaller orcas imitate the larger one. "The two little orcas observed the bigger one's technique and, with a slight run-up, they too slammed into the boat." Spanish coast guards rescued the crew and towed the boat to Barbate, but it sank at the port entrance.

Two days earlier, a pod of six orcas assailed another sailboat navigating the strait. Greg Blackburn, who was aboard the vessel, looked on as a mother orca appeared to teach her calf how to charge into the rudder. "It was definitely some form of education, teaching going on," Blackburn told 9news.

Reports of aggressive encounters with orcas off the Iberian coast began in May 2020 and are becoming more frequent, according to a study published June 2022 in the journal Marine Mammal Science. Assaults seem to be mainly directed at sailing boats and follow a clear pattern, with orcas approaching from the stern to strike the rudder, then losing interest once they have successfully stopped the boat.
(12) HUNGRY ALIENS. [Item by SF Concatenation's Jonathan Cowie.] Over at Science and Futurism Isaac Arthur is more SFnal than usual with a second genre-related posting, this time on hungry aliens and another possible answer to the Fermi Paradox…
The galaxy is a dark, mysterious, and silent place – perhaps it is quiet and empty because some great predator already consumed all in its path, and if so, might we be next?
(13) LEAVING A BIG WAKE. PBS Space Time host Matt O'Dowd has been wondering whether we can detect alien space craft's gravitational wake… "Could LIGO Find MASSIVE Alien Spaceships?"
Whenever we open a new window on the universe, we discover things that no one expected. Our newfound ability to measure ripples in the fabric of spacetime—gravitational waves—is a very new window, and so far we've seen a lot of wild stuff. We've observed black holes colliding, and their oddly high masses challenges our understanding of black hole formation and growth. We've seen colliding neutron stars that have forced us to rewrite our ideas of how many of the elements of the periodic table get made. But what else might be hiding in the ripples' of spacetime? Oh, I know: how about the gravitational wakes caused by planet-sized alien spacecraft accelerating to near light speed….
[Thanks to Chris Barkley, Michael Toman, Cat Eldridge, Steven French, SF Concatenation's Jonathan Cowie, Jeffrey Smith, Mike Kennedy, Andrew Porter, and John King Tarpinian for some of these stories. Title credit belongs to File 770 contributing editor of the day Kevin Harkness.]