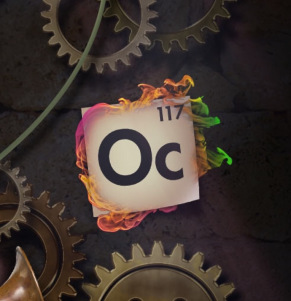 (1) IT'S TIME TO PLAY: NAME THAT ELEMENT. You might remember the petition to honor the late Terry Pratchett by giving element 117 the name Octarine — "the color of magic" from Pratchett's fiction. An article at Nature Chemistry reviews the competing names up for consideration for element 117 — and others.
SB: Petitions like this provide a lot of insight into how people grieve the loss of public figures, but it's hard, if not impossible, to associate Lemmy with the periodic table or even chemistry and physics. While Lemmy's death is still fresh in people's minds, one has to wonder if future generations of scientists would have any connection to him. The petitioners also reference the large mass and expected metallic properties to connect the element with heavy metal music, which is clever on one level, but Lemmy considered Motörhead hard rock not heavy metal. Besides, lemmium would not fall under any of the acceptable categories outlined by IUPAC for naming elements.

KD: You're probably right, although the petitions have turned out to be a fun way to get people from all areas of life talking about the new elements. We've also seen 'starduston' and 'bowium', in honour of David Bowie. Another example is the one I set up, to name element 117 'octarine', after the colour of magic in Terry Pratchett's Discworld novels. Obviously I'm biased, but I still maintain that it would be rather appropriate for element 117, which will fall into the halogen group. Octarine is famously described as a sort of greenish-yellow purple, and these are, of course, all halogen colours. It even has the correct -ine ending for the group. According to the mythology of the books, it's only visible to wizards, witches and cats, which also seems appropriate for an element that's only been observed by a select few. The odds of IUPAC agreeing to this are probably a million to one but, as Pratchett himself wrote in several Discworld books, million-to-one chances crop up nine times out of ten.

SB: Once you described octarine, I can see how it fits into the halogen family. For an idea like this to gain traction though, someone on the research teams would need to be a fan of Discworld and advocate for it. So far, the mythological concepts used for element names have come from Greek, Roman and Norse sources. These classic mythologies tend to have more universal recognition. Is modern fiction the same as cultural traditions used to explain nature in the ancient world?

KD: Well, all stories have to start somewhere. IUPAC's rules don't put an age on the mythology rule, and indeed cobalt, named after the sprites that apocryphally lived underground where its ores were mined, might arguably be considered to be more recent. There are forty-one Discworld books, which have been translated into thirty-seven languages; I'm certain they'll be remembered for many years to come. Likewise, the periodic table will probably be around for a while; any story we reference now will eventually be old…
(2) A VISIT TO THE SIXTIES. The keen-eyed Traveler at Galactic Journey argues that 55 years ago women were having an impact on the field greater than their numbers suggest.
1961. The year that an Irishman named Kennedy assumed the highest office in the land.  The year in which some 17 African nations celebrated their first birthday.  The air smells of cigarette smoke, heads are covered with hats, and men run politics, industry, and much of popular culture.

In a field (and world) dominated by men, it is easy to assume that science fiction is as closed to women as the local Elks Lodge.  Who are the stars of the genre?  Isaac Asimov, Robert Heinlein, Arthur C. Clarke, Theodore Sturgeon, Robert Sheckley; these are household names.  But if there is anything I have discovered in my 11 years as an avid science fiction fan (following another 20 of casual interest), it is that there is a slew of excellent woman authors who have produced a body of high quality work.  In fact, per my notes, women write just one ninth of the science fiction stories published, but a full fourth of the best works.
(3) AND TODAY? This past year, according to William Shaw's "The top 5 science fiction stories of 2015" in The Oxford Student, women wrote most of the best sf stories. (Three were published by Apex Magazine, and the other two by Uncanny Magazine.)
3. Pocosin by Ursula Vernon [http://www.apex-magazine.com/pocosin/]

The tone of story is best summarised by its central image of drinking whisky with Death. A contemplative tale about an old woman who takes in a dying swamp god, this is a slow, sad little number which nevertheless sparkles with the sense of wit and worldly wisdom that a story involving passive-aggressive banter with the devil really ought to have. Melancholy without being mawkish, funny without being daft, this is a gem of a story that highlights some important environmental concerns.
(4) WHAT MAKES A NOMINEE A NOMINEE. Brian Paone seems to be getting ahead of himself, but perhaps that's an occupational hazard for the author of a time travel novel. See "Being nominated for a Hugo award is winning in itself".
I found out this week that my time-travel romance novel, "Yours Truly, 2095" has been nominated by Hugo Award board member Christopher Broom for the most prestigious award a science fiction novel can receive: a Hugo Award. When I first started outlining the book, back in 2012, my goal was just to finish the book, without making it sound like a big pile of smoldering poo. I never expected 1) how happy I am with the finished product 2) then how many people have bought or read the book in the only 9 months its been out 3) then how many positive 4 & 5 star reviews its consistently receiving and finally 4) that I would ever be nominated for anything, never mind a Hugo!

When I told a friend, and fellow author Randy Blazak, his response was, "this will shoot you into the stratosphere." I appreciate his enthusiasm for what this might do for my career, but honestly, I'm just on cloud nine that I was even nominated. I'm not even thinking of the future yet.

The award ceremony is in Kansas City during the weekend of August 17. For the first few seconds, I contemplated not going, since being at the ceremony is not a prerequisite, but it was my wife (who I always say might be my worst critic, but my number one supporter) told me, in not so many words, not going wasn't an option.

So now I will be planning (airfare, hotel, etc) over the next few week to attend an award ceremony–not only any award ceremony, but the most prestigious award ceremony of the year–waiting with bated breath to hear my name and book title called out from the podium. And if it doesn't win, it will not be a loss. It's already been a greater win for me than I could ever have imaged 4 years ago when I started writing the book.
Sounds like he poured a bit too much of that timey-wimey stuff into his coffee… The nominations won't be known til after the first round of voting closes March 31.
(5) SUPERHERO MOVIE MAKERS MAY BOYCOTT GEORGIA. Variety reports "Disney, Marvel to Boycott Georgia if Religious Liberty Bill Is Passed"
The Walt Disney Co. and Marvel Studios indicated opposition to a Georgia religious liberty bill pending before Gov. Nathan Deal, saying that they will take their business elsewhere "should any legislation allowing discriminatory practices be signed into state law."

With generous tax incentives, Georgia has become a production hub, with Marvel currently shooting "Guardians of the Galaxy 2" at Pinewood Studios outside Atlanta. "Captain America: Civil War" shot there last summer.

"Disney and Marvel are inclusive companies, and although we have had great experiences filming in Georgia, we will plan to take our business elsewhere should any legislation allowing discriminatory practices be signed into state law," a Disney spokesman said on Wednesday.
(6) THE TITANOGRAPHY OF TOLKIEN. NASA has updated the Mountains of Titan Map.
This map of Saturn's moon Titan identifies the locations of mountains that have been named by the International Astronomical Union. The map is an update to a previous version published in 2012 (see Mountains of Titan), and includes an additional mountain area (Moria Montes), along with several "colles" which are collections of hills.

By convention, mountains on Titan are named for mountains from Middle-earth, the fictional setting in fantasy novels by J.R.R. Tolkien. Unfortunately for "Lord of the Rings" fans, Titan's highest peak is not Doom Mons (see Radar View of Titan's Tallest Mountains).
(7) DOG HOUSE RULES. Kate Paulk's latest policy statement, in "Why The Internets No Can Has Nice Things" at Mad Genius Club.
Those who have asked to be removed are being asterisked instead to indicate that they asked to be taken off. My perspective is that this is a list of people's recommendations. There is no need to ask for permission, any more than anyone needs to ask for permission to post a review or purchase the work. Frankly, I think asking to be taken off anyone's list of award-worthy pieces is an insult to the people who genuinely believe the work is that good, so unless someone asking to be removed is prepared to institute a policy that requires prior approval before purchasing their work, reviewing it, and so forth, they stay on the list.

If someone wants their very own asterisk on the list, they need only ask me. I'm not that difficult to get hold of, and I am asterisking those who ask on the two list posts. I'll asterisk someone who asks here, too. There may be a delay, since I do have a rather demanding full time job, but it will happen.
(8) NOTHING SUCCEEDS LIKE SUCCESSION. In the Playpen at Ferretbrain, Arthur B. asks:
How do you become the Sad Puppies organiser anyway? Divine right? Killing and eating the heart of your predecessor? Satanic pacts? Who gets to choose who drives the clown car?
(9) DOUBLE-THREAT. How It Should Have Ended not only corrects the illogical events in the The Force Awakens but does it with Lego characters.
(10) COVER LETTER. Karen Junker provided the text of the email she sent to We Are ALL SF members.
Dear We Are ALL SF patrons, I want to apologize to you personally for not getting in touch with you sooner regarding the cancellation of We Are ALL SF Con. Frankly, I have been very ill and I have not known what, exactly, to say.

The con was cancelled after I resigned from the convention board and without the knowledge or consent of the board. There was a lot of confusion and things became too difficult to save the situation. I was re-appointed back to the board and since my name was still on the legal docs, the bank, and the Paypal account, it fell to me to send refunds. I did so by selling a personal investment so that the funds would be covered. I got the refunds out, but was not able to do much more than that, and it has been so emotionally grueling for me to see a project that I had worked on for over a year and poured much of my own personal money into to be destroyed, out of what amounts to petty nonsense.

If you see any public statements about me, please disregard. They are patently untrue. I have a proven track record over the past 15 years in the literary and SFF community. Why someone would attack me or an organization I am attached to is beyond me. I have spent a large sum of my own money in the past few years, putting on writers' events and workshops and conventions and conferences. We Are ALL SF was no different. I am heartbroken that this great con, which would have been so much fun, was destroyed. I hope to see you again at another thing, some day, somewhere. I wish you well in your work and in your life. Yours, Karen Junker, Chairman, We Are ALL SF Foundation
(11) GIVE THEM LIBERTY. As always, plenty of Baen authors will be attending Libertycon 29 (July 8-10) — Griffin Barber, Rick Boatwright, Walt Boyes, Robert Buettner, David B. Coe, Larry Correia, Kacey Ezell, Bill Fawcett, Charles Gannon, Sarah A. Hoyt, Les Johnson, Mike Massa, Jody Lynn Nye, Gray Rinehart (Master of Ceremonies), John Ringo, Tedd Roberts, Chris Smith, Brad Torgersen, David Weber, Toni Weisskopf, and Michael Z. Williamson.
(12) MISSED ONE. I could have included John Scalzi on the list of "Science Fiction Writers Who Were Never Drunk on Saint Patrick's Day". Here's an excerpt from his post "Why I Don't Drink or Use Drugs" at Whatever.
It's true: I don't drink alcohol except in very rare circumstances (like, half a glass of champagne at my wedding), I've never smoked cigarettes, I've never taken an illegal drug, and outside of Novocaine at the dentist's office, I'm generally reluctant to take legal drugs either; my wife always expresses surprise if I go to the medicine cabinet for ibuprofen, for example.  So what's the story there?
(13) MOST FUN SINCE ADAM. Tor.com collects their favorite tweets from #TheInternetNamesAnimals in "Boaty McBoatface Inspires An Epic Naming Battle on Twitter!"
Starface Gassy McSmashy #TheInternetNamesSpace pic.twitter.com/RB84qOWPlw

— Jillian Scudder (@Jillian_Scudder) March 21, 2016
(14) AN INDISPENSIBLE CULTURAL LANDMARK. The Ukulele Batman vs Bagpipe Superman – Theme Song Battle.
(15) IT WAS BARELY MADE TO START WITH. A remake of Plan 9 From Outer Space? Too late! It was released in the US as video-on-demand last month.
Now the long awaited remake of the classic film is here! In this edge-of-your-set, visually stunning, re-imagination of the original story, "Plan 9" is a spectacular sci-fi/horror adventure with jaw-dropping effects and zombies galore! It's the film Ed Wood wished he made!
No matter what they say, I was not waiting for this.
And despite all that's holy, a novelization also came out in February.
[Thanks to John King Tarpinian, Janice Gelb, Mark-kitteh, Hampus Eckerman, Taral, and James H. Burns for some of these stories. Title credit goes to File 770 contributing editor of the day Will R.]